Gav and I weren't engaged very long before we decided our honeymoon destination — Hawaii!
It was the ideal choice as neither of us has been to Hawaii before, and we needed to select a domestic location in case Gav's green card hadn't been issued. So many honeymooners around the world choose Hawaii, and with all of the stress surrounding the fiance visa process, planning and paying for a wedding, and waiting for his next round of paperwork to be approved, we can't wait to let Hawaii take good care of us for two weeks.
We'll spend our first week exploring Maui before flying to the Big Island for a week! I'm truly excited about the fun plans we've already made and the spontaneous adventures we'll enjoy along the way.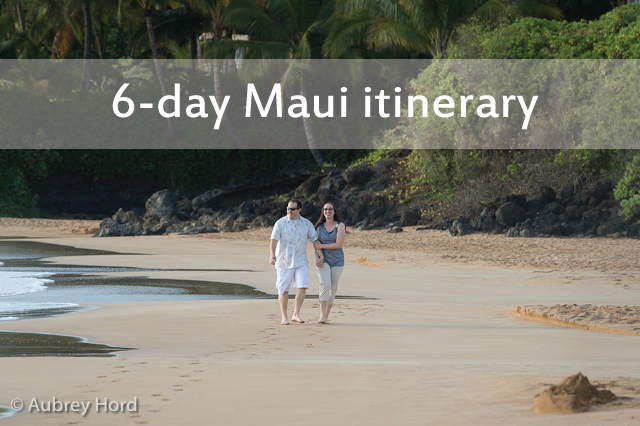 Late afternoon arrival
We arrive at Kahului Airport (OGG) late afternoon and pick up our rental car from Budget (thank you, MVCB). We'll be tired after a pre-dawn departure from our hometown, followed by two layovers, but our first stop in the car will be one of three health food grocery stores to stock up on groceries for meals we don't plan to eat out.
For the first few nights we're staying in Paia, a North Shore town that's been described as cute and charming. Hopefully we'll have time and energy for a walk along the beach before settling down into our Airbnb vacation rental.
On the beach in Paia


credit
Day 1
We're going to take our first full day easy!
Originally we considered exploring Farm to Table Maui right from the start with a visit to O'o Farm, but we've opted to start our honeymoon by sleeping in and using the day to get to know Paia.
In the evening, we'll have a couples shoot with Aubrey of Aubrey Hord Photography. Aubrey's work has taken her around the world, and in addition to capturing stunning moments for couples on the beautiful beaches of Maui, she photographs celebrities and events.
>>> Read about our photo shoot with Aubrey! <<<
Wailea beach


credit
Day 2
Time to get up EARLY for sunrise at Haleakala National Park! We'll be 10,000 feet above sea level pre-dawn, so snacks, coffee, and warm clothing are a must.
>>> Read about our sunrise visit to Haleakala! <<<
Beautiful sunrise over the volcano Haleakala


credit
By late morning we'll have pineapple juice dripping down our chins at Hali'imaile Pineapple Plantation with Mine Pineapple Tours. And in case we haven't had our fill of pineapple during the tour, we each get to take one home as part of the tour price.
>>> Read about our pineapple farm tour! <<<
Next, we'll make our way to Ocean Vodka, which produces organic vodka and only opened its doors for public tours within the last week! I just learned about them on Facebook and am excited to be among the first to see the farm and distillery.
>>> Read about our visit to Ocean Vodka! <<<
Day 3
ROAD TRIP! Today brings another early start as we set off from Paia to drive the Road to Hana. If you followed my Aussie adventures, you know I *love* a good road trip, and the Road to Hana won't disappoint. We'll take turns driving and navigating blind curves and hairpin turns, all to be rewarded with fun stops and sites along the way.
>>> Read about our Road to Hana road trip! <<<
I'm excited to indulge in dairy free coconut ice cream at Coconut Glen's — but not too much! Once we reach Hana we'll enjoy an outdoor couples massage with Luana Spa Retreat, and if we're not too full from the ice cream, we'll enjoy a Thai lunch at the restaurant on the grounds of the retreat.
>>> Read about the most relaxing stop on the Road to Hana! <<<
For dessert, we'll continue just past Hana to ONO Organic Farm for a tour of the fruit farm and of course fruit tasting

>>> Read about our fruit tasting experience! <<<
Day 4
It's time to check out of our accommodation in Paia. Before we move on to our next vacation rental, we'll jump start our morning with an exciting 5-line zipline tour with Piiholo Ranch Zipline. Gav's only been ziplining once, and I've never been, so we're both really eager to see Maui from a new vantage point.
>>> Read about our zipline experience! <<<
After zipping over Upcountry Maui, we'll restock our food supplies at the natural health food shops before checking into our next Airbnb rental in Maalaea. Then, we'll arrive at Snorkel Bob's in enough time to pick up our snorkel gear rentals and enjoy the closest snorkeling spots for the rest of the day. Since Snorkel Bob's has various store locations on different islands, we won't return our rentals until our last full day on the Big Island, so we can snorkel whenever we want!
>>> Read about our experience with Snorkel Bob's! <<<
Day 5
It's beach day! Time to relax, explore West Maui, and snorkel.
In the evening, we'll enjoy dinner for two at our first ever luau on the beach in Lahaina. When exploring the luau options of Maui, the Feast at Lele immediately stood out as my favorite. If you know me, it shouldn't come as any surprise that making a reservation for the Feast at Lele was the number one thing I wanted to do in Maui when I first started researching for our honeymoon.
>>> Read about our evening with the Feast at Lele! <<<
Day 6
It's our last day on Maui and we'll spend it like we did the previous day — snorkeling, relaxing, and eating. We're also planning on meeting Chef Paris Navabi. He's incredibly involved in his community, and we plan on eating at one of his restaurants, learning about his community food efforts, and visiting one of his gardens.
>>> Read about our meal with Chef Paris! <<<
Busy with room for fun
At first I was worried we had overscheduled ourselves, but looking at this list I think we'll strike the perfect balance of having some pre-planned activities while leaving plenty of time for spontaneous adventures. I have a few restaurants I definitely want to visit while I'm there, and of course I'll ask locals for their recommendations along the way.
Within a couple of months of returning from the honeymoon, I'll tell you all about our experiences. Til then, aloha ♥