While Gav and I were planning our Hawaiian honeymoon, we knew snorkeling was a must-do activity.
Gav's a natural in the water but hadn't been snorkeling in years. I'm not the strongest swimmer, but I loved my first (and at the time only) snorkeling experience at the Great Barrier Reef during my year in Australia.
We considered booking a snorkel trip through a tour provider who ventured to areas where dolphins or sea turtles were prevalent until one of our Airbnb hosts suggested we rent gear and snorkel on our own. No dolphin or sea turtle sightings guaranteed on our own, of course, but at least we'd have gear for the duration of our trip and could snorkel as often as we pleased. Sold.
It only took a few minutes of research for me to learn that the best place to rent snorkel gear in Hawaii is Snorkel Bob's. Several travel bloggers and locals had positive things to say about the company, and when I read about two elements that really set Snorkel Bob's apart from the rest, I didn't need to look further.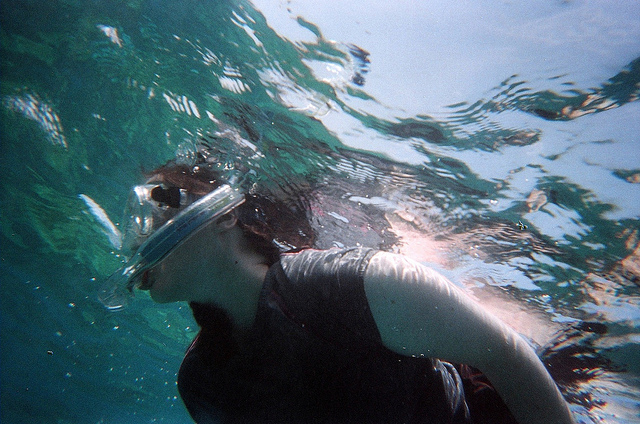 Snorkel Bob's: Not just a snorkel gear rental business
The first link on Snorkel Bob's website doesn't direct you to rental gear. Instead, Robert Wintner (Snorkel Bob!) leads his business' website with a link to information about the Snorkel Bob Foundation.
Until I connected with Snorkel Bob's, I had no idea that over 80% of aquarium fish come from Hawaiian reefs. How can the number be so high?! Sadly, there's currently no limit on the number of fish that can be caught and removed or on the amount of people catching fish for aquariums. There's no protection in place for rare or endemic species, and certain species are vanishing at staggering rates.
Not only are fish vanishing from Hawaiian reefs, but their disappearance also impacts local ecosystems. Yellow tangs, one of the most widely caught fish for aquariums, graze on algae throughout the day. Without a strong yellow tang presence, Hawaiian reefs may suffer from algae suffocation.
While the aquarium trade threatens the reefs and fish, Snorkel Bob's and like-minded locals work to protect both, educating the public about the perils of removing wildlife at such high rates and introducing reef protection legislation.
Snorkel Bob's: Wailea location and "The Reef" art gallery
In addition to Snorkel Bob's environmental work, I was also impressed that the company builds their own brand of gear! We opted to try Snorkel Bob's best fins, the MOFLEX, along with their top snorkel, the Mofl02, which allows you to exhale carbon dioxide while getting fresh air on every breath, instead of re-breathing the same air as you would in a normal snorkel.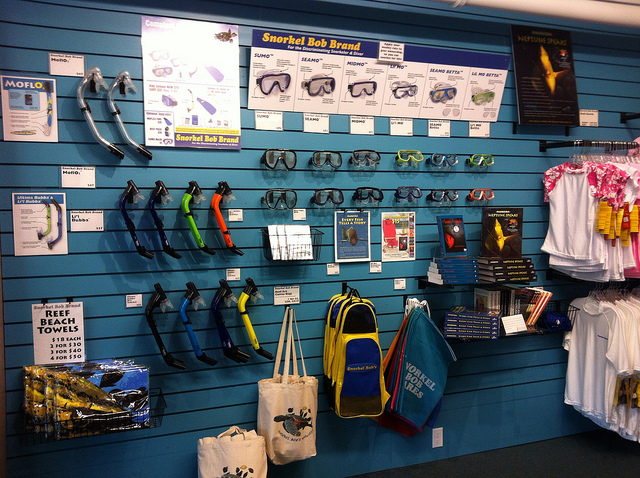 Snorkel Bob's has locations on four islands, and we were invited to visit the newest location in Wailea in Maui, near the Shops at Wailea. The Wailea shop is home to the "The Reef" art gallery, a collection of stunning photographs of fish in larger-than-life prints. Gav and I browsed the gallery before meeting with Sue, an incredibly friendly and helpful staff member. Sue helped us find fins and masks (prescription ones for me since I haven't worn contacts in years), making sure that the fit of both was perfect. She also provided a map and shared some of her favorite snorkel spots on the island. We packed up our gear (including Snorkel Bob's anti-fog solutions for the masks), and purchased an underwater disposable camera before departing from the well-organized, spacious shop.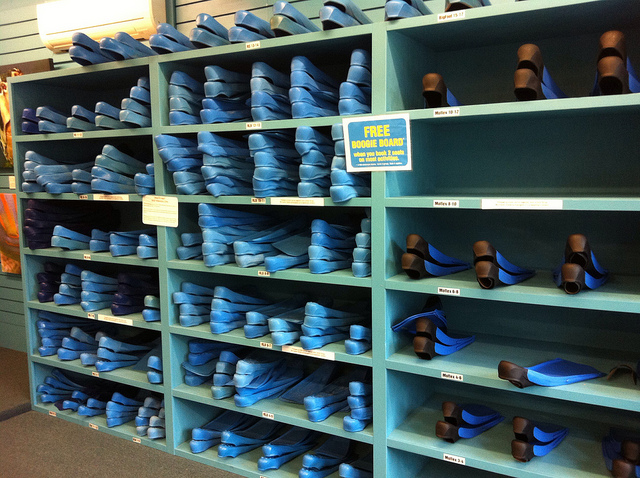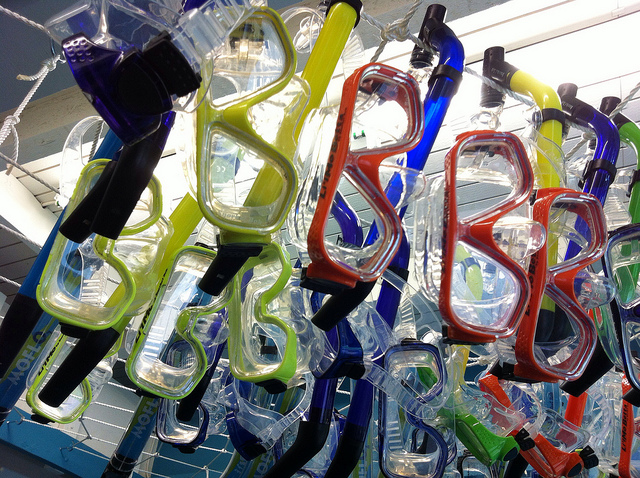 You can return your gear after hours with a 24-hour drop off service!

While our underwater photos offer less than awe-inspiring shots (hey, we tried), Snorkel Bob's newest book Neptune Speaks includes 540 images in an almost 300 page book, along with a DVD featuring 50 minutes of live reef action from around the world.
Snorkeling at the Black Rock in Maui
We wanted to snorkel in several "must-visit" spots in Maui, but unfortunately the weather was not our friend. With frequent rain and wind, several locals advised us against going into the water on the days we had free for snorkeling. Thankfully the weather let up for a couple of hours one day so we could snorkel at the Black Rock on Ka'anapali Beach. If you're a LOST fan like me, the name alone was enough reason to go check out this spot.
We followed the advice on the link above and parked in the parking garage at the Sheraton. I balked at the hourly rate, but Gav correctly pointed out that we really didn't have an option!
We walked until we found 2-3 dozen folks with snorkel gear and a tall black rock. This must be the spot.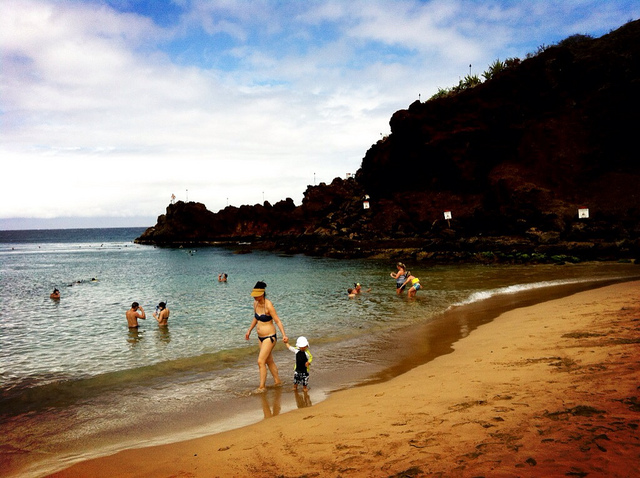 When my mask fogged up right away, Gav used some of Snorkel Bob's anti-fog solution, and my mask was clear for the next hour of good snorkeling. We didn't see a huge variety of fish, but we did have fun identifying several from our fish ID card. I would definitely snorkel at the Black Rock again.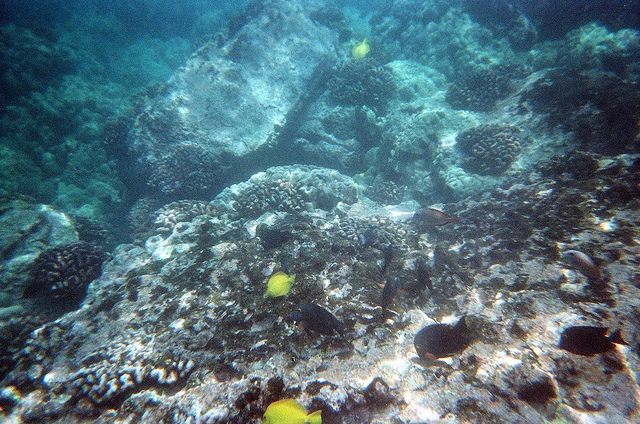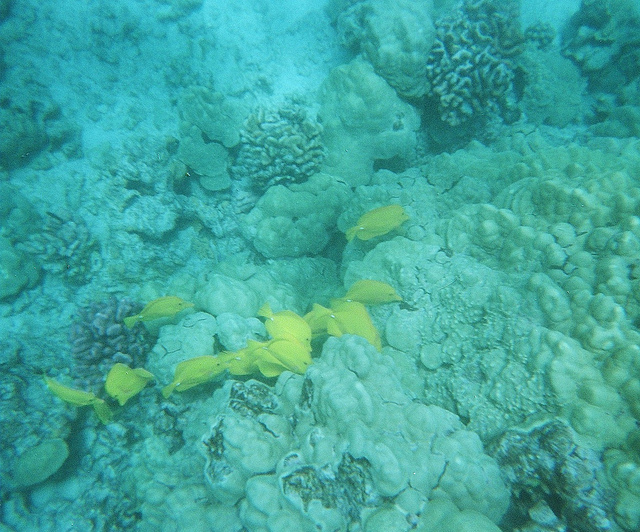 Snorkeling at Two Steps on the Big Island of Hawaii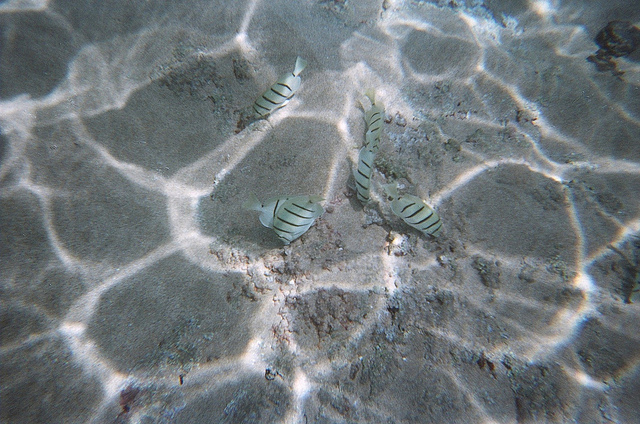 On the Big Island, we snorkeled at a couple of locations, and my favorite was easily Two Steps at Honaunau Bay, just beside the Pu'uhonua O Honaunau National Historical Park. Before we went snorkeling, we paid $5 to visit the national park, which included parking. Since the free parking at Two Steps beach is limited, I highly recommend paying to park at the national park. I'd read it offered more security for your car, and by paying, you also have access to the park's well-kept toilets. Totally worth it. AND, I have to say that the park was a wonderful surprise. We actually stayed longer than anticipated because we kept finding cool vantage points and things to see.
There is no sand beach at Two Steps — it's all lava rock. We set up our chairs on the rock along with other visitors, grabbed our snorkel gear, and walked over to a small spot where lava rock "steps" offer an easier way to enter and exit the water. I watched several people enter before it was my turn and managed to use a wave to help me slide off of the bottom step.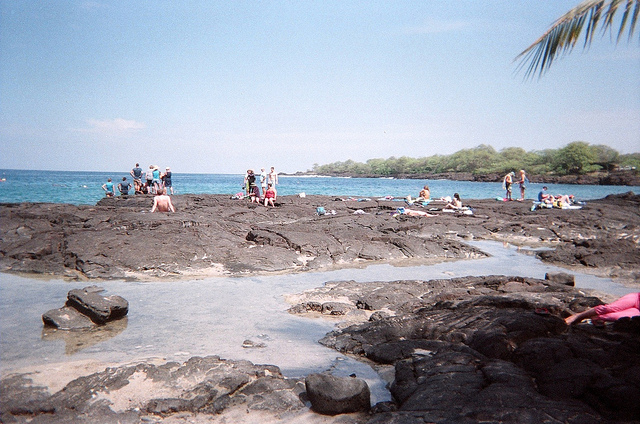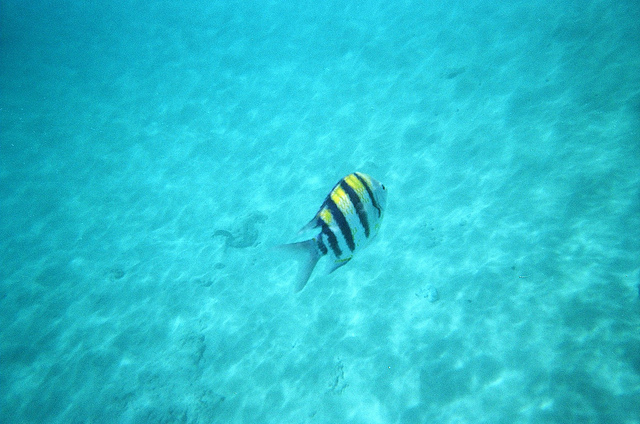 Our Airbnb host had raved about Two Steps, and it quickly surpassed my experience at the Black Rock. Two Steps offers more snorkel-worthy territory to explore, and I swam back and forth across the entire space multiple times, discovering new fish, interesting coral, and cool spots each time.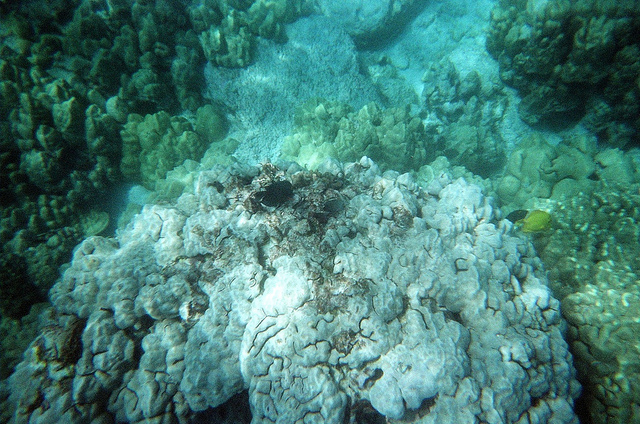 After an hour in the water, Gav took the last photo on the camera, and we decided to head back to shore for a break. When I was within 10 feet of the steps, a large sea turtle appeared from seemingly nowhere, just beside the lava rock shelf. I froze in awe. Where had he come from? I had desperately wanted to see a turtle while snorkeling, and on our third and final trip, I finally spotted one.
I wanted to keep my distance, as you're supposed to do, so I quietly floated while he swam only a few feet away, and then I watched until he moved out of view.
We couldn't capture the moment on film, but I'll never forget it!
On our exit, a dive instructor kindly helped pull me out of the water. Although the lava rocks steps help you in and out, it can still be a little tricky to time your entrance and exit just right.
Snorkeling in Hawaii
I'm so glad we included snorkeling into our time on Maui and the Big Island. We saw schools of fish dance around coral, thanks to the top gear we rented from Snorkel Bob's. We also walked away with a stronger appreciation for the reefs and the organizations that work to protect their present and their future.
When I return to Hawaii one day, I'll rent from Snorkel Bob's again without question. If you're Hawaii-bound, you can learn more about the company on their website and Facebook.
Disclaimer: Our snorkel gear rentals were graciously offered by Snorkel Bob's. I was not asked to picture the cast of LOST swimming with me at the Black Rock, fall in love with Two Steps, or say nice things about Snorkel Bob's. All three happened with ease.