Whenever I talk to fellow travel blogging Americans about food, one thing becomes apparent — we love looking for good Mexican food wherever in the world we may be.
As a gal who pursues food experiences when I travel above most any other, I appreciate how the company of those who join me and the conversation we have can greatly enhance the entire dining experience.
So when Gav and I were invited to visit Cilantro Mexican Grill in West Maui during our honeymoon, I jumped at the chance to enjoy a delicious meal and meet the chef behind the menu. What could be better than enjoying award-winning food and chatting with a man who is celebrated by his local community?!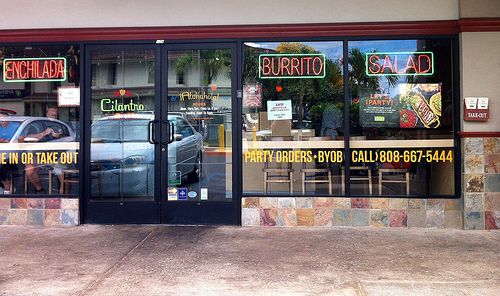 Praise for Cilantro Mexican Grill
Before we arrived at the restaurant, we knew from the website that Maui residents LOVED Cilantro Mexican Grill — they voted its food the Best Mexican Cuisine in 2011. A Frommers travel writer praised it as "Maui's Best Mexican By Far".
While we hoped for a tasty meal based on this high praise, we were still in for a surprise when we entered the restaurant. Ribbons, articles, and accolades covered an entire wall, and in a matter of seconds, our expectations were through the roof!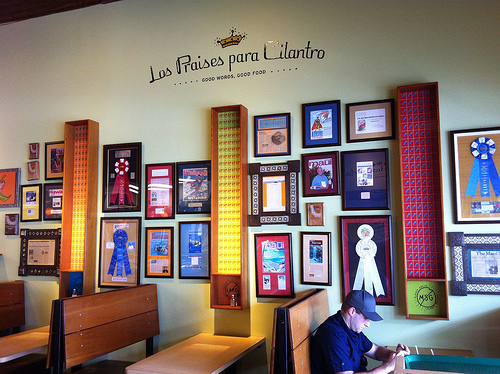 How did Chef Paris Nabavi establish such a successful business?
Chef Paris wanted to use authentic Mexican ingredients and recipes and incorporate European cooking methods to produce the best Mexican in Maui. As he developed dishes, he tested his recipes on two pregnant neighbors and incorporated their feedback until the dishes were perfected. Awesome.
The neighbors and recipe testers are still two of his biggest fans, and they're in good company — many of the top chefs on the island visit Cilantro often for the award winning cuisine. It's long-time fans and faithful customers, along with a staff that has worked with Chef Paris for 10 years, that has made Cilantro Mexican Grill such a success.
Flautas, enchiladas, salsas, and more
When Gav and I arrived, we poured over the menu, trying to narrow our choices, and it was no easy task. Thankfully when Chef Paris arrived and joined us, he did the ordering for us all!
We began with his favorite drink — a tea made from hibiscus. I wasn't sure what to expect, but it was delicious. I wish I had a cup of it now to sip while I wrote this post.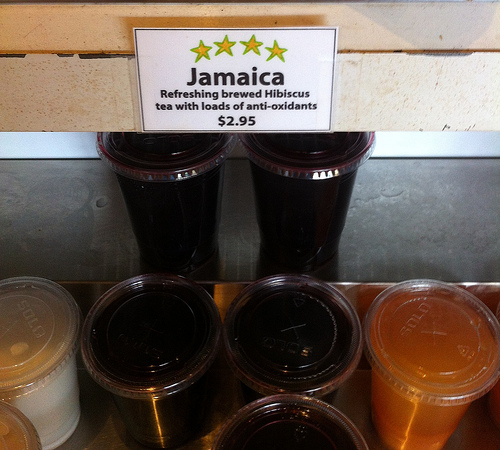 Speaking of wishful thinking, I'd love to click my heels together three times and have a plate of the Mother Clucker Flautas magically appear.
Two fried flour tortillas filled with chicken and spices, served with crema fresca and spicy-sweet roasted jalapeño sauce.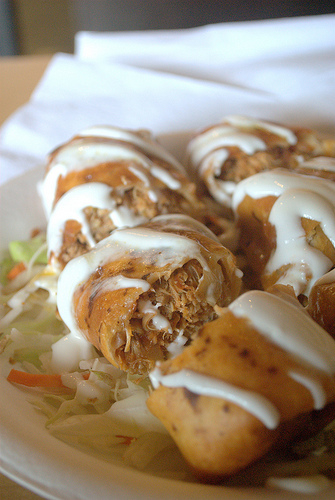 The flautas are one of the most popular menu items, and with one bite it wasn't difficult to understand why. Each of the components was fantastic on its own, and together they created a perfect bite. The tortilla and crema fresca paired together created perhaps my favorite flavor combination of the day.
We also enjoyed a vegetarian option with the spinach, mushroom, and poblano enchilada. The spinach tasted so fresh, as did the corn in the tortilla.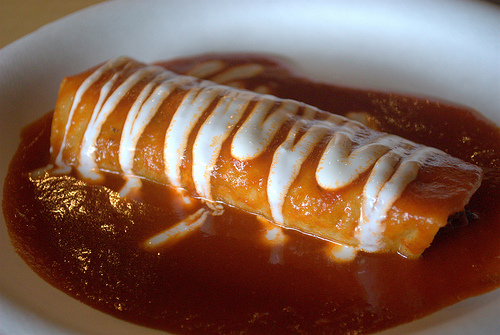 As Chef ordered dish after dish for us to try, he also encouraged us to try different salsas.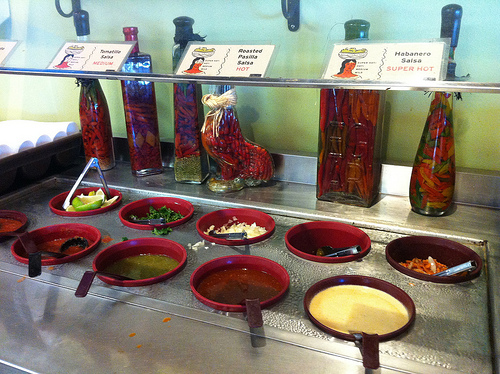 I enjoy a certain amount of heat but usually don't want to taste the hottest salsas. At Cilantro, I tasted the hottest one first and was delighted when it warmed my throat but not my mouth or tongue. The peppers had been processed in a way so that they deliver the warmth without affecting the tongue and the ability to taste and enjoy the meal. Yes.
If you head to Cilantro Mexican Grill, taste the hibiscus vinaigrette, whether or not you order a salad. Your taste buds will thank you. And I'll be a little jealous that it was you instead of me.
Meeting and chatting with Chef Paris Nabavi
As much as I enjoyed the food, perhaps the highlight of the meal was our two-hour conversation with Chef Paris.
He welcomed us warmly, asking about our honeymoon and how I started blogging. We asked him to tell us more about his involvement in the community, as we had read about various service projects that he passionately donates his time and financial resources to each year.
Most of Chef's community work is geared toward children, as he feels it's his kuleana (responsibility and privilege) to educate, nourish, and represent them. In one project, he has committed to purchasing seed on an annual basis to help the garden program at local schools. In another program, which I would love to participate in, he offers a Persian cooking class at his home for $100 and proceeds go to the local food bank. For his dedication to his community, Chef Paris was honored with "Small Business Person of the Year" by the office of the Mayor earlier this year!
As Chef introduced us to numerous dishes, we also learned about his philosophies of life and business plans for the future. Gav and I truly enjoyed his company and walked away from the meal feeling refreshed and relaxed — and honored to have enjoyed a meal with the Chef behind the vision.
If you find yourself in Maui with a craving for Mexican — or just a wonderful meal in general — visit Cilantro Mexican Grill in Lahaina. If you're social, you can connect with the restaurant on Twitter and Facebook.
Disclosure: We were guests of Chef Paris Nabavi. He didn't ask me to drink two cups of hibiscus tea, repeatedly sample the hottest of the salsas, or write a positive review. Good food and good conversation made it easy and natural.