If you know me, you know that I love food. If you really know me, you know that I adore eating healthfully, especially fresh organic produce and other organic products. Ditch the GMOs, preservaties, and other nasties. Yes, I've written all about my sweet tooth in the past, but for the most part, I am one healthy eater.
When Gav and I were choosing which Hawaiian islands to visit during our honeymoon, Maui became an easy choice. With just a few moments of research, I discovered the growth of agritourism in Hawaii and the farm-to-table movement in Maui. A few clicks later, I discovered one of Maui's organic family farms Ono Organic Farm. The 35-year old, 50 acre farm is family owned and operated and certified organic. Chuck and Lilly Boerner open their farmland to offer visitors tastings of a dozen tropical and exotic fruits, cacao, and coffee. Sign us up.
The journey to Ono Organic Farms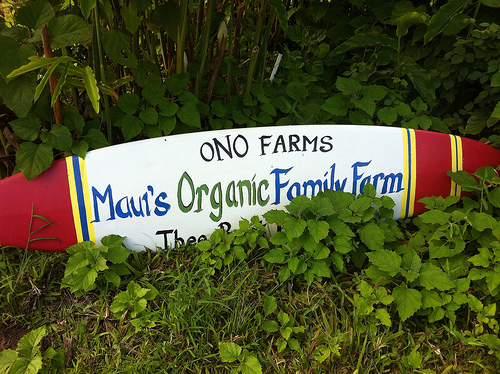 Ono Organic Farms is located on Maui's east coast, so we decided to make our tour reservation for the same day we were driving the famed Road to Hana. Since the 90-minute tour doesn't begin until 1:30pm, we thought we would have ample time to make plenty of stops along the scenic 50+ mile route with our early start time from Paia. We weren't exactly correct.
The Ono Organic Farms website doesn't include directions to the farm tour, but a Google Maps search suggested that the farm was just 10 minutes south of our previously scheduled stop in Hana town. As we were leaving Hana, we were told that the farm was at least 30 minutes away and that the drive ahead included more of the twists, blind turns, and narrow roads that we had experienced all day.
TIP: Forget what Google Maps says. To get to the farm, drive beyond Hana and continue past the parking lot for Seven Sacred Pools. Between mile markers 42 and 41, turn in the driveway for the mailbox numbered 149. You'll think that you're turning onto someone's private property since the driveway is rather long and there is no sign for the farm until you've almost reached it. We were positive we were at the wrong location and nearly turned around!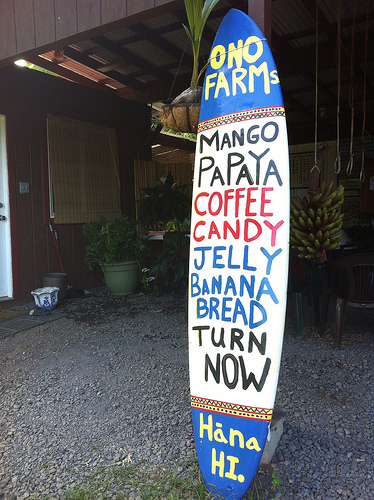 Tasting new and familiar tropical fruit
By the time we arrived, we were 5-10 minutes late, but thankfully we weren't the last — another 5-7 people joined us over an hour later.
We quickly learned that in addition to the family members who own and operate the farm, a group of interns also work there during a several-month commitment to learn about organic farming, assist with harvesting, and lead the 5-day-a-week tours. A pair of young interns welcomed us, one offering a taste of coconut and roasted cacao along with their estate coffee while the other began introducing the 12 fruits we would taste moments later.
I apologize in advance for the lack of photos during the tasting. I was busy licking tasty fruit juice off of my fingers. Ono. That's Hawaiian for delicious.
We enjoyed a few fruits I've had before — banana, papaya, passion fruit (known as lilikoi in Hawaii), and mango. I'm obsessed with lilikoi and we were lucky enough to try one of the giant variety — it was our tour leader's first time serving it!
I had never tasted the remaining fruits, and a few of them I had never even heard of like cherimoya (love it) abiu (not my cup of tea), and longans (similar to lychee = awesome).
Inside of a cherimoya — the fruit separates into small sections like a flaky fish


creative commons
At top is the soursop, one of my new favorites


creative commons
We also had fun eating the star apple with its soft interior and milky juices. And it's so pretty!
One of the biggest surprises for me was tasting jackfruit for the first time. It was incredibly sweet with a slippery, chewy texture, and once someone mentioned that it's known for tasting like Juicy Fruit gum, I immediately saw the comparison and felt like I was chewing a piece of gum from my childhood.
In addition to the cacao, coffee, and fruits we were invited to try, the interns also let us taste 8-10 of the products the farm sells by the jar in case we wanted to purchase a few at the conclusion of the tour.
Tour of the farm
Once everyone had their fill of juicy tropical fruit, we slowly made our way down the slopes of the farm for an informal tour of the harvesting area and the trees along our path. Of all the fruit-producing trees on the farm, only an old avocado tree that still stands was there when the family originally bought the land. The rest of the fruit-bearing trees have been planted by the family and their team! And it was a big surprise to me to learn that the tour has only been located at the farm itself for the last year or so. Beforehand the fruit tasting took place at the family's home.
Papaya and banana yield the largest crops for Ono, and the team harvests them twice a week year round. On our Friday tour, we got to see the banana bunches that had just been picked the day before.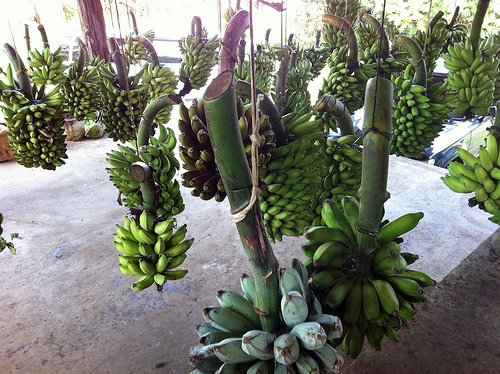 Beside the covered harvesting area is a coffee drying house, which is heated with solar energy. Smart.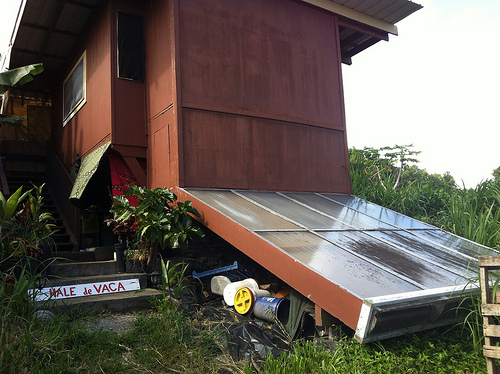 Throughout the tour, our leader pointed out trees producing the various fruits we had just tasted while the second intern looked on, listening intently. The newer of the two interns, I could tell she was learning the ropes from her more experienced peer, and I'm sure she'll be leading tours before her stay with the Boerner family comes to an end.
Enjoying Ono outside of the farm
If you're driving the Road to Hana and don't have time for a tasting and tour, you can also enjoy their produce all week long at a fruit stand in Hana next to the gas station. The farm also sells fruit to the Whole Foods in Kahului and several other buyers throughout Maui. It was pretty cool to walk into a natural foods store on the island two days later and see Ono papaya on sale.
We booked our farm tour and tasting via email, but you can also call the owner's cell phone if you wish! At present, the tasting and tour combo is $35 per person and children under 10 can join in for free.
If you're social, you can follow them on Facebook and Twitter.
If you visit Ono Organic Farm, let me know if you think it's ono

Disclosure: We received a discount on our ono experience at Ono Organic Farms. I wasn't asked to misjudge the distance and arrive late (oops) or become a devotee to longans, cherimoya, and soursop (yum). With my appreciation for all things healthy, organic, and delicious, a trip to the farm was a must.