Although Gav and I wanted to enjoy Maui's beautiful beaches during our honeymoon, I was equally interested in exploring the island's mountains, fields, and farmland of Upcountry Maui. The region offers beautiful views to those who take time to experience more than the beaches and resorts of West Maui, and we loved getting to know the area during our first three days on the island.
One of the activities we wanted to include in our honeymoon was a zipline course. When we learned that Piiholo Ranch Zipline was located in the heart of Upcountry Maui and minutes away from our accommodation in Paia, we quickly signed up for a 3-hour zipline adventure.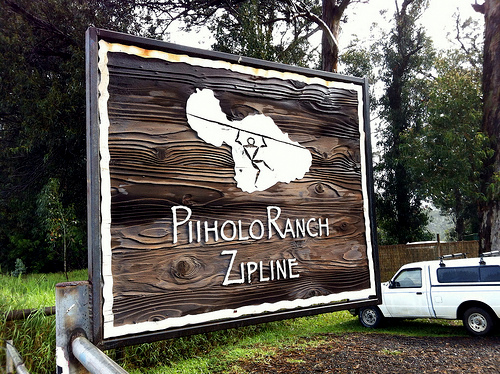 The Piiholo Ranch Zipline ohana
As with many businesses in Hawaii, Piiholo Ranch Zipline is all about family.
The owners of Piiholo Ranch are descendants of Dwight Baldwin, an 1800s missionary who we heard about multiple times during our stay in Maui. Today's Baldwins established the ranch for raising cattle and horseback riding, and eventually the family decided to share their beautiful land with visitors by opening a zipline course.
But it's not just blood that makes Piiholo Ranch Zipline a family business. The company's website features a video in which one team member says with a smile "We're a big ohana" (i.e., family, including extended and not just those who are related). Each staff member's photo and their role with the organization is listed on the website, and when we interacted with 3 course leaders during our adventure, it was easy to see how effortlessly and well they all worked together.
We love supporting family-owned and operated businesses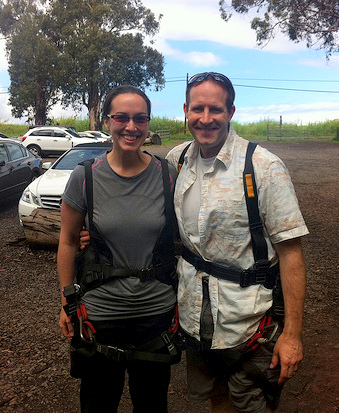 5-line zipline course
Piiholo Ranch Zipline offers a variety of adventures to choose from, many of which are family friendly and accessible to both the young and young-at-heart. We opted for the 3-hour, 5-line course to enjoy as much as possible during our visit. I was most looking forward to the last and longest line on the course — it's over a half a mile long!
Map of the course at the check-in desk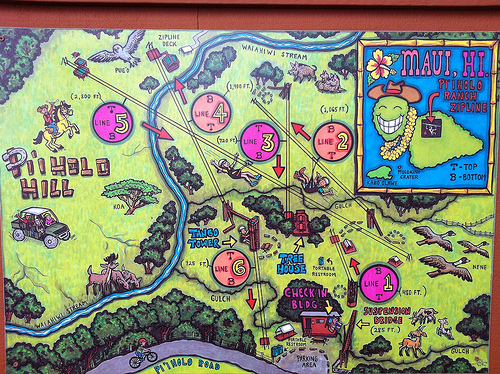 When Gav and I checked in, we were offered the opportunity to have our pictures taken during the course for $8 per person. We gladly signed up! At the end of the tour, we drove 10 minutes or less to another location to review the photos and provide our email addresses to have them sent later in the day. We quickly realized that anyone in our group who paid for photos received ALL of the photos taken of our group, not just the ones you're featured in, so Gav and I could have saved $8 by paying for just one of us. That's my money saving tip for you!
As our group gathered, three staff members introduced themselves as our tour leaders. One would always clip us onto the line and send us from the starting point while the other two would receive us at the line's end. I was impressed with all three right from the start. They struck this great balance of appearing confident, knowledgeable and on top of things while being relaxed, approachable, and creating a fun group dynamic.
After getting our gear on and fitted by additional team members, it was time to begin our adventure!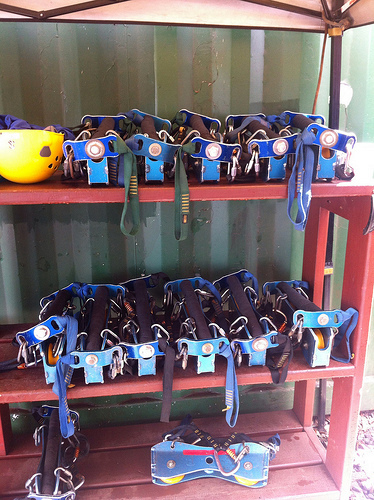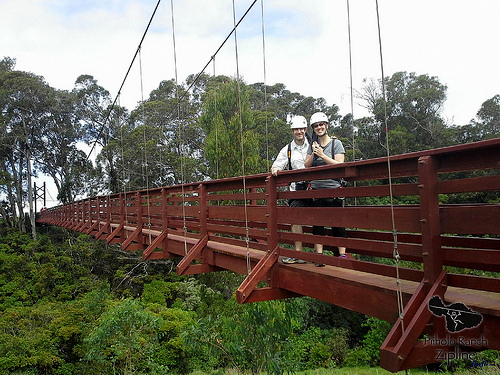 Before zipping down the first and shortest line of the day, we learned two signals from our receivers that would help us enjoy the ride and be safe — one telling us to slow down if we're coming in to the end too quickly and the second indicating when to get into our "end-of-the-line" position. I think everyone was nervous about getting these signals and positions just right, but after we all successfully flew along the first line, we were ready to tackle the rest.
Team members help each person get down safely at the end of a line

A steep ladder to climb to get to the starting point for line 2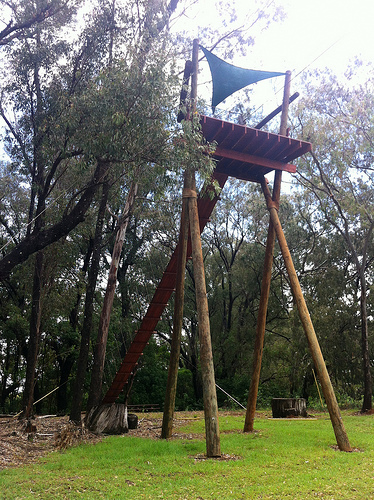 Gav and I volunteered to go first on the second line. I wasn't nervous about ziplining itself, but I did find that instead of taking in the beautiful scenery around us, I was focusing on our instructors so I could slow down at a moment's notice if they asked me to…turns out I was one of the slowest zippers of the day!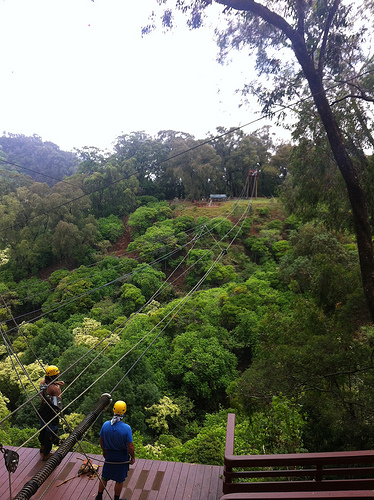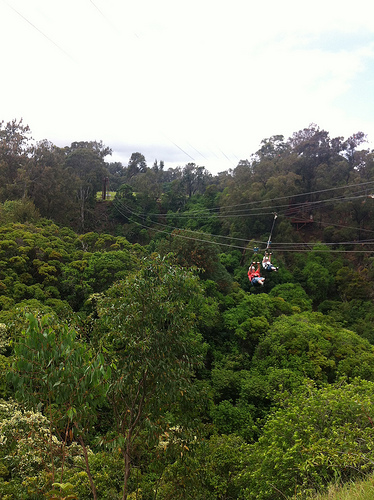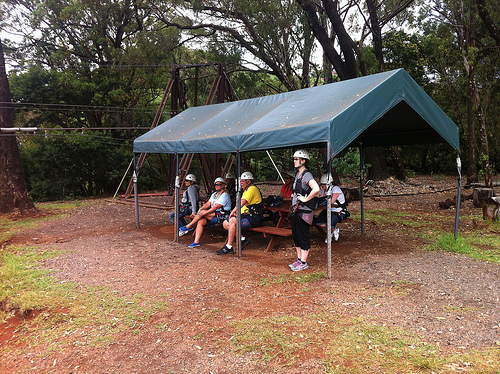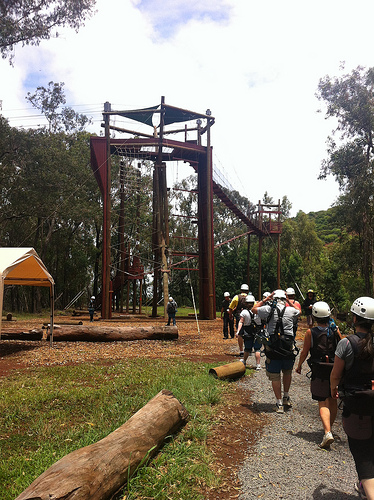 I really enjoyed that Piiholo Ranch Zipline offers a side-by-side course, so you get to ride alongside a partner — or if you're any of the guys in our group, you race your partner and see who reaches the end first. On one or two lines Gav intentionally started off slow so he could zip past me seconds later!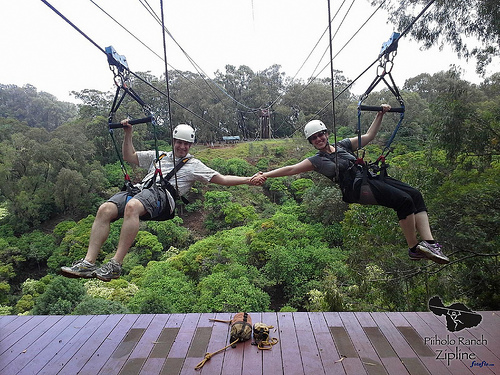 After line three, we took a break for a snack. Our group got along well and enjoyed another opportunity to chat before taking on the two longest lines of the day!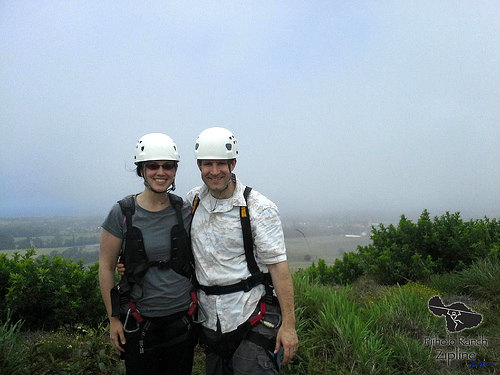 By the time we finished line four, clouds had started to roll in and obscure some of our view. Some members of the group felt a bit nervous about zipping down the longest line of the day. I was ready for the challenge!
2,800 feet long and as high as 600 feet above the ground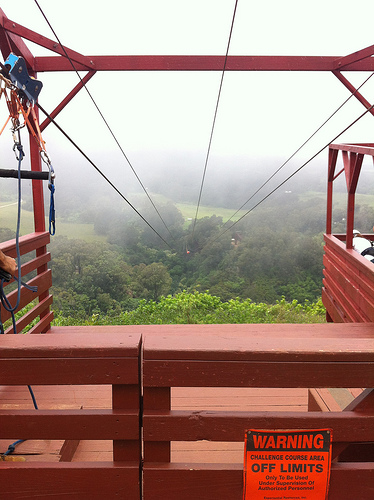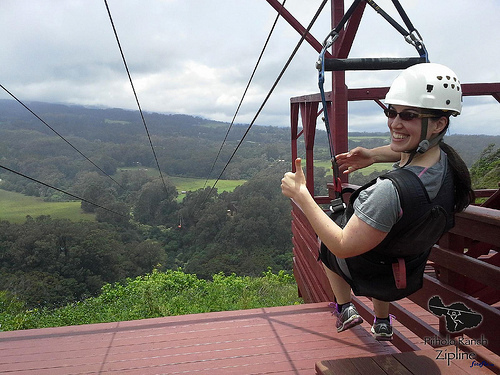 Line 5 was FANTASTIC and without a doubt my favorite! Once at the bottom, I immediately wanted to head back up and do it again for the rest of the day. Other members of our group who had been nervous about the entire experience felt so accomplished for overcoming their fears!
Connecting with the ohana
If you're Maui-bound and want to enjoy a family activity, overcome a fear, or enjoy a thrill, you can book an adventure with Piiholo Ranch Zipline online and enjoy the online discount.
If you're social, you can follow them on Twitter and Facebook.
Disclosure: We were guests of Piiholo Ranch Zipline. They didn't ask me to shout "WOOHOO!" as I flew down line 5 or write a positive review. They definitely didn't ask Gav to zoom past with me a huge smile on his face. All of that came easily.