Two weeks before we left on our Hawaiian honeymoon, and well after I'd stopped planning things to see, do, and eat, I noticed an update in my Facebook news feed that made me stop in my tracks. "Gav," I called out to my husband in the next room, "I think we need to add a visit to Ocean Vodka while we're in Maui."
Though I rarely drink, my ever-growing interest in food; eating healthfully; all things gluten, dairy, and soy free; and organic, non-GMO farming practices made Ocean Vodka stand out as a must-have experience. The Ocean Vodka Organic Farm and Distillery was opening its gates for daily tours starting at the end of April, and I couldn't help but love the thought that we'd be amongst the first to visit the farm!
In addition to the 100% organic certification, the company's values and mission drew me in. I love that it's a family business and that several generations of the family have been born in and grown up on Maui. I love that they're focused on sustainable farming practices and green manufacturing processes. And I loved that the CEO would be leading our tour!
80 acre farm and craft distillery
We arrived early to the farm and distillery in Kula, in the Upcountry area of Maui and took in the beautiful surroundings. As we waited to meet CEO Shay Smith, we browsed the gift shop and enjoyed a chocolate made from Ocean Vodka and goat cheese from a nearby farm. SO good.
Our view: mountains + clouds = Happy Heather — I could have stayed here all day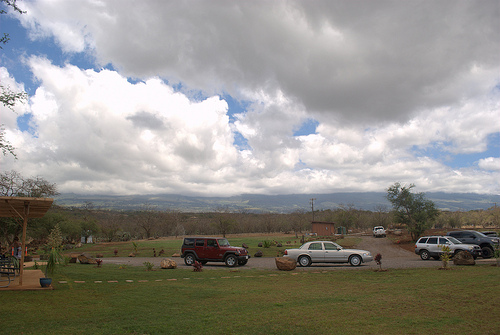 When Shay arrived, he greeted us with a piece of sugar cane and apologized that the area was still under construction. "We've only been open to the public for a few weeks at this location, and we still have some work to do." I learned that Shay, his family, and friends had built this new facility over the course of the last year, replacing their previous one in the more industrial area of Kahului.
I didn't mind at all that some areas were unfinished and a work in progress. I was excited to be amongst the first visitors and to see the new facility in its earliest stages.
Why the new location?
Shay shared that one of the highest ways to show respect in Hawaii is to invite someone to your home and that's what they wanted to achieve here — the ability to invite visitors to the farm and distillery.
Picnic tables and the gift shop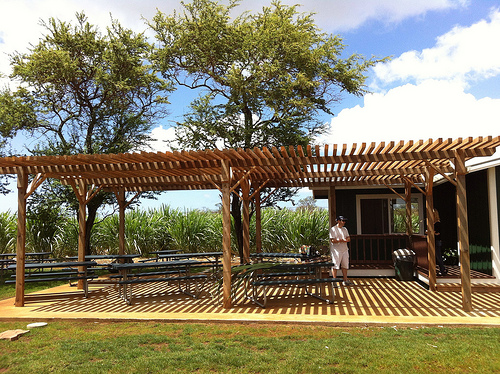 Small group tour
Six of us were welcomed to the Smith's "home" that afternoon.
We marveled that Shay, his parents, and some friends had planted and built everything we saw. Ocean Vodka is the only vodka distilled from organic sugar cane, and after starting with just 50 stalks, the family was eventually able to hand cut and grow more.
As Shay taught us about their sugar cane crop, I realized that the distance between each plant was vastly larger than those of sugar cane plants grown elsewhere on the island. The other conventional sugar cane has virtually no room between plants. Here, it's easy to see that there's quite a bit of space! Ocean Vodka leaves ample space so they can visually inspect each piece and pick only what's ready to be used. And they only pick what can be both juiced and introduced to fermentation within a day's work.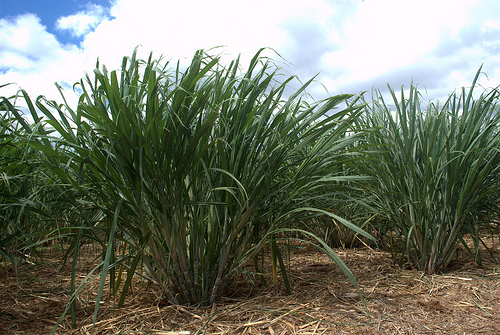 I'll admit I've never heard of a Martini Garden before! Shay once again apologized to our group since this area wasn't finished yet. Our response? No worries! When it's finished, the garden will produce fruit and edible flowers that they'll use for creating delicious cocktails. When one member of our tour group asked if Ocean Vodka sold flavored Vodka, Shay gave a great response — they don't sell flavors but encourage us to buy local fruit that's in season to flavor the vodka ourselves.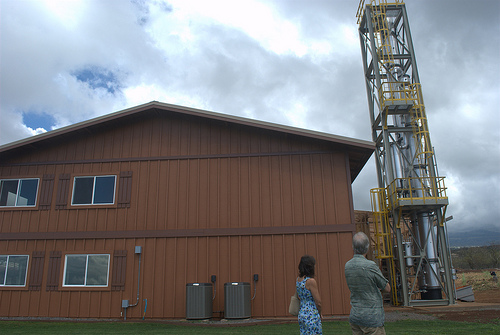 As Shay described the sugar cane crop and the solar-powered distillery and production facility, I was amazed and impressed with how much work the family has put into building this business. With no prior knowledge of vodka production, Shay sought out advice and mentors from the best in the industry to create a business that has continually grown since it was established. In fact, things are going so well that the family plans to produce a light rum in the not-too-distant future with the possibility of offering bourbon and whiskey in the years to come.
Inside the facility — making progress every day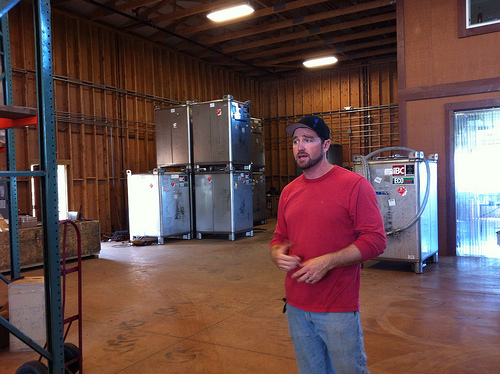 In addition to organic sugar cane, Ocean Vodka is made with — perhaps you've guessed it — deep ocean mineral water. It's the only spirit in the world to be made with it! I assumed that the water would be sourced off the coast of Maui, but it actually comes from 3,000 feet below the coast of the Big Island.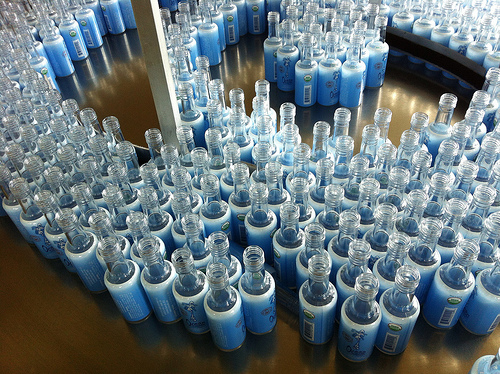 Inside the facility we visited the room where airplane bottles are filled with Ocean Vodka for Hawaiian Airlines, as they have been the exclusive vodka to the airline since 2007! That's especially impressive when the company only began in 2005.
From their home to ours
Ocean Vodka is sold in 25 states but it's not yet available in Virginia — until then, we found other ways to enjoy it.
After sampling one chocolate before the tour, I couldn't resist buying a sampler 4-pack to enjoy immediately over the next few days. I shared a tiny bite with Gav because I had to.
Gav selected a hat with "Organic Ocean Vodka" on the front and "Maui" on the back. I think he's worn it every day since. It's his new favorite.
Wearing the hat a week later on the Big Island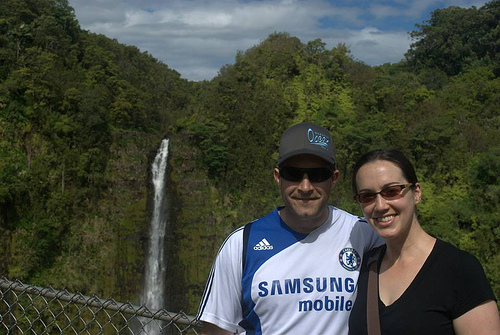 If you're social, you can follow Ocean Vodka on Facebook and Twitter. If you're Maui-bound, a tour of the farm and distillery currently costs $10 per person, or a lunch option is available for $25.
Shay, thank you for inviting us to your home! We truly enjoyed our visit and hope to come again.
Disclosure: We were guests of Organic Ocean Vodka. They didn't ask me to gush about how beautiful the scenery was to them, agree with their mission and values, or write a positive review. If you want to meet someone who truly cares about Maui, organic farming, and sustainability, meet Shay.