When I visit a new destination, domestic or international, I search for blogs offering local tour reviews, gorgeous photos of food from restaurants and cafes, and travel advice. As we were planning our Hawaiian honeymoon, I read and reread the posts of fellow food-loving traveler and blogger Annette, who had recently enjoyed a trip to Maui with her husband. She had great things to say about her experience with Maui Pineapple Tours, the only location in the country where you visit and see a working pineapple plantation. If it's food related and Annette gives it her seal of approval, I'm in. And after touring the Maui Gold facility and farm ourselves, we weren't disappointed.
Before the tour — Hali'imaile General Store Restaurant
Maui Pineapple Tours offers two 90-minute tours per day beginning at 9:30 and 11:45am. We opted for the 11:45 tour so we could make pineapple our LUNCH.
Before meeting at the tour bus, we popped into the Hali'imaile General Store Restaurant just across the road for a drink. Our delicious lilikoi (passionfruit) lemonade was served in a mason jar.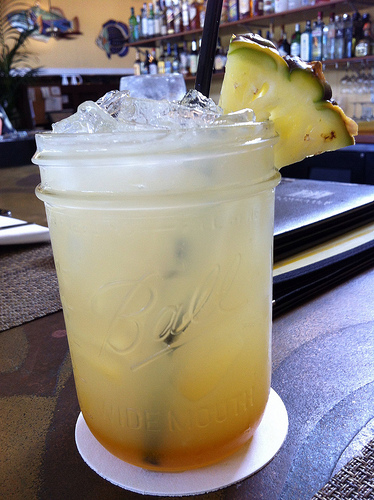 Maui Pineapple Tours partners with the restaurant to offer visitors a meal option with their tour for an additional $15. At the time, Gav and I were happy to fill our bellies with straight-from-the-fields Hawaiian pineapple. However, over the next few days we heard rave reviews about the restaurant from folks who live in Maui. And when we never had an opportunity to return for lunch, I regretted not booking the tour + lunch option. I won't make that mistake next time.
Pineapple fields, pineapple packaging, and pineapple TASTING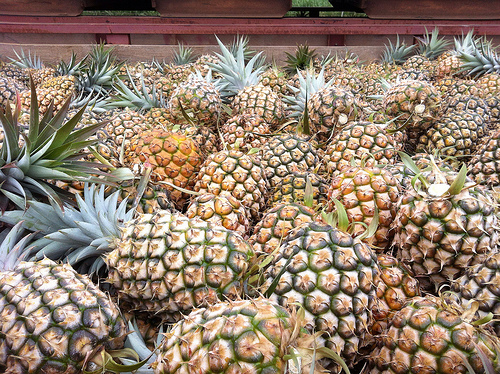 As soon as our tour guide Steve introduced himself aboard the bus (complete with a tall ceiling and AC — thank you!), I knew we were in good hands. Steve had worked for the pineapple company under its original name before it went out of business. When the company was reborn, the new company that exists today rehired him, and his wealth of knowledge and passion for the land and pineapples was evident.
Our first stop of the day was to the packing and shipping facility. It was a big day for processing at the plant, so we were able to see a team of well-trained staff members sorting pineapples by size and color. Based on their sorting, the pineapples would be distributed and sold throughout Hawaii (80% stays in the state!) and the rest would be sent to the mainland.
Mandatory hairnets for entry to the facility — thankfully I rock the look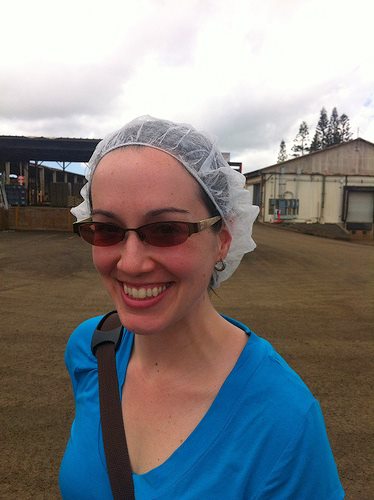 Sorting out the bad pineapples — any that sink in the water while being cleaned are no good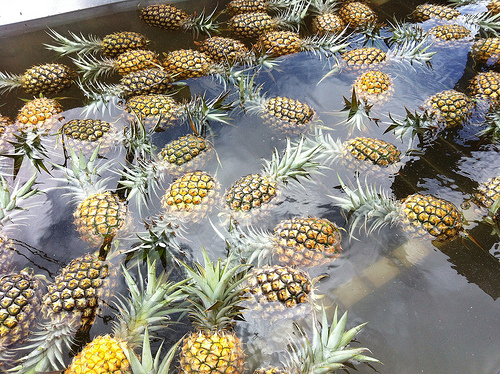 Traveling along the conveyor belt from one inspection team to another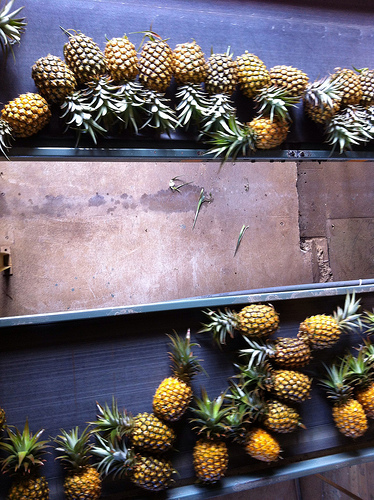 Ready to be sorted by size and color and packaged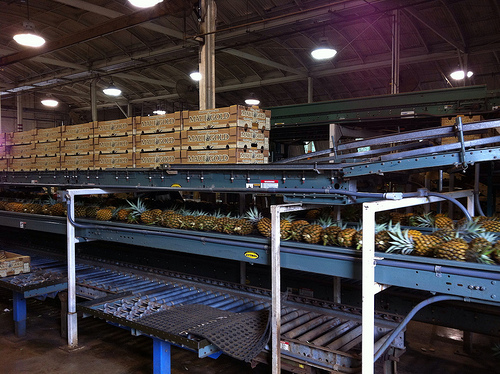 While we toured the facility, Steve shared some of the things that make Maui Gold pineapples special. For starters, Maui Golds are 15% acid and 85% sugar, making them much sweeter than their more acidic counterparts that I've grown up with and enjoyed all of my life! With that fact alone, my sweet tooth kicked into action, itching to jump to the tasting portion of our visit.
The company only plants enough to meet demand, and just 4% of their yield goes to waste.
And according to Steve, assessing the color or pulling the leaves of a pineapple aren't the best tests to see if they're ripe! Instead, he suggests thumping the outside and if it sounds hollow, it's ready to enjoy.
Once we left the facility and ditched the hairnets, we were ready to explore the pineapple farm itself.
We saw pineapples that had only been planted a few weeks ago, along with those that were well into the growing process. It takes 17-24 months to fully grow a pineapple. I had no idea that once harvested, the roots will produce another plant within one year and that the second crop will produce a smaller pineapple that the first. And while the farmers could wait for a third crop to be produced, the pineapples will only get smaller and smaller and won't be large enough to sell. For this reason, after a second crop, they let the field return to grassland for a while before replowing and replanting to restore nutrients.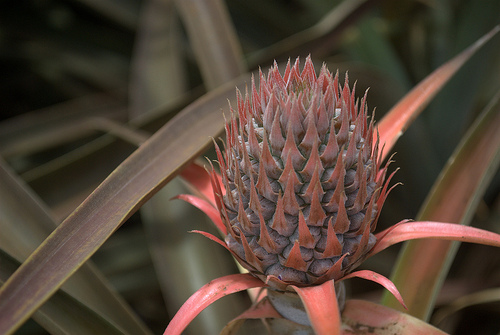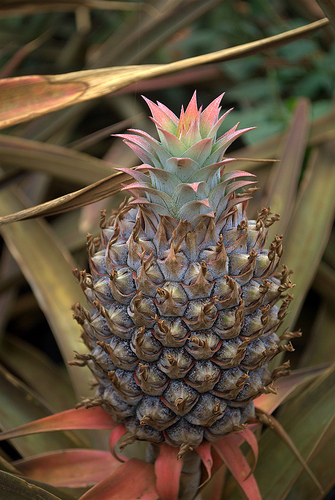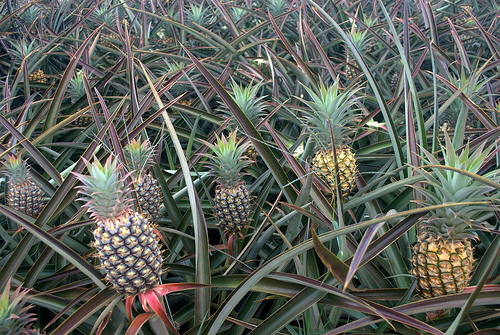 As Steve drove us through the fields, he excitedly announced that we were going to be able to see something that not all visitors have an opportunity to witness.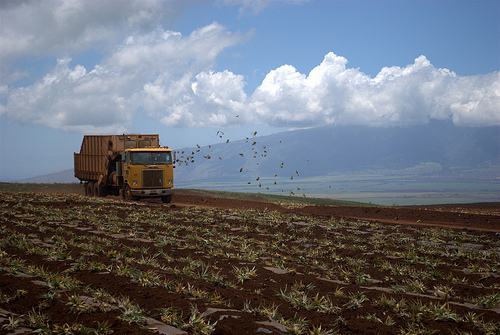 In what became my favorite part of the tour, I stood in awe as the truck above sent hundreds of pineapple crowns flying through the air. For a minute or two I did nothing but watch and take photos, and still the crowns continued their flight from the truck to the ground to be planted.
Another picture simply because I couldn't stop smiling watching it move through the fields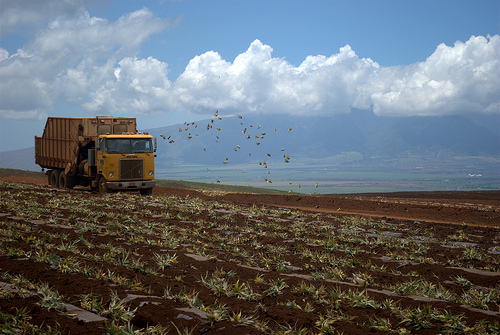 Once the crowns are on the ground, a highly paid team of four or five enters with spades to plant the crowns. If they can plant 6,000 crowns in a day's work (3 of 7 days a week), they become the most highly paid workers on the grounds.
After visiting the sorting facility and fields, it was time to EAT.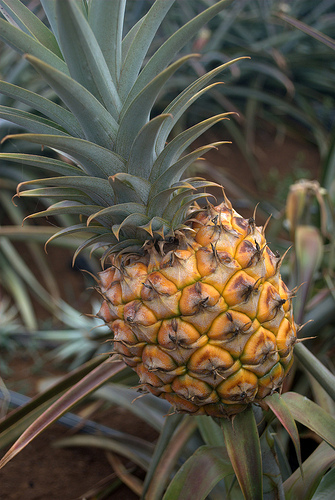 Steve picked three types of pineapple for us to try — mostly green (which goes to the mainland as it has a longer shelf life), green and some gold (which stays in Hawaii), and mostly gold (too sweet to be sold in stores). The gold, we were told, would taste like the sweetest pineapple we've ever had and maybe even like a pina colada.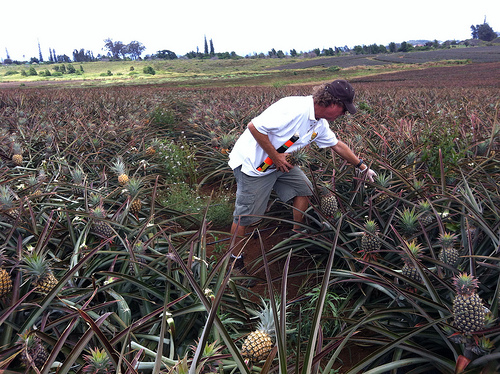 Our entire group agreed that the gold variety was the best, so Steve picked a gold pineapple for each of us to eat right there on the spot.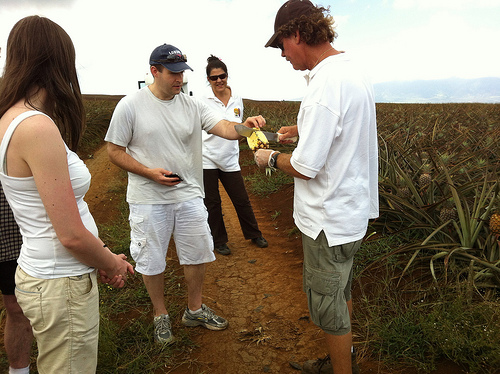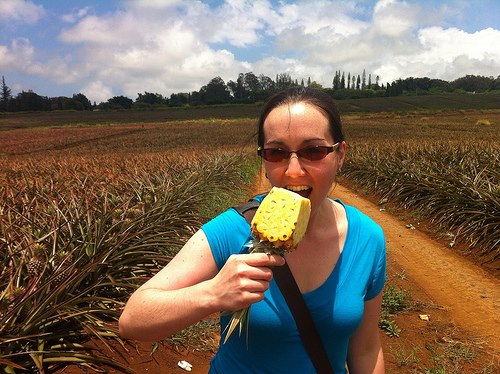 Juice dripped down my chin and onto the ground with every single sweet, delicious bite. It wasn't long before my lips felt a little tingly from enjoying so much pineapple at once. After we finished off our first pineapple, Steve asked if anyone wanted more. You're not allowed to leave hungry.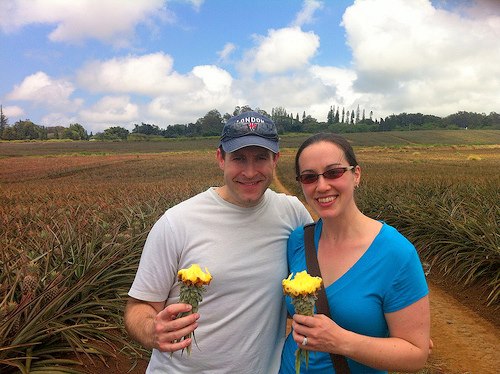 Pineapple to go
Once we had our fill of pineapple, we returned to our meeting point to conclude the tour. Each person received a Maui Gold pineapple to take home, and we learned that we could actually bring the boxed pineapple on an airplane and it wouldn't count against the carry-on baggage policy. If you're like us and eat it before you fly home, you can always buy another boxed Maui Gold pineapple at the airport and carry it on worry free.
To enjoy ours, we followed Steve's advice: twist off the top and then turn the pineapple upside down in the fridge to allow the juices to move from the bottom of the pineapple (where they were sitting while it was growing and standing upright in the store) throughout the entire fruit.
Since we've been back in Virginia, we've tasted some delicious pineapple from our grocery store of choice, but I'll admit none of them have tasted like pina colada!
If you love pineapple and you're social, you can follow Maui Pineapple Tours on Twitter and Facebook.
Disclosure: We received a discount on our juicy experience with Maui Pineapple Tours. They didn't ask me to look sexy in a hairnet, become mesmerized with the crown tossing truck, or write a positive review. I easily did all three on my own.