Massage has proved to be a great healing tool for me in the past, helping chiropractic adjustments last longer and blessing me with a fantastic night's sleep. If I had the resources to schedule a massage once a month, I'd do so in a flash.
If there was ever a time I've needed massage, this last year has been it. I've encountered the stress of being apart from Gavin coupled with visa challenges, planning your own wedding stress, and the kind of stress that weighs heavy on your heart when your family faces the most challenging experience its ever encountered.
Gav and I were looking forward to our honeymoon in Hawaii, not only to celebrate our relationship but also to step away from the trials of the last year and treat ourselves to fun, healthy, and relaxing experiences. When we learned about Luana Spa Retreat and their outdoor couples massages, we knew that making the spa part of our Road to Hana day trip was meant to be.
The meaning of "luana"? The spa says, "to be at leisure, enjoy pleasant surroundings and associates, live in comfort and ease, enjoy oneself, relax, be content". I found this feeling often while living in Australia and was eager to discover it in Hawaii.
Including a massage during the Road to Hana experience
Our massage was scheduled for 11:30am, and after reading insights from travel bloggers along with tourists on Yelp and TripAdvisor, we thought we would have PLENTY of time to take in the stops we wanted to make between Paia and Hana and still get there with time to spare. Well, I thought we'd have plenty of time. Gav encouraged me to consider leaving our accommodation in Paia at 7am, as we had originally planned, but I suggested we leave at 8 instead. "Still heaps of time to enjoy our desired stops and get there at 11:15", I promised.
You see where this is going, right?
We left Paia at 7:45 and eagerly set off for a day filled with blind curves, along with constant twist and turns, all to be rewarded with beautiful views and fun (some hidden!) stops on the drive to Hana town.
About two minutes into the first set of curves, twists, and turns, I realized I was tensing up in the passenger seat. I smiled at Gav while hanging onto whatever I could and trying to relax my muscles. "Good thing we're having a massage soon. I'm going to need it!"
In the first hour or so of the road trip, we were ahead of schedule and I thought we might arrive in Hana well before our message. So what do I do? Suggest we take our time at the next few stops and maybe add in another one or two. Good one, Heather!
When we were still an hour away, I knew we were going to arrive right on time if we were lucky. We knew navigating the curvy route of the Road to Hana was going to take longer than expected, but even with that knowledge, we had slightly misjudged our timetable. And I hate being late, especially when someone is expecting you. The more I thought about being late, the more stressed I felt. I needed that massage more than ever!
When we arrived in Hana, we managed to drive right past the spa. I easily spotted the Thai restaurant that's connected to it, and when we asked someone at the outdoor restaurant where to go for our massage, the pointed just around the corner. YES! We made it. If you're not in a panic because you're late to a relaxing experience, you'll probably notice the oval sign that clearly states "Luana Spa Retreat" out front.
Traditional Hawaiian massage overlooking Hana Bay
Luana Spa Retreat was so unique to anything I had experienced before.
We were greeted by our two massage therapists outside of one of the spa's two yurts. Having never been in a yurt before, I had no idea what to expect. I was in for a pleasant surprise.
In this yurt, the spa offers clients massages, body treatments, and facials. Since we were having our massage outdoors, we quickly took turns changing into a robe behind the dressing screen while the other enjoyed a small glass of water and got acquainted with our massage therapists Linda and Eve.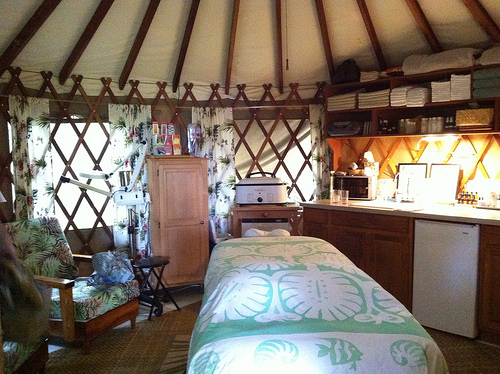 As soon as we were ready, Linda and Eve guided us along a short path to the spa's hale (hut) overlooking Hana Bay.
Two massage tables had been set up under the hale, and trees surrounded the hut, offering us privacy and creating a feeling like this was OUR special place.
While the spa offers a variety of techniques, we were looking forward to our 60-minute outdoor lomilomi massage. Luana Spa Retreat describes the lomilomi style as "traditional Hawaiian massage, integrating body, mind, emotions and spirit through long, flowing, rhythmic strokes which work through the muscles to connect down to the iwi (bones)." While there are people around the world trained in this technique, I had never had an opportunity to experience it before. And what better way to celebrate Hawaii than to enjoy moments that are part of its culture?
View of Hana Bay from the hale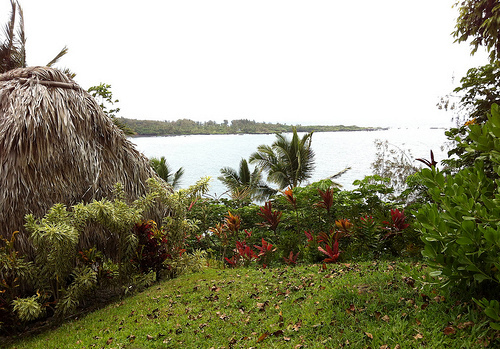 Linda proved to be a skilled therapist from the start — no wonder with 30 years of experience and what I'm sure are also natural abilities influencing her work. I've had massages from 6-7 people before, and she easily tied for #1 massage I've had the good fortune to enjoy.
Five minutes into the massage I noticed something special. As Linda continued her work, I felt the stress of the day being released as I allowed myself to just be. And then I realized I felt a light, welcome breeze as the wind gently blew for the entire hour. I could hear the same wind stirring the leaves of the tallest branches, producing the same soothing effect as listening to small waves break on the shore. Birds occasionally chirped. Bamboo chimes made themselves known whenever the wind moved in the right direction. And with a deep sense of appreciation and gratitude, I felt myself relaxing even more, finding our beautiful outdoor environment just as rejuvenating as the touch.
At one stage, Linda worked on my arms. As she brought one back to its resting place on the table, I unintentionally helped by slightly using my muscles to aid her. "No", she said gently, "don't help me. It might undo some of the work we just did. Let's try again. This time, don't help at all — let me." Even with her guidance, I almost did it again without meaning to! It was a really good lesson, as apparently I was trying to make sure I relaxed by working at it

As the massage came to a close, I felt so content and peaceful that I didn't want to get up.
When Linda and Eve asked where we were going next, we learned that our farm tour would require a 30-minute drive instead of the 10-minute one we had been expecting. Instead of a leisurely lunch at the Thai restaurant on the property, we had to get dressed and hit the road!
Underneath the hale, minus massage tables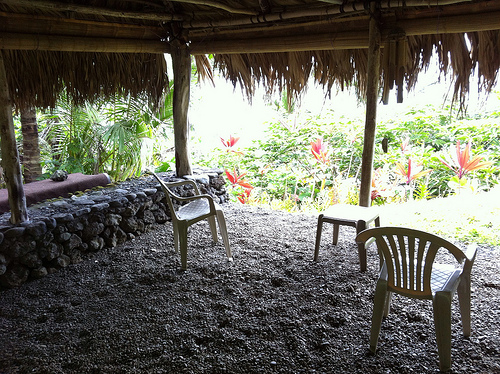 Next time at Luana Spa Retreat…
Before we left, we took a look at the other yurt on the property. Guests can reserve this one as overnight accommodation, and I was so curious what it would look like inside.
It was more spacious inside than I expected and included its own kitchen, outdoor shower, and separate but enclosed bathroom. I *love* outdoor showers and was immediately taken by the yurt. We knew it was fully booked long before we arrived in Hawaii, and next time we're in Maui, I would love to stay here for a night or two. The Road to Hana drive makes for a long day, and staying overnight in Hana town would be the perfect way to break up the trip. Even though we were on the road and exploring stops for HOURS, we still felt like we rushed through the day, and who wants to feel rushed in Hawaii?!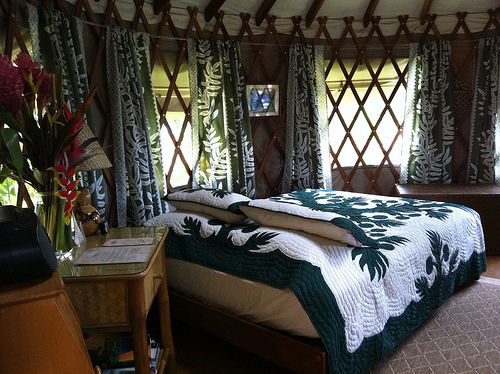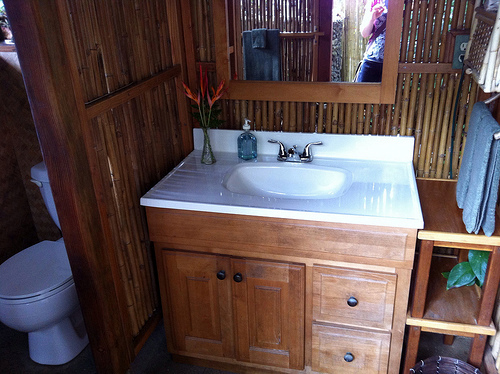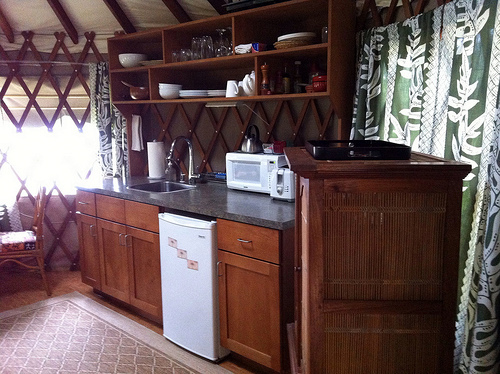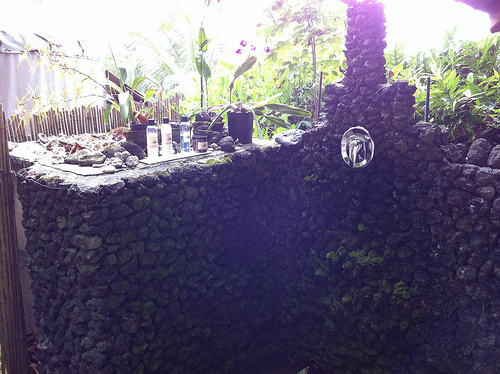 Since I'm a sucker for outdoor showers, it shouldn't come as a surprise that I enjoyed the outdoor toilet too…see, I had to go before we left for our next destination, and I was directed just up the hill to a spot behind the first yurt where we changed clothes. Wooden planks hid the toilet and its visitor from view, but the other three sides of the "bathroom" were open to the trees. And this wasn't your "I'm in the middle of nowhere and so scared to use this non-flushing outhouse" variety. Imagine a standard bathroom in a home. Now remove three walls, place it outside, and there you go. Seriously, I loved it!
In addition to not being able to stay overnight in the second yurt, I regret not having time to eat at the Thai restaurant. Tourists post rave reviews online, and on our next visit, I'll arrive with ample time to sample as many dishes as I wish!
If you're looking for a way to unwind and relax in Maui, particularly on the famed Road to Hana, I can't recommend Luana Spa Retreat enough — it was one of the best experiences of the entire 2-week honeymoon.
You can learn more about the various treatments they offer on their website and follow them on Facebook.
Aloha ♥
Disclosure: We were guests of Luana Spa Retreat. They didn't ask us to arrive 5 minutes late when we should have been there 15 minutes early (*mortified*), find the outdoor toilet facilities charming (seriously!), or love every single second of our couples lomilomi message (absolute heaven). If I was fortunate to go to Maui again, I'd return to Luana Spa Retreat in a heartbeat, whether I was their guest or not.