When I was younger, I felt comfortable in front of the camera. I was the ham, the goofball, and the star of the show.
Posing sweetly for the camera at age 4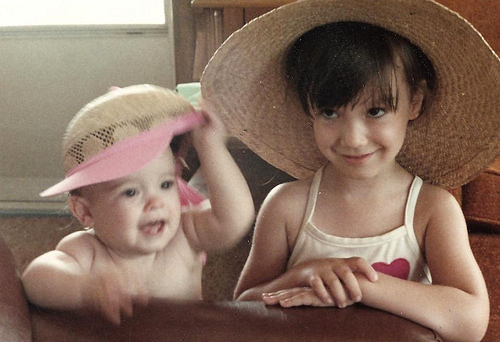 Fast forward to the teenage years, and I avoided being photographed or video taped if it all possible.
I eventually grew out of that stage, but I still didn't feel comfortable being the center of attention.
In the last month, I've been the co-star in several photo sessions, thanks to our wedding and honeymoon! While I'm still not ready to give up career counseling to pursue a career in modeling any time soon, I've enjoyed spending time with Gav and having friends capture both special and every-day moments with their cameras.
Meeting Maui lifestyle, couples, and wedding photographer Aubrey Hord
While Gav and I were in the beginning planning stages of our 2-week honeymoon in Hawaii, we learned about photographer Aubrey Hord and her work capturing weddings, special moments for couples, and celebrity events. I knew I liked Aubrey's style after browsing her portfolio, and the first time we spoke on the phone, we instantly clicked. Like me, Aubrey is a story teller, and the way she described her life's journey, work, and world travels made me feel like I had a new friend. And, just to add to her coolness factor, her work has taken her to so many places, including my home away from home, Sydney, Australia.
Since Gav and I have spent most of our 2-year relationship an ocean apart, we don't have an abundance of photos of us together, let alone professional ones. We knew that booking one of Aubrey's "Romancing the Island" photo sessions would be a perfect way to capture and celebrate our journey as newlyweds, our honeymoon, and that we're finally able to be together!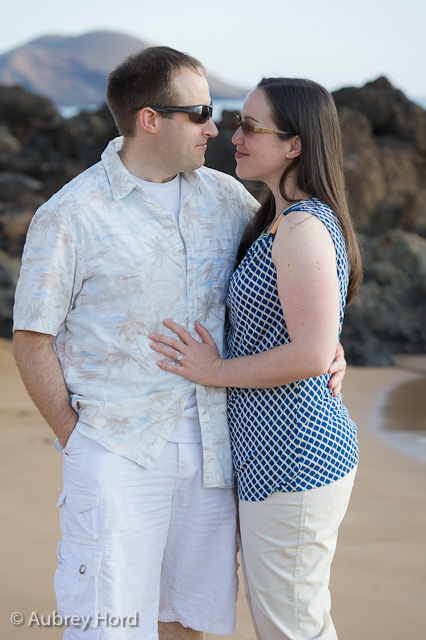 Lights. Camera. Action.
We decided to book our session on our first full day in Maui. I knew we might be jet lagged, but I preferred to take that risk — I didn't want to be photographed nearly a week later, when I would have no doubt added a few pounds of honeymoon weight

Aubrey and her assistant Nicole met us at an easy-to-find public space, and then we followed them to a nearby beach for our romantic sunset couples shoot. The beach in south Maui is one of Aubrey's favorite places for photo sessions on the island and for good reason. While the beach is public, it's not too packed with people, and it's long and wide enough to capture a variety of shots. A few other photographers have learned about this magical location too, as we saw a maternity shoot and two or three small weddings take place during our 90-minute session.
Even though Gav is more camera shy than me, I think I was more nervous than him to be in front of the camera! Thankfully, Aubrey proved to be a great coach, walking us through each step of the process. The best way to start? Take a stroll down the beach and enjoy making memories with your partner.
While Aubrey coached and helped us find the best angles, her assistant Nicole was quietly and quickly at work, adjusting the lighting and helping our faces find just the right amount of shade. The pair have worked together for years and it shows.
Getting cozy. Really glad Aubrey got the dark clouds in the background here too — the sky was gorgeous that evening.

About halfway to two-thirds of the way into our shoot, it was time for a wardrobe change! I thought we would have to run back to the car to semi-privately change clothes, but Aubrey had a quick pop-up + zip-up "dressing room" that Nicole had assembled in less than 30 seconds. The dressing area provided us with complete privacy and maximized the time we had remaining in the session, since we didn't have to spend valuable time going elsewhere to change.
I love everything about this photo. One of my favorites.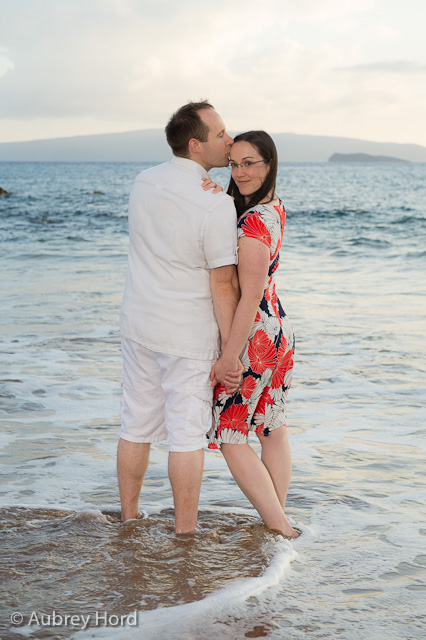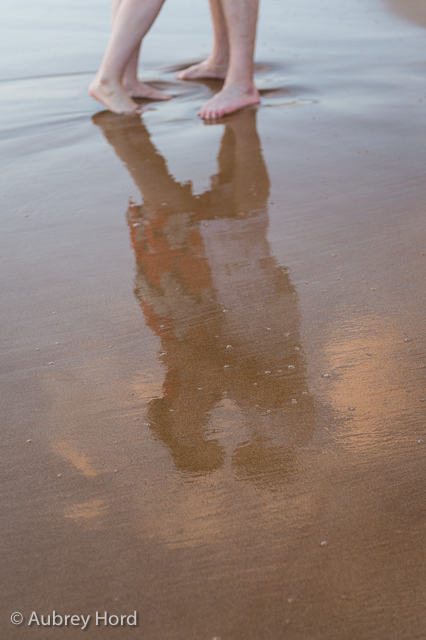 The view was absolutely stunning as sunset approached. We didn't want the moment to end.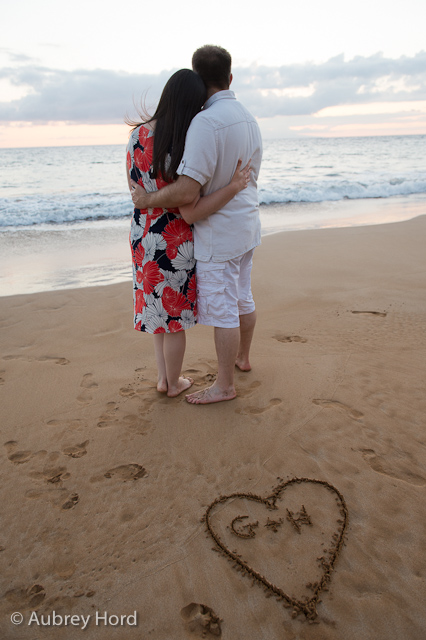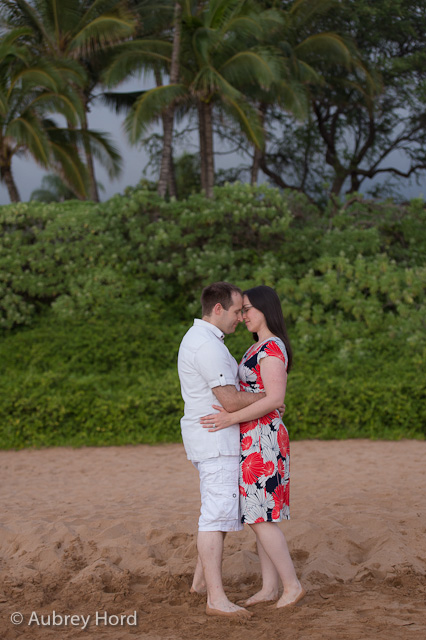 Aubrey and Nicole made the photo shoot easy, comfortable, and fun. Aubrey is so easy to get along with, and her style and personality helped us give her what she needed to capture some wonderful moments that we'll always treasure. And even though we weren't the only ones on the beach, we still felt like it was our little spot. Thanks for creating a special evening, Aubrey!
You can check out Aubrey's portfolio on her website and if you're social, follow her on Twitter and Facebook.
Disclosure: We received a discount on our Romancing the Island shoot. Aubrey asked us to jump in the air, laugh, smile, and get cozy. She didn't asked us to write a positive review – that just came naturally.
Featured image is a picture perfect image taken by Aubrey during our shoot.