Before we even started planning our Hawaiian honeymoon, I already knew the number one thing I wanted to do in Maui — attend a luau.
If you're a regular reader, you know I explore new destinations through food. What you may not know is that I have a strong appreciation for dance and love watching performances live or on TV. Take a Hawaiian feast and pair it with traditional dance in beautiful outdoor surroundings. What's not to love, right? Me at a luau was meant to be.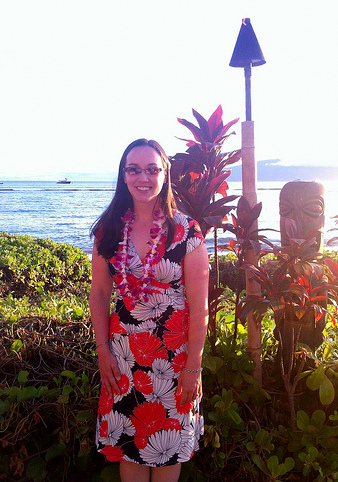 A little research into the luaus led me to the Feast at Lele, the only luau in Maui with plated dishes, instead of a buffet, and seating arrangements based on the number of people in your party. Instead of sitting at a large table with people we don't know, us newlyweds could enjoy a romantic table for two.
The foodie in me was so excited about the 5-course menu. Each course celebrates the cuisine of the Polynesian islands, with dance performances to match the island nation being highlighted during the course. Executive Chef James McDonald is one of Maui's most well-respected chefs, and I knew we would be in good hands with his vision and direction.
Welcome to the Feast at Lele
You know when you build up something in your mind and then pray it doesn't disappoint? Of all the wonderful things we were fortunate to see and experience in Maui, this is the one I wanted the most.
I was like a little kid on Christmas morning, so naturally we arrived early — I didn't want to miss a thing.
We took a short beach walk while staff prepared the tables for guests to arrive.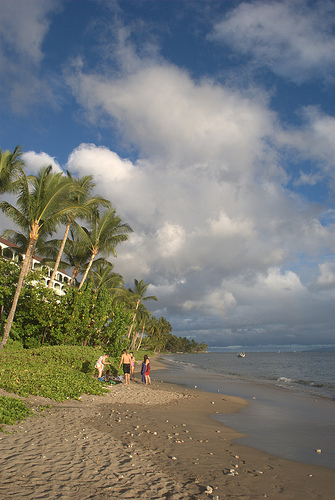 When we returned to the check in desk, I could tell other guests were buzzing with excitement. Soon, a staff member announced that they were ready to welcome us!
A view of the tables from the beach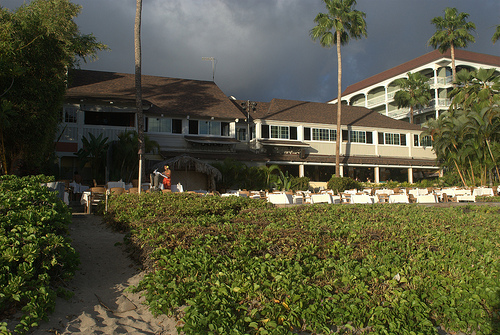 Before our trip I had read that fresh flower leis were no longer given at the luau. To my surprise, we were welcomed with fresh leis!
Next, each guest was offered a cocktail to take to their table and enjoy while staff bring an appetizer of taro, banana, and sweet potato chips with salsa.
I know I usually talk about food, but let's talk about these cocktails for a moment.
I only have a glass of wine or a cocktail from time to time, so I rarely talk about alcohol on the blog. But these drinks deserve a few lines of their own.
First, there's the Mai Tai we selected as our first drink. At 33, I've had just 5 or 6 of these in my life. But I feel reasonably sure stating that this is the best Mai Tai I've ever had and it's probably the best one I'll ever have.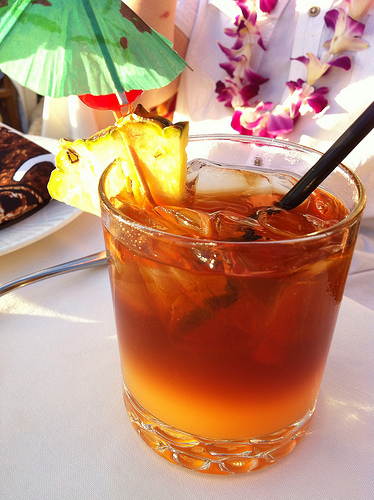 Next, I tried the Banana Madness (a piña colada with banana and Irish liqueur) while Gav opted for the Lava Flow (a piña colada with banana and strawberry swirl).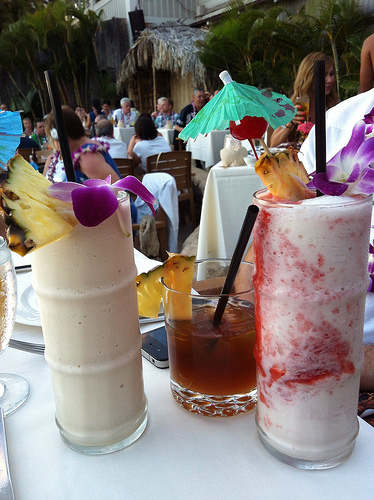 Gav, being the gentleman he is, let me have a sip of his Lava Flow before he did. I almost didn't give it back. Gav took a sip. He declared that it was the best drink he had tasted in Hawaii. One week later when we flew home to Virginia, both of us still sighed happily when we thought of the Lava Flow. Get this drink.
Cocktails are unlimited with the luau, but after the Mai Tai and our first coconut cream based drink, we were getting full and still had 3 of our 5 courses to enjoy.
Food, dance, and a gorgeous sky
Gav and I were two of the first to be seated, so we happily snacked on our appetizer and sipped our Mai Tais while other guests were escorted to their tables.
Banana, sweet potato, and taro chips with salsa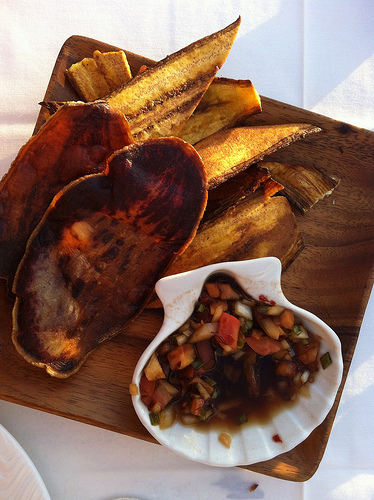 Gav wearing a flower lei and the umbrella from the drink

I don't think there's a bad seat to be had, but we were definitely fortunate to have what was in my opinion one of the best tables. We were slightly elevated on the second level from the stage, and we had a direct view of the sun as it set over beautiful west Maui.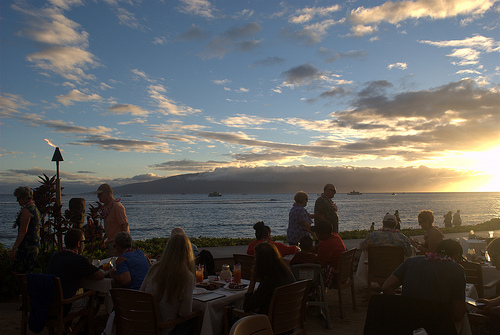 Our host/MC welcomes us and introduces each performance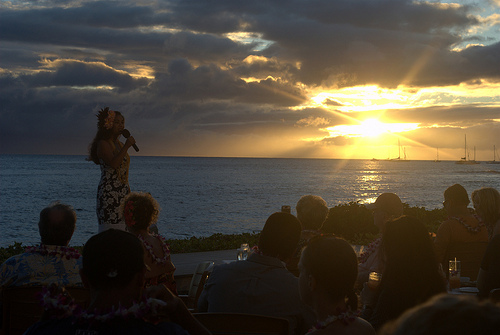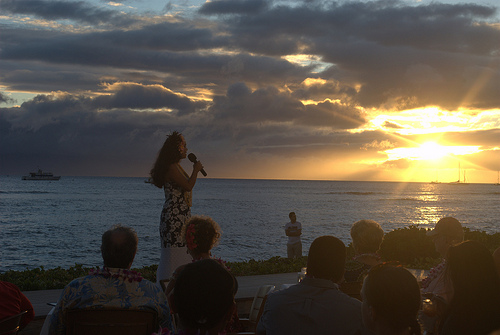 As we watched the sun gradually set, course after course was set before us. It was truly a feast.
First course representing Hawaii:
Imu roasted Kalua pig — *my favorite component of any dish for the entire evening*
Pohole ferns and heart of palm salad
Fresh island fish with mango sauce
As we lost lighting, it was more challenging for me to take photos of our courses. And the Banana Madness was filling me up quickly. I still savored every bite of my half of course three, representing Tahiti. I adore scallops and loved the baked scallops on the shell.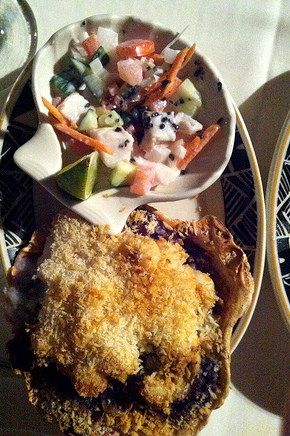 While we dined on food from Hawaii, New Zealand, Tahiti, and Samoa, we also watched a talented group of artists perform traditional dances representing each culture.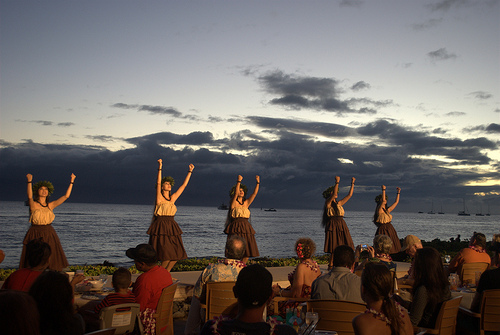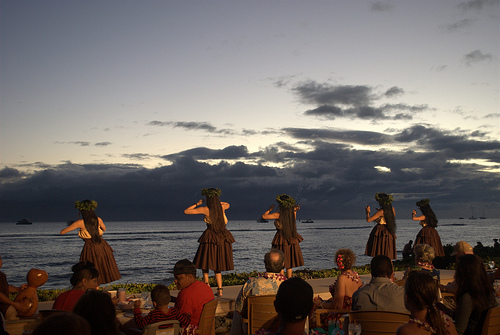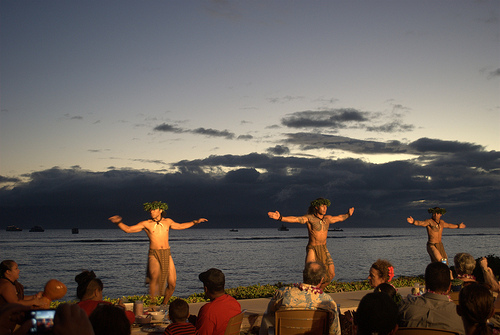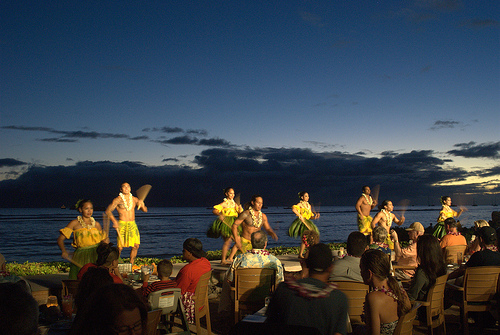 Although I tried my best to capture images of our food and the dancers, I eventually set the camera aside to take in the atmosphere. To enjoy what could be a once-in-a-lifetime experience. To make a long-lasting memory from our honeymoon.
When the sun disappeared behind the horizon and the dancers returned to the stage for another performance, moving to the beat of the live musicians, I couldn't hold in a few tears that had slowly been working their way to the surface.
The Feast at Lele was everything I had hoped it would be and then some. For a couple of hours, I was in a tropical paradise with my new husband, learning more about Hawaiian food and culture while being well taken care of by the luau staff. Every tear drop represented how blessed I felt to have met and married Gav and have the resources to afford our honeymoon after all of the visa expenses we've had to save and pay for. And I cried because the Feast at Lele became one of the most magical moments of our trip and I didn't want it to end.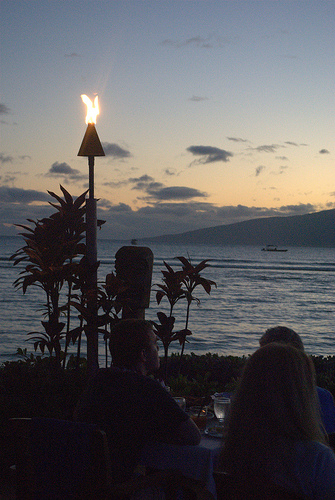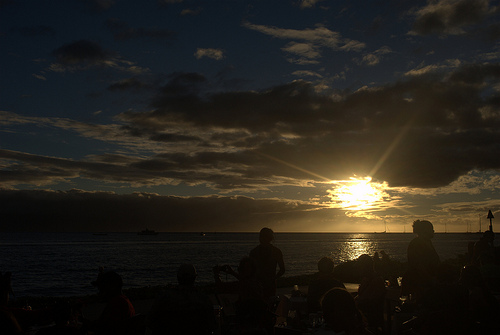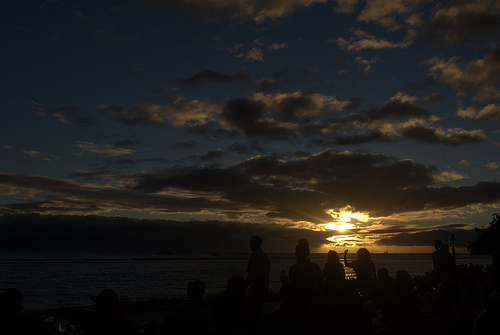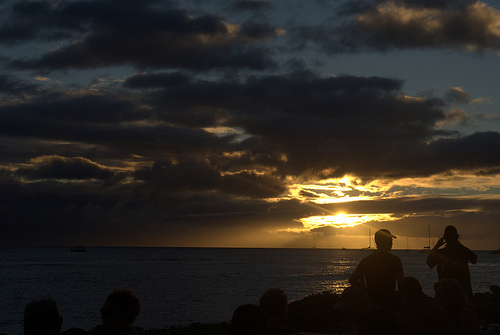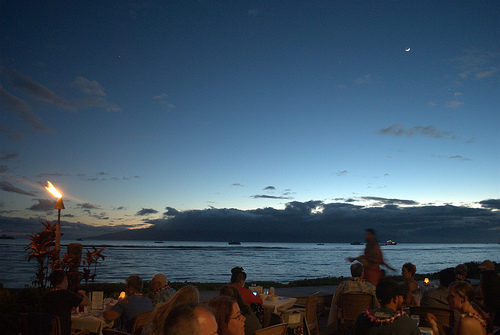 When we thought the evening couldn't be any better, the final course arrived. To our surprise and delight, a chocolate "Congratulations" was included.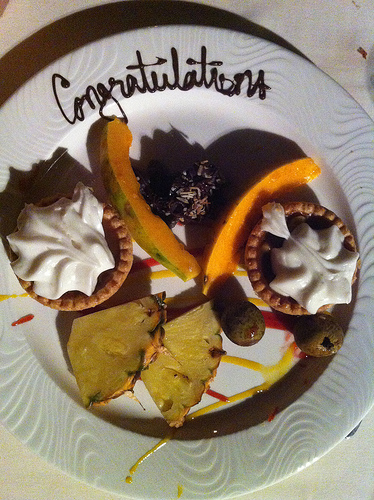 If we're able to return to Maui in the future, I would love to bring my parents and make a reservation at the Feast at Lele for four. Their first and only trip to Hawaii was nearly 30 years ago, and the memories they made then are still very important to them today. I hope 30 years from now we can say the same.
I've only shared part of the menu with you here. If you want to read about all of the delicious courses, visit the Feast at Lele website. If you're social, you can also connect with the luau on Facebook and Twitter.
Disclosure: We were guests of Chef James McDonald and the Feast at Lele. He didn't ask me to eat more than my fair share of the Kalua pig, shed a few tears in gratitude for a perfect night, or write a positive review. I happily did all three on my own.