Following 6 days in Maui, we're heading to the Big Island for a week!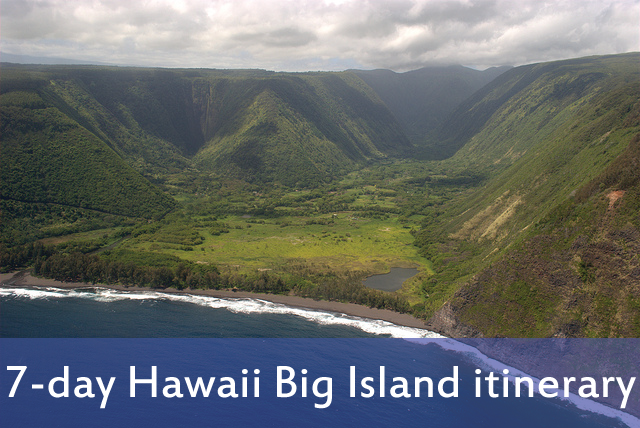 Day 1
We say goodbye to Maui and fly with Hawaiian Airlines to the Big Island's Hilo International Airport (ITO). Instead of picking up our rental car at the airport, we'll take a taxi to a nearby Enterprise location, saving us $100 on our week's rental!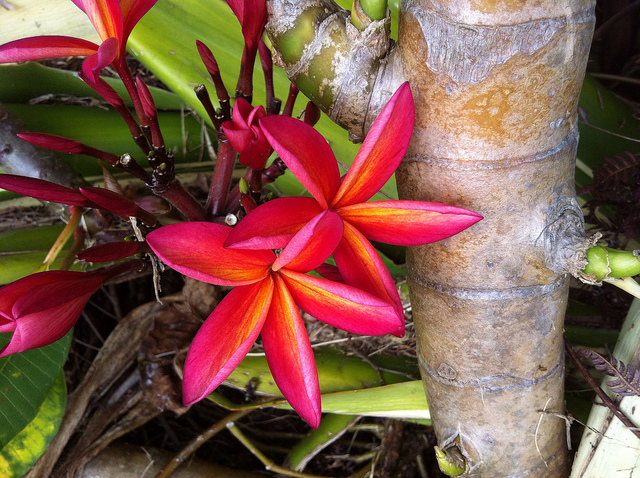 Depending on how we feel, we may head straight to Volcanoes National Park or we may stay in Hilo to explore before checking into our vacation rental found through Airbnb, just 10 or 15 minutes north of the city.
Day 2
The Hilo Farmer's Market is open! I'm looking forward to talking to the vendors, sampling fresh produce, and buying some food to take away.
After getting our fill, we'll explore Hilo or Volcanoes National Park, whichever we didn't do the day before and hopefully snorkel at a spot that's been recommended to us between Hilo and the Park.
Day 3
It's time to depart Hilo and head for the Kona coast! Along the way we'll stop for lunch and a tour at the Hawaiian Vanilla Company. If we're up really early, we might stop at Akaka Falls, though we'll probably do this on our last full day on the island.
>>> Read about our lunch and tour at the Hawaiian Vanilla Company! <<<
When we arrive in Kona, we'll check into our vacation rental (yes, you guessed it, secured through Airbnb), before taking it easy the rest of the day.
Day 4
I'm not sure if I'm going to sleep the night before! On this morning we'll be flying high over the island with Blue Hawaiian Helicopters. The tour includes flying over Kilauea, one of the most active volcanoes on the planet, which has been continuously erupting for the last 30 years. We'll also get to see about half of the island from above! Of all the things I wanted to do in Hawaii, this was my number one, can't-miss experience. I'm so thrilled for this flight!
>>> Read about our helicopter flight over the Big Island! <<<
Lava flow meets the ocean


creditDays 5-7
It's hard to believe, but for three straight days we have no set plans! I'm hoping we visit plenty of coffee plantations, snorkel, eat good food, and just enjoy one another's company without having to be at a particular place at a particular time

Departure day
Our flight back to Maui doesn't depart until late afternoon/early evening, so we'll make the most of the time we have left! First, we'll board a submarine and head underwater with Atlantis Adventures. I'm so glad we'll be able to see the Big Island from so many vantage points

>>> Read about our submarine experience! <<<
On the way back to Hilo, we'll stop at coffee farms, Akaka Falls, and anywhere else we've missed that we want to see before we leave Hawaii and return to the main land.
Within a couple of months of returning from the honeymoon, I'll tell you all about our experiences. Til then, aloha ♥