I wanted an underwater adventure during our 2-week Hawaiian honeymoon.
We looked into snorkeling with dolphins or manta rays, scuba diving, and submarine tours, and understandably, we wanted to do it all!
Since I had suggested so many of our activities for Maui, I asked Gav to select the water excursion we would enjoy on the Big Island. His pick? A tour on a passenger submarine with Atlantis Submarine Adventures.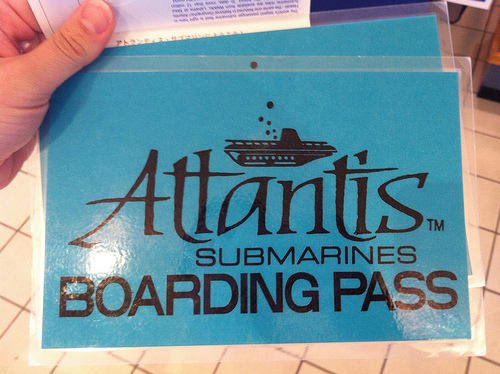 His was the perfect choice. We'd already enjoyed independent snorkeling on both islands, and while he's never tried diving before, neither of us had ever been in a submarine. Snorkeling and scuba are easy to come by, but this could be our only opportunity to experience the underwater world from a sub.
Pre-boarding: Quiet moments on Ali'i Drive
On our last full day of the honeymoon, we departed our Kona Airbnb rental and drove to Ali'i Drive for breakfast at Basik Acai before checking in at the Atlantis Submarines office. Several travelers and honeymooners had shared online that they had a difficult time finding the office, but it couldn't have been easier to spot — across the street from the pier we would depart from and beside the Marriott Hotel.
Looking at the pier from Ali'i Drive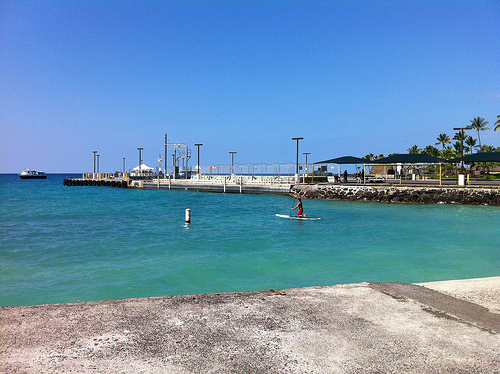 To ensure we found a parking spot, we arrived early. A little too early. That gave us plenty of time to enjoy a brief walk along Ali'i Drive before people watching from the pier. Soon fellow passengers joined us near the boat that would take us from the pier to the submarine.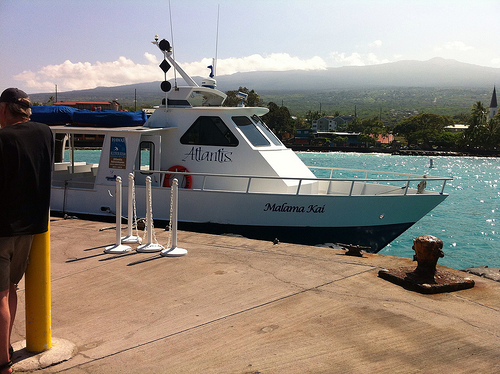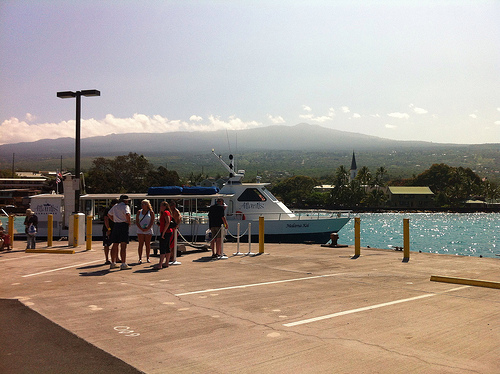 Travel by boat from the pier to the sub
Before boarding, a tour photographer takes a photo of each couple, family, or group, and these photos are available for purchase on the return trip from the sub. I decided to take a free picture of Gav, who was looking quite serious as we prepared to leave the dock! Maybe he was more relaxed than serious, wearing one of his three new Hawaiian shirts and his Maui Ocean Vodka hat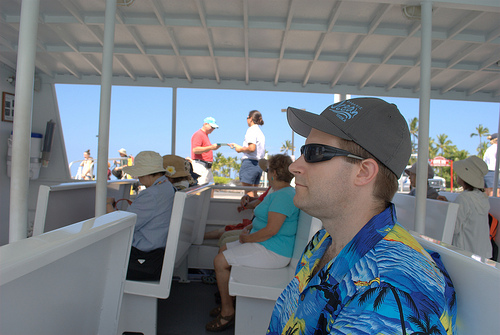 As soon as we boarded, the staff impressed me with how friendly, funny, and safety conscious they were! You always hope for positive attitudes from folks working in the tourism industry, but the Atlantis crew truly seemed to enjoy their jobs, working with each other, and helping each of their guests have a good time. And our tour leader was hilarious. At least I thought so. I know everyone has their own sense of humor, but he had me laughing from start to finish.
View of the shore from the boat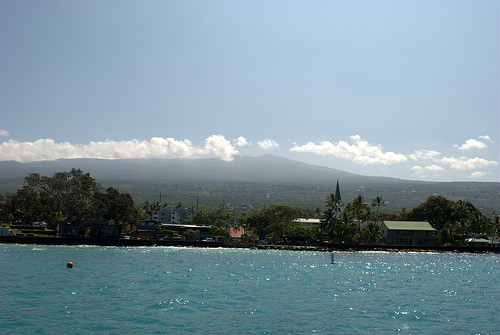 On the five-minute journey from the pier to the sub, we listened to a safety presentation and bought a booklet about the submarine and the tour for $1. A $1 souvenir? Awesome.
When we arrived at the sub, we were all eager to board! Well, perhaps with the exception of one little girl, who was questioning her grandmother's decision to bring her here in the first place. Her expression seemed to say, "Gran, what have you gotten us into?!"
Our first submarine adventure
Row by row, the staff sent us over to the sub where we would descend one-by-one. The little girl was in front of us and looked unsure about climbing down a ladder into the unknown. Her curiosity got the better of her, and once she was out of sight, it was my turn to enter the sub.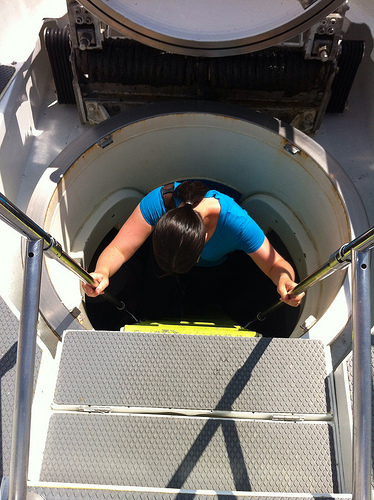 Since we were one of the last ones to board, I figured all of the "good seats" would be taken. I had no idea what the inside of the sub actually looked like, but I had imagined we would stand and walk around the sub at our leisure to look through portholes or that we'd be seated on long benches, where we would have to squeeze in and compete for the best views.
Instead, to my surprise we each had our own seat, and there were enough portholes to go around. Once seated, you're unable to stand up or walk around the sub, but everyone is sure to have a good view.
Although we could tell a few folks were nervous to be on board, Gav and I were all smiles as we started to submerge.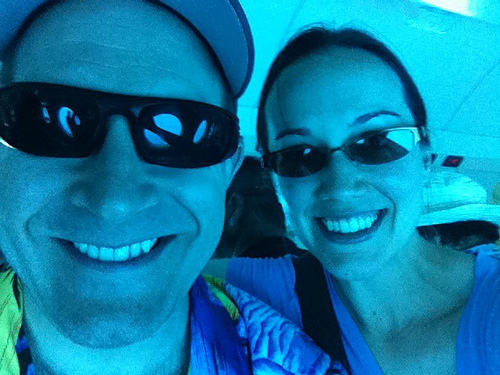 For the next 30-45 minutes, our tour guide named the fish that we saw and told us more about them. I remember that there was one fish that mates for life once it finds its match, and if one partner dies or disappears, the other will search for it and forgo eating in its quest to find the partner. Wow!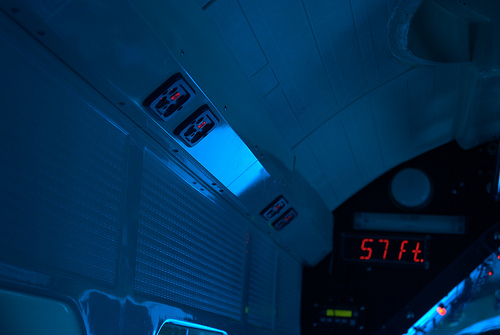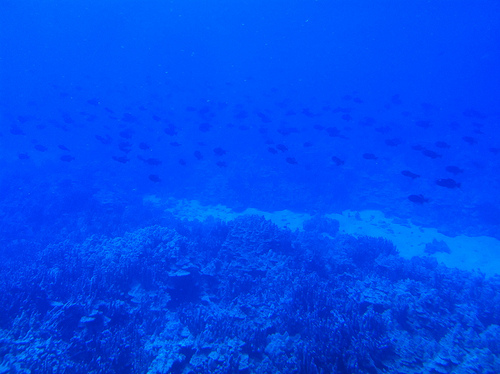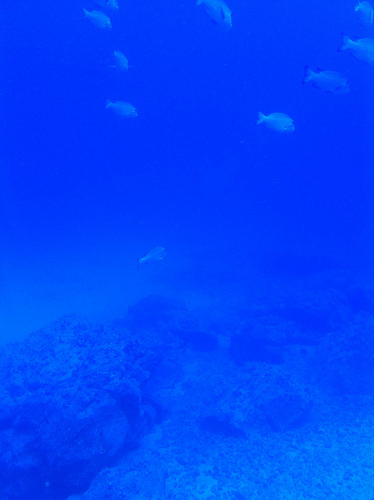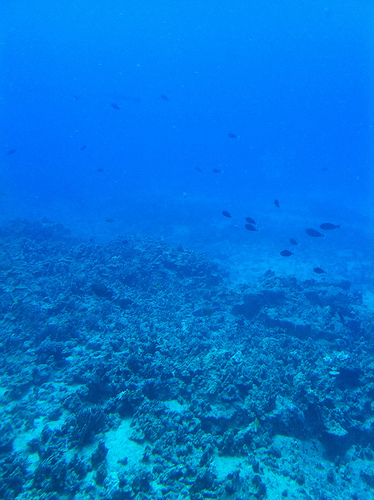 Our guides also addressed an important issue that I'd heard mentioned multiple times during our honeymoon. Most of the fish purchased for aquariums are originally from Hawaii, and some have been collected to near extinction. Removing so many fish from their home environment disrupts the local ecosystems and could mean that we'll lose some of these fish forever in the near future if the practice isn't changed.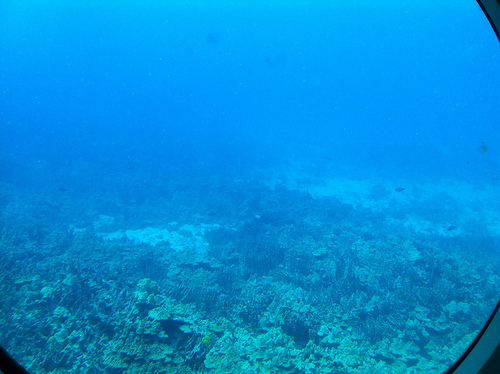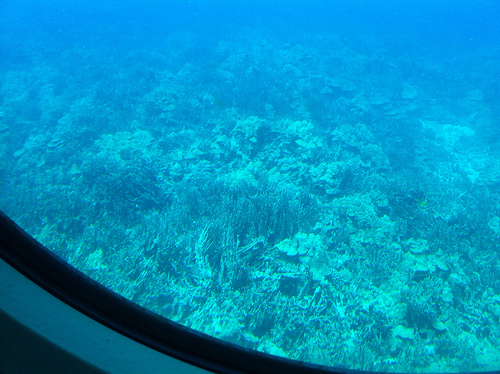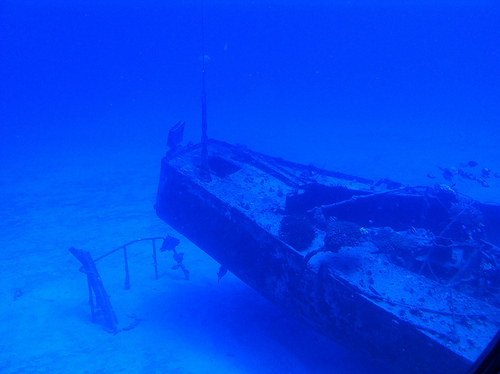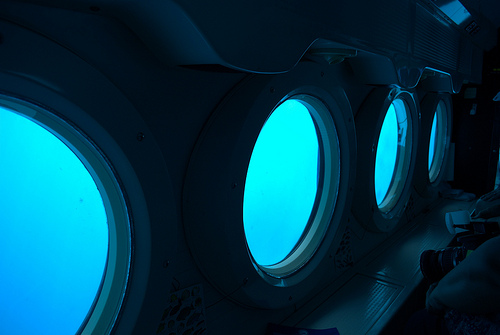 Reaching our maximum depth — top speed of the sub is 1.5mph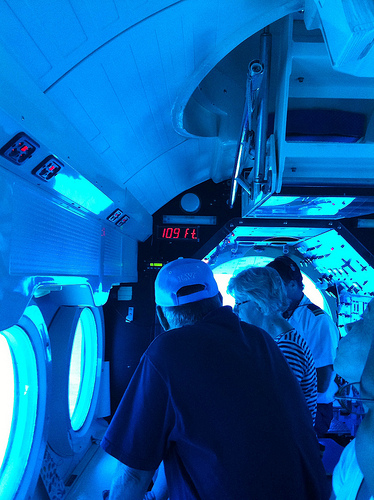 As we came to the conclusion of our tour, the once timid young girl was now eagerly comparing the fish she saw through the porthole to those on her fish ID card. When the guide asked the group a question, she excitedly called out the answer to the surprise of everyone on board. It was then that I appreciated how big of an experience this tour can be for families with young children and adults who aren't comfortable enough with the water to swim or go diving. And while Gav and I saw a greater variety of fish when we went snorkeling, the schools of fish we saw from the sub were much larger.
If you're interested in exploring underwater Hawaii in a submarine, Atlantis Adventures has tours in Oahu, Maui, and of course Kona on the Big Island. If you're social, you can connect with them on Twitter and Facebook.
I'm glad Gav chose this tour. While the views we enjoyed weren't drastically different from those we had seen while snorkeling, the experience itself was unique, and the Atlantis staff were so welcoming, engaging, and knowledgeable. Watching the little girl who was seated beside me transition from feeling completely scared to being full of joy was one of the highlights of the tour.
Disclosure: I was the guest of Atlantis Adventures. They didn't ask me to laugh at our tour guide's every joke, get snap happy on board, or write a positive review. Exploring life below the sea on a passenger sub was a fun, unique way to spend our last morning in Hawaii.