After spending a week in Maui, Gav and I flew to Hawaii's Big Island to enjoy the second week of our honeymoon. We spent the first two days exploring the beautiful, green east coast before venturing to the contrasting lava lined landscape of the west coast.
En route from Hilo to Kona, we stopped for a delicious visit with the Hawaiian Vanilla Company (HVC), home of the first commercially grown vanilla in the USA. If there's a fun or unique food experience to be had, I'm there, and I simply couldn't pass up an opportunity to enjoy a meal where vanilla is incorporated into each dish. I already knew I enjoyed the taste of vanilla in sweet treats but what would I have to say about vanilla with a chicken sandwich? With potatoes?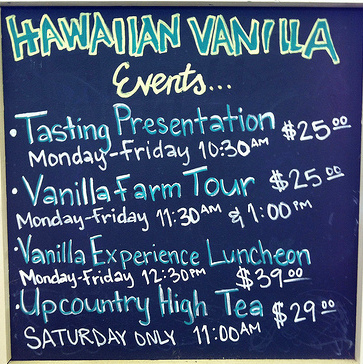 In addition to the food, I was looking forward to meeting HVC founder Jim Reddekopp. His family moved from Oahu to the Big Island years ago and after purchasing land, they brainstormed ways to best use it. When his mother-in-law suggested growing vanilla, due to the perfect conditions for its vine and orchid to grow, a new business was born for Jim's family. After years of traveling the world to learn about vanilla and learning-by-doing, his family now manages a growing business in one of the most beautiful places in the world.
Not only does Jim has a passion for vanilla, but he also loves his background in the tourism industry and mentoring budding entrepreneurs who want to found their own companies and tours. We swapped multiple emails before my arrival, sharing thoughts on the travel industry.
The sunny home of Hawaiian Vanilla Company
As we were planning our honeymoon, I read countless times how easy it is to get lost in Hawaii. Directions from a GPS aren't always reliable, and smaller tourist attractions aren't always well signed. Thankfully our directions to Hawaiian Vanilla Company were spot on, and outdoor signs greeted us warmly.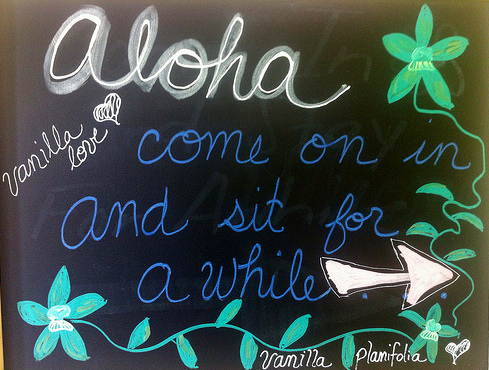 We arrived well before our luncheon experience was set to begin, so we visited the bright and sunny gift shop, which was painted a similar yellow to the outside of the building and bathed with natural light coming from the tall windows on two sides of the room. While I looked at the vanilla extracts, vanilla sodas, vanilla soaps and lip glosses, and other vanilla products for sale, Gav was checking out the Vanilla Shoppe menu and pondering a pre-meal snack.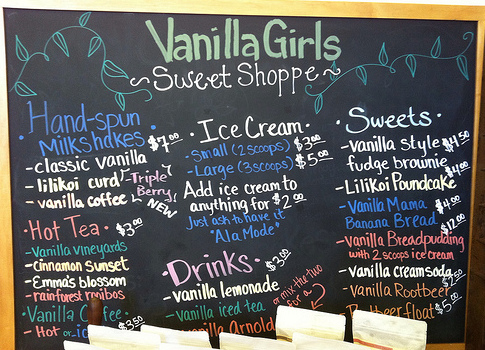 We mustered a bit of self-control and decided to wait for lunch. This was no easy task with the smells of our meal wafting through the air. From the gift shop, visitors have an open view of the kitchen, and we could see the "Vanilla Girls" and Reddekopp family preparing our food.
We didn't taste this lilikoi (passion fruit) dressing during the meal but I hoped we would!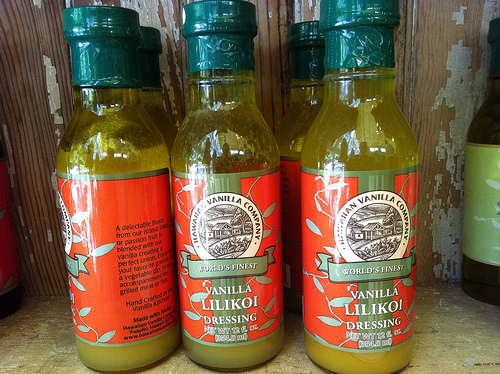 Gav made sure he was on his best behavior while waiting to be seated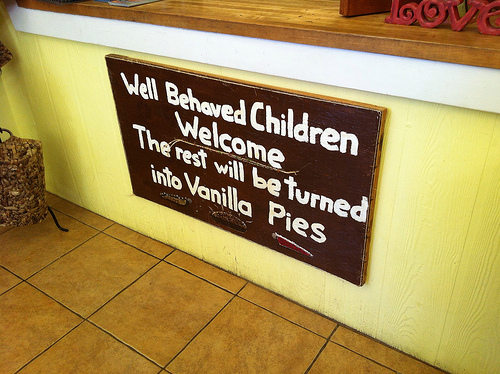 Vanilla Luncheon Experience
For $39 per person, guests can enjoy a three course meal, a presentation about vanilla, and a visit to some of the family's vanilla vines, which are just a short walk away from the restaurant and gift shop.
Colorful, cheerful room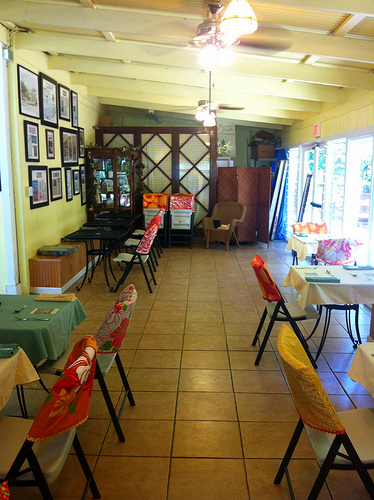 Since founder Jim was outside tending to the plants, two of his children oversaw our luncheon. Each family member has a role to play in the business, and Jim encourages the children to participate in areas where they have a strong interest. One leads the oral presentations and works on the website, some enjoy cooking, and so on.
Once we were seated and sipping our vanilla lemonade, one of the youngest Reddekopps prepared the first course before us while his older brother offered an introduction to vanilla.
Bottomless drinks served in mason jars — you can also have vanilla tea!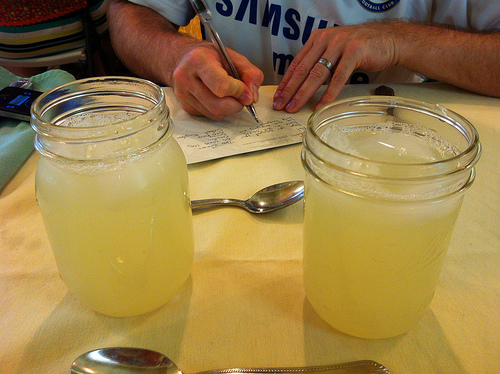 Before our food arrived, we learned that butterfat, alcohol, and acidic things like citrus all help the flavor of vanilla shine. When vanilla is used in a dish without these components, however, the flavor of vanilla doesn't stand out — instead, it helps to round out the strongest flavor in the dish. This explained why our savory main course wouldn't be bursting with sweet vanilla notes like I had expected. Phew!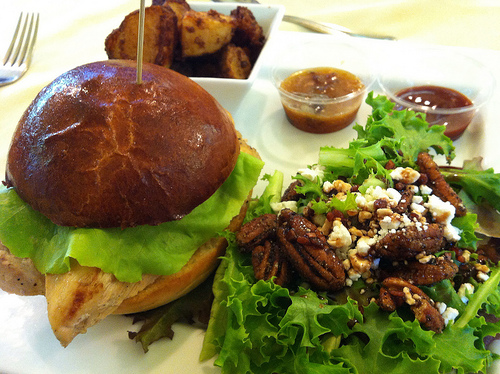 When our meal arrived, I wasn't sure where to begin! The chicken sandwich was paired with a vanilla sweet bun baked fresh that morning. The salad featured vanilla spiced pecans and a dressing that featured vanilla. The spiced potato wedges weren't just a side dish — they were out of this world all on their own! Usually I can pick a favorite component of a dish or entire meal, but in this case, I was torn. Everything surpassed my expectations. It was so delicious that I hated to leave a few bites on the plate, but I found the portions to be just a bit too large for me.
Gav was enjoying his meal too, but I knew he was the most excited about ice cream. This man LOVES ice cream, especially vanilla.
While we enjoyed our meal, we learned some fun facts about vanilla:
● Vanilla is the 2nd most expensive crop. Why? Humans have to pollinate vanilla. The flowers are only open for a few hours, offering us only a brief window to create a bean. 1 flower = 1 bean.
● The vanilla bean has 900 flavor components! Vanilla extract replicates ~700-750.
● The British created vanilla extract as a way to extend the flavor of a bean.
● It takes 5 months or more for a vanilla bean in alcohol to turn into vanilla extract. To make your own, use one bean per 4oz of alcohol and check out this video from HVC for the "how-to" details.
I have some vanilla beans from Indonesia that I bought at the recommendation of a cupcake blogger. Before the end of July, I'm going to buy a bottle of vodka and start the extract process! Hopefully it will be ready for holiday baking in December.
Vanilla vines and Jim Reddekopp
Following the meal, the oldest son walked our group of 10-12 to a nearby covered area, where we met father and founder Jim, who was lovingly tending his vines. He shared how their method of elevating the plants and nurturing them in netting helped preserved the health of the crop. With this set up, they're better able to control the amount of moisture and nutrients each vine receives, and if one becomes diseased, they can easily remove it before it negatively impacts the others.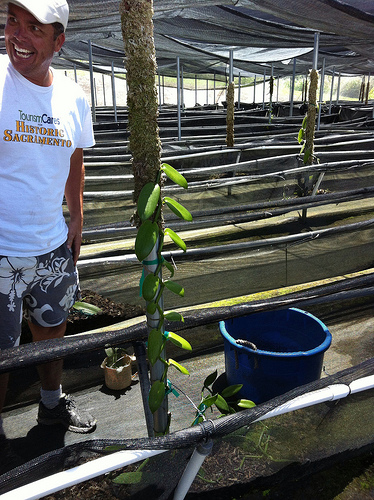 When the rest of the group returned to the restaurant and gift shop for a vanilla presentation by the son, Gav and I stayed behind to chat with Jim. He is so incredibly approachable and down-to-earth that we could have talked all day.
If you're considering a vanilla-filled lunch with Jim and the Hawaiian Vanilla Company, you can call to make a reservation and follow the directions provided on the website. You can also follow in the foot steps of 12,000+ other fans and like them on Facebook.
Have you ever made homemade vanilla extract? Do you have a favorite recipe using vanilla beans? Let us know — we have several beans we need to use and the sooner the better!
Disclosure: We received a discount on our luncheon experience with Hawaiian Vanilla Company. Jim didn't ask me to say positive things about the meal (simple and delicious!), the property (bright, colorful, cheery!), or him (super nice guy!). Once I learned about HVC through my own research, I had to make a reservation since Me + Travel + Food = Happiness.