Before we started planning our Hawaiian honeymoon, I already knew the #1 thing I wanted to experience — a helicopter tour over the Big Island.
When I was five, my parents went to Hawaii on a company trip, and they returned raving about their helicopter flight over Kilauea. The volcano has been continuously erupting since 1983, and they flew right above the lava flow, feeling the heat from the safety of their seats.
Since then, I knew I wanted to fly over Kilauea too if life's adventures ever took me to Hawaii.
As I looked into tour providers, Blue Hawaiian Helicopters stood out above the rest. The company is regularly recognized for providing top tours, service, and talented pilots and guides. I felt that if I was going to invest in the experience, I wanted to go with the best.
While flying over Kilauea was my top priority, we chose Blue Hawaiian's Big Island Spectacular tour, the longest, most comprehensive tour, so we could enjoy scenic views both of the volcano and the lush, green valleys of the north.
Blue Hawaiian Heliport
The Big Island Spectacular tour departs from the Waikoloa Heliport on the west side of the island, just a brief car ride from our Kona accommodations.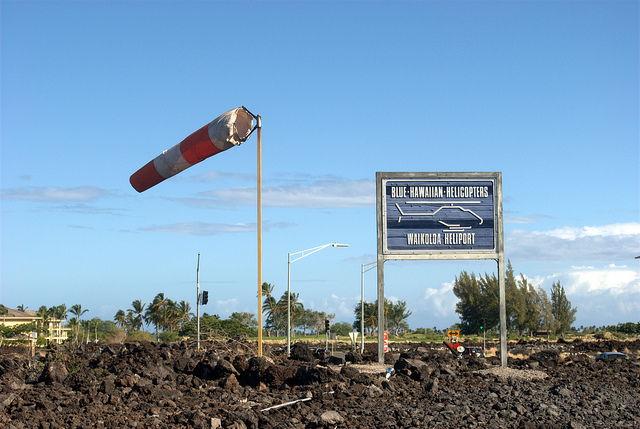 Friendly staff greeted us at check in, offered to store small personal belongings that we could not bring on board, and weighed us so they could prepare seat assignments.
While we waited to meet our pilot, we watched a safety video and received a life jacket.
Before we knew it, our names were called and we followed our pilot to an Eco-Star model helicopter. Compared to the A-Star model that Blue Hawaiian also operates, the Eco-Star offers its guests individual seats (instead of bench-style seating), more cabin space, and greater visibility. We wanted to be as comfortable as possible while seeing as much as possible, so we'd opted for the more expensive flight ($495pp versus $396pp).
Gav and I were assigned two of the four seats in the second row. I was thrilled I had a window seat! Gav had the middle seat beside me. I knew it would be more difficult for him to take photos, but we all had a good view to our right, left, and front.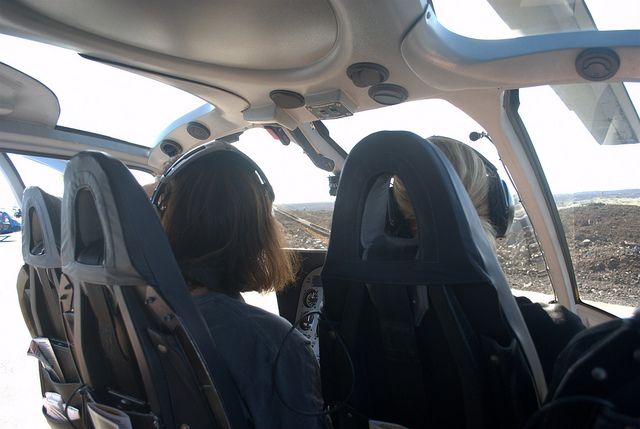 We were the last helicopter in our group to depart, so we watched several others take off before us.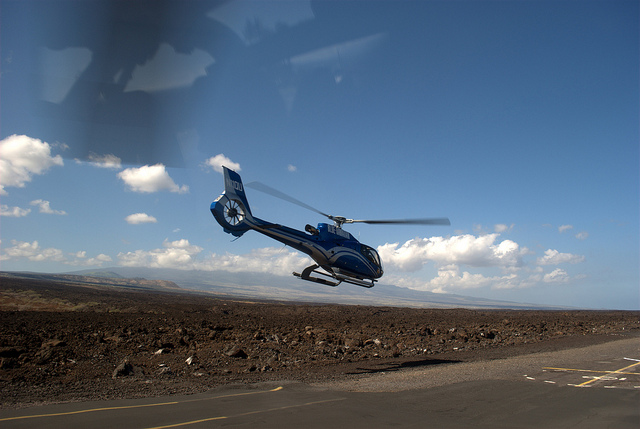 Heliport to Kilauea — volcanic action!
We began our 2-hour helicopter tour by flying across the island to Volcanoes National Park, home of Kilauea, one of the most active volcanoes in the world.
Along the way, we viewed changes in the landscape, as previous eruptions from the island's various volcanoes have left their marks over the years.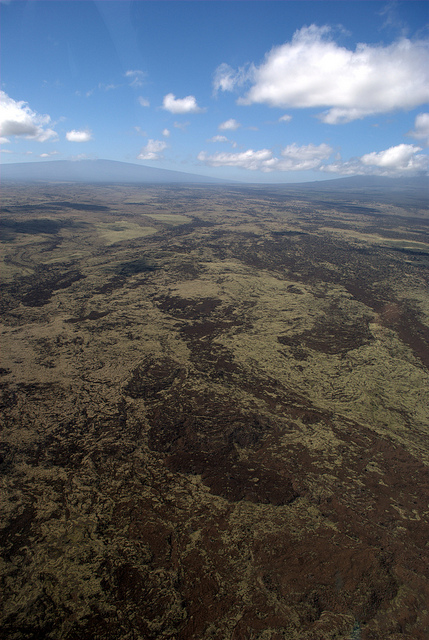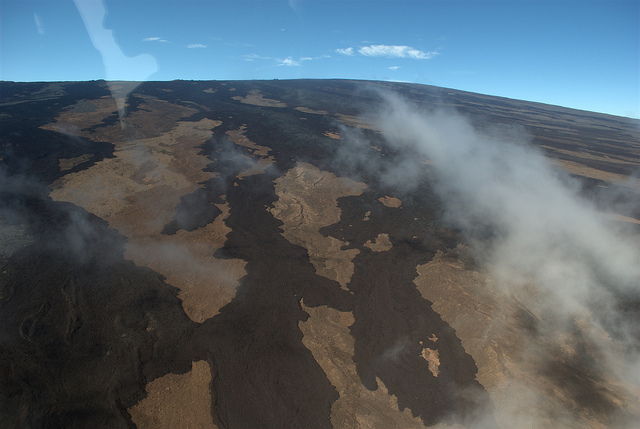 A few days before this tour, Gav and I had visited Volcanoes National Park on foot and saw smoke from the Kilauea caldera. The caldera is a crater one has to view from afar, as the poisonous gases in the smoke prevent guests from getting any closer. I was SO excited to get a view from above!
Our pilot circled the caldera multiple times to give everyone a chance to take photos at their best angles.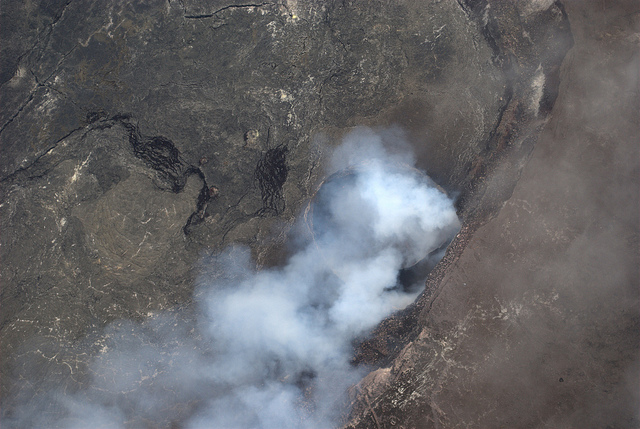 To my surprise, Kilauea did not look like the volcanoes I have always pictured — tall with a large opening at the top for lava to escape.
Instead, lava escapes from Kilauea from a number of spots, mostly on the side. It's not a tall volcano but rather gently slopes and covers miles and miles of land.
On the way to the next area of volcanic activity, we flew over two craters. The landscape was different to anything I'd ever experienced, and I was amazed by the beauty.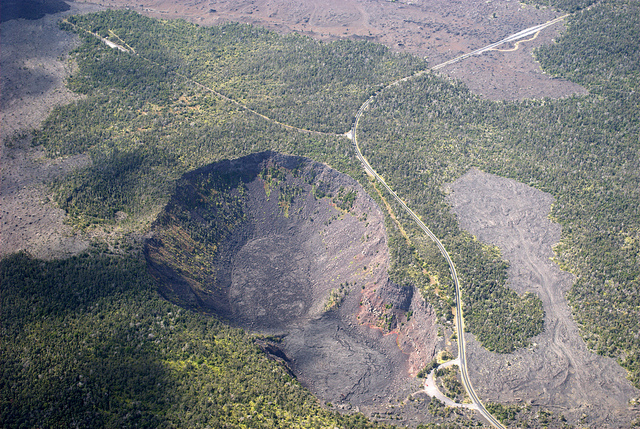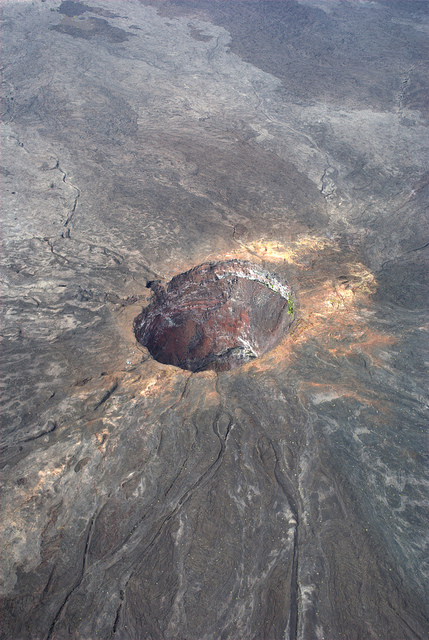 Soon we arrived at another active hot spot which I had not read about before the tour! Everyone stared in awe as we tried to take in the red-orange lava peeking from small openings in the earth.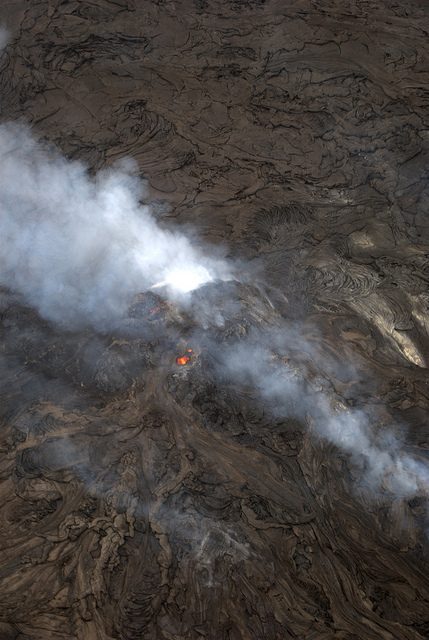 Our pilot shared that in the few weeks leading up to our tour, a trail of lava had started slowly snaking its way down the slope from the location in the photo just above.
If I looked closely enough, I could see the lava inching oh-so-slowly forward.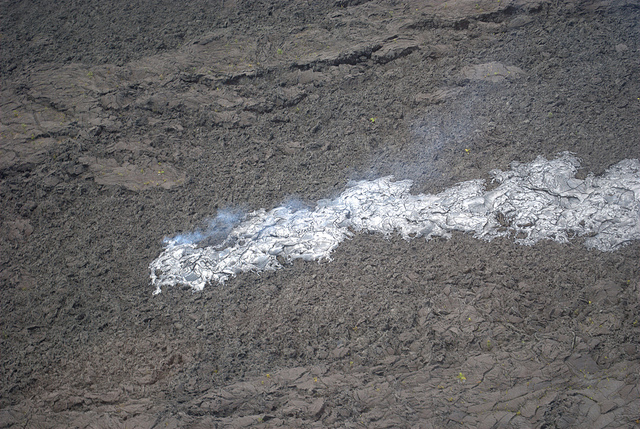 Moments later we flew over another site where just a little bit of lava was making its presence known.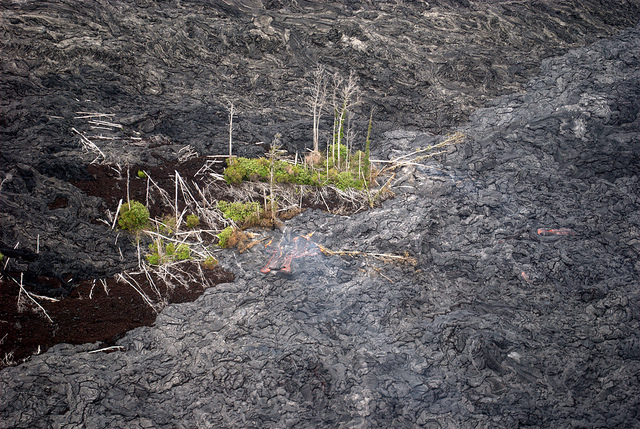 And if this wasn't all awesome enough, our next lava stop would be to the spot I really wanted to see — an area of the coastline where lava has been spilling into the ocean for several years. Before we arrived, I could see smoke alerting us that we were in the right place.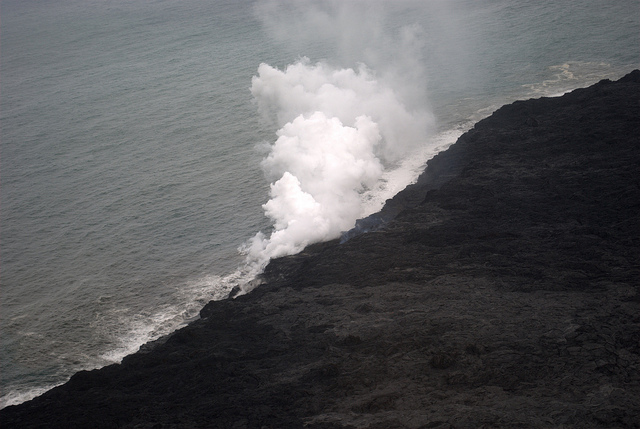 Once again, our pilot made several passes along the coast so we could take in the flow at various angles.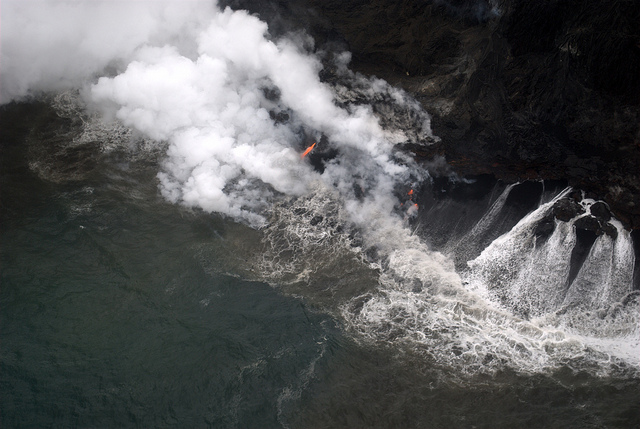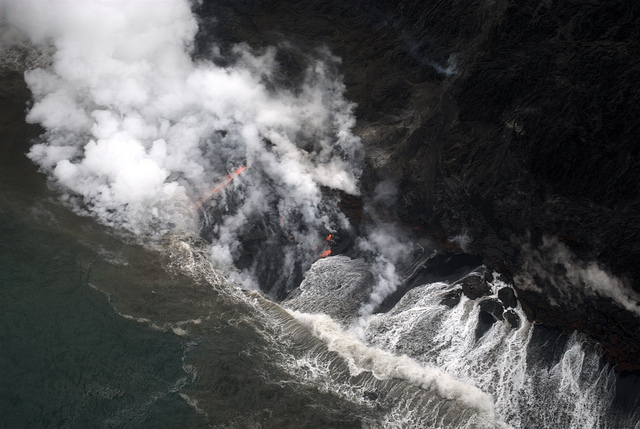 After seeing so many active spots of Kilauea, I thought that if the tour had to end there, I would still be a VERY happy guest. Since we had booked the Big Island Spectacular, however, we still had the east coast and northern valleys to explore!
Lush green scenery and waterfalls of the east coast
I'll be honest — I didn't know if the remainder of the tour could top what we'd already experienced. I figured that the coastline would be pretty, but what would we see that we couldn't see from ground level? Was I in for a surprise!
Within minutes of departing Volcanoes National Park from the air, the landscape changed from rocky and dark to lush and green. This sudden change summarized the Big Island beautifully — the tropical, flowering landscape of the east versus the rocky, volcanic scenery of the west coast.
We had one of our "this is Hawaii!" moments when flying over Waipio Valley.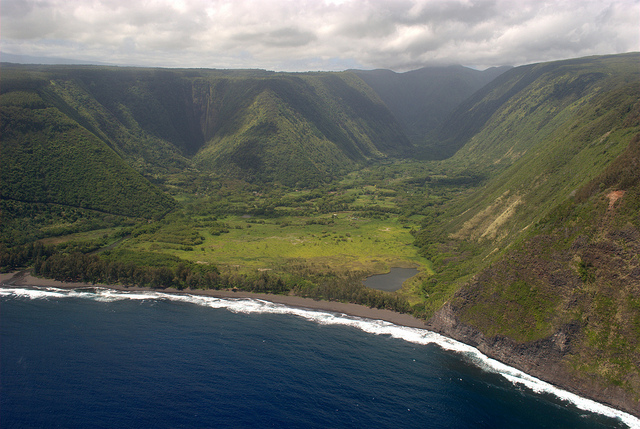 And then we flew into Waimanu Valley. Our pilot announced that this was his favorite spot on the island, and it only took a few seconds for me to understand why.
The valley was a vibrant green, formed by incredibly tall ridges and dotted with equally tall waterfalls.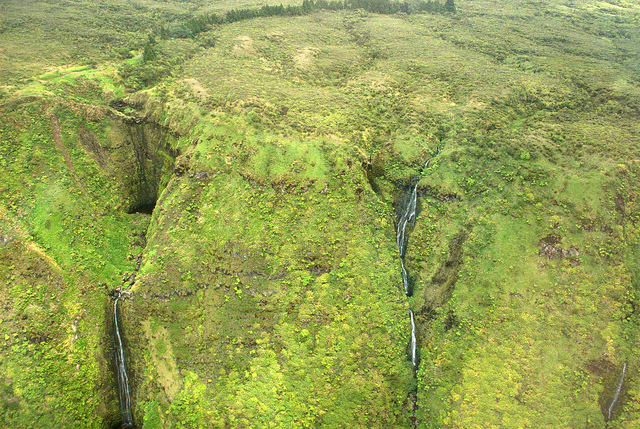 While it's possible to hike to some areas of the valley, the area is very remote and hiking would be quite a challenge. When I realized that I couldn't have enjoyed this area of the island without a helicopter tour, I was overwhelmed with a deep sense of gratitude. How blessed was I to be safely and comfortably flying over one of the most beautiful sites I had ever seen with my husband beside me?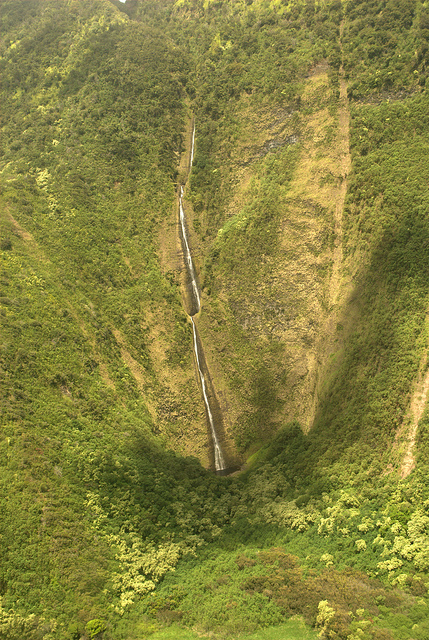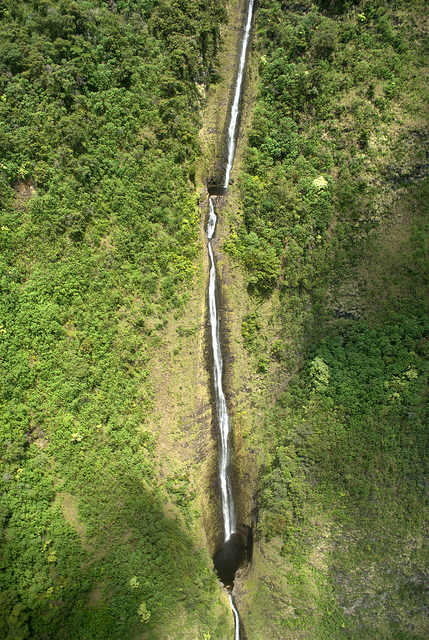 These pictures cannot do the waterfalls justice. One was the height of the Empire State Building, and one was another 1,000 feet taller, though it's still only the 13th tallest waterfall in the world.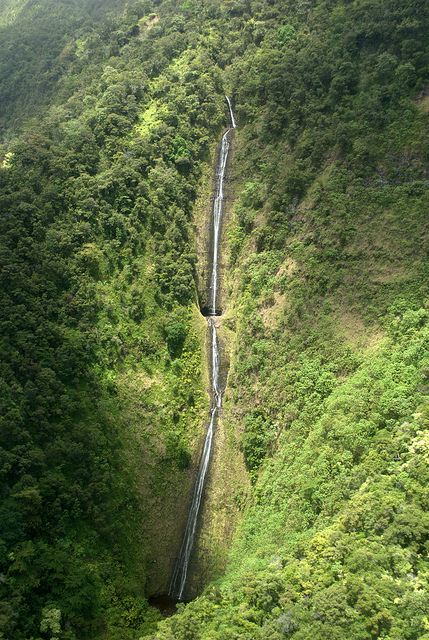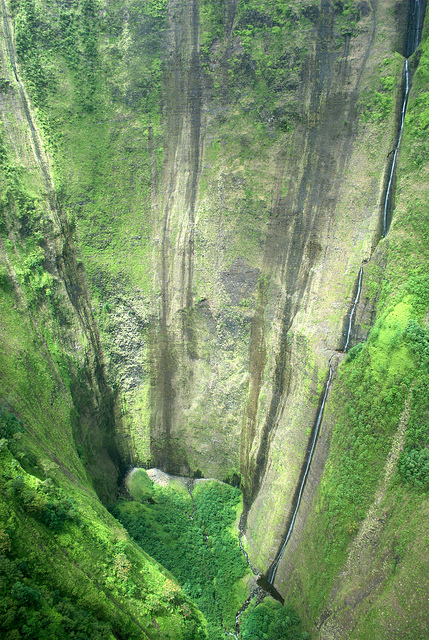 Waimanu Valley touched me in a way that most things and people can't — it left me speechless.
Return to the heliport
While I would have loved to land and enjoy a picnic lunch in the valley, it was time to return to the heliport.
To prove how quickly the landscape can change, green soon faded to brown.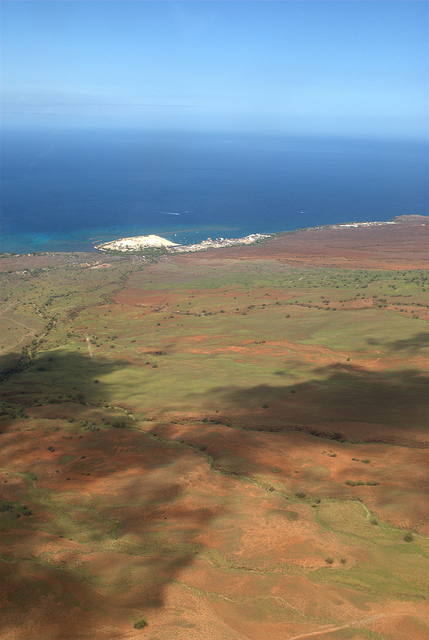 The resort areas on the west coast are developed into green areas, and from above I could see how close we really are to volcanic rock.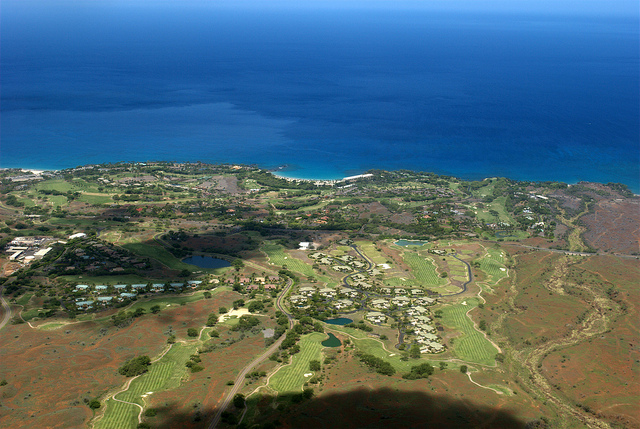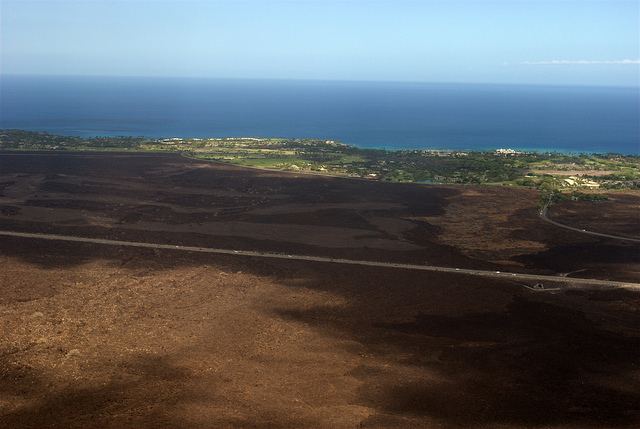 Back at the heliport, our pilot delivered a smooth landing.
We retrieved our stored items and ordered two copies of our flight on DVD — one for me and Gav and one for my parents. It's been nearly 30 years since their first and only trip to Hawaii, and I knew the video would bring back so many wonderful memories of their trip.
In addition to the Big Island, Blue Hawaiian also offers flights over Maui, Oahu, and Kauai. I have no doubt that I'll fly with them again when I return to Hawaii.
If you want to make special memories on your own Hawaiian helicopter tour, I can't recommend Blue Hawaiian enough. I felt like I was safe in the hands of experts from start to finish, and our pilot was also a knowledgeable tour guide, sharing details about our surroundings throughout the tour.
You can review their tours on the Blue Hawaiian Helicopters website and connect with them on Facebook and Twitter.
Disclosure: We were guests of Blue Hawaiian Helicopters. They did not ask me to share heaps of photos, fall in love with Waimanu Valley, or write a positive review. All of those came completely naturally. We had planned to book and pay for the Big Island Spectacular as it was my "must-have" experience and were over-the-moon when Blue Hawaiian invited us for a flight.