For those of you that have followed along with my journey over the last three years, there's no doubt in your mind that I have a sweet tooth. Especially when it comes to dark chocolate and macarons (NOT macaroons).
Over the last two years, I have developed a particular fondness for cupcakes.
It started with making homemade cupcakes for a family member's birthday. Then, for every birthday, holiday, football tailgate, and social event that followed, I found myself searching for the perfect cupcake recipe to match the occasion, like the toffee nut white chocolate mocha cupcakes for my dad's last birthday.
I made Blue Moon cupcakes for a football tailgate.

Maple bacon cupcakes decorated two ways for a breakfast/brunch tailgate.

Last summer I fell in love with cupcakes from The Sweet Lobby in Washington, DC — so much so that we selected them as our cupcake baker for our May 4 wedding.

photo credit: Allison Suter Photography
With my love of food, both savory and sweet, it shouldn't come as a surprise that I subscribe to just as many food blogs as I do travel blogs, if not more. I've been following Stefani Pollack of the Cupcake Project for a while, and when she put out the call for recipe testers nearly a year ago, I submitted my name straight away. So did 500 other people. Wow!
To my surprise, earlier this year I received an email from Stef asking if I was still interested in participating in her search for the Ultimate Chocolate Cupcake. After 4 rounds, one of her "Explorers" was unable to participate in round 5, and lucky me got to take over the slot.
For each round, I received the recipe via email and had 1-2 weeks to make the recipe exactly as written, taste the baked cupcakes (SUCH a burden, I swear…) and provide feedback to Stef in an online survey. Of course we had to keep the recipe itself top secret, and I think that's one of the fun elements about recipe testing — helping someone achieve their vision and being part of the behind-the-scenes process, knowing that eventually the final recipe will be shared with others who love cooking and baking.
Getting hungry? Without further ado, I'm pleased to introduce you to the Ultimate Chocolate Cupcake — baked and voted on by 50 folks and counting!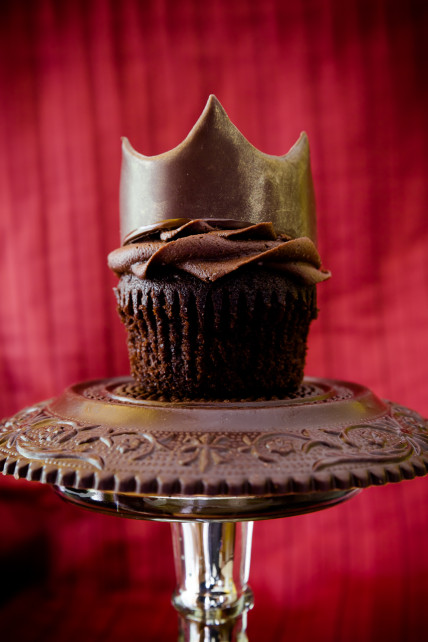 used by permission + credit to J. Pollack Photography
Stef's Ultimate Chocolate Cupcake
Yield: 16 cupcakes
Ingredients
● 1/4 cup (2 ounces) unsalted butter, room temperature
● 1 cup (7 ounces) sugar
● 2 ounces of your favorite chocolate (You can use any plain chocolate that you like except white chocolate or candy melts. The chocolate doesn't have to be one typically earmarked for baking – any chocolate bar that isn't flavored and doesn't contain mix-ins like nuts, Rice Krispies, nougat, etc. will work.)
● 2 large eggs, room temperature
● 2 large egg yolks, room temperature
● 1/2 cup + 1 tablespoon (4 1/2 fluid ounces) vegetable or canola oil, measured in a liquid measuring cup
● 2 teaspoons vanilla extract
● 1/3 cup (2 3/4 ounce) full-fat sour cream
● 1 cup (5 ounces) all-purpose flour
● 1/2 teaspoon salt
● 1/2 teaspoon baking soda
● 1/2 cup (2 ounces) cocoa powder (natural or dutched will both work with this recipe)
● 1/2 cup (4 fluid ounces) room temperature water, measured in a liquid measuring cup
Instructions
1. Preheat oven to 350 F.
2. In a medium-sized mixing bowl or the bowl of a stand mixer, mix butter and sugar until fully combined. The end result should look like wet sand.
3. Melt the chocolate in the microwave or in a double boiler.
4. Once the melted chocolate is cool enough to touch, add it to the butter/sugar mixture and mix until just combined.
5. Mix in eggs and egg yolks one at a time until just combined.
6. Mix in oil, vanilla, and sour cream until just combined.
7. Sift together flour, salt, baking soda, and cocoa powder into a separate medium-sized bowl. Use a fork or a whisk to ensure that the ingredients are mixed well after sifting.
8. Add dry ingredients to wet ingredients in three additions, mixing until just combined after each addition.
9. Mix in water until just combined.
10. Fill cupcake liners 2/3 full and put in the oven.
11. Check for doneness at 18 minutes – a toothpick inserted into the center of a cupcake should come out clean. If they are not done, check again every three minutes until they are done.
12. Immediately remove cupcakes from the cupcake tin and place on a cooling rack or on the counter to cool to room temperature. Although they are really good when they are hot, be sure to wait until they are room temperature to give your evaluation.
Notes: If you would like to add coffee to the recipe, either add 1 teaspoon espresso powder or instant coffee granules along with the sifted dry ingredients, or replace the water with room temperature brewed coffee.
In all rounds, Stef gave us the option to use whatever brand of natural cocoa powder we liked, along with the chocolate of our choosing to melt for the batter (provided we followed the simple guidelines she provides in the recipe). I used Ghirardelli Natural Unsweetened Cocoa for the powder and Whole Foods 365 Dark Chocolate (56%) for the bar. Next time I make the recipe, I'll try new chocolates

Her recipe yields 16 cupcakes and the cakes bake for 18 minutes. I usually had 17-18 cupcakes (although I usually fill my 3/4 of the way instead of 2/3 whether I intend to or not, so my yield doesn't quite make sense!) and found that my cupcakes were just right at 16 minutes.
With each round, Stef asked us to evaluate the cupcakes on a number of criteria, and the survey always concluded with "Is this the Ultimate Chocolate Cupcake?" In round 5, I said no, because as a chocoholic, I thought the cupcakes could pack an even deeper, richer chocolatey punch — after all, this needed to be the ULTIMATE chocolate cupcake.
For round 6, Stef varied a few ingredients, and with this version, I voted an excited YES! As with the previous 5 rounds, however, there weren't enough Explorers who voted yes for Stef to crown this recipe the ultimate.
Round 7 came at the right time. My wedding was only a week away, and I wanted to bake dessert for the rehearsal dinner. When Gav and I tasted the cooled cupcakes, I knew I had to once again vote YES. The cakes went into the freezer for a few days until I was ready to frost them with this buttercream icing. Everyone at the rehearsal loved them, and I'll definitely continue to make this recipe in the future. I'll also try it with gluten free flour for an event I'm attending later this month!
Do you prefer vanilla to chocolate? Stef's got you covered with her Ultimate Vanilla Cupcake recipe.
I love recipe testing. Read about my experience testing for Masterchef Australia contestant and food blogger Billy Law for his first cookbook Have You Eaten?.
I also love pinning recipes. There's an entire board dedicated to cupcakes.
Read more about Stef's experience creating the Ultimate Chocolate Cupcake and check out all of her great recipes.
Thanks for stopping by and happy eating