Toffee nut white chocolate mocha.
That's my dad's favorite drink from Starbucks. And I figured, why not turn it into a cupcake?!
Last year I made egg nog cupcakes for his (December) birthday, and they were soooo good (*cough*, if I do say so myself). I was tempted to repeat them this year but that would have been almost more of a present for me.
He asked for the homemade 3-layer chocolate cake with both chocolate and peanut butter frosting I've made for him on a couple of birthdays, but I decided to go with my gut — recreate a white chocolate mocha with toffee nut syrup in a cupcake.
I figured surely someone had a recipe for the Starbucks drink in cake form, but I never found one. I saw white chocolate mocha cupcakes or mocha toffee cupcakes but no recipe that combined mocha + white chocolate + toffee. So I made one up using three different recipes. Friends on Facebook have asked for the recipe so many times that I figured I'd give the people what they want

By the way, I have no idea how food blogging friends bake, cook, and photograph recipes beautifully. I wasn't expecting to show this cupcake online except for one finished product shot, so I have only a couple of photos (not very good ones) to share!
Mocha cupcakes dipped in white chocolate ganache topped with toffee nut butter cream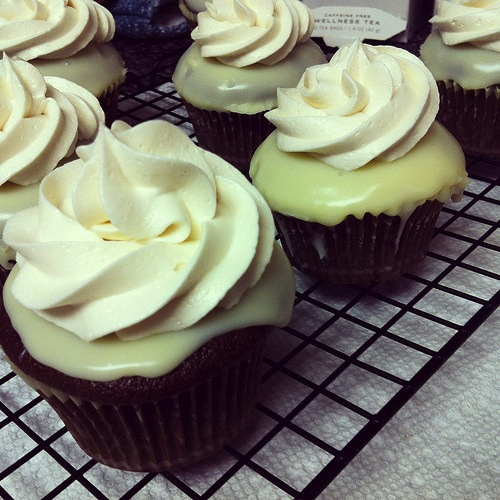 Mocha cupcake
adapted from Brown Eyed Baker who adapted it from My Baking Addiction.
Brown Eyed Baker said the recipe would yield 12 cupcakes, but I ended up with 16 or 17. After making the initial batch, I then halved the recipe (except for the egg — I still used one egg) and used Glutino's Gluten Free Pantry All-Purpose Baking Flour (purchased at Whole Foods) in place of the AP flour so mom and I could enjoy some too. Oh, and the original recipe also uses espresso powder (in addition to the strong brewed coffee), but as we were out, I left it out altogether.
Ingredients
1-1/3 all-purpose flour
1/3 cup unsweetened cocoa powder
1 teaspoon baking powder
1/2 teaspoon baking soda
1/4 teaspoon salt
1/2 cup milk (we used So Delicious coconut milk — regular)
1/2 cup strong brewed coffee, at room temperature (we used decaf)
1 teaspoon vanilla extract
1/2 cup unsalted butter, at room temperature
1/2 cup granulated sugar
1/2 cup light brown sugar
1 egg, at room temperature
Method
Preheat the oven to 350 degrees F. Line muffin tin (standard size, 12 cups) with paper liners.
Whisk together the dry ingredients — flour, cocoa powder, baking powder, baking soda and salt.
Combine the milk, brewed coffee mixture and vanilla in a separate bowl.
Beat the butter and both sugars together on medium-high speed until light and fluffy, about 2-3 minutes. Add the egg and beat until combined. Slowly add the flour mixture, alternating with the coffee mixture, ending with the flour mixture.
Divide the batter evenly between the liners and bake 16-20 minutes or until a toothpick inserted into the middle comes out clean. Ours were ready at 16 minutes.
Cool cupcakes completely before adding the white chocolate ganache.
The tops of the regular ones baked up a bit flat, but that was perfect for dipping in the ganache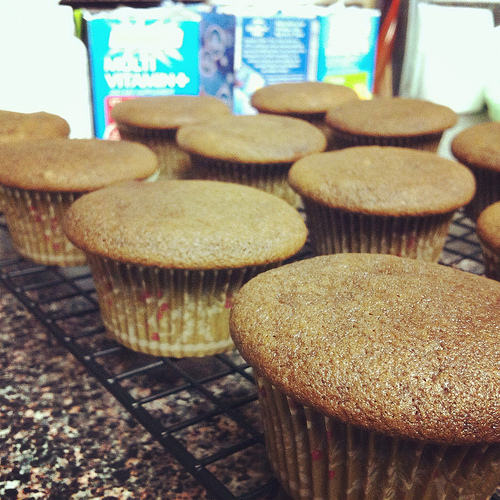 White chocolate ganache
I used this white chocolate ganache recipe from Martha Stewart. It suggests that the consistency will be right within minutes, but I guess Martha and I weren't using the ganache for the same purposes.
Next time I'll try this recipe from How Sweet It Is.
As you can see from the photo at the top, the white chocolate ran down the sides of the cupcake, even after we chilled it in the fridge for an hour. I'd only made ganache for the purposes of topping cupcakes once or twice before and had completely forgotten how long it takes to come to the desired consistency.
Toffee nut buttercream
My pal Allison raved about the best buttercream icing from The Kitchen Magpie so I have to give it a whirl. I modified hers (go check it out) by using Bailey's Toffee Almond Cream, a non-alcoholic coffee creamer found at a local grocery store. It was the only toffee nut creamer I found anywhere.
Ingredients
1 cup of salted butter (YES, salted!)
3 tsp of vanilla
4 cups of confectioner's sugar
6 TB of Bailey's Toffee Almond Cream
Method
We whipped the butter in our biggest bowl using a hand held mixer. One day I'll have a KitchenAid stand mixer.
Then we oh-so-slowly added in the confectioner's sugar. Our tallest bowl wasn't tall enough. Oops. Some sugar was lost.
Add in the vanilla and coffee creamer. The Kitchen Magpie suggests 4-5 TB but we found 6 was perfect for both taste and consistency.
We piped just enough icing on to enjoy it without completely covering the ganache.
The Results
We kept the cupcakes in the fridge and let them sit out for 15-30 minutes prior to eating.
Everyone but my mom had two cupcakes, the second following the first by mere seconds. I was very pleased with the texture and taste of the GF version and would happily recreate this again. My favorite layer? The buttercream.