When I was in kindergarten, my favorite color was orange.
Don't ask me why, but when I surveyed any available box of crayons, the orange one always seemed to call my name. While others picked blue or red as their favorite, I was the one kid who claimed orange.
I don't remember how long the orange phase lasted, by but middle school, blue had become my favorite color. And 20 years later, it still is.
With these early loves of orange and blue, perhaps I was destined to attend the University of Virginia, whose colors — you guessed it — are orange and blue. During football season, I practically live in these two colors. And with my connection to UVA, I suppose I didn't think twice about which colors to choose for our wedding. Thankfully Gav's favorite color is blue and he sweetly supported my suggested wedding color combo.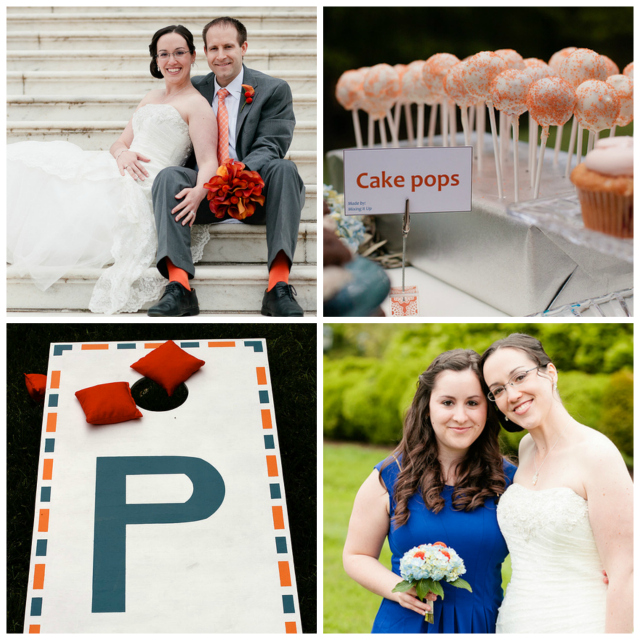 As soon as we chose orange and blue for our colors, I began searching for inspiration on Pinterest. I found so many great ideas that I created a board just for the orange + blue color scheme. I quickly realized that I wanted to incorporate a variety of shades of orange and blue throughout the day instead of selecting one specific shade of each.
Over the next few months, I was drawn to everything orange and blue. If I had a choice of colors when selecting a print for the apartment on Etsy, I picked orange and blue. When I visited Michaels once a week to look for sales and browse the $1 bins, I was on the lookout for anything orange or blue. For our first ceremony last fall, we even dressed in orange and blue.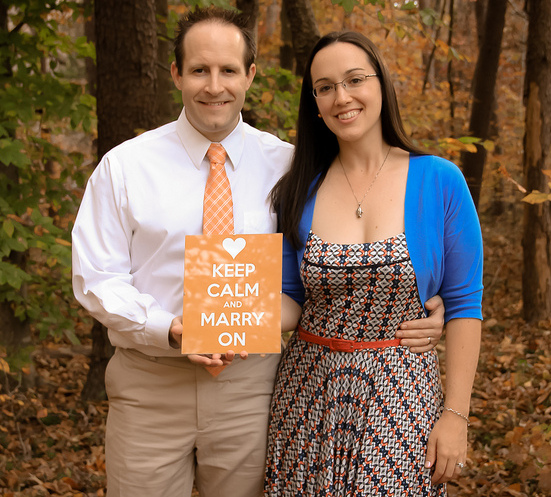 For our first ceremony, I created bunting with "The Palmers" and a heart, and it's been in our living room ever since. Gav and the guys got ready at our apartment before heading to UVA. Eagle eye visitors will spot an orange pillow on one end of the couch and orange thank you cards on the opposite side. I'm obsessed people, I tell you.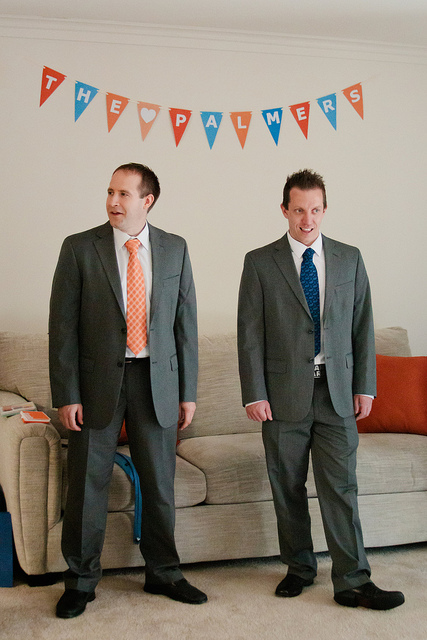 While the ladies were getting ready, Allison took a photo of my garter — the only aspect of my head-to-toe look (except the bouquet) with color. Ladies, I looked for orange shoes FOR MONTHS, and I either found ridiculously high heels or flats that wouldn't look right with the dress.
An Etsy find, of course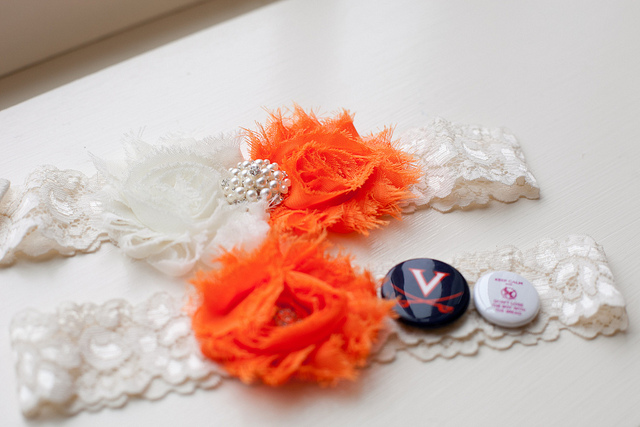 Gav and I decided that we would sport a pop of orange while the rest of the wedding party rocked the blue.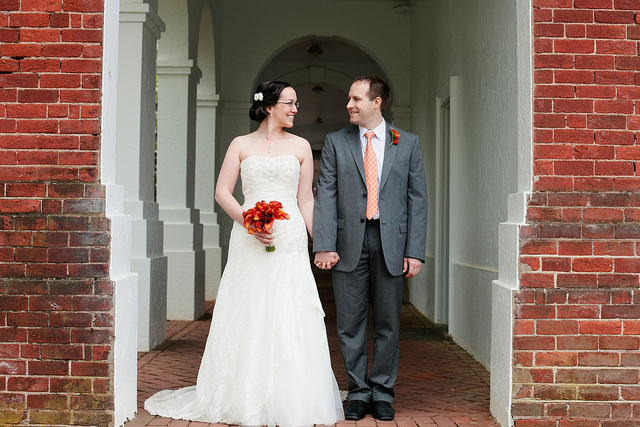 I LOVE this shot. Gav's wearing his orange boutonniere (featuring a mini calla lily and two billy balls), holding my orange bouquet (billy balls and mini calla lilies which don't look mini at all), and giving us a peek of the orange socks.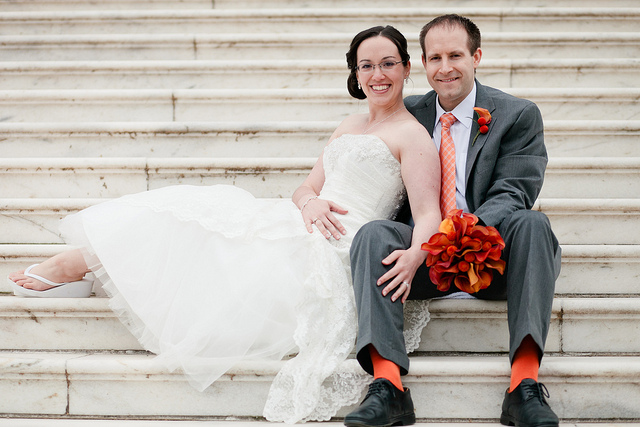 Even though I never dreamed about getting married as a little girl and didn't think much about it until the last several years, I've known for ages that I wanted calla lilies in the bouquet. They're gorgeous! And once I learned about billy balls (more formally known as craspedia) on Pinterest, I knew I wanted to incorporate them too.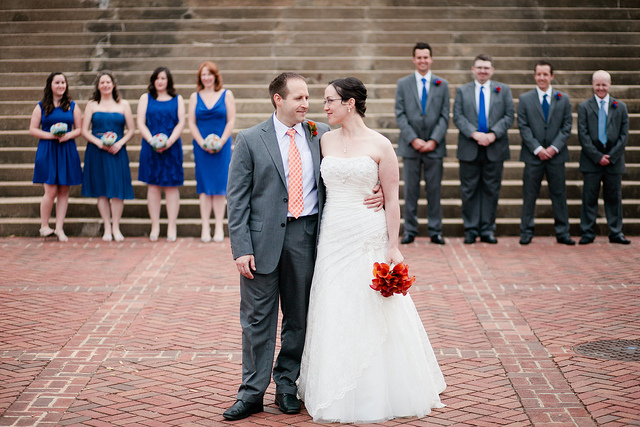 The guys bought the same suit from a department store on mega sale, and we asked them to wear a blue tie of their choosing. I saw a photo of each tie ahead of time to give them the bride's seal of approval. Their boutonnieres featured three orange billy balls and some medium-dark blue flowers.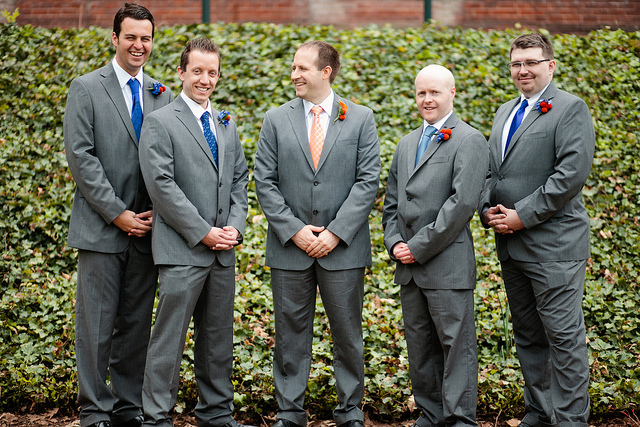 I asked the ladies to choose a blue dress of their liking, asking that it be around knee length and within a given range of shades of blue. They could find a dress online, buy it at a department store, or find a steal of a deal at a store like T.J. Maxx. I thought finding blue dresses would be super easy, especially with almost having a year to shop. But wouldn't you know, we looked everywhere together, and designers must have decided that blue wasn't in last year. I'm so thankful that the gals kept looking and found a dress they liked! Instead of each lady wearing a slightly different shade of blue, all of the dresses ended up almost perfectly matching! My chicas carried a blue hydrangea bouquet with a few billy balls for a dash of bold orange.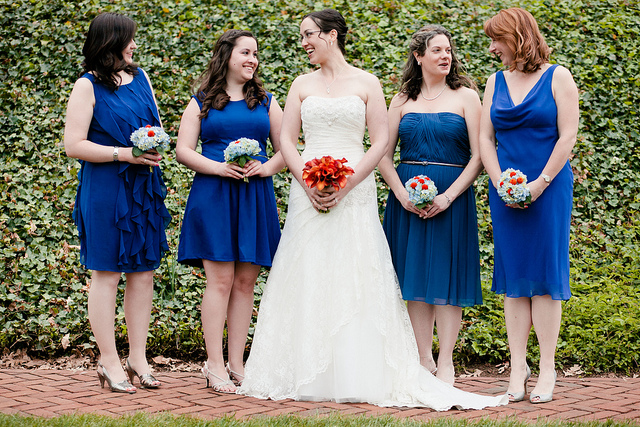 Katie, my maid of honor and youngest sister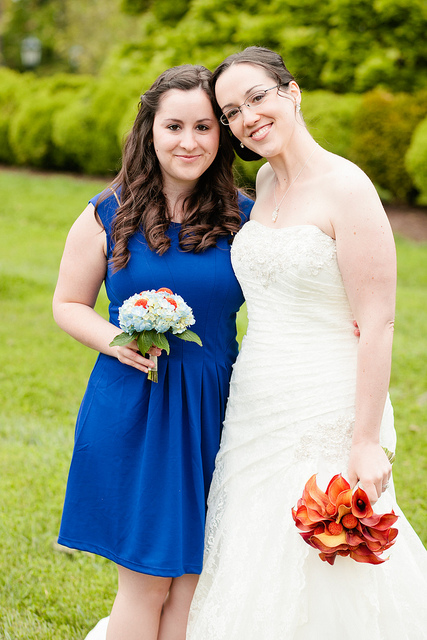 For the ceremony, my parents surprised me with some beautiful orange potted plants that they placed behind the very last row.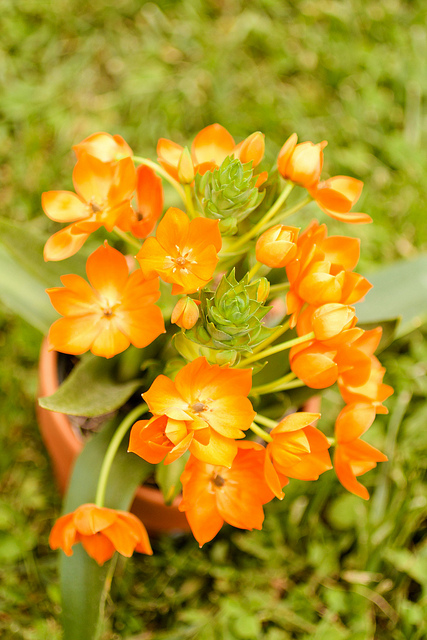 My dad looks great in an orange tie too.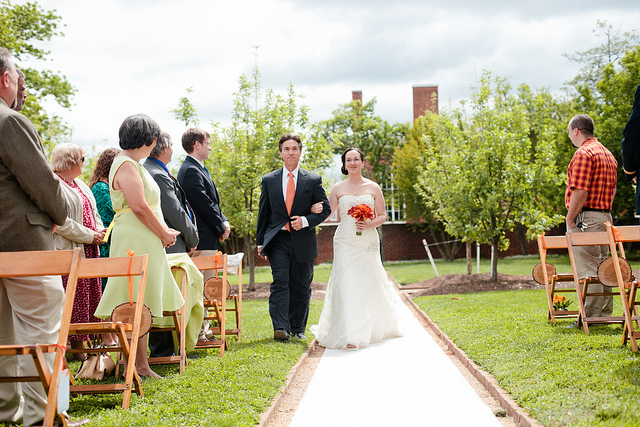 I think Kelly and Andrew's blues look fantastic together!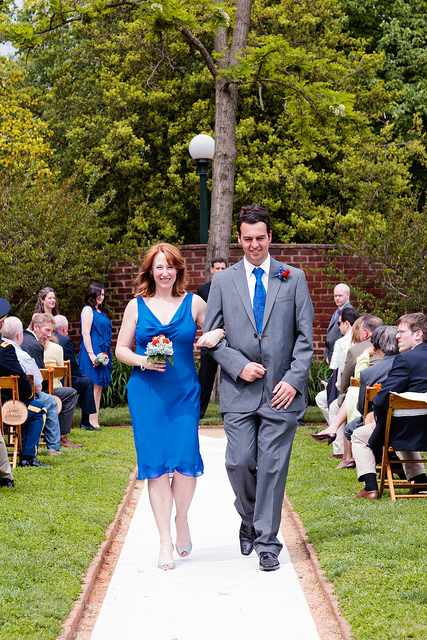 After the ceremony, Gav and I took a moment to ourselves (We're married! Again!) on a porch just across from the garden. Two wonderful guests volunteered to bring orange balloons to help guests find our ceremony.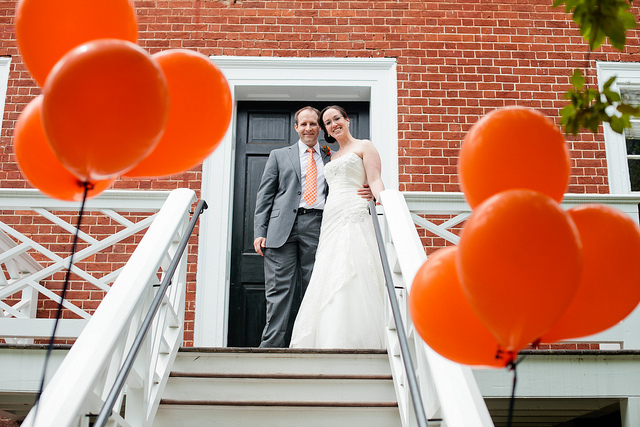 While we were taking family portraits after the ceremony, guests traveled 16 miles north to my parents' home for a casual backyard reception. We hoped plentiful appetizers, bocce ball, and corn hole would keep them happy until we arrived. A friend built a corn hole set and designed orange and blue bean bags for us, and Gav planned and painted the design I selected for the boards. One featured a blue "P" (for Palmer) and the other board had an orange P. Gav was a champion, making his own templates and giving the board a couple of coats of paint.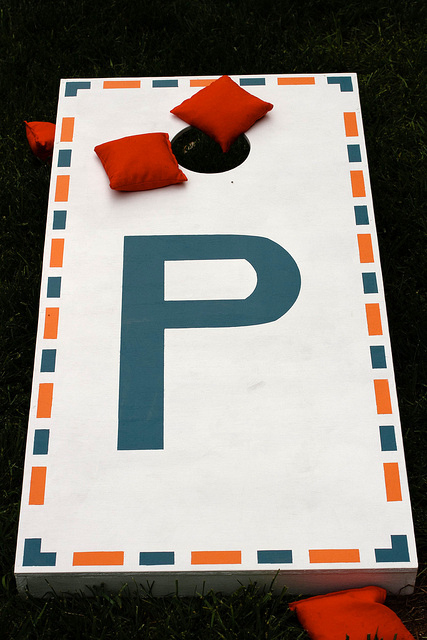 Gav's dad and step-sister loved playing corn hole for the 1st time!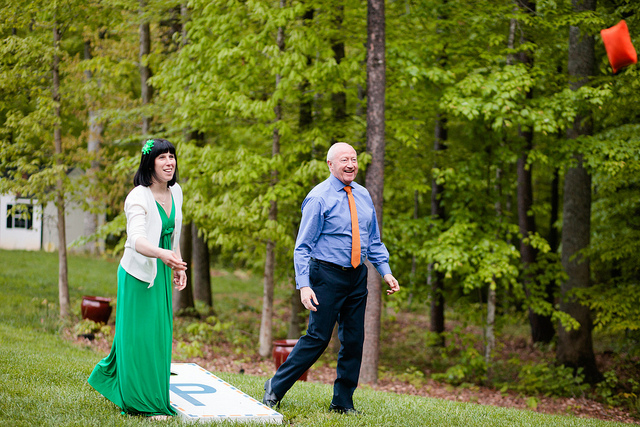 On the tables, we used bright orange napkins and wrapped cutlery in a napkin, tied with orange ribbon. For the blue, we included two (blue) bottles of water on each table, and the centerpiece was a shallow bowl of blue hydrangeas atop orange glass gems.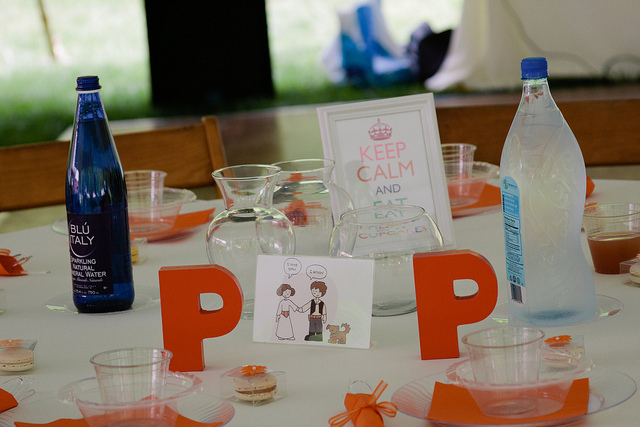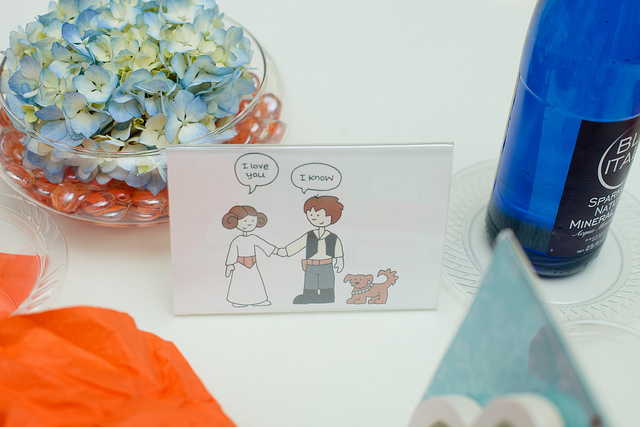 We used orange and blue for guestbook directions, the seating chart, and the sign for our sparkler send off.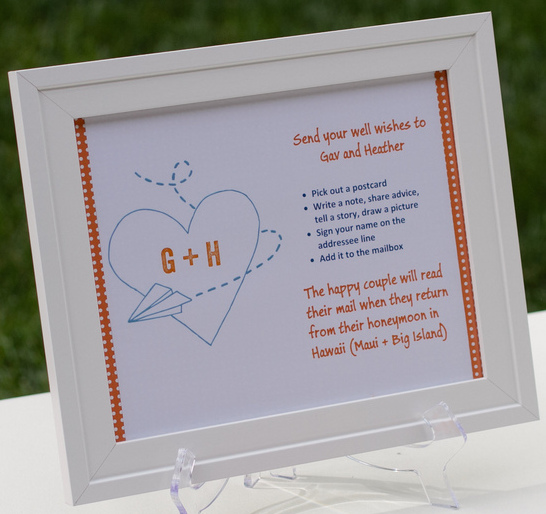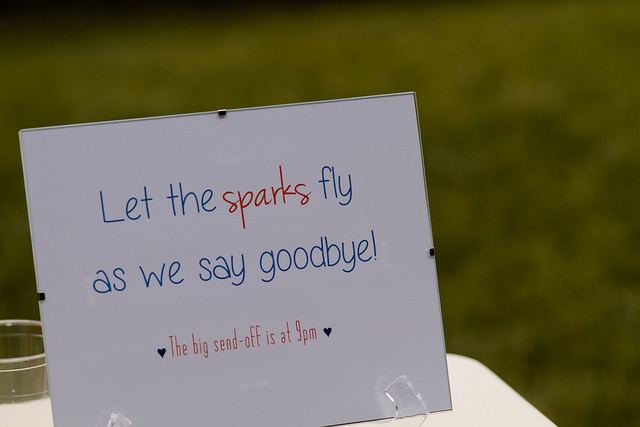 And of course our colors were found on the dessert bar.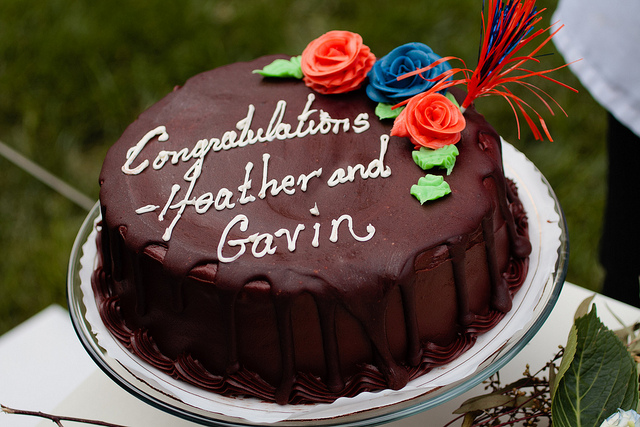 Orange sprinkles on the cake pops, orange and blue text on the label, and orange and blue design on the square blocks for the label holder!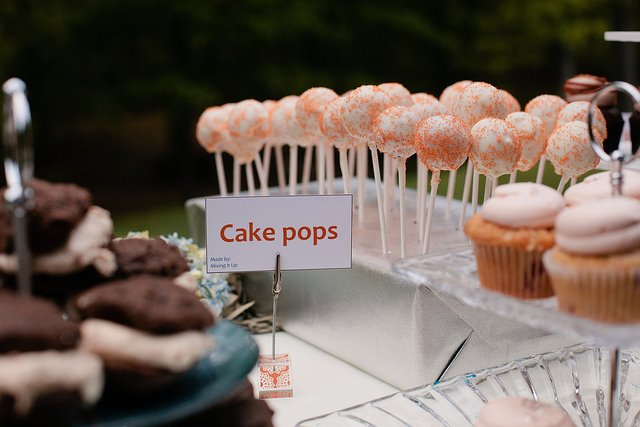 We had a wonderful evening, and before we knew it, it was time to say goodbye! Before our sparkler send off, we added orange and blue silk flower leis that I had stumbled upon only days before to our look. I couldn't think of a better final touch since we were leaving on our honeymoon to Hawaii.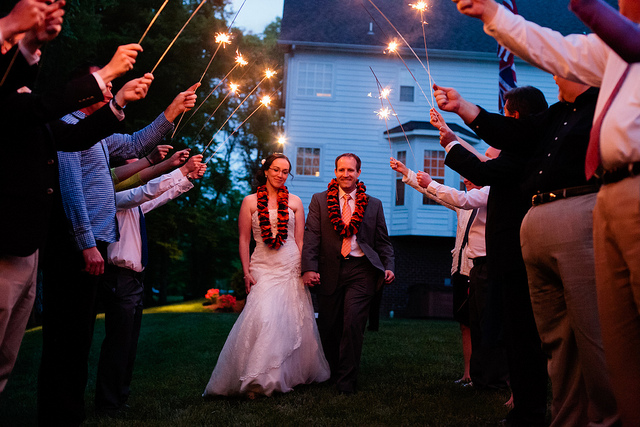 But not before we danced for another 30-45 minutes.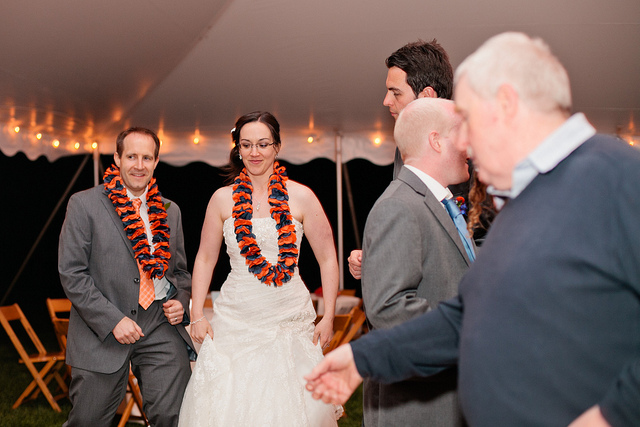 Whether you've been following my blog over the last three years or are a first time visitor, thank you for reading! This is the 3rd themed post about our May 4 wedding, and in the 4th and final wedding post, I'll share the best of the rest in photos and stories.
Shout out to our wedding photographer Allison Suter for her energy, enthusiasm, and direction!