This is the last post in a 3-part series about the Australian Work and Holiday Visa for Americans. Read part 1 (the visa application process) and part 2 (the before-you-go research to consider) if you need to catch up before checking out part 3 (you've arrived — now what?!).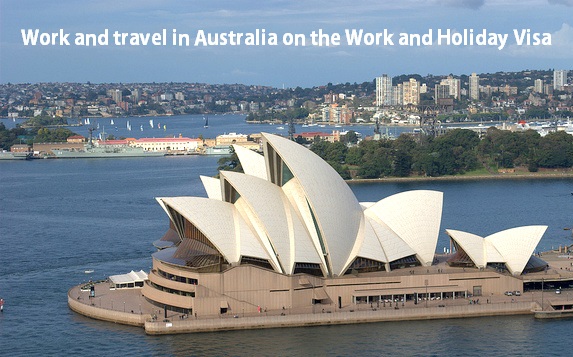 Apply for your Tax File Number (TFN)
You'll want to apply for a Tax File Number soon after arriving in Australia, especially if you plan to work sooner rather than later.
The TFN is a personal identification number (think SSN). While it's not required that you have a TFN, you'll lose more of your wages to taxes if you don't have one.
You can apply for a TFN online, and I did this on day one! In addition to providing a few personal details, you'll also need to list an Aussie address where you want your TFN sent once it's issued. I think some people used the address of a hostel where they planned to be, while others enlisted the help of an agency that works with WHV holders on tax and other issues. If you know someone who's living in Australia, ask if they mind having the card sent to their address — that's what I did!
If you don't have your TFN within the time frame they provide, be sure to call the Australian Taxation Office to follow up on your application. I never received my number in the mail, but a quick call to the ATO was all I needed to have the number in hand.
Get an Aussie phone number
I wasn't a smart phone owner when I arrived in Australia, and I didn't have an unlocked phone that would work around the world. While I was setting up my Aussie bank account on day one, I asked the teller for his recommendation on a phone provider to work with, and I wasn't too surprised when he suggested I visit the Telstra shop up the street. Telstra once had a legal monopoly on telecommunications in the country, so their network was very strong, and I would be able to get a signal almost everywhere.
The guys at the Telstra shop were very helpful, and I picked the least expensive phone and prepaid plan available. It took a couple of visits to the shop to get everything set up properly, but once I had my new phone, I paid $40 for a set number of texts and minutes per 30-day period. Once a 30-day period ran out, if I waited a few days before topping up my plan, no problem! I loved not being on a contract and being able to go without a phone for a few days or a week if I thought I could get by with it (early in the trip).
Toward the end of my Australian adventure, I sold my original Telstra phone to Nicole and picked up my first smart phone. Since the phone was purchased directly from Apple, it was factory unlocked from the beginning! I opted to get Vodafone's 30-day prepaid option for $30. I can't remember how much data, texts, or call minutes I had, but I never ran out of anything. I could have stopped at a Vodafone shop to pay to top up at the end of a 30-day period, but once I learned I could save $1 by topping up at a grocery store, I just added a top-up voucher to my grocery bill once a month

Compare the various Aussie mobile phone carriers before your arrival and decide which one's best for you.
Melbourne


credit
Look for an apartment
I traveled around the country for nearly 3.5 months before settling down in Sydney. Thankfully my apartment search was easy — an Aussie I had met in week one invited me to rent his second bedroom once he learned his current flatmate had plans to move out and travel.
The apartment was older than I had wanted and in a quiet suburb where I'd never heard of other travelers setting up shop. But OH, how glad am I that I decided to go for it. Sydney's Inner West is an awesome place to live, and I'm fairly certain I wouldn't have visited these quirky, alternative, and sometimes quiet suburbs if I had lived in the Eastern or Northern suburbs.
While I didn't need them, I heard other travelers mention Flatmate Finders and Gumtree. In fact, Gumtree is a great site all around to find just about anything a traveler will want in Oz. If I'm not mistaken, I think that's how we found the van we purchased for our southern coast road trip.
When my best friend Nicole was looking for a flat in Sydney, she spent a couple of weeks contacting people who had listed a room through phone calls, texts or emails. She quickly realized that she needed to read the listings multiple times per day, because as soon as a new room was posted online, dozens of people would contact whoever listed the room to set up a time to view it. And even if Nicole was able to view the apartment and expressed a strong interest in renting it, her potential flatmates would of course pick the person who seemed to most gel with their personalities and current living style. After a couple of weeks, she found a nice flat in another suburb of the Inner West where she would have her own room and share the flat with three other girls.
Brisbane


credit
Find a job
Looking back, I'm so glad I traveled for several months before looking for a job. I was ready to settle down and work for a while at that stage. A few travelers who opted to look for work straight away soon found that they were spending everything they made and had very little money saved up to travel toward the end of their experience.
My job search didn't exactly go according to plan but it all worked out for the best.
Even though I didn't plan on working until late August or early September, when I arrived in May I kept my eyes and ears open for opportunities. In week one, I stepped into a Lululemon store to buy a sports bra, and met a Canadian employee who encouraged me to apply upon learning about my interest in working for a company that supports a healthy lifestyle. I eventually applied and made it through two rounds of interviews — and then never heard from them again. Lululemon definitely wants passionate, goal-oriented employees, and when I interviewed, I didn't have clear goals for my short or long-term future! For the first time I was trying to be as open as possible to what life had in store, and I didn't want to predict what I wanted to do after Australia.
I also missed out on two other job opportunities — one I turned down because while it sounded intriguing, I knew it wasn't a good fit for me. The second job possibility was with a major national arts organization, and I only learned about it because a new Aussie friend referred me to the interviewer, who just happened to be her aunt

I knew the job was kind of out of my league, but I knew it would an incredibly unique experience. When my friend's aunt interviewed me and one other person, they offered it to the other candidate, whose art degree and experiences were directly related. *Phew* Probably saved me from getting in way over my head!
Eventually I found myself doing exactly what I wanted to do — working for an organic grocery store where I could be surrounded by fresh produce, gluten and dairy free goodies, and coworkers from around the globe. The job was relatively easy to get — I walked into the store with my resume and asked to speak to the manager. She briefly interviewed me on the spot and asked me to return a couple of days later for a "trial", which I learned is very common for retail, hospitality, and customer service positions. During the trial, I observed a couple of transactions at the cash register before being asked to step in and take over for the remainder of the hour. I fumbled my way through a few things, but by the end of the hour, I was offered the job, which I accepted on the spot.
I cannot recommend strongly enough the strategy of going to a shop in person with your resume when looking for a job. This was much more productive than my first few days of simply sending out emails with my resume attached.
For more job search tips, view the resources and strategies in the second post of this series.
Perth


credit
See Australia, meet Aussies, enjoy the year!
Above all, enjoy Australia and make the most of your time there! Go to sporting events, eat good food, support local businesses, attend cultural festivals, see as much of the country as possible, and spend time developing relationships with Aussies.
If you have questions you'd like to send my way, email me through the Contact form and I'll help as best as I can!
Adelaide


credit