This is the 2nd post in a 3-part series about my experiences with the Work and Holiday Visa in Australia. Links to parts 1 and 3 are at the bottom of this post.
For me, researching a trip is half the fun of the experience. I love reading about my next destination and learning about where I might want to eat and what I'd like to see and do.
In this post, I share some of the top things I researched in the months leading up to my move to Australia. And for good measure, I'll add in my packing list too.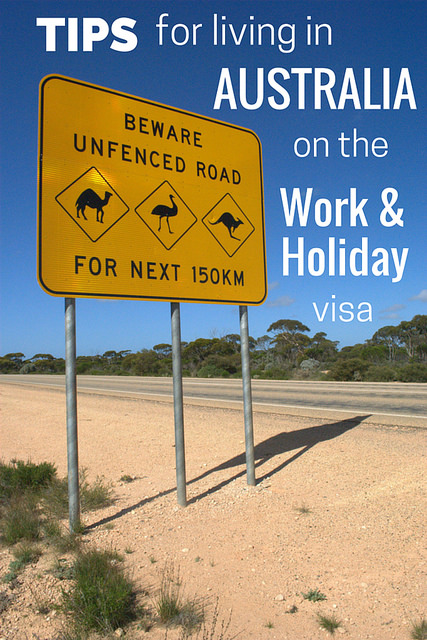 Research to conduct prior to your WHV Australia experience
1) Bank Accounts for Backpackers and Travelers in Australia
I'm glad I opened an account with an Australian bank so I could deposit those hard-earned Aussie dollars and then spend them with one of two bank cards I received!
I could have easily set up an account upon arrival, but I decided to open an account before I arrived so I could transfer some of my travel savings to the new account and have it ready to spend as soon as I visited the bank in person.
During previous 1-3 week trips in various countries, I exchanged a bit of money before I arrived in the country, used my credit card, or used a card to take money out at ATMs. But for a year-long trip in one country where I would be earning that country's currency? I didn't want to rely on my Capital One credit card, even though they don't charge a currency conversion fee. And I wasn't about to use random ATMs and rack up serious service charges for each withdrawal.
I started by looking at the four big banks: Commonwealth, Westpac, ANZ, and NAB. I never found a chart online comparing each of them neatly, so I opened up a Google doc and copied and pasted information found on the "Fee" pages of each. I also noticed that each of the banks had a "Migrant Banking Team", dedicated to helping travelers on a WHV start an account. Very impressive. After researching my options, I emailed the Migrant Banking Team at each of the banks for more information. Only two responded. I figured if I wasn't getting customer service to begin with, how could I expect it later on? With my options down to two, I realized that NAB was the only one without a monthly fee to maintain the account. And when I started emailing them with questions on all of the fine print, they were super responsive and helpful. They made my choice easy. WIN.
In a matter of a week of back-and-forth correspondence, I had a bank account and took that information to my home bank. I had already informed them of the year-long move, and we were able to set up a wire transfer to send some of my savings on to my NAB account. Both banks were able to confirm within a couple of days that the transfer had been successful.
Before I left home, I scheduled an appointment to meet with a NAB representative on the first business day of my time in Oz to sign various documents and get my ATM card. The rep couldn't have been more helpful. And when the few hundred dollars I had brought with me ran out, I popped by an ATM and withdrew enough Aussie dollars to get me through the next few days with no types of penalties. Love it! If I had wanted, I could have ordered checks and even opened up a savings account. If your US bank doesn't have a partner with a bank in Australia, I encourage you to explore the major banks and see which one works best for you!
2) Flights
The WHV requires that you have already purchased a return ticket home prior to your arrival in Oz OR you can provide proof of sufficient funds to purchase a return ticket down the road.
I had no idea what the year would bring, so I opted to go with the "sufficient funds" route. Essentially, I just made sure I had enough money in my bank account — and a certified bank statement to prove it — to show the immigration officer upon arrival if it was requested. It wasn't.
Your situation may differ to mine, since fuel prices are constantly in flux, and it's possible that new routes will be available for your trip. For travel to Oz in May 2010, the best deal I found was a one-way trip from Los Angeles to Sydney on Virgin Australia. In addition to visiting flight aggregator sites, I also looked at the sites of the airlines with routes to Sydney from both the east and west coast of the USA. When Virgin announced a sweet deal from LAX to Sydney, I bought it without hesitation. Then, I searched morning, afternoon, and evening on a daily basis for the best deal on a direct flight from Dulles to LAX. I eventually purchased an American Airlines flight with a 5-hour layover in hopes that if the AA flight was delayed slightly, I would still arrive in plenty of time to check my bag and board the Virgin Australia flight to Sydney.
If time permits in your schedule, start researching flights and routes months in advance to secure the best deal.
3) Jobs
I thought that being a career counselor would give me an advantage in the job search.
Yeah, not so much.
MONTHS before I left — as early as 8 perhaps — I was gathering a list of organizations I would be interested in working for, and I even sent a few emails hoping to a) learn if they ever hired someone on the WHV and b) express my interest early in case they knew of opportunities that may be coming along down the road.
This approach yielded 1 result. One sweet lady emailed me back to say that it was way too early to be asking about jobs. She said, "On your visa, you just need to wait to look when you're actually here. No one will talk to you ahead of time."
And she was right. No one else ever responded to me. But I still kept researching my options because I LOVE to research.
While there are countless job listing sites, I really liked SEEK.
I learned that many WHV travelers look for work in:
● fruit picking
● hospitality (hostels, restaurants, cafes, pubs, etc. — there are training courses available for some of these areas, and if you're going to serve alcohol, a Responsible Service of Alcohol/RSA course and certificate is required)
● customer service
● retail
Since Australia opens its doors to countless WHV travelers every year, employers in those four areas are very aware of the visa and welcome applicants.
Several Europeans and Americans I met along the way wanted to work in professional office settings doing similar work to what they did at home. Sometimes it was as easy as applying to a job online, other times it came through networking like a champ, and for others, it happened by working with a temp or recruiting agency to get in the door to begin with. Within a few months of employment, a handful of people received offers from their employer to work longer than the maximum 6 months on the WHV and be sponsored on a proper work visa. Wow!
Before arriving in Australia, I knew I didn't want to do the same type of work I did back home. I realized this was my chance to try something for fun, and my number one priority was to work with an organization that promoted a healthy lifestyle. Once I started looking for a job, it took 2 weeks to apply, interview, accept, and start a front-of-house position at an organic health food store. For everyone I personally know, the job search took 1 week to 1 month.
One more thing. When I was in Australia, the full-time minimum wage was $15/hr and for "casual workers" (that was me!) it was $18/hour. Nice. Definitely helps make up for the cost of living.
4) Travel
Since all of my previous trips overseas had been 3 weeks or less, I always boarded the plane with a fairly good idea of the things I wanted to eat, see, and do. A few activities may have been pre-planned or purchased. There was usually a list of things that made sense to do on the same day due to their proximity, so I created a day's rough itinerary without actually assigning it to a particular day.
I LOVE to research new destinations. In a recent professional development session at work, I realized that researching, gathering, and collecting facts just might even be one of my top strengths.
So what does a planner and researcher like me do with an entire year in one country?!
I quickly realized that I couldn't, and didn't want to, plan it all out.
Instead, I broadly planned the first 6 weeks and decided that I'd attempt to go with the flow and see where the adventure would take me next on 6weeks+1Day.
I knew I loved Sydney from the 2006 trip, so I started the 2010 journey by booking a week's stay in the same hostel my sister and I had selected four years earlier. And thanks to the 2006 trip again, I knew I LOVED the State of Origin rugby league competition, so I purchased tickets to games 1 and 3 in Sydney — as soon as they went on sale, several months before I even applied for the visa.
Since game 3 of State of Origin would be 6 weeks after game 1, I used the time in the middle to explore Melbourne for 2 weeks, Adelaide for 2 weeks, and the Great Ocean Road and route from Adelaide to Alice Springs (including Uluru) through a group tour with Adventure Tours Australia.
Once game 3 came and went, I headed north to Brisbane, hoping I would meet some fellow travelers who wanted to explore Queensland together. Instead, I received a call from a potential employer in Sydney, asking me to return for an interview. When I realized I didn't get the job 10 days later, I wasn't quite sure what to do next. And then, wouldn't you know it, fellow American, traveler, and blogger Brooke found herself in the midst of planning a 2-week trip along the Queensland coast and asked if I wanted to be her travel partner.
Our station wagon and tent for the 2-week road trip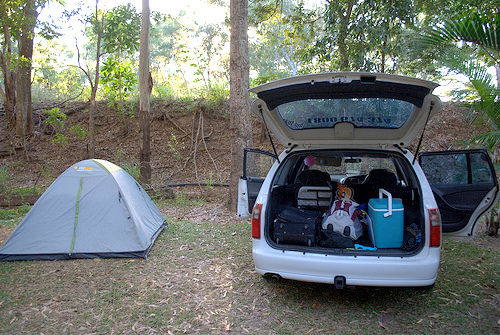 From that moment on, I decided to stop trying to plan the month ahead and go where opportunities presented themselves.
During the trip with Brooke, one of the first friends I made in Sydney called and asked if I wanted to rent his spare room, which would become available as soon as I got back to the city.
I found a job within days of returning to Sydney and lived and worked in the suburbs of the Inner West until an exciting opportunity to road trip from Sydney to Perth landed on my doorstep a few months later.
And in the best, I-would-have-never-been-able-to-predict-or-plan-this-ahead-of-time, sort of way, I spent the last 2.5 months of my year in Australia slowly taking in the sites and finding good eats with two good friends.
Beach in Western Australia near sunset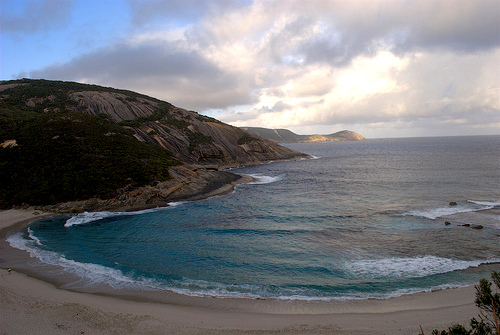 If I could do it all over again, and I would in a heartbeat, I would still probably decide where I wanted to be geographically for the first two months and then let the rest fall into place.
Packing tips and my packing list for Australia
If you're a seasoned traveler, you're probably a packing PRO by now.
Even though I tend to pack a few more pairs of socks and underwear than most people recommend, I'm reasonably happy with my packing skills.
If you're fairly new to travel or have never packed for a long-term trip before, I suggest creating a packing list DAYS in advance. Start laying out your items DAYS in advance too. A few days before your trip, pack everything as planned and see how the puzzle pieces fit together in your bag(s). I found myself taking things out and adding new things in. I realized a few travel products I thought I just HAD to have simply wouldn't fit when other items became a bigger priority.
There's no way I could pack clothing for various seasons and situations into one bag. Some people can (awesome!), but I crave just a little more variety. I packed enough to last 7-8 days. Then I would wash everything (expect what I was wearing at the time) and wear it all over again the following week. Wash. Rinse. Repeat. When I stopped traveling to live and work in Sydney, I purchased a few new items and my parents sent me a care package from home with a few articles of clothing too. Later, I stored a few things at a friend's house while I road tripped around the country for 2.5 months. And when it was time to go home, I discovered it would be less expensive to ship a box home (via sea mail) full of clothes and other belongings than it would cost to buy another suitcase and check a second bag.
Oh. And please, do yourself a favor and pack something WARM.
In 2006 I went to Australia for 3 weeks with capris, short-sleeved shirts, and a super thin zip up hoodie. By the end of day one, I'd purchased a scarf and gloves.
Even though I KNEW Australia wasn't warm year round (unless you're only visiting the northern areas of the country), in 2010 I still thought I could get away with long pants, short-sleeved shirts, and a rain jacket for the entire winter. HA! Maybe in Sydney but definitely not in Melbourne or Adelaide. If you're headed to Oz in the winter, bring more than just one or two long-sleeved shirts. You'll be glad you did.
Want to know what I packed? Of course you do! Here's my packing list Australia.
What's next in the 3-part series?
In the next and final post in this series, I'll share the visa and business related items I took care of in the first week to help get my adventure off to a good start.
Part 1 in the series — Work and travel in Australia on the Work and Holiday Visa: Applying for the WHV online
Part 3 in the series — Work and Holiday Visa: What to do when you finally get to Australia!
Read about what I packed in my luggage for my WHV experience!