Return to Oz
Three months ago we had just landed in Australia and had a three week trip ahead of us! I was thrilled to return to a country I love and had been missing for several years.
It's hard to wrap my head around how much the trip meant to me leading up to our departure, how much I tried to enjoy every second of the 3 weeks, and how I feel now that it's over. But I'm going to try below to share both the good and the challenging things. And I hope if nothing else, I hope you can walk away from this post knowing that this gal a) LOVES Australia and b) is so thankful for the experiences I've had there.
Travel Days
I'm not a full-time traveler, but I'd like to think by now that I'm a fairly savvy one.
For some reason, this (less-than) savvy gal figured that 4 flight segments and 36-or-so hours of travel, door-to-door, wouldn't be that bad.
It all started well enough with a free visit to the United Airlines lounge at LAX. It was our 1st ever trip to an airline's lounge (all thanks to a free pass), and we loved having a quiet place to rest before the 15-hour flight over the Pacific.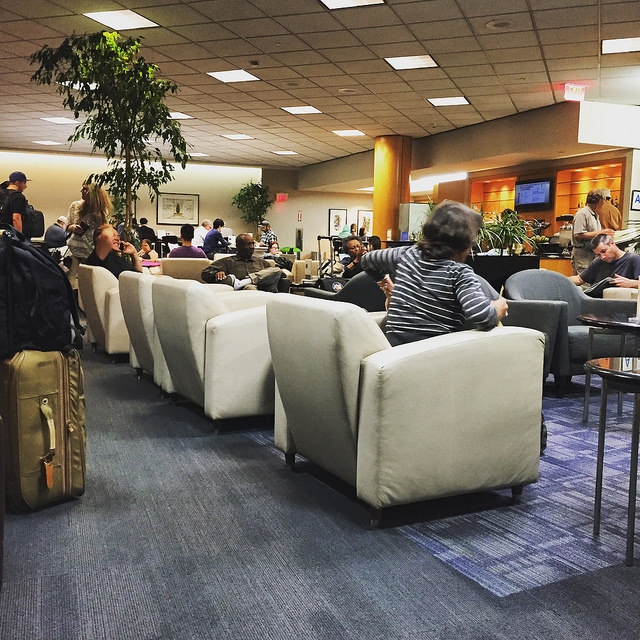 And as we were flying into Sydney, we were offered stunning sunrise views. I couldn't stop taking photos, though the photos pale in comparison to the real thing.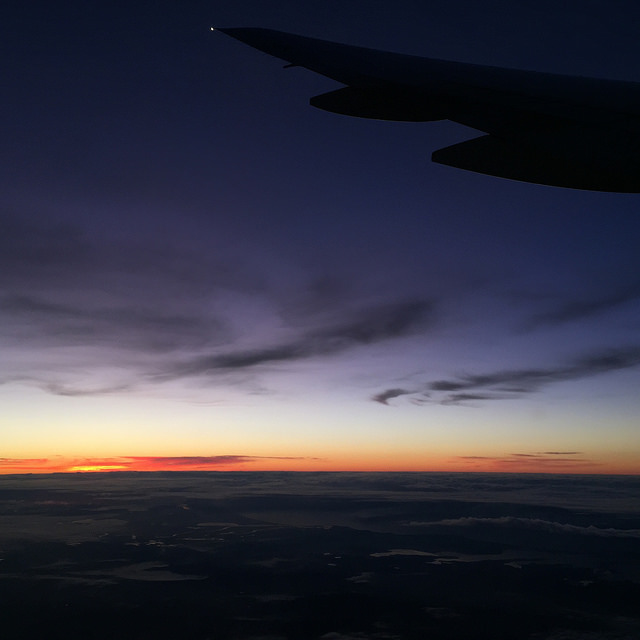 It all got a bit tricky after landing in Sydney. We weren't quite done traveling! Three hours later we flew 1.5 hours to Melbourne, and by the time we landed, I was exhausted and quickly became Grumpy McGrumpyPants.
Instead of paying for public transport, which would involve some walking to our Airbnb apartment with luggage, we booked an Uber ride for the 1st time, only realizing the app had defaulted to the luxury service after being dropped off. Starting off the trip by spending WAY too much money and being sleep deprived wasn't the ideal start, but long travel days are rarely easy!
Food
If you followed the year I spent living in Australia, you'll know I largely spent the year exploring the country through its food. This 3-week trip wasn't too different.
As usual, I spent HOURS reading about cafes and restaurants we could visit. BUT, unlike any other trip before it, this time health issues limited the types of foods I can eat. I've largely avoided gluten and dairy for nearly a decade, but over the last three years, I've developed a host of food allergies and have been become very intolerant to entire food groups.
Thankfully I found delicious and safe places to eat, and I talked all about them on my NEW health and wellness blog Healthy Life Heather.
Coffee is a HUGE part of Australian culture. While I miss lattes and mochas with cow's milk, plenty of cafes throughout both Melbourne and Sydney now make espresso drinks with almond or coconut milk.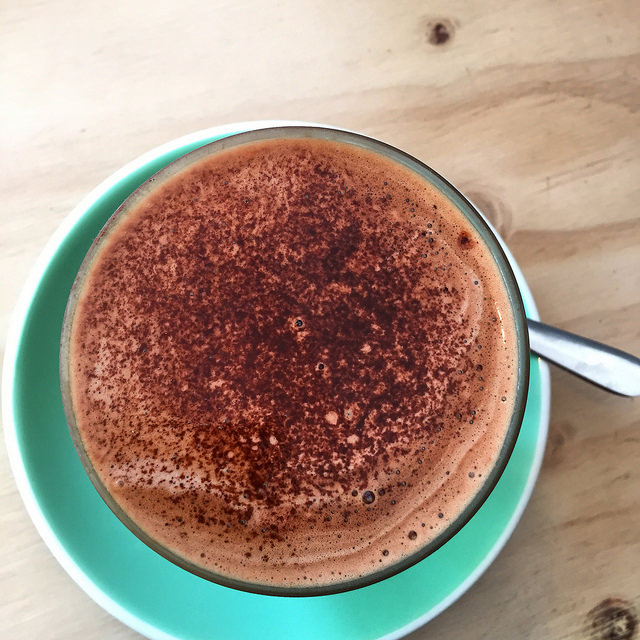 Since adopting a Paleo diet a year ago, I still find myself missing carb-focused breakfasts on the weekend. This savory breakfast dish, however, hit the spot and became my fave cafe meal of the trip.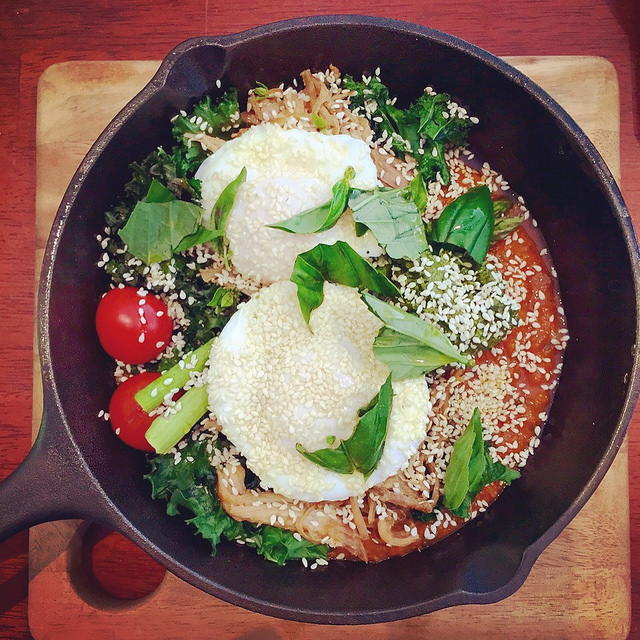 It's hard to say no to dessert. While I was super sad to miss out on decadent desserts from my favorite patisseries, quite a few cafes served Paleo versions that (mostly) made up for their gluten and dairy filled counterparts.
While health issues currently have me on a strict diet, I wanted Gav to enjoy some of my old favorites! He was happy to take one for the team and try both savory and sweet pastries from Bourke Street Bakery and Black Star Pastry.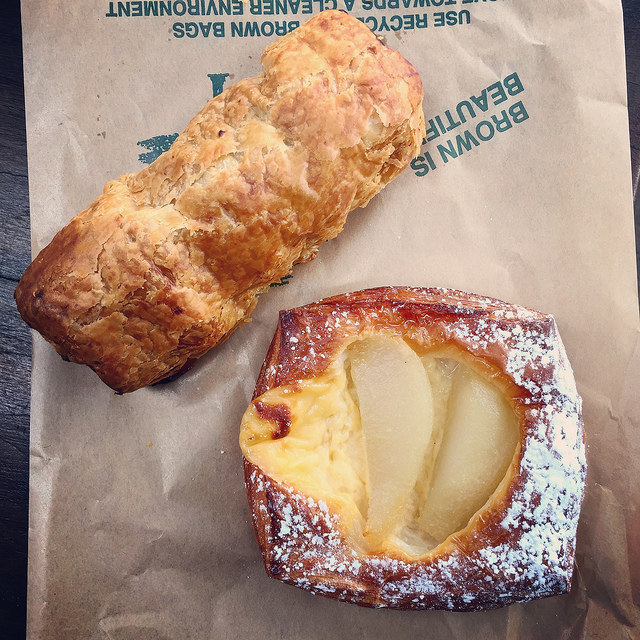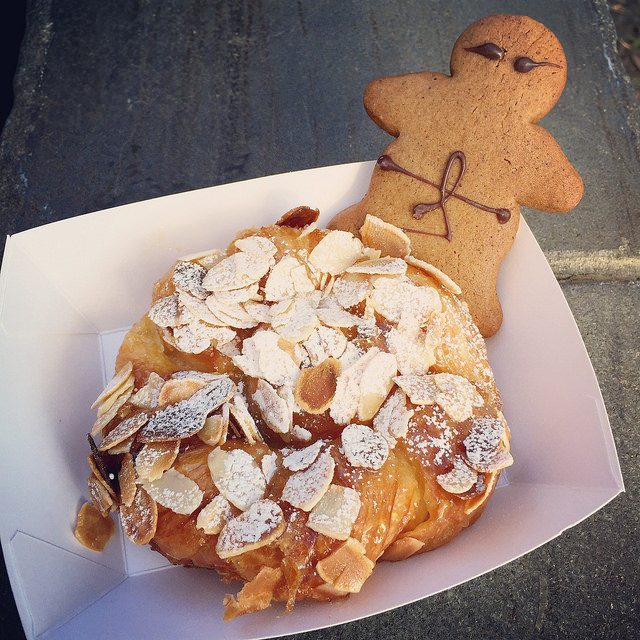 And of course he had to try FRESH macarons from THE Adriano Zumbo. Even though I can no longer have macarons, Gav willingly kept the No Macaron Left Behind Mission alive.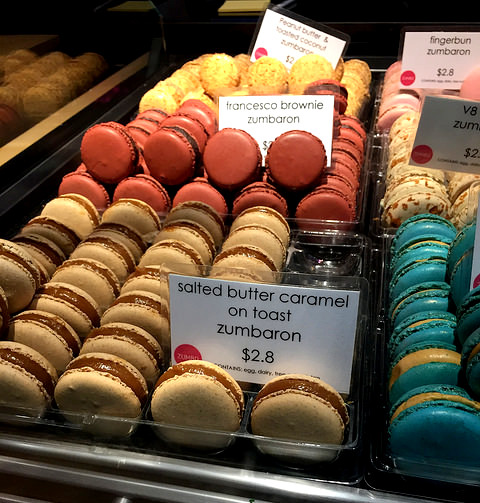 Friends
A return trip to Oz wouldn't have been complete without catching up with friends! In fact, the main reason we chose Melbourne as our 2nd city is because of the people.
During our first week, we caught up with James, Darren and Cherril, Deidre of DecoyBetty, and Dan and Paul. We spent all of our time eating and chatting, and I managed to leave Victoria without a single photo of anyone!
In Sydney, caught up with Brooke at her Aroamas stand at The Rocks Market. I met Brooke early during the year in Oz, and when I got home, I spent a year writing articles for her (then new) site Her Packing List. I took a photo of Brooke!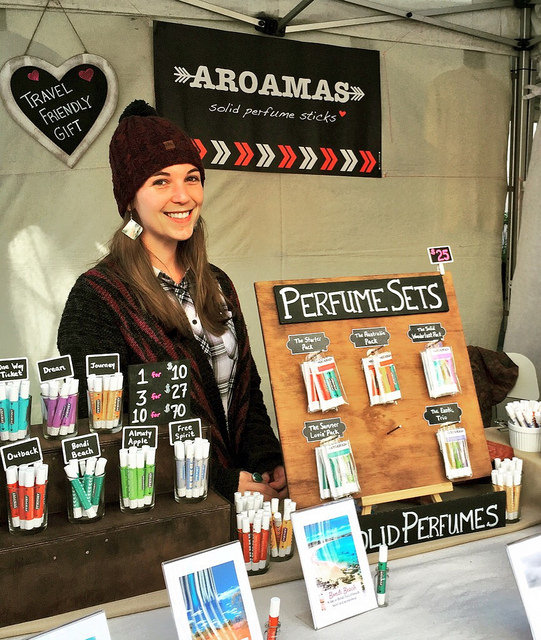 I also met up with Jayne and Justin, who I met for the 1st time in London the same week I met Gav for the 1st time, Toni, who I've wanted to meet for ages, and Rebecca, a former coworker I've stayed connected with on Facebook.
We truly enjoyed connecting with everyone, and I regret not taking out my phone for a quick Instagram snap! And then there are 8-10 others we wanted to meet up with, but our schedules never aligned. Three weeks just isn't enough!
Sports
No trip to Australia would be complete for me without attending a sporting event. Thankfully we were able to buy tickets for rugby's State of Origin match between the Queensland Maroons (my team since 2006!) and New South Wales Blues at the famous Melbourne Cricket Ground (MCG). The Maroons lost the match, but they went on to win the series!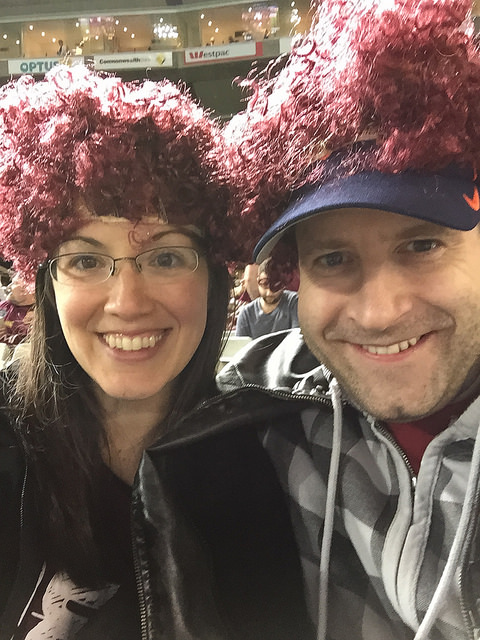 Home
Australia is my home away from home.
After my first trip in 2006, I couldn't wait to return for an entire year in 2010. I absolutely fell in love with Australia while living there, and I missed it terribly when I had to return to the USA in 2011.
This 3-week trip was my first opportunity to return to Australia since 2011, and I wanted so much from this trip. I wanted to reconnect with everyone I knew who was still there. I wanted to feel that special mix of excitement, comfort, and HOME that I felt last time. And I wanted Gav to love Australia too.
While I LOVED reconnecting with friends in-and-around Melbourne, it wasn't until we flew to Sydney for weeks 2 and 3 that we felt like we were on holiday and I finally felt like I was home. Melbourne has a lot to offer, but it's doesn't click with me like Sydney can and does. Gav found the same to be true for him.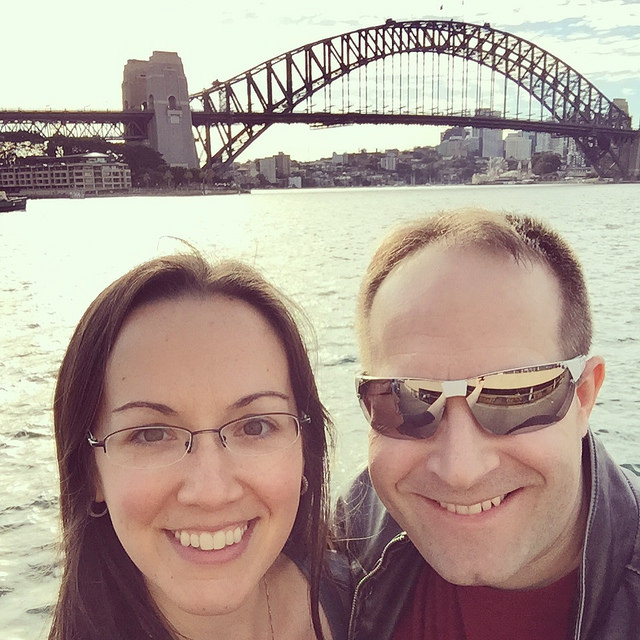 Walking along the streets of Sydney and strolling around the Harbour felt like a massive hug, a summer thunderstorm, and a cup of hot chocolate on a snowy winter's day. Sydney is one of my favorite places in the world.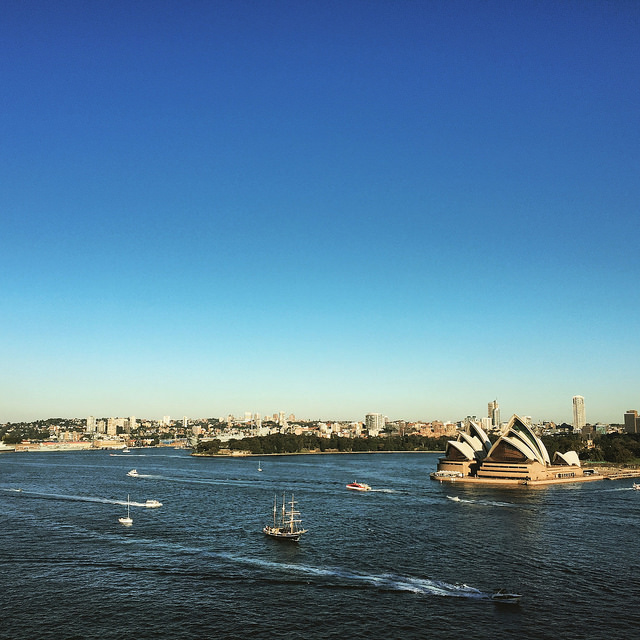 We paused a while to enjoy the views and had a drink at the outdoor bar near the Opera House. A sparkling pink moscato seemed festive!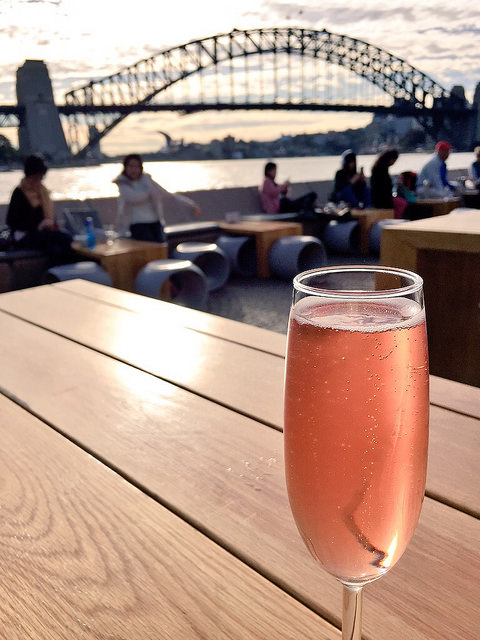 Although it was winter, we wouldn't have asked for more beautiful, sunny days. I'd never seen Bondi Beach look so beautiful.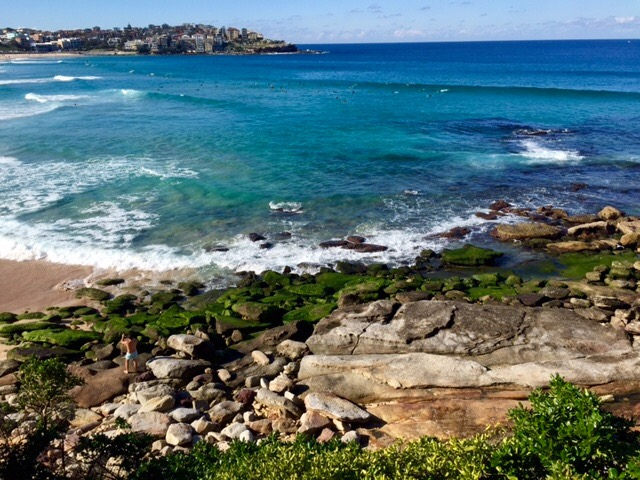 One day, we took the train to my old stomping grounds in the Inner West suburb of Petersham. I showed Gav my bus stop, the Portuguese eateries along the main road, the shop where I cashed in my winning bet in the Melbourne Cup, and my old apartment building. Petersham is a quiet little neighborhood, but it was a big part of my year in Oz.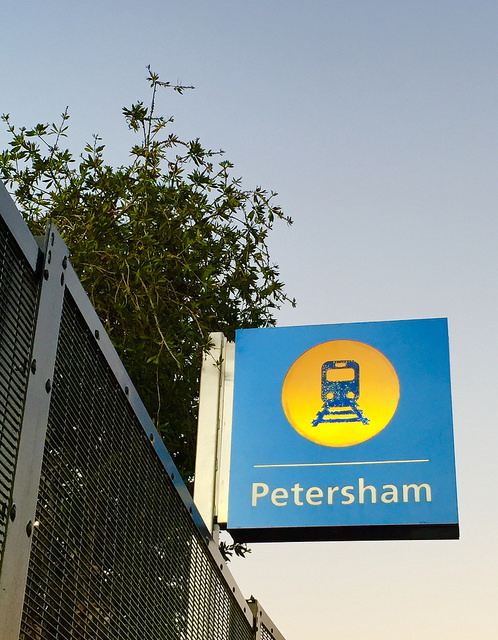 Holiday
During our time in Sydney, we took a 2-day city break to travel to the Hunter Valley, a wine region I'd wanted to visit for ages – and it didn't disappoint! Though Sydney feels like home, the Hunter Valley made us feel like we were both on holiday AND at home. I plan on writing one more post about our time in the Hunter – it'll likely be the next post.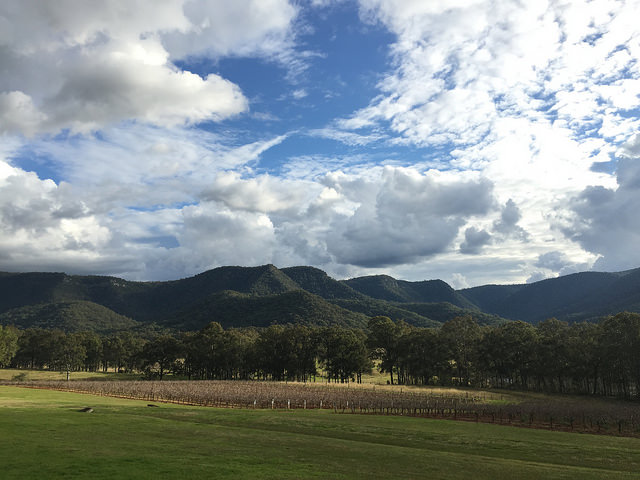 Until next time
As much as I love Sydney and it welcomed me back with open arms, something was different on this trip. A few questions and fears popped up that I couldn't quite shake. Above all, I wondered when I'd have the opportunity to return to Australia again.
When I left Oz in 2011, I dreamed big travel things and imagined I'd return every 2 years for 3 months at a time. I never imagined 4 years would pass. And since it took 4 years this time, how long will it be until the next trip?
I know I'm INCREDIBLY fortunate to have visited even once. Lucky me has been 3 times, and the 2nd time was for an entire year.
But it was that second year that spoiled me. I LIVED in Australia FOR A YEAR. I worked, traveled, made friends, discovered a new love for food, and grew as a person. I found a place outside of Virginia that I could just as easily and happily call home. And then I had to leave it.
Australia will always be very dear to my heart, and it hurts to think that Australia may be a chapter of my life that is finished. Closed. Done. I'm crying just typing this.
My health issues have certainly taken up a lot of our money and time over the last few years. Kind of makes saving up for travel difficult.
Even if we could save more, we each have 3-4 weeks of vacation each year. Of course we want to return to England often to see family and friends, and with most of my friends living across the US and around the world, there's just not enough vacation days or money to make all of the trips possible.
Though I may not know what the future holds for me and Oz, I'm grateful for every moment I've had in the country, from the friendships to the delicious food, gorgeous scenery, and life lessons learned.