Over the Easter holiday, I'm traveling across the pond and back for a 3 day trip to London!
Two of my dear friends are getting married, and I'm so excited I get to celebrate with them and spend time with our great friends who I haven't seen since my last visit nearly a year ago.
With the soon to be Mr. and Mrs. in December 2009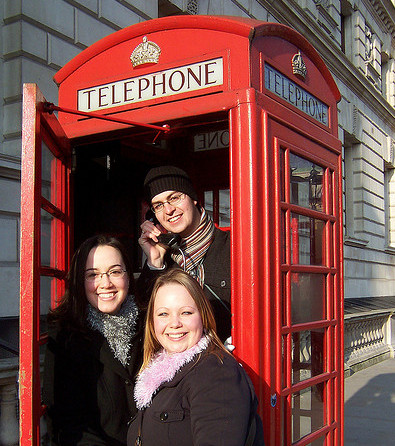 And this isn't my first quick weekend getaway to London!
In 2008 I crossed the Atlantic to surprise my friends. When they invited me to a group event, they never expected I would actually come. Air Canada must have been surprised about the trip too because the airline lost my bag for over a week. When you're crazy enough to plan a weekend trip overseas, you'd kind of like your bag to show up while you're still at your international destination.
Ridiculous picture of me hugging my bag upon its return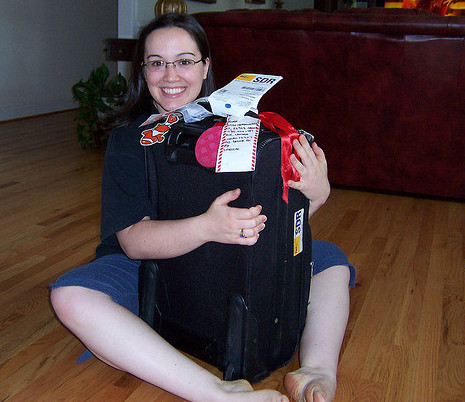 Now, I've already written about what you should really pack for a London getaway when I wrote travel articles for Her Packing List, but one item on this trip's packing list is a little unique. And for that reason, for the first time, I'm checking a bag when ordinarily I'd travel carry-on only for such a short trip.
Why do I need to take advantage of the 1 free checked bag option?
I tried to think of a way to pack the items I need for the weekend PLUS 3 suit jackets and sets of pants in one carry-on bag, but I fell short of achieving such awesomeness. *Maybe* I could have made it work, but I didn't want to risk damaging any of the suits I'm traveling with — although I'm just as nervous to check them at the airport and I pray I see them again at Heathrow!
These suits belong to Gav's best man and two of his groomsmen, all fantastic guys that I've known 4.5 years longer that I've known Gav! With Gav and one groomsmen in the US and three groomsmen in London, there was no perfect way to select and order suits for our May 4 ceremony and reception. In the end, we stumbled upon a great sale at a department store, ordered them online, and had them delivered to our apartment. Since the Brits may need to get them hemmed or altered, the guys need to try on their suits prior to their arrival in May!
Gav bought this bag before moving to the US. It's a duffle-style bag with a hard base/back, wheels, and a pop-up handle. We recently used it for a weekend trip to DC

How else am I using the checked bag?
● Packing in-mid-use full-size toiletries instead of opting for travel-size bottles. Might as well pack the normal size since I have a big enough bag to allow it! I'm thinking toothpaste, conditioner, shower gel, face wash, and lotion.
● It's going to be COLD this weekend, so I'm bringing a hoodie so I can take a walk on Friday and Sunday without freezing. If I was traveling carry-on only, I'd leave this at home.
● Gav left some items in London when he moved to the US last October, and I'm going to pack as many of them as I can to bring home.
What's going in my carry-on bag?
My favorite carry-on bag! It's several inches smaller than the maximum size allowed and can fit more than you'd expect.

Clothing
● Cute new dress I bought to wear to the wedding
● Adorable flats to pair with the dress (below)
● Red wrap/shawl (I received as a gift for being in a wedding years ago and haven't used since) to keep me warm and add a pop of color
● 1 pair of jeans to wear Friday and Sunday
● Top for Friday
● Black top and cardigan for Sunday
● Pants and shirt to sleep in
● 1 regular bra, 1 sports bra
● 5 pairs of underwear (I always over pack these!)
● Socks TBD
● 1 shirt to wear under hoodie when I go on walks
Toiletries, Health, and Sleep
● 2 prescription medications
● 3 natural supplements
● A few tablespoons of coconut oil (more on this in a future post!)
● Deodorant
● Shampoo
● Electric toothbrush
● Floss
● Moisturizer
● Chapstick
● Foundation
● Razor
● Eye mask
● Ear plugs (hoping to sleep a few hours on the overnight flight from the US to England)
Electronics
● iPhone
● iPod nano
● Charger for phone and iPod
Food
Since the weekend will be a whirlwind trip, I decided to pack a few gluten and dairy free goodies for quick meals and snacks.
● 2 Kind bars
● Kind granola
● 4 ProBars
● Applesauce in a squeeze packet (I have some supplements I'm currently taking 3 times a day, and this helps me swallow them more easily)
Paperwork
● Flight itinerary and e-boarding passes
● Passport
● Driver's license (shouldn't need it but just in case)
● 1 credit card
● Mini notepad and pen
Items for others
● 3 greeting cards for wedding and birthdays
● Virginia and other USA maps for Gav's dad who loves planning travel with maps
Jewelry
● 1 pair of earrings and 2 bracelets for the wedding guest outfit that I won't wear on the plane
What I'm wearing for the flight
● Super comfy long yoga-like pants, which I'll also wear for my weekend walks
● Thin long-sleeved shirt
● Sneakers/running shoes
● The earrings and necklace I'll wear all weekend except for the wedding
● My nice winter coat
Maybe I should finally pack…
Now that I've written out my packing list, maybe I should actually gather all of the items I've just mentioned, photograph them, and start packing. Think happy travel thoughts for the checked bag…I hope we both arrive at the same time!
Happy Easter, everyone! Happy birthday Kev and Kristin! And congratulations Andi and Amy ♥
POST WEDDING UPDATE
Bride and groom visiting the table

Me with one of the first friends I made in London