While I adore so many places in Australia, it's fair to say that Sydney is my favorite. It was my introduction to Oz four years ago, and it's where I kicked off my journey last May. Places speak (or don't…) to people for different reasons, and Sydney just happens to have me under her spell.
While I initially loved the idea of living in the CBD and fellow travelers encouraged me to rent in the beaches of the eastern suburbs, I could not be more THRILLED that circumstances brought me to the Inner West. It's close to downtown Sydney, walkable, features some great eats, and is home to several immigrant communities. It has heaps of character (and characters). If you live in the Inner West, you're proud of it. You live in close proximity to some of the relatively undiscovered gems of Sydney while being close to the CBD and beaches via public transport. All of this being said, I'm fairly certain that if I had chosen to live elsewhere, I would not have traveled to the Inner West to explore it. These aren't the suburbs most travelers flock to, and I'm always asked "why Petersham?!" when people learn where I live.
It's only fitting with less than two weeks left in Sydney that I give a shout out to the place I've called home for the last five months. So here's my tribute to the Inner West, the place in Sydney I love the best.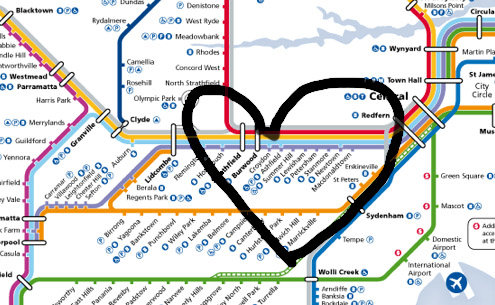 By Marina Colagrossi & used with permission
I Heart Petersham
A little bit about my home-away-from-home:
— It's home to Sydney's Portuguese community. You'll always find elderly men connecting in small groups outside of two restaurants. Every day they gather to chat, have a cuppa, and eat.
— When you smell Portuguese charcoal chicken in the air, you know you're home.
— Sweet Belem is the community's claim to fame in the sweet eats world. And let's not forget the meals I've shared with visitors from home at Big Brekky.
— As much as any place other than Charlottesville can, Petersham has felt like and been a home.
— Within 10 minutes walking distance of the flat, I found both a great chiropractor and a church.
— Speaking of the flat, I lived with a nice, well-traveled, sports-loving guy I met in week one. Of our two sets of neighbors downstairs, one couple was very lovely and the other played ridiculous music at any and all hours of the day (and night). I washed my clothes in a coin-operated machine and opted to hang them around the flat to dry — whenever I put them on the line it either rained or a laundry thief would strike!
— Thank you to everyone (Nicole, Evan, Elle, Gunther, Robin & Sinead, Shel, Dennis, Dan, mom & dad, Patti & Paul) who sent me real mail — I received more here than I do at home!
Balmain & Rozelle
It would be enough for me to say that two of Adriano Zumbo's three locations are in Balmain and Rozelle. But I also love the area because it has such strong community pride and loyalty. Just look at the photo above — you'll find it spray painted on the sidewalks!
Sydney Fringe Festival in Newtown, Enmore & Marrickville
A festival that says it's "bursting up from the underground in Sydney's Inner West" sounds like something you have to check out, right?! I can't describe Fringe better than the official site, so:
The Sydney Fringe is a celebration of the urban and the unconventional, a cultural showcase festival that includes disciplines such as visual arts, film, digital arts, comedy, music, theatre, musical theatre, circus/physical theatre, dance, cabaret, books, kids and family shows, poetry and special events. The works are daring and risky, irreverent and alternative to the traditional and conservative…
Lauren and I both have an appreciation for the arts, so we poured over the calendar and decided to check out "Hi, How Can I Help You?", a series of skits about life in customer service. It wasn't exactly what we were expecting, but then again, it was part of Fringe! The events took place at small, local venues and everyone seemed to know someone else from the community.
No excuse not to exercise
Petersham and its neighboring suburbs are oh-so-walkable. On my walk-jog route alone I pass through four unique suburbs! I often opted to skip the bus or train to enjoy walks of up to 1-hour each way. It was my best way to get exercise cheaply and stumble upon new cafes and quirky spots.
Finding a good cup of coffee
When I first met Adam, we quickly learned that we both love good food, great desserts, and a well-made coffee. Since he's called the Inner West home in years past, he introduced me to my new home back in September by taking me on a "coffee crawl". First stop? Marrickville Road Cafe.
His piccolo latte and my cappuccino

Find more well-crafted coffees at Newtown's Campos, Luxe, or Black Star Pastry. In Rozelle, baristas at About Life and Adriano Zumbo have never let me down.
Home to some good food
Oh my goodness, where do I begin?! There are heaps of good eats in Sydney — just take a peek at Urbanspoon and Eatability to see how spoilt for choice we are.
New Canterbury Road: One of the main roads of Petersham. Home to the aforementioned Sweet Belem, two charcoal chicken restaurants, and several Portuguese establishments. Big Brekky is just around the corner on Stanmore Road.
Enmore Road: I only just decided to give the places I've passed by countless times a go — The Sultan's Table (Turkish) and Cow & Moon (gelato) were lovely.
King Street: Home to more Thai restaurants than you could ever possibly try, top notch cafes & bakeries, and a handful of vegetarian and vegan restaurants.
Norton Street: Sydney's Italian community – heaps of restaurants (not just Italian) and cafes.
And this only scratches the surface — these are just places closest to me!
The Inner West hosted many of the international food festival community events as well! Crave, an entire month boasting over 600 individual events, brought many a food adventure for me in October!
Not only are King St and Norton St known for food, but they're also two of my favorite places to walk and people watch. They're both worth a visit — I promise.
Marrickville Metro Expansion
Marrickville Metro Shopping Centre is a 30-minute walk from the flat. When I first moved in, I visited Woolies for groceries and Kmart to buy bedroom and kitchen wares. Along the walk, I passed several homes that had signs protesting the potential expansion of the shopping centre.
A couple of months after I moved in, there was a rally in the local park to protest the expansion. While I see dozens of people walking to and from the centre on any give day toting shopping bags, community members feel passionately about supporting local business owners. They believe expansion would hurt local businesses and result in a 50% increase in traffic on the roads.
I haven't been following the expansion issue too closely, but I love that community members have come together to have their voice heard.
Thank you, Inner West!
I couldn't have asked for a better place to live for the past five months. It was one of life's unexpected gifts that worked out for the best in so many ways.
No matter where life may take me next, I'll always think of not just Australia or Sydney as a second home but the Inner West specifically.
Can't get enough of the Inner West and crave more information?! I don't blame you. Learn more from the Inner West Courier, Inner West Live, and Sydney.com.