We owe Star Wars a big thank you for helping us meet.
Years before Gav and I ever met, I met his best friend Kev online because we both had an interest in Star Wars. While I still enjoy Star Wars, I REALLY loved Star Wars at the time. I'd seen the movies, read many of the books, dressed up as a Jedi for Halloween, owned some action figures, and used some variation of the name of my favorite character as my username online.
Thanks to Star Wars I met Kev in 2004/5, and through that friendship, I met Gav in 2011.
After Gav proposed on Valentine's Day in 2012, we quickly started the planning process. And when we saw that May 4 would be on a Saturday in 2013, we knew we'd found our date. We didn't want a Star Wars themed wedding, though some friends asked when they received our save-the-dates, but we wanted to give a nod to Star Wars for helping us meet.
Along with selecting "Star Wars Day" for our date, we found several fun, subtle, and cute ways to incorporate Star Wars into our casual outdoor spring wedding.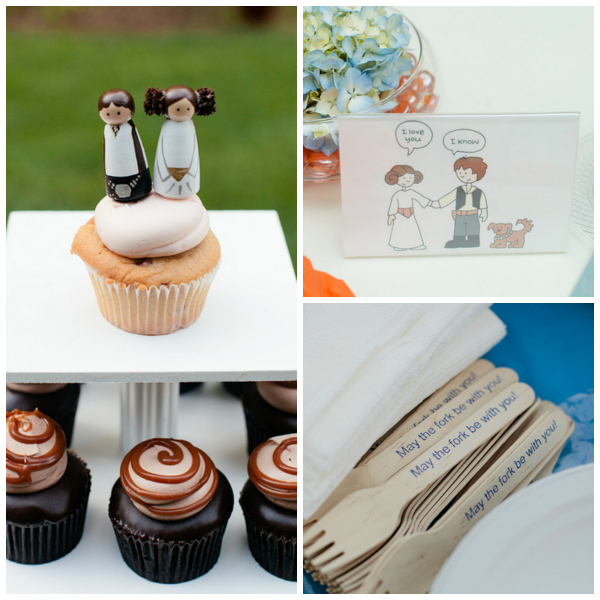 May the fourth be with you! Before the ceremony…
If you're new to the blog, you won't know that Gav was born and raised in England and moved to the USA less than a year ago!
Last fall we dressed up in our orange and blue wedding colors to become legally married (visa regulations and time frames) before our May 4 wedding. My friend Mary Beth took a photo that we used on our wedding website.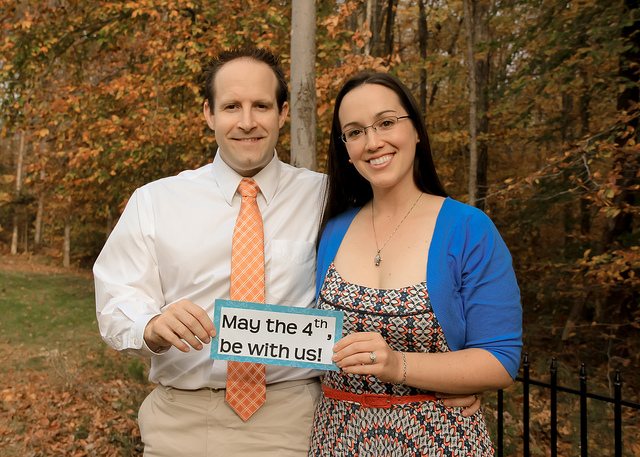 Months later at our engagement shoot, we took advantage of a chalkboard at the downtown pedestrian mall to share our love with a Han and Leia quote. The famous "I love you" and "I know" lines were used several times throughout the weekend.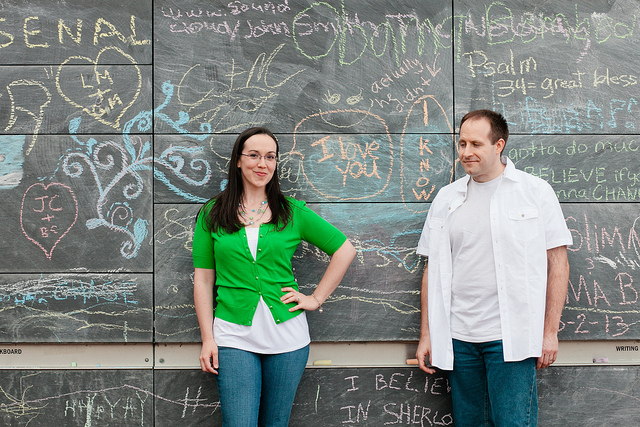 For our May 3 rehearsal dinner, I wore Princess Leia buns purchased on Amazon and purple light saber earrings from Etsy. Gav wore a Yoda ribbon/badge I'd found at Walmart. These small additions were a huge hit with the Star Wars fans in attendance.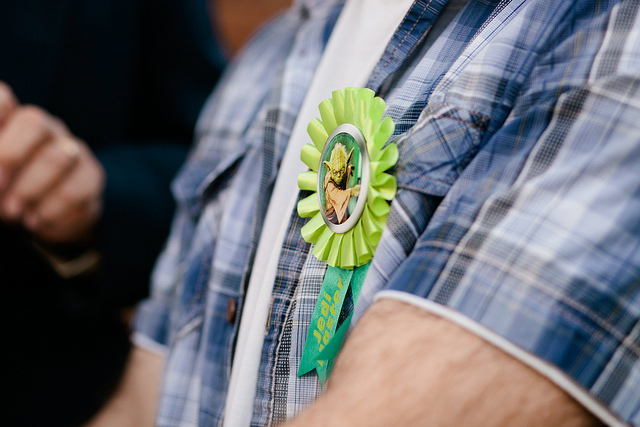 Best Man Kev received a bonus gift — a Star Wars lunch box (with themed sandwich cut outs inside) from William Sonoma.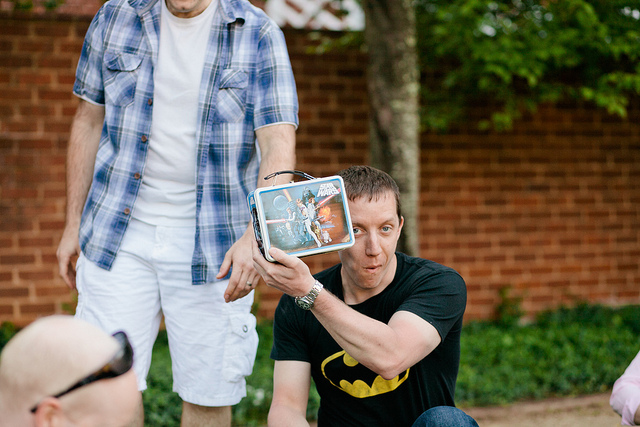 And with another great Etsy find, we had cutlery for the rehearsal dinner meal.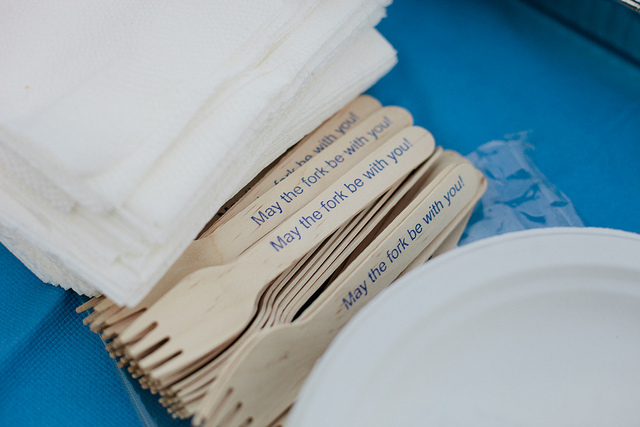 Star Wars ideas in our May 4th wedding
Thanks to a friend of a friend, I was able to purchase "I love you"/"I know" shirts from last year's Star Wars Celebration event. Two years ago Han was the one saying "I know" but last year it was Leia's turn. I wore my shirt to the airport when I welcomed Gav to the USA for good, and we both wore our shirts before getting dressed for the ceremony.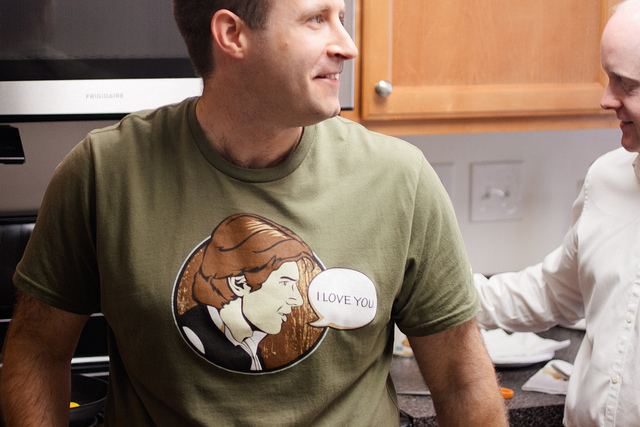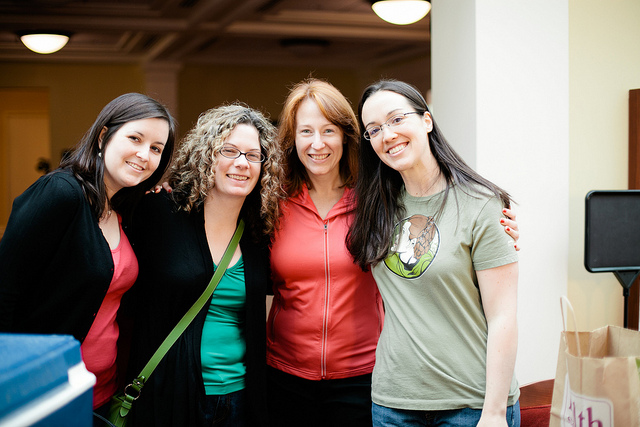 Evan, the same friend who helped me score the t-shirts (he's one of my dearest friends and was a groomsman) let me borrow one of his Disney Star Wars pins. We found the perfect place for my "something borrowed" just under the dress.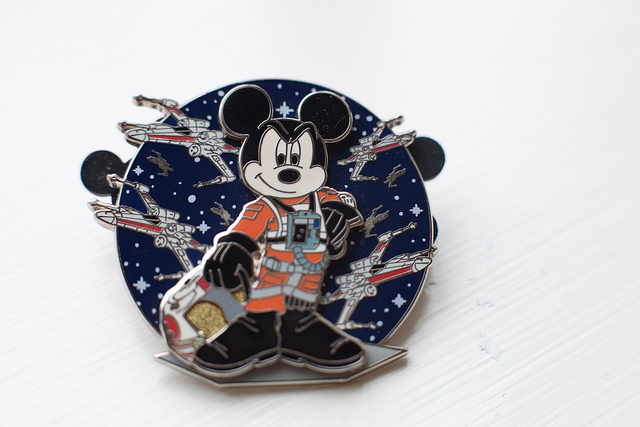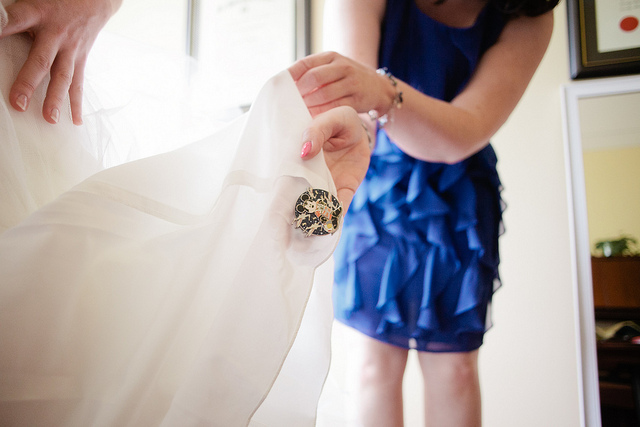 Kev wore a Star Wars tie and a belt buckle. When groomsman Andrew needed to borrow a blue tie, Kev loaned his second Star Wars tie. Aww.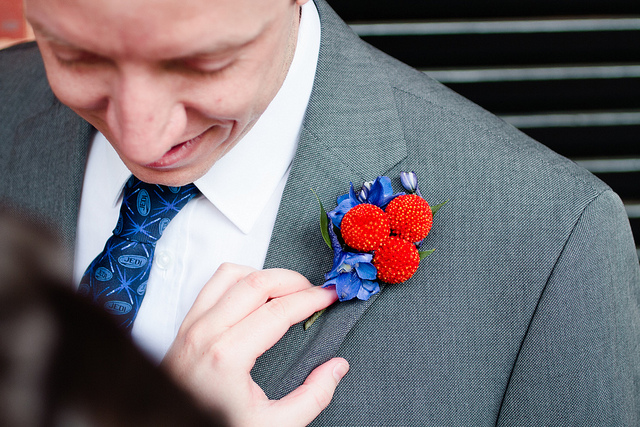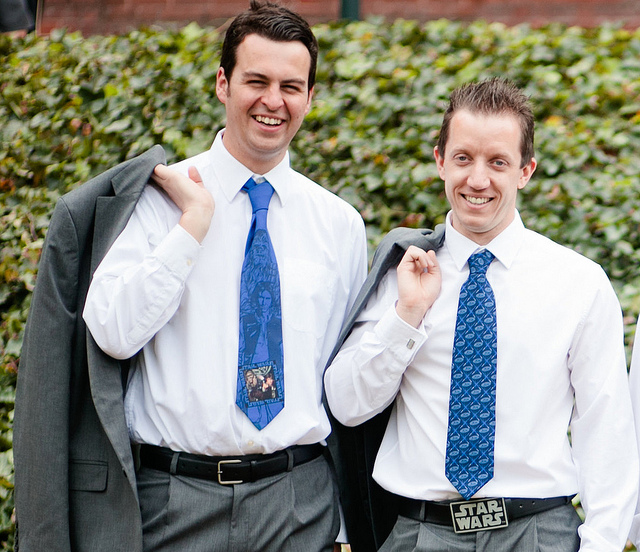 After a beautiful outdoor ceremony in a garden at my alma mater, we ventured to my parents' spacious backyard for a casual reception. Gav and I were all smiles when the wedding party was announced while walking in to the Star Wars theme.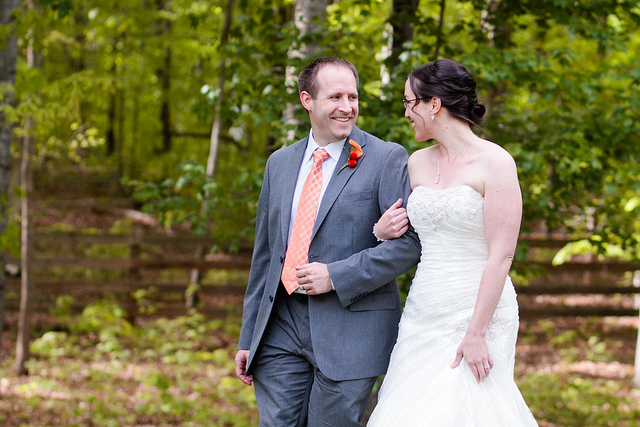 Each table had slightly different decorations, including different images or quotes in frames. I purchased this hand drawn greeting card on Etsy for Gav and just had to have it on the table.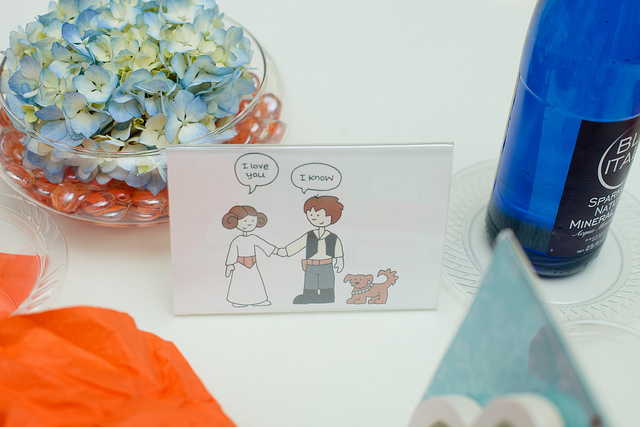 One of my favorite Star Wars elements was the Han and Leia cupcake toppers. You guessed it, another Etsy find. Dozens of guests took pictures of Han and Leia.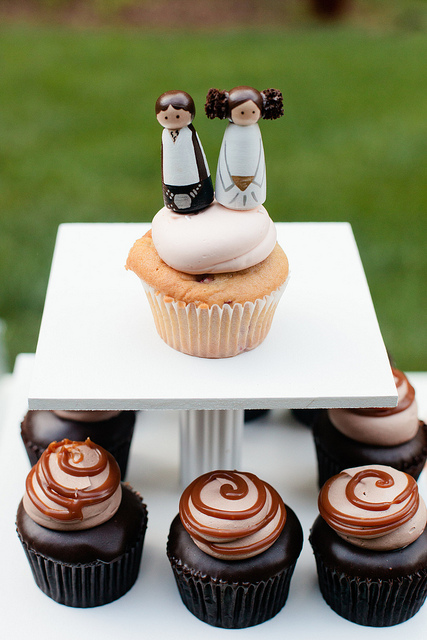 We had a large dessert bar, and my dad contributed a cake from a local bakery. We had no idea he asked them to write this message on top until we saw it for ourselves.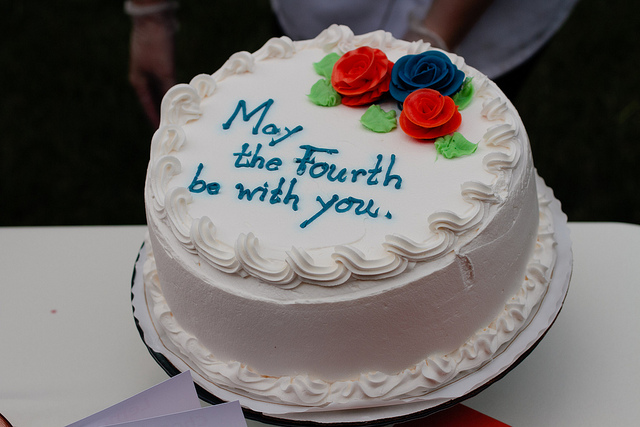 Gav and I enjoyed incorporating Star Wars into our wedding, and our guests, especially the fans, really seemed to get a kick out of each new surprise. In upcoming posts, I'll share more photos and stories from our special day.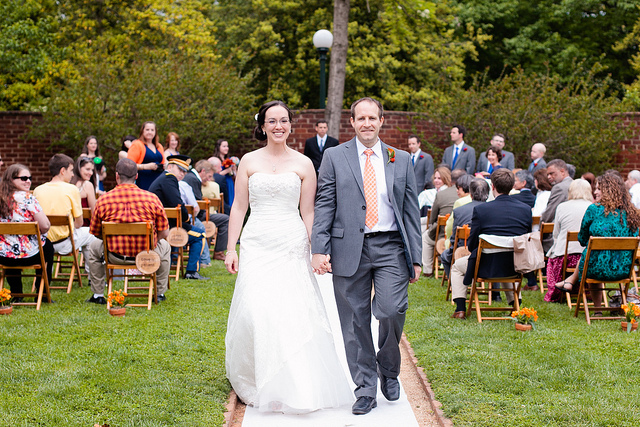 All photos except the one from Mary Beth were taken by my fabulous friend and our wedding photographer Allison Suter.