I tackled a self-imposed "No Macaron Left Behind" challenge when I lived in Australia.
I sampled non-Zumbo macarons last summer in London and recently in my home town.
I own two macaron cookbooks, Zumbo's cookbook, and a macaron tea towel.
This week, for the first time, I made macarons.
It's pretty embarrassing to admit that my first attempt at baking a macaron was only five days ago. Several friends have tweeted or emailed me over the last five months, asking for macaron baking tips, assuming I was experienced and in-the-know. 'Cause, ya know, I tried 67 different flavors in Oz alone and Zumbo himself shipped 70 to my home in November. Surely I had made my own at some point?!
Trust me, I can consume these little treats like a CHAMPION, but when it comes to making them, I've been intimidated.
How could something so cute and tasty instill so much fear? Well, my friends, they're delicate creatures that will turn on you in the blink of an eye.
At nearly every stage in the preparation or baking process, something can go wrong. Like baking in general, following a recipe is important. When it comes to macarons, it's critical that every measurement is spot on.
Thankfully, I didn't have to make macarons for the first time by myself. In fact, I intentionally waited to give them a go until I could visit Nicole, one of my best friends and fellow Zumbo and macaron devotee. She took a macaron baking class in Australia and has made them on one other occasion, so if there was a first time make them, it was when I ventured to Nicole's cold, snowy Buffalo last weekend.
We used one of the recipes Nicole received in her macaron baking class — plain shells (with a touch of cocoa powder we added for color) and salted caramel filling.
After successfully mixing the ingredients, we placed a handy macaron template under parchment paper and piped away.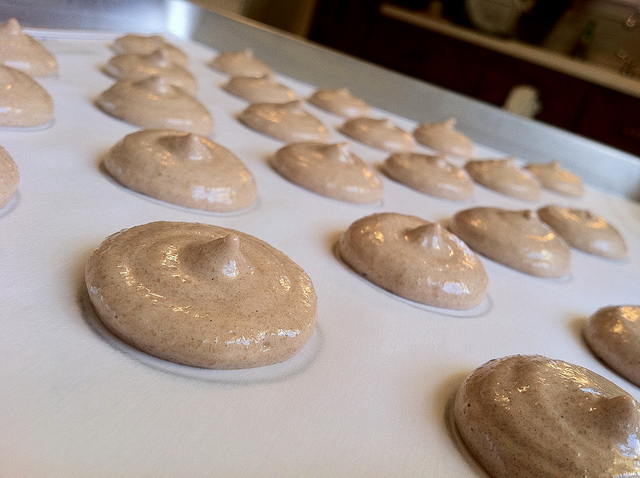 One of the most difficult bits? Piping without creating the peaks. Some fell slightly as the macarons rested (the mix needs to rest at least 30 minutes prior to cooking) but most kept their peaks.
I somehow managed to pipe a few with no peaks that cooked beautifully. I'd like to think that Zumbo would be proud.
I've had Instagram on my iPhone for ages and finally decided to use the app to take a photo.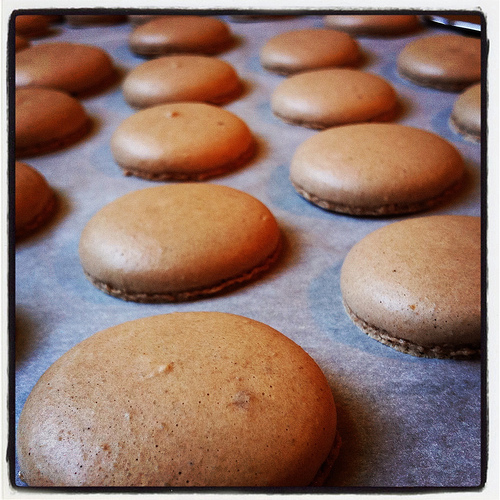 We made caramel and added Murray River (from Australia!) salt. YUM.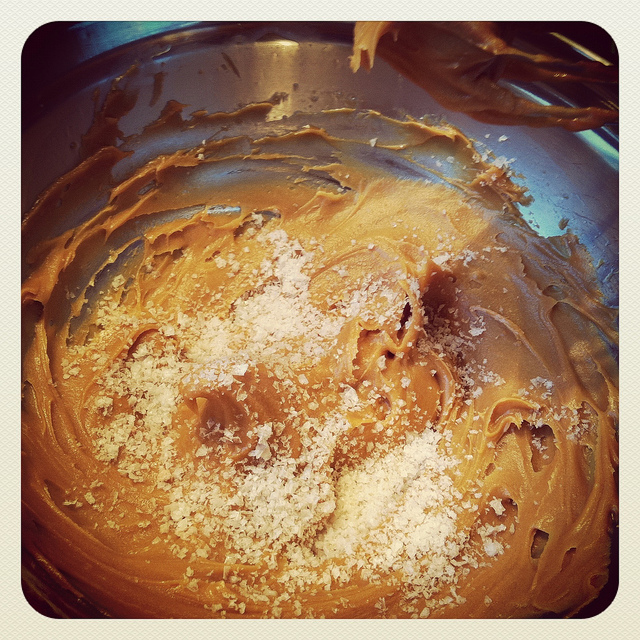 Some time during the macaron making process I decided that I didn't need to hire someone to make macarons for the wedding — I would make them!
Overly optimistic, but hey, I have months to practice.
And I started today.
My friend Kelly has never had a macaron, so I enlisted her to help make chocolate macarons with raspberry mascarpone filling.
I used a recipe from Nicole's class for chocolate shells and snagged the raspberry mascarpone recipe from one I found online.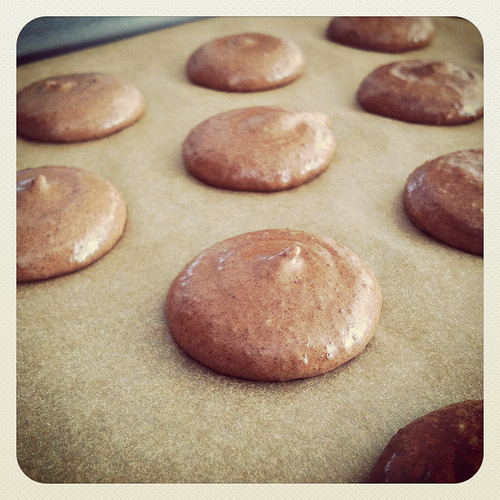 We couldn't avoid the peaks, but thankfully they were relatively minor. This is definitely my macaron goal — find the perfect piping technique for me!
We couldn't help but eat a shell or two once they came out of the oven. They smelled heavenly!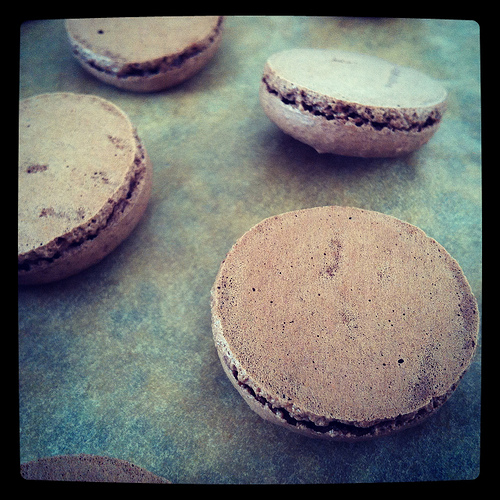 The filling was a snap to make and tastes so beautiful.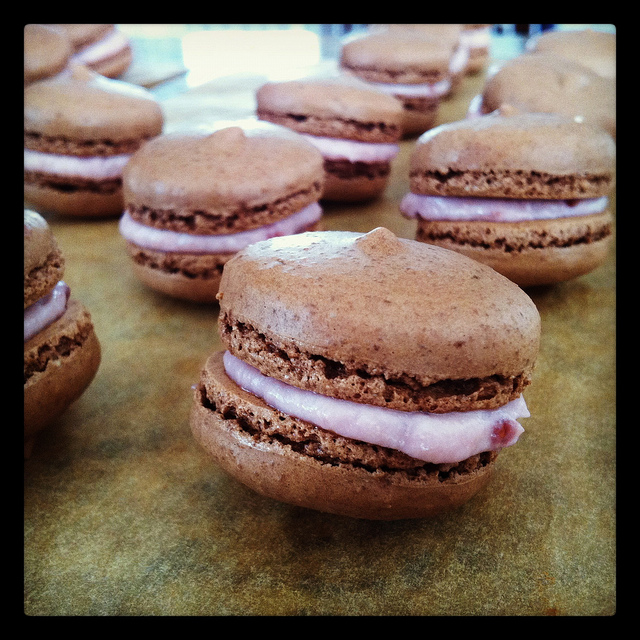 And now they are resting in an airtight container in the fridge, flavors blending together, waiting to be consumed tomorrow. Macarons should sit for 24 hours before you eat them. I'm trying to be patient!
I plan to make a new recipe every month for the rest of the year. Hopefully I'll learn to pipe a smooth shell and find 2-4 recipes I love. Then maybe, just maybe, I'll trust myself to make my own macarons for me and Gav's wedding.
What's the most intimidating dish you've ever cooked or baked?