Earlier this month I shared that I'd recently started the GAPS diet in an effort to help heal my GI tract.
Before starting GAPS, I compared it to similar diets that offer holistic approaches to treating food sensitivities, digestive issues, and other health concerns. I'm so glad that I spent HOURS reading blogs, locating recipes, and mentally preparing myself for a diet that suggests adhering to it for at least six months. Now that I'm two months into GAPS, I want to share my experiences in case my journey can be helpful to someone else.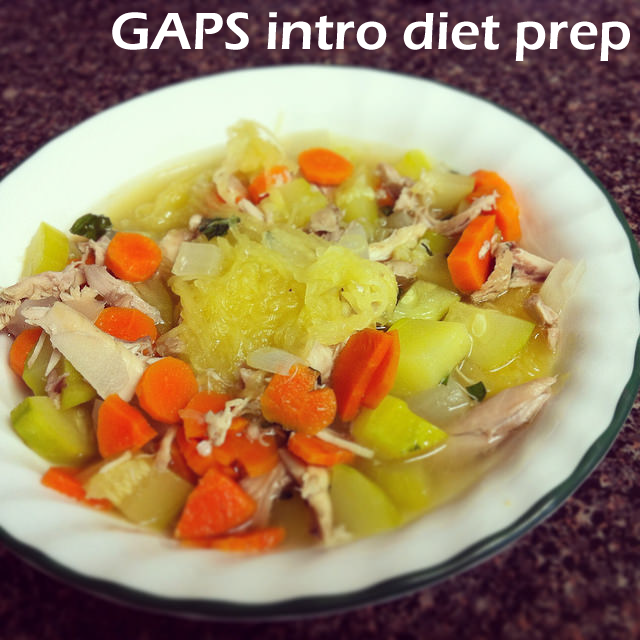 GAPS diet reading
Before I began the GAPS intro diet on Friday, May 23, I had poured hours of time in the evenings and on weekends reading about the diet.
Every blog post and article I read highly recommended purchasing Gut and Psychology Syndrome, written by the creator of GAPS Dr. Natasha Campbell-McBride. Although many of the key elements of the diet can be found for free online at The GAPS Diet, I'm glad I ultimately decided to buy the book, as it goes into more detail than any of the GAPS related websites do.
In addition to the official GAPS book, everyone suggested buying What Can I Eat Now? 30 Days of recipes and tips for the GAPS™ Intro Diet from Cara of Health, Home & Happiness. I wondered if I would benefit from the e-book since I had already found GAPS recipes on my own. One day, Cara's e-book went on sale. I signed up for her mailing list and received a discount code for the book! With the sale and the discount, I received the book at half price. Reading the recipes and to-do lists made me feel better about my own plan and research. While I did not end up following Cara's plan or recipes (since I'd already developed my own), I can see how helpful the resource would be for someone who doesn't love to research and plan as much as I do!
The reading prep I enjoyed the most was spending COUNTLESS hours on Pinterest and food blogs, looking for GAPS recipes.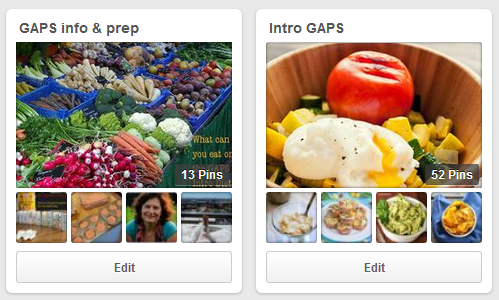 For GAPS (and for my specific pre-existing food issues), recipes had to be free of grains, gluten, dairy, soy, nuts, seeds, legumes, starches, and low in sugar (only raw honey and some fruit allowed). Many paleo and real food bloggers share GAPS compliant recipes, though some will need a few changes, like swapping out sweet potato (not allowed on GAPS) for butternut squash (GAPS legal).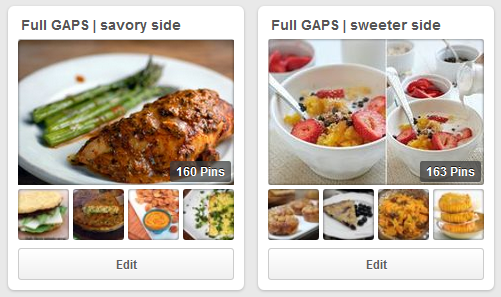 I'm sure I subscribe to more blogs than the ones I share below, but these are some of my favorites.
AIP Lifestyle
Grass Fed Girl
Comfy Belly
Fork and Beans
Tasty Yummies
Wellness Mama
Against All Grain
The Paleo Mom
Gutsy
The Urban Poser
Paleo Leap
Plaid and Paleo
Meatified
Savory Lotus
The Well Fed Homestead
Nourished Kitchen
The Healthy Foodie
Detoxinista
Nom Nom Paleo
Empowered Sustenance
Phoenix Helix
Autoimmune Paleo
PaleOMG
Purely Twins
I pinned dozens of recipes from these sites and others. Then, I decided to create a cook book for myself.
The GAPS intro diet follows six stages, and each new stage allows you to introduce additional foods to your diet. Since vegetables are a huge staple of the diet, preparing meals from scratch can take quite a bit of time with all of the peeling, chopping, slicing and dicing. To save time AND to make sure I was only eating the foods I was allowed at each stage, I copied and pasted the recipes I had pinned into a Word document, being certain to list them by stage. Yes, I could have just re-opened the recipes from Pinterest, but I wanted to flip through a hard copy and see options for the current stage and upcoming stage all at once.
GAPS diet food preparation
After I found healthy, GAPS compliant recipes and read the GAPS book, I started purchasing and preparing some of the GAPS staples.
First, I sourced beef and chicken bones (from grass fed and pastured animals) so I could make homemade bone broth. Homemade broth is essential to GAPS, and I assumed I would find the best bone prices online. While I found some good deals, companies required shoppers to purchase much more than I needed, and shipping rates were higher than I liked. Thankfully I soon found three sources of bones in my own backyard! In Charlottesville, I purchased beef bones from The Organic Butcher, JM Stock, and Rebecca's Natural Food and chicken bones from Rebecca's. If you can't find bones locally, the websites I found and compared include US Wellness Meats, Good Earth Farms, Grow and Behold, Slanker's Grass-fed meats, and KOL Foods.
I used the broth to make soups for the first week or two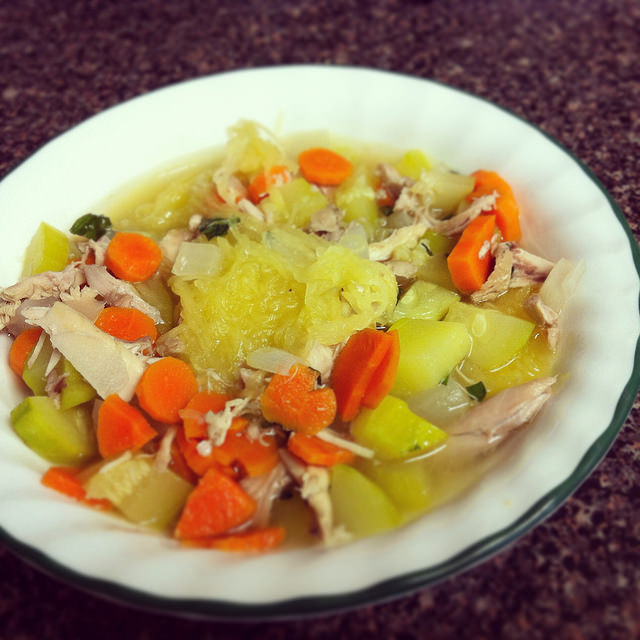 I wanted to make as much broth as possible in a short amount of time, so I borrowed my mom's crock pot and set it up just beside mine. I made the broth in mid-to-late spring, but the heat from both crock pots made the apartment really warm. I realized if I didn't make enough in the spring, making it in the high heat and humidity of summer would be miserable!
Once the broth was done, I portioned it into numerous BPA free containers, labeled them with the type of broth and date, and sent them to my parents who could store the broth in their basement freezer.
While I was preparing the broth, I scouted for other GAPS staples that would be new additions to our kitchen.
We had been cooking and baking with olive oil and coconut oil exclusively, but animal fats are at the heart of GAPS and the only fats allowed in the early stages (unless you can tolerate ghee, which I choose to skip). I found tallow from Fatworks at Rebecca's here in town (though a jar was $20, I'm still using it!), and I picked up a generous container of leaf lard at JM Stock for just $5, which I'm still using. As expected from my reading, I haven't gained any weight from cooking with these fats, and I now really love using them to sauté veggies, wilt spinach, and scramble eggs for breakfast.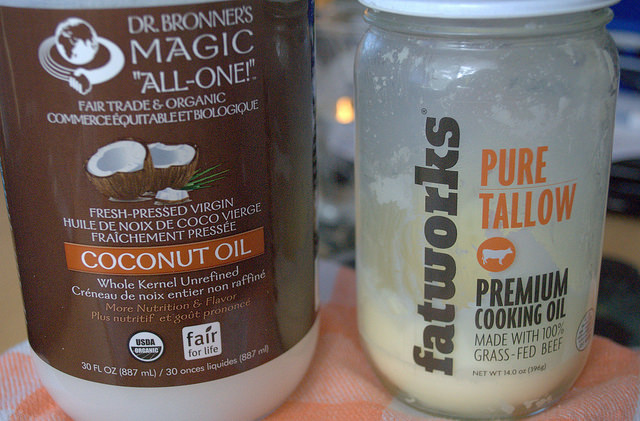 If you're new to coconut oil, try one of my current favorites — Dr. Bronner's (I bought several jars when it went on sale at Whole Foods from $18 to $11 one day!) or Nutiva.
Raw, unpasteurized fermented foods are another GAPS staple and not one I usually include in my diet. I wasn't looking forward to adding sauerkraut juice to soup or a few bites of sauerkraut to meals. Instead of preparing my own, I went with another local source! I'm so thankful that Farmstead Ferments exists in my own backyard, and after trying three flavors, I can say without question that the Garlicky Greens is my favorite. This kraut is different than the stuff you'd normally find on the shelf. It tastes and smells soooo much better.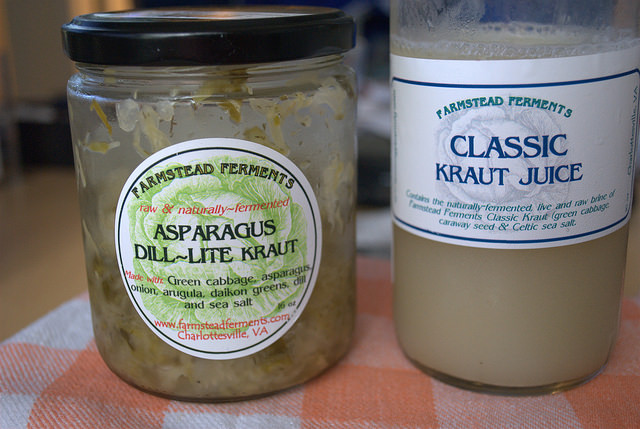 I realize that I am incredibly fortunate to live where I do. We have so many wonderful farmers in Virginia, and I'm able to purchase local grass fed ground beef from pastured cows, pastured chicken, and eggs from pastured chickens who ate non-GMO and non-soy feed.
In the final week leading up to GAPS, my awesome husband peeled and cubed four butternut squash. Two of them were the tallest I'd ever seen. We filled two 1-gallon freezer bags to their max, and whenever I wanted to steam and puree squash in the first few weeks, all I had to do was go to the freezer. We also peeled and chopped enough veggies to get me through the first few days of soups. I highly recommend pre-diet peeling, chopping, and freezing!
In the final days of prep, I also borrowed my parents' juicer and purchased stainless steel thermoses from Amazon (to carry my soups in for work). Microwaves are not allowed on GAPS, so each morning I had to warm up enough soup for breakfast and for work, and I also carried a small thermos of bone broth to sip between meals.
GAPS diet detox preparation
One of the ways GAPS differs from similar diets is the use of nightly detox baths.
Using the suggestions from the posts on my intro GAPS Pinterest board, I decided to rotate through adding epsom salts, apple cider vinegar, and baking soda to my baths. Someone recommended fine grain epsom salts from Salt Works, and at the moment, I'm only half way through the 25 pound bag I purchased!

mikerohrig, flickr creative commons
GAPS also suggests reviewing the body care and home cleaning products we use to find the cleanest, least toxic options. I like using the Environmental Working Group's (EWG) Skin Deep database to compare body care products and am still in the process of swapping out everything from deodorant to shampoo to toothpaste. One new find that I LOVE is the coconut oil based tooth cleaner from Tropical Traditions. I liked the first bottle so much (which I'm getting ready to finish any way) that I purchased two more bottles when they recently went on sale.
GAPS diet supplement preparation
Finally, before GAPS started I reviewed the supplements I was currently taking and compared them to the ones Dr. Campbell-McBride recommends. Thankfully I was taking everything but cod liver oil, and though I recently purchased a brand most people really trust, I still haven't opened it — oops! Maybe clicking publish on this post will be the motivation I need to finally try it.
What's next?
I'm so glad I took the time to prepare for GAPS. I found that mentally, I was ready to take on the challenge, and the preparation made the first week easier than expected.
In the coming weeks I look forward to sharing my experience on the six stages of the intro diet, including successes, missteps, and surprises.
If you're considering a big diet change, what's your biggest motivation for taking the plunge? What's a healthy choice that you've made for yourself lately?
Disclaimer: The information shared here is based on my own thoughts and experiences. I am not a medical professional and cannot give medical advice. Please consult your healthcare professionals before making any changes to your diet or medical care.