Five years ago I celebrated one of my biggest bucket list achievements.
How I never managed to write about it in the 4+ years I've had this blog, I don't know.
But we're approaching the end of summer, and as I've spent the afternoon reminiscing about my first skydiving experience, I thought I'd share some photos.
You know, to prove I actually did it.

Why did I jump out of a plane?
Before I started my master's degree, I promised myself that when I graduated, I'd do something I'd been wanting to do for years. Skydive.
Two years later, I graduated, went to Australia for three weeks, started my new job, and spent the summer wanting to skydive. But I didn't want to go alone, and I never found a willing partner.
Until the next summer. Enter one of my work colleagues and her mother. The three of us bravely signed up for a tandem skydive with a local company, and a group of supporters rallied around us.
We arrived at the hanger to find some encouraging words.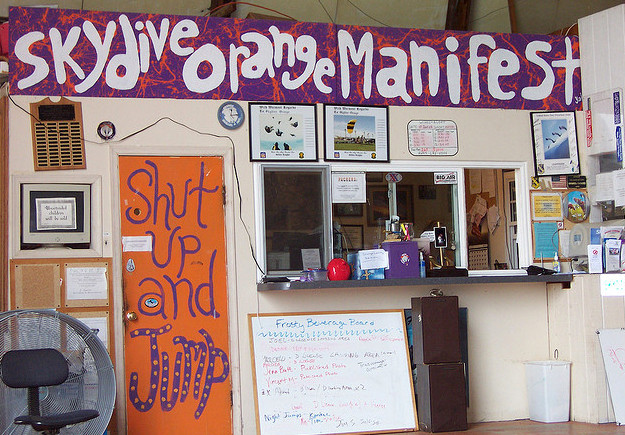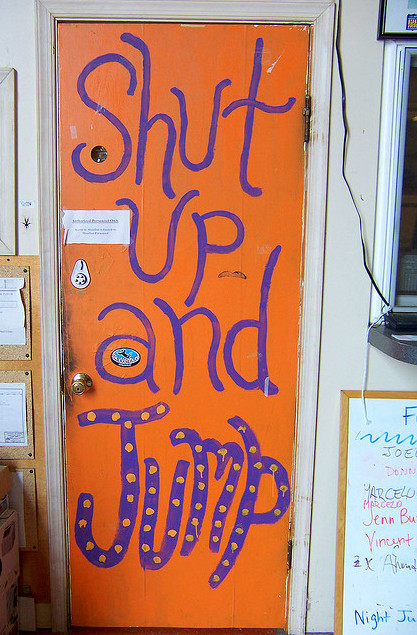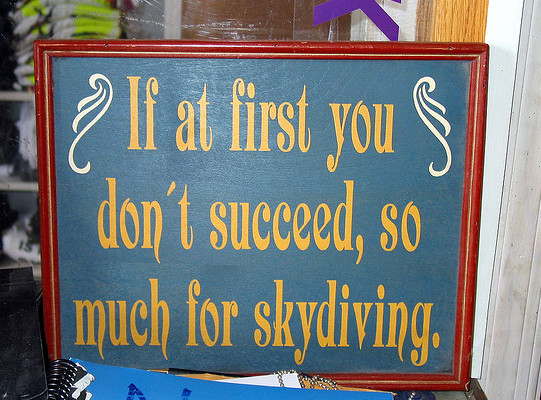 After checking in, we watched an informative safety video before signing our lives away at least 12 different times. Notice we were still smiling though.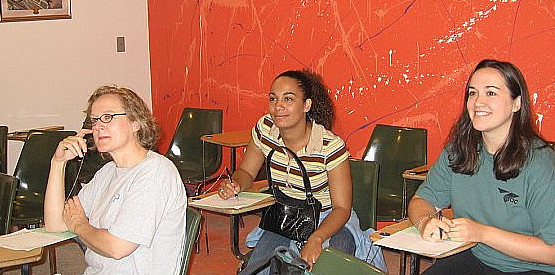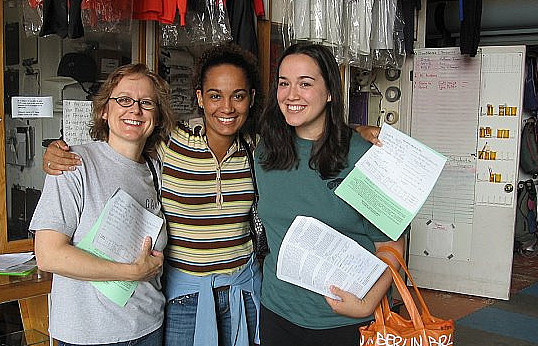 Before we could jump, we had to learn about technique and how to work with our tandem jump master.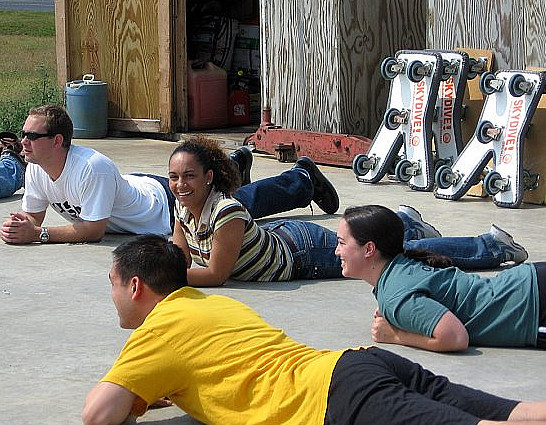 And I marveled at the folks who packed the parachutes. You couldn't pay me enough to do that job.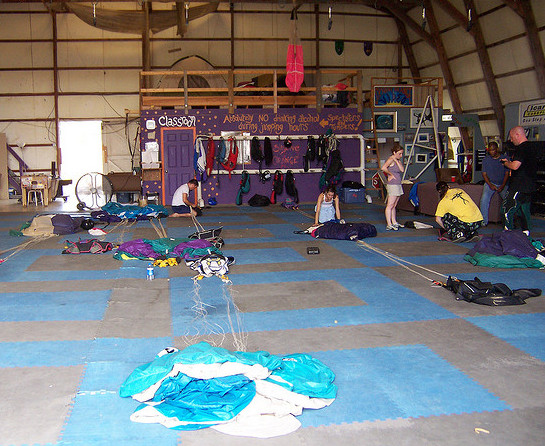 Once our lessons were done, it was time to wait. For a long time. Nerves settled in but I smiled anyway.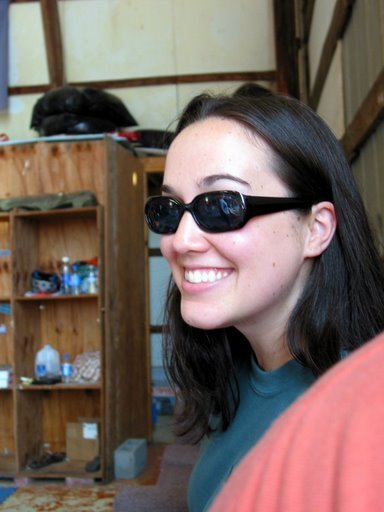 Eventually it was time to suit up!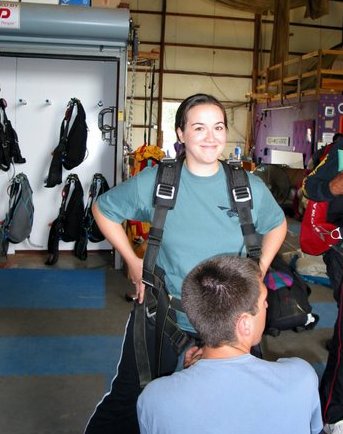 And meet my jump master, who would really do all of the hard work. He was clearly more relaxed though.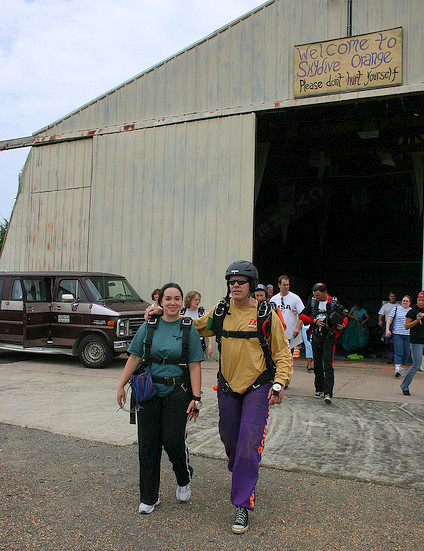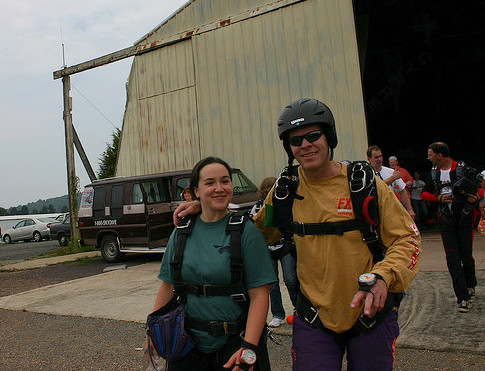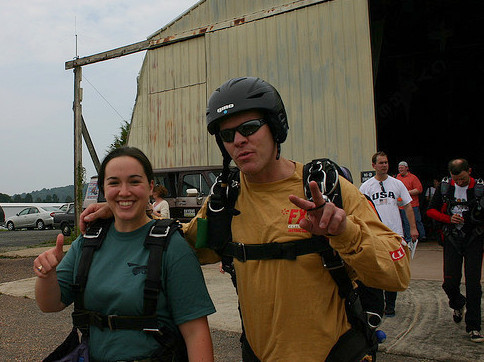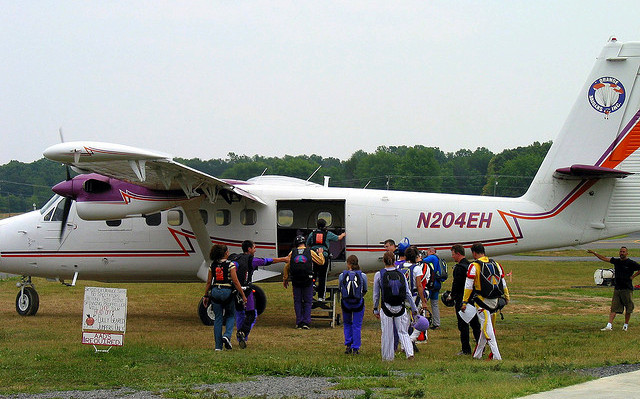 Once on board, the nerves REALLY kicked in.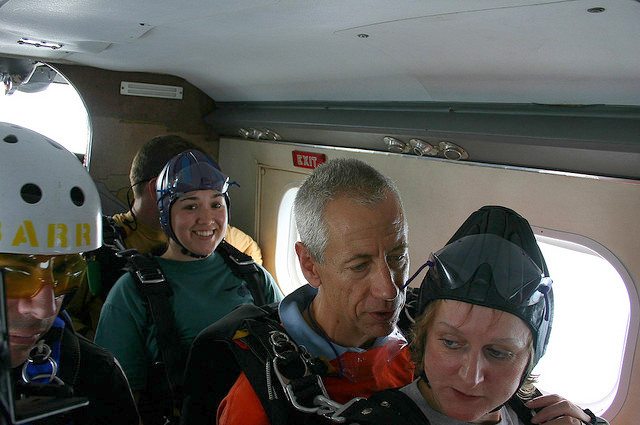 Seriously…don't I look THRILLED?!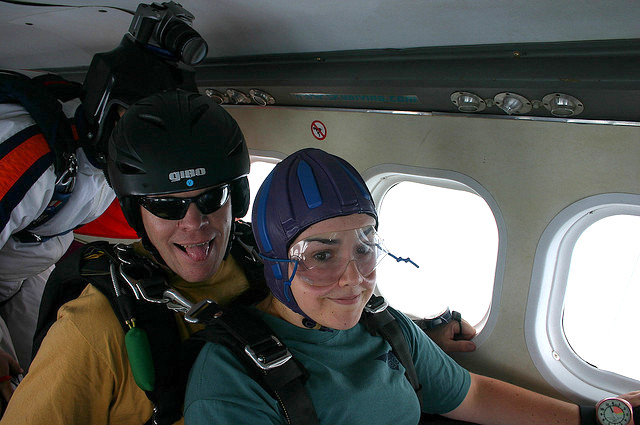 I still remember standing in the doorway and the jump master counting to 3…and on 3 we fell out of the plane.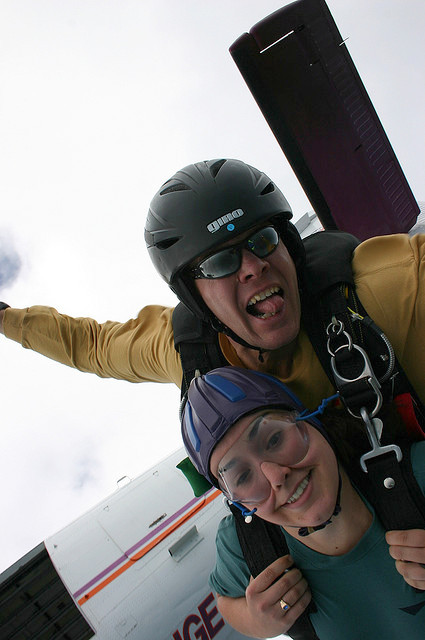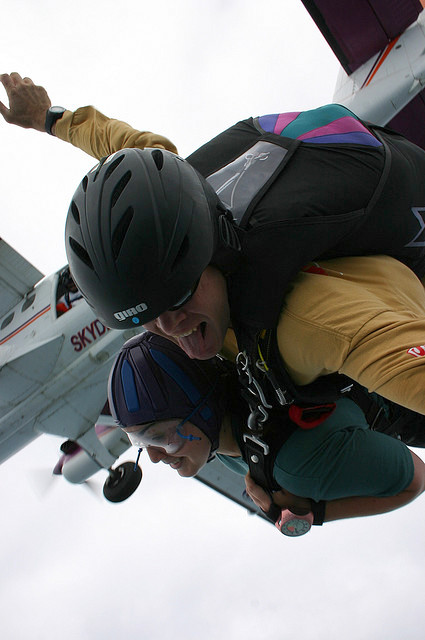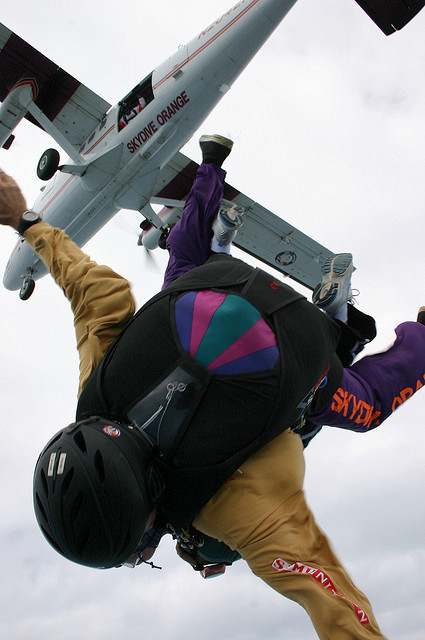 I LOVED the first minute or so of free fall. Incredible. I also loved the attractive look I achieved with my goggles.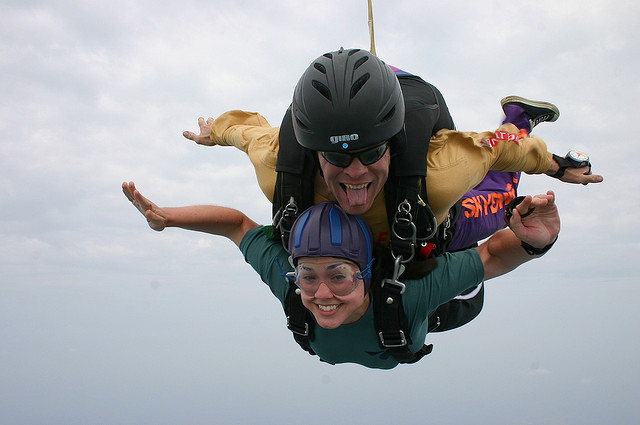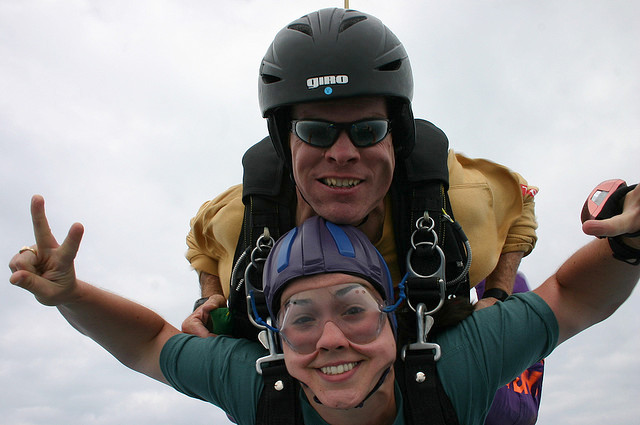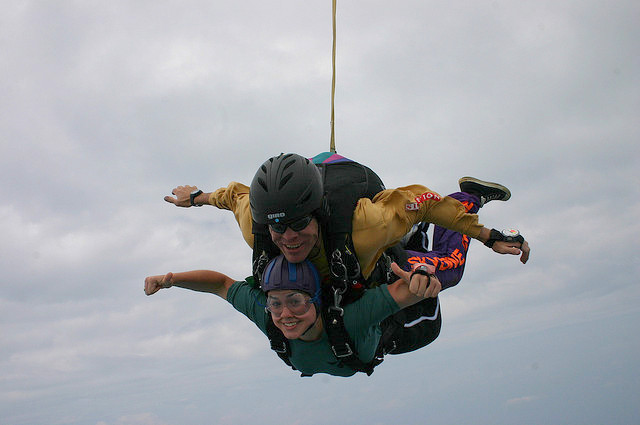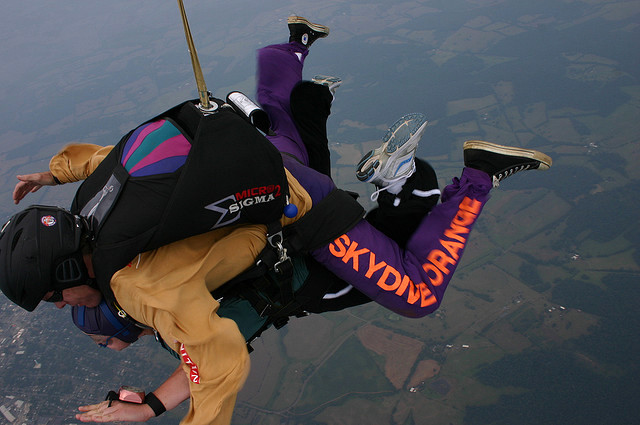 When it was time to open the parachute, the force pulled up one side of my pants leg and pushed the other side over my shoe!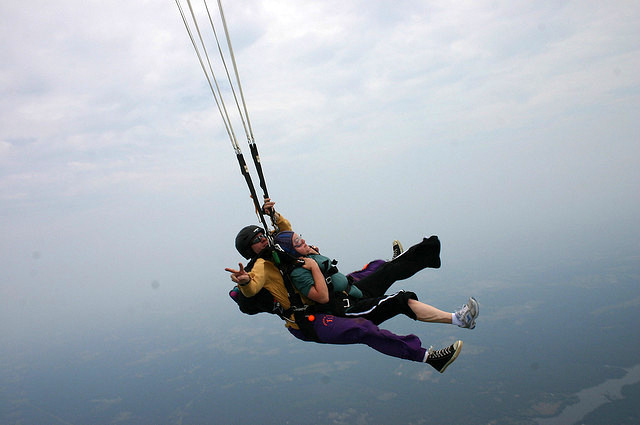 Before I knew it, we were coming in for the landing.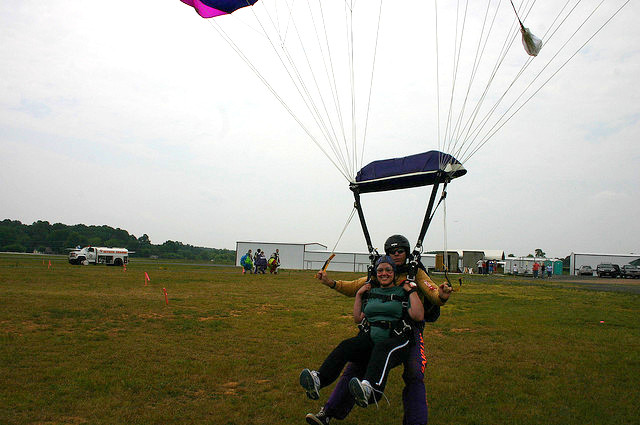 And once we landed, I wanted to get back on the plane and jump the rest of the day.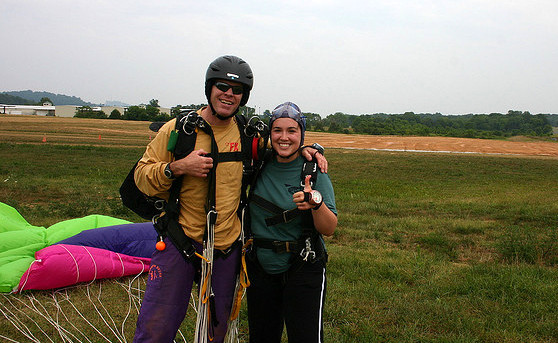 A few weeks later, I was still incredibly proud of my skydive, but I no longer felt the need to jump out of a plane and free fall toward the earth again.
Five years later, maybe, just maybe I'd consider another jump. After all, it would certainly fit one of my life quotes from Eleanor Roosevelt to "do one thing every day that scares you." But not today.
What's one of your favorite bucket list achievements?!