Brisbane is undoubtedly a blessing for foodies, with plenty of eating options available from gastro pubs to five-star fine dining experiences. For those meat and three veg no-fuss food lovers amongst us, Brisbane is also one of the best cities to get a good feed of steak. So get ready to unleash your inner carnivore because here is a guide to five of the best places to grab a protein hit!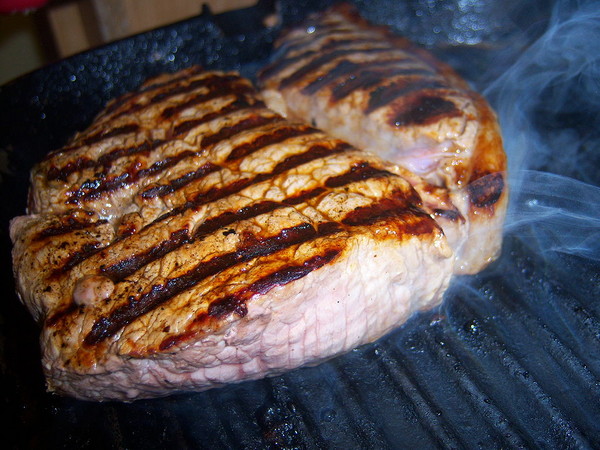 Cut Steakhouse and Tapas Restaurant
One of the newest additions on the Brisbane foodie scene, Cut Steakhouse and Tapas sitting in the heart of the city, handy if you're considering booking Brisbane accommodation, sources only the finest cuts of steak from one of Australia's best beef breeders and producers: Stanbroke Beef. Choose from organic, Angus and Wagyu steaks, all cooked to your liking on the open grill. The restaurant itself makes for a sophisticated dining experience with interiors by award winning Aussie designer Marian Lam. If steak isn't necessarily your dining companion's scene, you can also choose from a selection of great tapas, for a more intimate, shared and varied experience.
Kingsleys Steak & Crabhouse
Steak makes friends with seafood at Kingsleys Steak & Crabhouse — one of the hottest food haunts in town. First established in Sydney in 2000, Kingsley's is a favourite for tourists, corporates and friends who like a good feed in relaxed settings. The team at Kingsley's place precedence on premium quality meat, sourcing their steaks from Riverine Premium Beef and Grasslands Premium Beef. As well as being home to brilliantly big cuts of steak, the restaurant offers a great wine list and esteemed service all in the iconic Brisbane location of Eagle Street. Check it out with your mates, work colleagues or your special someone.
The Norman Hotel
Proud of their status as "Brisbane's Worst Vegetarian Restaurant", Norman's draws people in purely with their meat! Patrons are given the opportunity to select their preferred cut from the refrigerated cabinet before handing it over to the expert char grilling team who toast it exactly to their liking. At the Norman you can also select where you sit; from the outdoor beer garden to the new Norman's bar, so you can customise your dining experience to suit your dining party. The hotel has decades of history, and some of the staff have been working there for just as long. Don't be afraid to rock up by yourself! There is sure to be a warm seat and a friendly ear sitting somewhere nearby.
Cha Cha Char
With a setup as smooth as its name, Cha Cha Char is also located on the beautiful Eagle Street Pier. Claiming to be the home of Brisbane's "signature steak", Char Cha Char's offers over 10 different cuts of premium cuisine from top Australian producers, all perfectly cooked on the wood fired grill. The menu indicates each meat's paddock address, age, breed, size and diet, so you know exactly what you're getting for your money. For those dining with kids or herbivores, the restaurant also offers a wonderful European/Asian influenced a la carte menu. There is a range of function rooms available for any last-minute summer get-togethers.
Moo Moo the Wine Bar and Grill
Close to the Botanical Gardens in the Stamford Plaza Brisbane Hotel complex, Moo Moo the Wine Bar and Grill is one of Brissy's best steak restaurants. After first hitting it off on the Gold Coast, the founders of Moo Moo decided it was time to go big-city style and didn't skimp on any of the details in the process. In fact, the multimillion dollar renovation of the space that was previously utilised by another popular restaurant, Siggis, actually earned owner Steve Adams second place in the Australian Interior Design Excellence Awards 2010. Since then, the restaurant has won numerous other awards and accolades including the highest rating "3" glass award in the 2013 Gourmet Traveller Wine awards.
Travelling carnivores looking for their next favorite steak place won't be disappointed in the selection of restaurants Brisbane has to offer. On your next holiday, try one or three and decide for yourself which cut makes the cut.
Photo credit: Foter.com / CC BY
About the author: Briony Masterton is an Aussie food blogger with a huge fondness for red meat.