Beautiful Bali with its colourful culture and rich history is a delight for all of the senses. Alive with food, arts, spirituality, and a mixture of Islamic, Hindu, Christian and Buddhist religions, it's a wonderful place to explore and experience an entirely unique culture. And, luckily enough for Kiwis, it basically sits on New Zealand's back door steps — you can catch daily flights to Bali from both Auckland and Christchurch. To get a taste of Bali in its most pure and authentic form, here are five must-do cultural experiences.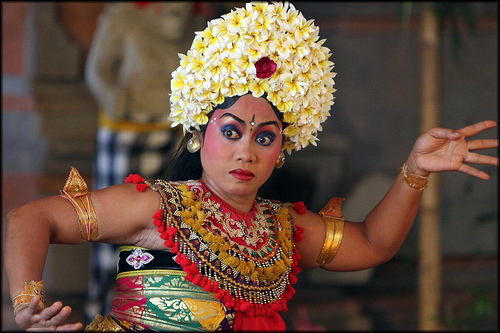 Watch a Traditional Balinese Dance Performance
Balinese dance is an ancient art form, specific to the island of Bali. The dancers are kitted out in elaborate costumes of gold and jewels and heavy makeup and proceed to tell stories by using all the parts of their body, including their hands, eyes and head. Many of the professional dancers have been training since they were little children and are incredible to watch, particularly if you get the chance to experience them in one of the dance-dramas based on Hindu and Indonesian myths and legends and religious rites.
Experience Traditional Balinese Cuisine
Indonesian cuisine is greatly influenced by Indian, Middle Eastern, Asian and European cuisines, resulting in a mish-mash of flavours and styles. Like many island nations, most of the traditional dishes are served with rice and will be based around a main meat or seafood ingredient. Popular spices in Balinese cooking include chilli, turmeric, ginger, kaffir lime, lemongrass and garlic, which are often combined with the likes of pepper and coriander to make the traditional Balinese spice paste, basa gede, a staple of Balinese cooking and the basis of many traditional dishes. Some of the most popular traditional Balinese dishes include babi guling (roast suckling pig), bantal (sticky sugared rice), and rendang (meat cooked in coconut milk and various spices). Another must-do experience is trying the Luwak coffee, which is made from the excrement of the crazy little civet animals, who are let loose into coffee plantations at night. Now that's a unique experience!
Hike Mount Batur
Located in the northwest of Bali, Mount Batur is an active volcano that sits over 1700 metres above sea level. Frequently active, you can still see the resulting lava field from the 1968 eruption. It takes about one or two hours to climb to the summit, depending on your level of fitness and experience. From the top you will see amazing views of Bali and of the largest crater lake, Danau Batur. If you want a surreal and almost spiritual experience, climb it in the early morning and watch the sunrise from the top. There are plenty of companies offering guided private and group tours if you don't want to venture up on your own.
Explore Bali's Many Rice Fields
Exploring Bali's maze of rice fields is one of the most unique experiences the island has to offer. As well as being a dietary staple, rice is an important part of broader Balinese culture, with many Balinese rituals and ceremonies based around the crop cycle of the rice; i.e. planting and harvesting. Dewi Sri, the goddess of rice, is celebrated, worshipped and presented with various offerings at different stages of the growing cycle, and if you get presented with the opportunity to participate in one of these rituals, make sure you take it! In terms of where to go, the Busungbiu and Jatiluwih rice terraces are particularly impressive, although smaller fields can be found everywhere.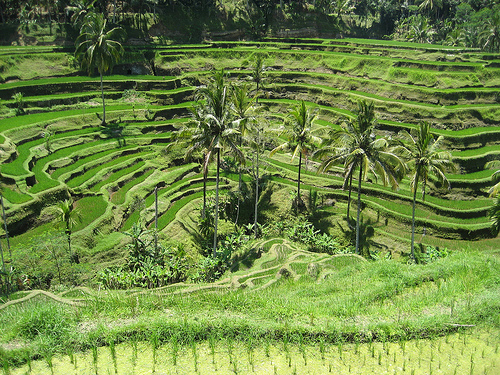 Experience Holistic Healing First Hand
Everywhere you turn in Bali you will see signs offering holistic healing services, known as Bali Usada. Holistic and alternative healing is a huge part of Balinese culture, with the Balinese believing in two very distinct worlds of being: the psychic world, niskala, and the conscious world, sekala. In order to truly heal someone and obtain an ideal state of both physical and mental health, Bali Usada techniques address both worlds. Traditional Balinese healers will use natural remedies, massage and energy healing in order to get results. If this is your first alternative healing experience and you are a bit nervous about the prospect, it might be worth joining a holistic healing tour.
Balinese dancer image from Flickr's Creative Commons by wsulistio
Rice field image from Flickr's Creative Commons by Jo@net
About the Author: Trish Timms is a guest blogger and travel addict. She spends a lot of her travel time exploring Southeast Asia and the Pacific Islands, due to their close proximately to New Zealand. She has visited Bali seven times and is infatuated with Balinese culture.