It's nearly mid-February, and I'm just now sharing my goals for 2013 with you. Part of the reason for the delay? I've been busy working on and enjoying goal #1! The other reason? In typical Heather fashion, I wanted to think about them for a while — and then think some more — before making them public.
#1 Continue to explore the interest in food
If you read the "4 goals for 2012 — how did I do?" post, you'll know that continuing to explore my interest in food was one of the four in 2012 — and it was the only one where I made any significant progress!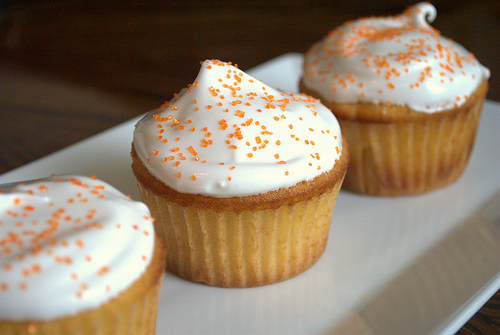 Since food-loving Heather isn't going anywhere soon, the goal is back for 2013, and I'm already MAKING THIS ONE HAPPEN.
What's foodie Heather got in store?
★ Offer to be a recipe tester whenever the opportunity presents itself (already tested for one blogger and will share the recipe once it's ready)
★ Attend/participate in food-related events (two in January alone!)
★ Taste new foods
★ Visit new (for me) restaurants
★ Bake and cook new recipes
★ Continue reading the food blogs I subscribe to and frequently visit Foodgawker and Pinterest for more ideas
★ Better organize my recipes (because I have heaps of great ones and want to work my way through them all)
★ Continue enjoying and exploring my healthy eating habits (gluten, casein, and soy free due to sensitives, along with eating vegetarian dinners the majority of the week)
★ Keep reading and watching information about food policy, factory farming, and the future of the food industry (like following Food Democracy and the food section of Take Part)
I'm excited just typing all of this — I think it's gonna be a GREAT year for this goal.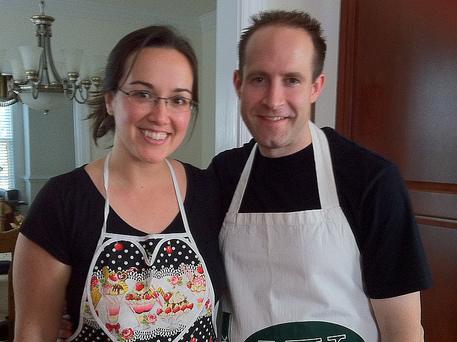 #2 Apply time and project management skills to owning 3 projects
I love taking on a project, developing a list of everything that needs to get done, and brainstorming the best ways to make it happen prior to the deadline.
But let me tell you, in the last year, time and project management hasn't come as naturally as they used to.
I think it's because I've had SO many big "projects" and life changes going on that just focusing on one or two wasn't an option. Every time I gathered the energy to tackle one, I was distracted by something important for another. I've managed several projects simultaneously at work before, but this last year has been — different. It was easy to feel that I was doing quite a bit without accomplishing much. Ugh. Hate when that happens.
This year, I have three projects that I not only want/need to take on but also want to OWN.
★ Finalize financial, logistical, and creative decisions for our May wedding and have an awesome day with friends and family
★ Research and plan a fun honeymoon to Hawaii, featuring lots of adventure, food, and relaxation
★ Take all of the articles, ideas, and research I've tucked away for "Heather's remote-work lifestyle plan" and create an action plan to START MAKING MY NEXT DREAM REALITY
Wedding planning has not been the fun process I thought it would be. In fact, it's been downright stressful. No one really tells you that (well, expect some of the contributors at A Practical Wedding), or it's quite possible that the majority of women find it to be the opposite.
2 of 7 boards I have dedicated to various aspects of the wedding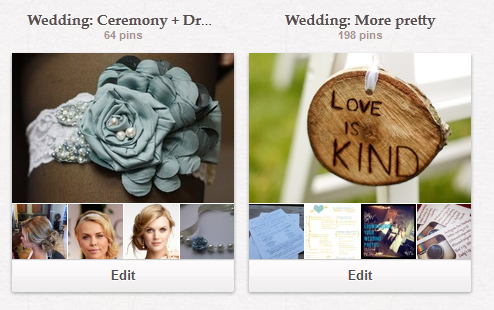 I care about Gavin, seeing our friends and family, good food, and good photography, but I have little interest in sorting out the centerpieces, decorations, and other "extra" bits. Our budget is limited. And you can still do a lot on a budget, but it's been more difficult than I ever imagined to figure out how to make it all work.
On the other hand, I'm REALLY looking forward to the honeymoon. Gav and I have our first trip away together! OUR FIRST. And it will be the first time to Hawaii for both of us. So while I don't want to schedule every minute or even every day, I do want to learn what we can see, do, and eat during our stay on the Big Island and Maui. I know "Hawaii" and "on a budget" don't necessarily go hand-in-hand, but I'll be looking for ways to maximize our budget while still having a blast.
And the remote work thing? The plan is to dive into that project mid-year.
#3 Reconnect with old friends and deepen existing relationships
"Every little piece of your life will mean something to someone", lyrics from a song by the Editors, are words I've often thought about.
In one respect, I think about and appreciate how various people have touched my life in big and small ways over the years. On the other hand, it also makes me sad to think about the host of people that have come and gone from my life, due to moves, school, life changes, and naturally growing apart.
Some of my roommates our first year of college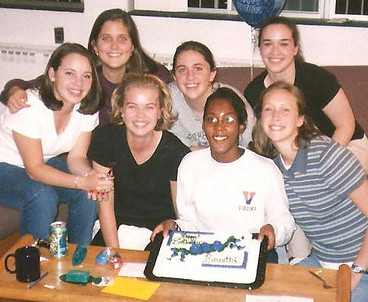 Currently, my friends are so widespread across the US and world that I rarely get to spend time with them in person. Email, Skype, and the phone are all great alternatives, but I've still felt out of touch and pretty darn lonely for most of 2012.
There's so much I could say here, but I think for now I'll keep it short. That, and I've started this section five times within the last 20 minutes and keep deleting what I've written.
In 2013 I want to:
★ Be a better friend, sister, daughter, wife
★ Invest more time in people
★ Listen more, talk less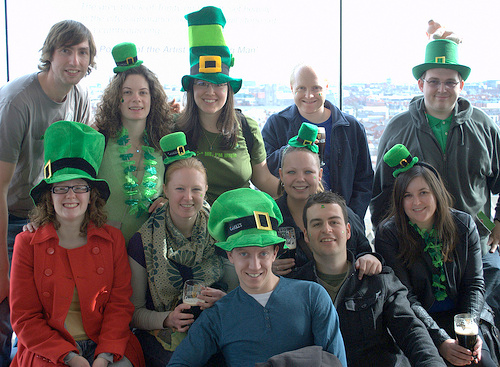 I hope your 2013 is off to a great start and you make progress toward your goals, big and small, this year!