Australia was the first country I wished I could visit.
When I was 13, my best friend spent 3 weeks in Oz on the People to People Youth Ambassador program. I was also invited to participate but the price tag was too much for my family. When she returned and shared every wonderful detail of her experience, I thought I had missed out on the opportunity of a life time. Little did I know that one day I would live, work, and travel in Australia.
My first visit to Australia in 2006, however, was only for three weeks! In between finishing grad school and starting a new job, I visited Sydney and Brisbane and had some of the best days of my life. As soon as I got home, I knew international traveled needed to be a more significant part of my life.
Making a new friend on my first trip to Oz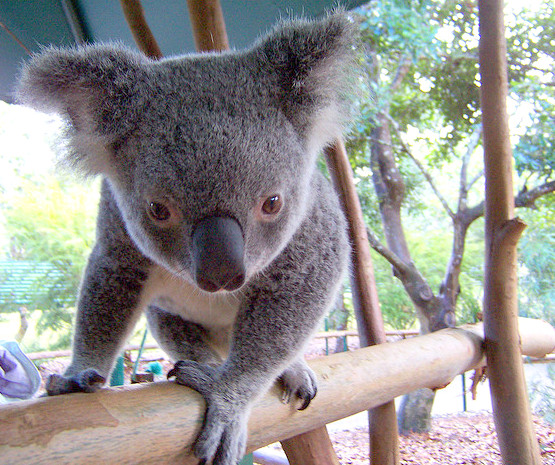 Three years ago I resigned from the first job I held after grad school to move halfway around the world and make a several-year-in-the-making dream come true. The dream? To return to Oz and give long-term travel a go. Fortunately, Australia makes this easy for citizens of 29 countries, allowing them to live, travel, and work in Australia for a year.
By the way, did you know that for the citizens of 19 countries, the visa is called the "Working Holiday Visa", while it's called the "Work and Holiday Visa" for US citizens and those of 9 other countries? Lucky citizens eligible for the former can apply for a second year on their WHV! Those of us on the "Work and Holiday Visa" are fortunate to get 12 months in Oz but are ineligible to apply for a second year.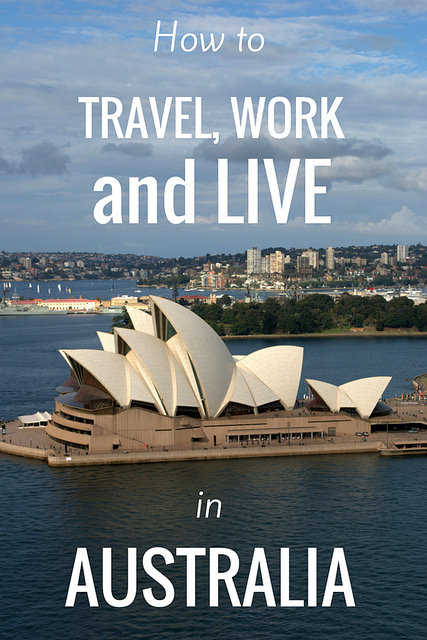 So what does the Work and Holiday Visa offer to Americans?
If you're 18-30, you can stay in Australia for up to 12 months from the day you enter the country with this visa. AND, from the time you're granted the visa, you have 12 months in which to head to Oz, so you don't have to go right away if you're still saving for the experience or need to stay for a wedding or other big event. If you're 30, as long as you apply for and are granted the visa before you're 31, you're golden.
You can work the entire 12 months or not at all, but you cannot work for the same employer for more than 6 months.
Need to leave Australia for a few days or weeks — or even months? No problem. But you don't get to "make up" the time you missed. You must leave Australia for good within one year of the entry date stamped in your passport.
Over the last few years, several people have asked if I really left for Australia without a job already lined up, been baffled by the fact that I didn't know anyone in Oz before going, and wondered about the logistics of picking up to move to another country, knowing that in all likelihood it would only be for a year. And recently, a few travel blogging friends with plans to head to Australia on the Work and Holiday Visa have asked for my tips and advice. Sounds like the perfect reason to write a post to me! This post is the first in a 3-part series about applying for the WHV and the logistical matters that follow.
Hanging out with the Brisbane Lions mascot after a game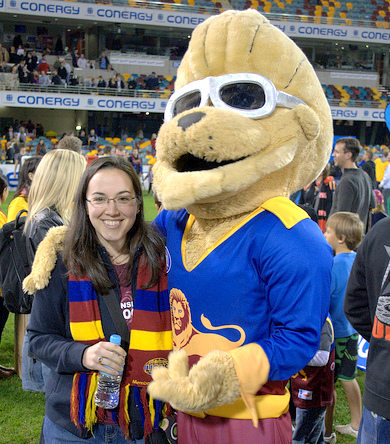 Gather evidence before you apply to the Australia Work and Holiday Visa
To apply to the WHV, you need to read the Australian government's Department of Immigration and Citizenship most up-to-date requirements to see if they have made changes to what is required for eligibility. At present, and based on my experience, Australia asks that you:
● are 18-30 years of age
● graduated from high school or completed an equivalent
● have sufficient funds to get you started in Australia and a return ticket home — or enough money to buy a ticket home at the end of the year
● have health/travel medical insurance
When you complete the WHV online application form, you may be asked to supply evidence to demonstrate you meet the requirements, so it's important to gather documentation ahead of time. I spent way too long trying to get an electronic copy of my graduate school transcript, but thankfully I had been working on it, because once I hit "submit" on my application, I was asked to supply a copy!
Many people have asked, "what does Australia mean by 'sufficient funds'" and when they learn it's 5,000 Australian dollars, they wonder if they REALLY need that much in their account. I strongly suggest that YES, you save or borrow that much as a base, because Australia isn't cheap. And you never know if they'll ask for proof of sufficient funds at the time of application. Even if they don't, one of the questions on the application asks if you have sufficient funds, and you definitely don't want to be misleading. After a couple of trips to the bank, I had a certified bank statement showing exactly how much I had in checking and savings accounts, ready to be uploaded if need be. TIP: I also returned to the bank before I left so a banker could add a few notes to my account, indicating I would be out of the country.
Choosing travel medical insurance was a bit of a challenge! At the time, I knew of a popular provider that many travelers seemed to choose, but I also wanted to choose the best option for me. After speaking with an insurance specialist on a top independent traveler site, I chose a provider that ended up working just fine for me. I never had any claims, but the price was right, and my dad, who has been in the insurance business for over 30 years, read through every detail before giving them his seal of approval. I secured this coverage before applying for the visa so I could copy and paste the details if necessary.
One of the checklists on the website mentions needing certified copies of the bio pages of your passport and birth certificate, along with two passport-sized photos. However, the checklist also mentions it's for the paper version of the application.
Apply for the Australia WHV online
Have your credit or debit card ready? In early 2010, I had to pay $230 for the visa, but a couple of years prior it was only $180. At present, the WHV visa costs $365. Ouch.
Want a sneak peek at the questions you'll be asked? I thought so! Here's the paper version of the WHV application. From what I remember, the questions here are very close to or exactly the same as the items in the online application.
Once you've completed the questions, you may or may not be asked to submit documentation to demonstrate you have sufficient funds, are a high school graduate at a minimum (provide documentation about your highest level of education), and have health/travel medical insurance.
What's next?
I had read that the visa could be approved within 24 hours or it could take as long as 3 months. To be on the safe side, I applied just over 3 months before my intended departure date. Imagine how THRILLED I was when my visa application was approved in just a couple of hours! An email arrived so quickly in my inbox that I had to do a double take. The other Americans I met on the WHV had a similar experience — I believe our visas were all approved within 48 hours.
A note on providing proof of required documentation
One of the biggest questions I had was a shared concerned with other WHV applicants — the Australia Immigration and Citizenship website made it clear that you need to be ready to provide proof of required documents at time of application or upon arrival. Our question? If we weren't required to provide proof at the time of application, would we need to provide these documents upon arrival?
I contacted Immigration, and a representative emailed me back saying that if documentation was not requested at the time of application, it would not be asked for upon arrival. I found this to be true. In fact, I wasn't asked any questions upon arrival in Australia, which is very unusual! I've asked fellow Americans if they were asked to supply documentation, and they've all said no. I always recommend being on the safe side, however, and bringing all documentation that may be asked for — who wants to have problems once you're finally ready to begin your year of adventure in Australia?!
Up next — 2 more posts with tips and advice
I had SO many questions before I arrived in Australia — which bank should I choose?! What kind of phone plan could I get for one year or less? How easy would it be to find a job AND a place to live?
What seemed like BIG things ended up being fun challenges to investigate and own. In the next post, I'll share some of the research I conducted before I left for Oz and how it helped me make some good decisions. Hope it will be helpful for you!
Part 2 in the series — Australia Work and Holiday Visa: Before-you-go research
Part 3 in the series — Work and Holiday Visa: What to do when you finally get to Australia!
Read about what I packed in my luggage for my WHV experience!