Watch a show at the Opera House. Feed a kangaroo or hold a koala at a wildlife park. Snorkel or dive at the Great Barrier Reef. Some activities make the "things to do in Australia" list with little thought!
Whale watching, however, did not spring to mind when friends and family asked what I hoped to do in Australia. Though it wasn't on my radar initially, after reading about numerous locations to spot pods during the winter months, it became tops on my "can't-miss" wish list.
Queensland's Hervey Bay is one of the prime locations to spot whales that have traveled from the Antarctic to Australia's warmer waters to birth and mate. It was a perfect stop to include on the epic east coast road trip, and the good folks at the Spirit of Hervey Bay proved to be excellent hosts and guides.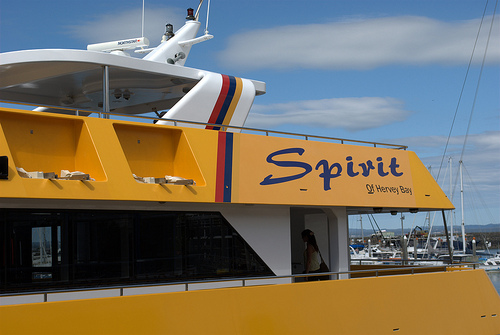 On board and minutes away from heading out to whale watch!

Once the big yellow boat pulls away from the dock, free tea, coffee, cakes, and cookies are provided for the duration of the 1-hour ride to the first whale-watching hot spot. After your snack, roam the boat to find your preferred spot for taking photos — with multiple levels and the potential of loads of people on board, you'll want to stake your claim early.
We couldn't have asked for a more beautiful day, with spring-like temperatures, a slight breeze, and lots of sun. The only problem with the slight breeze is that calm winds usually mean calm waters. And calm waters, as we were to learn, equal calm whales.
Calm whales are less likely to breach the water by jumping and playing. They're more apt to surface briefly and may swim away from the boat once it's arrived at their pod.
Calm whales meant we spent some time "pod hopping" in search of activity! Even though the whales didn't want to jump and play, they enjoyed teasing us by surfacing, disappearing under the boat, and leaving us to play the guessing game of "where will they surface next?!" It was actually fun dashing from side to side of the top viewing level with countless others trying to get the best views!
As you can see from the photos, they weren't quite sure whether or not they wanted to have anything to do with us

We were obviously visiting their home, so all we could do was be patient and hope to see more.
Just minutes before we had to return from our adventure, a few whales decided to wave farewell with beautiful pectoral fin slaps! Though we were running a bit late, the crew extended our trip so we could enjoy the sights and sounds of this active group!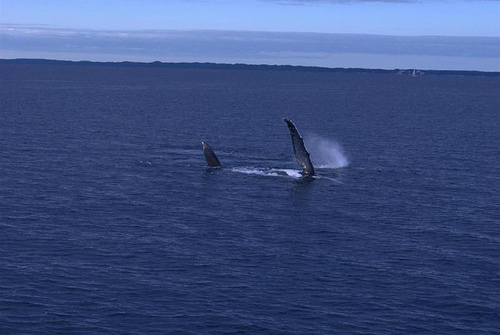 I'm not sure which I enjoyed more — watching the whales or hearing them. The sound of their fins smacking the water and the sound of air being forced through the blow holes were incredible. In fact, I can play the audio in my mind right now more easily than the "video" of their actions.
On the return trip we were blessed with beautiful skies.
From start to finish, I enjoyed the afternoon on the Spirit of Hervey Bay and am thankful to the crew for keeping us out on the water longer than expected. Those precious extra minutes provided the most special moments of the day.
If you're fortunate enough to visit Australia during the winter months or early spring, consider including whale watching to your "must see" list. Hervey Bay is a great location, but you can spot whales elsewhere if Queensland isn't on your agenda.
Featured image from Richard Fisher via Flickr Creative Commons
My tour was sponsored by the Spirit of Hervey Bay, and all words and opinions are my own.