On Easter weekend in March, I'm flying to London for a wedding! I'll arrive mid-morning on Friday and depart at noon on Monday. This will be my second "long weekend" flight across the pond.
The first 3-day weekend trip to London was in 2008. Though you may not know it, I've been promising to tell you about that weekend since I started this blog in early 2010! It was during that jet-setting weekend that I had my first "what to do if your luggage gets lost by the airline" experience, and it's time I finally deliver and tell the tale!
I know you've been on the EDGE OF YOUR SEATS for three years waiting for this blog post. So grab a cuppa, sit back, relax, and read on.
Before we get started, I'm not sharing this post to whinge! I know that my bag only contained "stuff" and that stuff is replaceable. It was an inconvenience for an airline to lose my bag, but if you're going to travel frequently, chances are that an airline will lose your luggage or delay its return to you at some point. What disappointed me the most about the entire experience was the lack of customer service I received.
Let's start at the beginning
My friends in London were hosting a party in April of 2008, and when they jokingly included me on the Facebook invite, I decided I'd surprise them all for the weekend if I could find a good deal on a flight. Enter Air Canada.
After several mishaps at the check-in counter and on-board, I was more than ready to land and get my Friday-morning through Monday morning "long weekend" in London started. But when I showed up at baggage claim, I quickly found that my bag had not.
The nice man at the Air Canada assistance desk tapped away at his computer and quickly informed me that when I left Montreal and headed east to London, my bag had ventured west to Vancouver. Never fear, he assured me, 95% of all bags are returned to their owners with 24 hours.
Thankfully several friends surprised me by meeting me at the airport, and they immediately called others in the group to ask for clothes I could borrow. By that evening, we still hadn't heard any updates on my bag, but I went out to dinner wearing a super cute borrowed outfit.
24 hours is almost up — spending our Saturday waiting
After a refreshing night's sleep, I awoke optimistic that the airline would return my bag in the next few hours. My hope increased when we checked the status of my bag online — hoorah, it had been delivered to Heathrow!
Once the airline's hotline opened, we called and were told:
1) The bag was leaving Heathrow on the courier's 10am pickup/shipment.
2) It should arrive mid-afternoon.
3) The courier would call the friend I was staying with before heading to the flat.
We couldn't venture far, so we stayed home and watched TV. Mid-afternoon came and went. We called the hotline again and were told that the bag had a new estimated delivery time of 6:30pm. So I stayed at the flat with two friends while everyone else went to the party. Eventually I put on a dress a friend let me borrow, and we made our way to the party — late, but better late than never! With no bag in sight, turns out I wasn't in the 95%.
On Sunday the airline never called or attempted to deliver the bag. Since I was unable to speak to an actual person via the hotline, I spent the day in the city with my friends and decided I'd speak to Air Canada representatives at the airport the next day.
More airline mishaps at Heathrow
Upon arriving at LHR, my crazy adventures with Air Canada continued.
I tried to check in at a computer kiosk, and an employee came over to see if I needed help and to ask where my bags were. Thanks.
My boarding passes failed to print properly, so another representative told me to get into another line for help. For the next 90 minutes I was bounced around to several people until someone was finally able to help me. Along the way, I shared the story of the lost bag in the hopes that someone would help track it down. One woman made a quick phone call, and when her eyes widened and she passed the phone over to me, I knew the news wasn't positive.
The man on the other end informed me that my bag had been delivered Saturday. I told him that the online bag tracer was incorrect (I had also been checking this site regularly since Friday) and asked that they get the bag back from the courier and send it to my permanent address. He didn't seem to believe my story. Sir, if I had my bag, TRUST ME, I wouldn't have wasted so many hours since Friday morning trying to track it down.
And then, because I had been delayed so long, I had to run to security to avoid missing my flight.
Call the airline daily, be persistent, take notes
Tuesday morning I woke up back in the US and went to work after just a few hours of sleep. When I got home, I KNEW I had to call Air Canada and see if anyone knew where my bag might be.
Only I chickened out. I couldn't call. I knew I had to, but I didn't want to hear "it's been delivered" again, when I knew that wasn't true.
So I volunteered my mom to make the call. Bless her.
She was told that my case had been closed, as the bag had been delivered Saturday. CASE CLOSED?! Mom couldn't quite get the woman on the phone to believe that I had never received it, but the woman did at least reopen my case — which as far as I can understand just means she gave it a new number. The file still said the bag had been delivered. Helpful.
The next day, I did what I had to do. I volunteered my dad to make the next call. Bless him.
As soon as the man said, "Sir, that bag was delivered," dad stopped him with "That's where our problem is…" and retold my entire story. When the man had no answers that satisfied my father and wanted to transfer the call to another department, my dad insisted on continuing to speak with him…or his manager. As dad started asking for proof that I had signed for the bag and the name of the person who supposedly delivered it to me, the AC rep started tapping away on his keyboard to dig deeper. Seconds later he interrupted my dad with, "Oh sir…we have the bag. It's at Heathrow and scheduled to be sent to Dulles on the first flight tomorrow."
That evening I called Air Canada's main number at Dulles and was somehow transferred to their reservation office in Tampa, Florida — thank goodness! The man I spoke with had worked with the company for years, and he gave me lots of great ideas on how to share my story with customer relations, and for the first time, REAL customer service. Bless him!
Thursday morning I called the baggage agents at Dulles and left a message, requesting to be contacted when my bag arrived. A few hours later, an Air Canada agent from a nearby airport called the house and talked to mom. He also believed that my bag had been delivered while in London and was following up on my case, wondering why I wouldn't stop calling the airline. Upon mom's request, he dug deeper too and learned that my bag had just arrived at Dulles! He also discovered that there were several notes about my bag "out there", just drifting about and not attached to my file. He assured us that he would assemble all of the notes into one file. No wonder no one had been able to help me out! Well, that and no one cared to dig deeper unless we insistently asked that they do.
Thursday evening I called Dulles again to inquire about the status of my bag and was told I'd receive a call Friday.
When Friday came and went with no call, I called Dulles again on Saturday morning and left a message. THEN I called the 1-800 number and a woman said that my bag was still at Dulles but ready to be sent to a courier and that I'd receive a call Sunday morning about a delivery time.
One hour later, a man from FedEx called to say he was picking my bag up from the airport close to my house and would deliver it to me within a few hours. And when the doorbell rang two hours later, there was my lovely bag, with new tags and stickers all over it. Nothing was missing, but half of my clothes were completely soaked — I'll take that over missing items any day!
Giving my bag a "welcome home" hug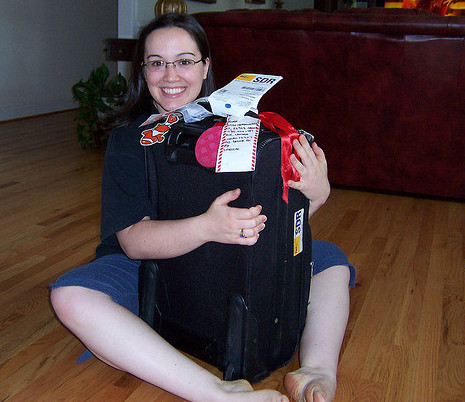 What I learned from my lost luggage experience
My dad taught me from a young age that any time you call a customer service number you should write down the representative's name, and if their company doesn't share names, their representative code or number. I kept notes from the first conversation with the gentleman at the counter at Heathrow on Friday to the last person I spoke with on the phone after I returned home. Being able to say "I spoke with Roger, number 123456, on DATE and he told me…" can truly help in situations like these, instead of saying "Someone the other day said — who told me? I'm not sure, but one of your representatives." This information was especially important when I wrote a letter to Air Canada to inform them of my negative experience a couple of weeks later.
My dad taught me another lesson. I felt like I was hitting a wall on every call — the representatives read from the screen "your bag has been delivered" without listening to what I had to say and believing my story. It was only when my dad realized "wait a minute, surely one would have to sign for a bag when it's returned, right? Neither the airline nor the courier ever called your friend to schedule the delivery, but even at that they wouldn't have just dropped the bag off — they would have needed someone to sign for it." When my dad asked the airline rep if I would have had to sign for my bag, he said "of course". It was only when my dad asked for solid proof that the bag had been delivered that the rep decided to listen and truly assist us. Sometimes I'm too afraid to politely push and ask reasonable questions, afraid I'll hurt someone's feelings. If you don't speak up for yourself, however, you may not get the results you deserve.
How did it all end?
A week or two after the bag was returned, I drafted a letter to Air Canada, describing the experience in detail, focusing on the lack of customer service. A few months and several email exchanges later, I received a $500 voucher for a future flight, which I used at the end of the year to spend NYE 2009 in London with my friends.
Have you had a similar experience to mine? How did yours turn out in the end? What are your tips for getting your bag back or working with an airline when a bag is lost for good?