I've been to England seven times, but I had never left London until last week. Gav and I decided to leave the city for a 4-day holiday in Brighton. Amazingly enough, it was the first trip to Brighton for both of us!
After two chilly, rainy weeks in London, the sun came out to play and brightened up our trip to Brighton.
The weather was so beautiful all week long that we enjoyed several walks on the pier. Our hotel was directly across from the famous pier, so a daily stroll to the end and back was almost mandatory.
We explored the shops and cafes of the Brighton Lanes, a series of streets that twist and turn their way around — it's almost like you're in a maze! After snacking on the free breakfast at the hotel, we always ventured to a cafe for a coffee, using this post to help guide us.
In addition the hummingbird cake above, we took a slice of "apple and olive oil cake with boozy citrus syrup" back to the hotel for and evening snack.
We also enjoyed:
Randomly stumbling upon Jamie Oliver's Recipease. I didn't take a photo, but my lunch was the best meal I had during the trip. Simple but silly delicious. Rosemary-seared beef and roasted pumpkin salad £10: Prime fillet of best British beef, rolled in rosemary and seared until rare (served cold), then thinly sliced. Served with a salad of sweet roasted pumpkin, peppery rocket, feta, toasted pine nuts and chestnuts, all drizzled with a tangy English mustard dressing.
Dinner at vegetarian restaurant Food for Friends. Our starter and Gav's main were tastier than my dish, but that's the good thing about sharing — I enjoyed a bit of everything

Watching my Queensland Maroons win game 1 of this year's State of Origin series.
Macarons from Cocoa, a French patisserie we found by accident. Other than Zumbo's, these are the BEST macarons I've ever had. We shared the 75% dark chocolate and Cuban rum (left), black forest (back), and my favorite, the lychee, white chocolate and raspberry marmalade macaron.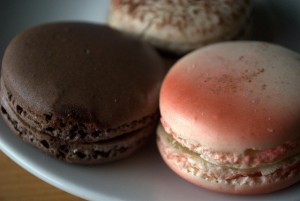 Thankfully as much as we ate in Brighton, we also walked, spending hours seeing the city on foot every day.
Brighton was a great trip, not only because of all of the fun things we did and the delicious things we ate, but also because it was out first trip together! Gav's been to Charlottesville, and I've visited him in London, and we finally had a proper holiday together in a place that was new to both of us.
On that note, my time in England ends in just three days. When I get home, I have lots more to say about my month in London.