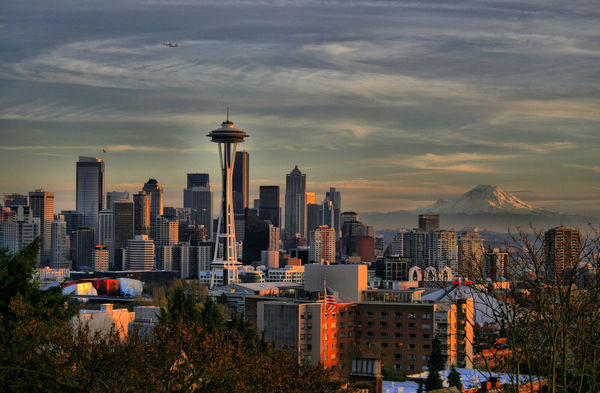 Cities are known for their excitement, the hustle and bustle — their "buzz." The noise and crowds that characterize cities is natural — cities are where we congregate, after all. Urban areas have entertainment, diversity and unique architectural beauty. However, despite these amenities, cities can be exhausting as well. Navigating traffic, streets and crowds can take a toll on your mind, leaving you frazzled and dreaming of a respite. You can explore cities while relaxing and unwinding.
Certain factors are known to increase the "relaxation" factor of a city. From well-planned urban parks and recreation areas to friendly residents and healthy lifestyle options, these factors can turn a big city into a mecca of serenity. If you're looking for last minute vacations and want to visit a city but also chill out, the following three cities should top your list. These chill American cities have gained reputations for being low-stress environments and promoting a healthy, positive lifestyle.
Seattle, Washington
Known as much for its rain and coffee as for its epic natural setting, the Emerald City consistently tops lists of America's healthiest, happiest and most relaxed places to visit. The city is built around a series of hills, making it a natural place for getting ample exercise. You may be wondering why this is relaxing. However, getting ample exercise and activity is linked with having a relaxed state of mind. Seattle is close to world-class hiking, skiing and water sports, giving visitors ample opportunities to stay active and breathe in the Northwest's famously fresh air. Seattle has high air quality and ample urban parks. From the Washington Park Arboretum to the parks lining Lake Washington, the city invites tourists to explore on foot.
Then, of course, there's the coffee. The image of a cozy coffee shop serving high-quality java is symbolic of relaxation. Seattle is reported to have more coffee shops per square mile than any other American city. Seattle residents love their coffee and hold it to the highest standards. This has created a culture based around coffee houses and coffee roasting.
When the sun shines in Seattle, enjoying the great outdoors can be invigorating and relaxing. When it's raining, the great indoors offers hot drinks and friendly faces.
Denver, Colorado
The Mile High City is known for its proximity to some of the world's top ski resorts, including Aspen and Telluride. Winter in Denver gives visitors the opportunity to get out in the snow and enjoy post-skiing pampering. Sitting in a hot tub and sipping wine after a day spent on the slopes near Denver is the picture of relaxation.
The city of Denver itself is replete with walking and biking paths. Its residents are among the most active in the U.S., and visitors can enjoy the city's many public parks. The city's downtown district runs along the South Platte River, and hosts music and arts festivals year round.
Portland, Oregon
Known as the Rose City, Portland boasts some of the world's most beautiful botanical gardens. From its Japanese gardens to the Washington Park International Rose Test Garden, the city provides a seemingly endless swath of green spaces to appreciate nature. Portland is situated on the scenic Columbia River. The city's gourmet foodie community continues to grow, and visitors can take in an ever-expanding array of world-class dining opportunities. With great air quality and easy access to hiking, mountain biking and winter sports, Portland has plenty of activities to choose from, no matter what time of year you visit. And the city's residents are famous for their warm, friendly attitude. The city is also home to a growing culture of food trucks and microbreweries, giving you the chance to kick back and enjoy food and beer in artsy settings. Portland is a place where individuals can feel free to express themselves artistically. This is further evidenced by the city's unofficial motto, "Keep Portland Weird." Eccentric and beautiful, Portland is a city lacking a "big city" feel. Yet, it still offers all of the benefits of its larger urban counterparts.
Photo credit: papalars / Foter / CC BY-ND
About the Author: Clarice Jameson is a world traveller and a freelance writer.