Our friends and family from England plan to make the most of their upcoming trip to the US for our wedding by visiting DC, NYC, and other locations before or after the big day. Gav's dad asked us about sporting events he could attend in New York, so today's guest post from Jerry with HostelBookers comes at the perfect time.
As a sports fan visiting New York City, you will find many things to do. There will be plenty of athletic experiences. You can check out the baseball stadiums in the city or horse racing, basketball, tennis and other sports. New Yorkers take their sports very seriously and enjoy every moment of it. Here are the top sports attractions of 2013 that you can squeeze into your schedule when in New York.
Baseball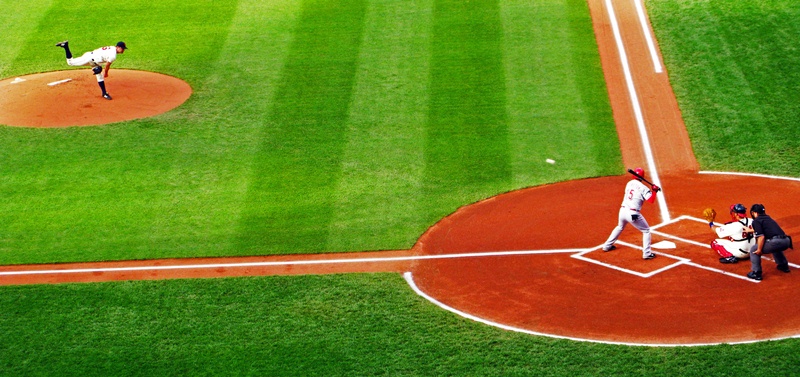 The city of New York is famous for its love of baseball. Although there are 4 teams – Staten Island Yankees, Brooklyn Cyclones, New York Mets and New York Yankees – the rivalry between the New York Mets and Yankees is very famous. You must attend a Subway Series game to be held from May 27, 2013 to May 30, 2013 to watch the fast action between the two teams. Be sure to book your seats early to avoid disappointment later. The series will be held in new Citifield Stadium, Corona, New York and Yankee Stadium at Bronx, New York.
The Staten Island Yankees and the Brooklyn Cyclones are minor league teams, but you can catch and enjoy the action here too. Brooklyn Cyclones will play from June to September, 2013 at Keyspan Park.
Basketball

credit: keithallison
If you are in New York, then you cannot miss the basketball matches. The city is home to some of the best basketball teams, which include New York Knicks, New York Liberty, and Brooklyn Nets. You can even catch the Harlem Globetrotters if you plan your visit between December and April.
New York Knicks plays from October to April at the Madison Square Garden; New York Liberty plays from May to September at the same stadium; and the Brooklyn Nets plays from October to April at the Barclays Center, Brooklyn.
Boxing
New York has had its share of boxing matches at Madison Square Garden since 1882 when John L Sullivan boxed with Joe Collins to defend his heavyweight championship title. Madison Square has been hosting boxing matches since then. You can also catch some professional boxing action at B.B. King's or the Friday Night fights that are regularly held in Hell's Kitchen.
Football

credit: mattbritt00
Although there is no football stadium in New York City, there are two famous football teams, New York Jets and New York Giants. The gaming season for both teams starts from September to January. Both the football stadiums are located at New Jersey.
Tennis
Everyone loves tennis, and the best is the U.S. Open. You don't have to be an American to love the U.S. Open. If you are in New York between August and September, then do watch the matches at USTA National Tennis Center, Flushing Meadows in Queens. The tickets are sold out quickly, so make sure you get the tickets as soon as they go on sale, which is early June. You can also watch free events like the Arthur Ashe Kid's Day, Open Practice Day, and the Qualifying Tournament. The tickets are only for the prime matches.
Soccer
New York Red Bulls represent New York City for this game. This home team plays its games at the Red Bull Arena, New Jersey. Watch the game from March to October 2013 when they clash with various other teams from other cities. The Red Bull Arena is specifically for soccer games and can seat up to 25000 spectators. The stadium has a translucent roof to protect the spectators from the rain and other elements.
These are some of the main sports played in New York City and its local teams. The main stadiums that you can visit include, Richmond County bank Ball Park at Staten Island, Keyspan Park at Coney Island, Brooklyn, Billie Jean King National Tennis Center and Shea Stadium at Queens, Yankee Stadium at River Avenue, Meadowlands Sports Complex at New Jersey and Madison Square Garden. If you're looking for cheap hostels in New York the check out HostelBookers.com.