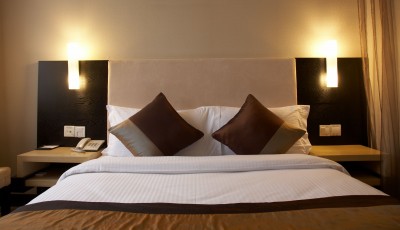 A trend in European travel this year is an increase in the number of hotels classified as "smart luxury." These nicknames indicate the hotels likely cost less than high-end designer hotels which were more popular in past decades. The last ten years have seen a surge in smart luxury hotels throughout Europe — hotels designed for young, tech-savvy and sophisticated travelers. Smart luxury hotels follow concept-based designs that usually include larger shared community spaces, compact sleeping rooms and ample Wi-Fi and wiring for electronics. The designs tend towards simplicity, often with a minimalist flair.
In Amsterdam, smart luxury hotels emerge from renovated 18th-century buildings in a remarkable blend of original charm and modern chic. These seven Amsterdam hotels exemplify the smart luxury concept and provide visitors with a lovely, low-cost option.
Hotel Vondel
If you're ready to stay in a four-star boutique hotel with a smart luxury attitude, Hotel Vondel will be among your top choices. In the center of Amsterdam, the hotel features stylish garden terraces offering urban vistas. The sleek, modern décor and high-tech fixtures will entice the busy business tourist or the well-connected leisure traveler. If you're ready to book a beautiful room in a hotel like Vondel, search for a hotel in Amsterdam.
Hotel Arena
Near East Amsterdam's popular arts district, Hotel Arena offers spacious and charming accommodation appealing to tourists interested in exploring Amsterdam's rich art culture. The on-site bar is frequented by hotel guests and is a popular nightspot for locals.
Hotel JL NO76
This four-star hotel is housed in two entirely renovated 18th-century mansions. Nestled in the heart of Amsterdam's fashion and museum district, Hotel JL NO76 has designer suites with a distinctly playful design twist.
Hotel V Nesplein
Known for its stark, modern design and well-reviewed restaurant, Hotel V Nesplein is a classic example of a smart luxury hotel. Guests benefit by staying in the historical center of Amsterdam, enjoying free Wi-Fi and attentive (but non-invasive) service. The hotel also has a small library, perfect for grabbing a good book and sitting out on one of the building's gardened terraces.
Lloyd Hotel
The Lloyd offers various room choices from one-star rooms with shared restrooms to five-star luxury suites. All of its rooms are decorated with a modern and unique design sensibility, and most feature sleek hardwood floors and custom-made furniture. Guests to the Lloyd can rent bicycles to explore the surrounding streets and wake up early to enjoy its extensive breakfast buffet.
Hotel The Exchange
This hotel is designed around a concept: It was entirely planned and decorated by students of the Amsterdam Fashion Institute. With free Wi-Fi and accommodation ranging from one to five stars, Hotel The Exchange is truly a hotel with "something for everyone." Every room features a modern bathroom and a separate seating area. The location is a five-minute walk from some of Amsterdam's finest attractions including the Jordaan district and the Anne Frank House.
The Conservatorium Hotel Amsterdam
This hotel has a strong focus on holistic wellness for its guests. The Conservatorium offers modern design and free Wi-Fi as well as a menu of wellness-inspired services from massage to vegetarian meals. The hotel's pool and spa are also attractions for health-minded guests who enjoy watery relaxation and top-notch spa treatments.
About the Author: Louise Vinciguerra is a fantastic joke teller, has a million and one hobbies, and enjoys matching her fonts with her moods. This Brooklyn native dirties her hands in content on weekdays and as a devout nature lover, dirties them in soil on the weekends. When she's not on Facebook, WordPress or Twitter, she's traveling in search of fun food, dabbling in urban farming or planning nature trips from her resident city of Rome.