This is the second post about my 2008 trip to Istanbul!
When I landed at the Istanbul airport in the middle of the night, I felt so alone. I knew I'd meet people and make friends throughought the week — at least I hoped I would — but it was the first time I was landing in another country without a) a travel companion by my side or b) a friend waiting for me at the airport.
"You are not alone in Istanbul"
Travelers always say you'll make friends at the hostel. I stayed at Nobel Hostel, which is perfectly situated near many of the sites to see in the old city. The hostel's tag line? "You are not alone in Istanbul" — I should have known I'd have a week filled with making new friends! 😉
Allison and Jonathan
When Allison and Jonathan arrived as new roommates, I immediately liked them. The dating couple from Canada was on week 3 of a year-long RTW trip and happily invited me join them as we all explored the city.
We dined on shared plates of kofte in a busy restaurant serving locals on their lunch breaks.
We collected our scarves and cameras and visited the Blue Mosque.
We took the ferry up the Bosphorus, hiked a steep hill (I still vividly remember the workout!), and gazed in awe at the beautiful view of the Bosphorus meeting the Black Sea.
After the hike, we'd earned lunch and dessert. The guys working at the ice cream stand enjoyed flirting with me and Allison and insisted we come behind the counter for a photo.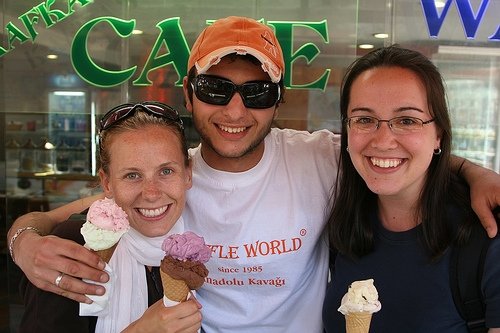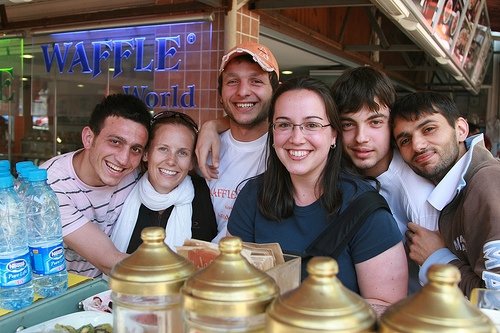 I'm pretty sure I snagged both of these photos from A&J. Thanks guys O:-)
I've kept in touch with the (now married) couple and have even managed to see them again in person once in Toronto. They're now living in Buenos Aires for the next few months before returning to Canada where Allison will begin her first full season as a wedding photographer.
Visiting the Asian side with Tony
In addition to A&J, I also became friends with several locals who were living at the hostel temporarily. On my last full day in the city, Tony invited me to travel with him to the Asian side and visit various shops. How could I pass up a personal tour with a new friend who could translate?!
Tony was so eager to make sure I had a good time that he insisted on paying for the Turkish tea I had selected. When I tried to politely decline, he gave me a sad look and said, "Please don't embarrass me, Heather. I offered." I humbly accepted.
Tony insisted that I pose for this ridiculous shot. I did because it made him happy!

"Please don't break my heart"
Remember the "Turkish Delight" guy from the last post? If not, here's the recap: Turkish men do indeed fall fast.
By week's end, I'd met plenty of men who tried to flirt with me, most likely in hopes I'd buy something they were selling. On my last full day, I was walking to Gulhane Park (one of my favorite spots), when a man called out to me in a panicked voice. Drivers along the main road of the old city don't signal when they change lanes and tend to drive quite fast. I'd learned this already, but the man was afraid I was going to walk into traffic without realizing the dangers. He struck up a conversation with me, applauding my street crossing capabilities. He politely asked if he could join me as I walked to the park and promised he was not one of those men who came on to foreign women too fast or hard.
"Have you experienced that yet," he asked, eyes full of concern.
I told him about Mr. Turkish Delight.
By the time we got to the park, Mr. Polite had fallen for me as well, only he wasn't as forward as some of the other guys had been. When I realized that I should wrap up the conversation before I accidentally encouraged him to spend the rest of the day by my side, he left me with his email address and kindly said with a bit of sadness in his voice, "Please don't break my heart."
Little moments I'll never forget
— My friend Emin and I were relaxing in Gulhane Park. A little girl with big eyes spoke to us in excited Turkish, unaware that I didn't understand a word she said. I smiled as I imagined her story, and Emin broke in with occasional chuckles. When he translated, I learned that she had been telling us all about her family and how she was 10 years old but finishing a much higher level of school. She couldn't have been older than 5

— Turkish ice cream is known for having a really thick consistency. One afternoon one of my Turkish roommates invited me to join him for ice cream and baklava. We chatted for ages and ate every last bite.
— I was between the Blue Mosque and Hagia Sophia waiting to meet up with Emin when I heard a voice calling out to someone. "Hey Italia! Hey España! Hey…" and so it went on with several countries. Curious who was shouting out, I turned and found a man looking directly at me. "Oh wait, are you American?" HA!
What's next?
I've enjoyed thinking back on my week in Istanbul! Next up? I'll either revisit the two weeks I spent in Barcelona or my two weeks in Germany.