This is the 6th post in a series about my 30th birthday trip to Dublin!
After touring the Guinness Storehouse and enjoying (or in some cases very slowly nursing) a pint at the Guinness Storehouse's top-floor Gravity Bar, we rushed to the city's St. Patrick's Day parade.
I'd heard it was supposed to be spectacular this year, so I was really looking forward to it. I hurried the fun at the Guinness Storehouse along so we could watch every action-packed moment of Dublin's St. Patrick's Day parade. And it definitely went beyond my expectations…only not in a good way 😉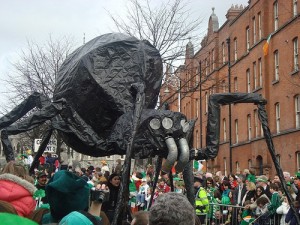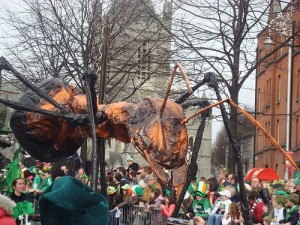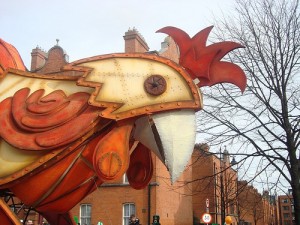 Photos of the odd spider, ant, and rooster all courtesy of Andi
Weird, right? Random. YES, these were actual floats in the parade. Nothing to do with Dublin, Ireland, St. Patrick's Day, zip. I can't even remember what the theme was, but we dubbed it the Tim Burton Parade.
Thankfully our stroll through St. Stephen's Green more than made up for the parade. If you don't already know, I *love* green spaces in cities.
This girl saw Dave taking a photo of me and ran over and asked to be in it!

After enjoying the park, we headed back to the hostel to get ready for dinner. Within minutes of returning, I heard a knock on the door. Everyone was there with big smiles, and Sinead entered with a gluten free banana and chocolate chip birthday cake she had made! We managed to pile 13 of us in a 4-bed dorm room to share the cake

Dinner took us to the Brazen Head, the oldest pub in Dublin.
We skipped past the party-goers on the ground floor to head upstairs to our pre-booked, 3-course meal with Irish Folk Tours. While we dined on each course, John told Irish folk stories.
The appetizer of fish cakes was fantastic

By the time dinner was over the night was already late, so we strolled through the city back to the hostel. I had a really lovely birthday made better by the wonderful friends that surrounded me throughout the day. Love you all!
Featured image at top from Pam