This is the fourth post in a series about my 30th birthday trip to Dublin this past March!
On Tuesday seven of us decided to take a day trip, and shortly after breakfast we were whisked away from the city to the Wicklow Mountains.
Apparently Over the Top Tours had booked all of its Wicklow Mountains tour buses for the day, because when a black van with "Mystery Tour" painted on in Scooby-Doo like script pulled up, we were a bit puzzled. An older Irish gentleman popped out and assured us that he was taking us to the mountains. Over the Top Tours also has some type of "Mystery Tour" and lucky us got the mystery bus! It was fun to have people looking all day wondering what we were up to O:-)
Tom was a downright happy guy who sang along to his CD of Irish tunes…which he looped all day long. The girls and I had to get a photo with him.
Though we were seated on a bus most of the day, Tom made plenty of stops for us to get out, walk around, and take photos. By the end of the day we'd seen a distant view of Bono's mansion and Enya's castle. Yes, her castle.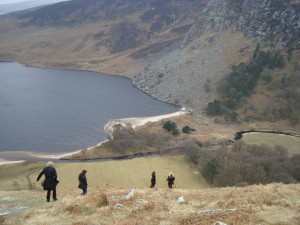 We visited a Peace and Reconciliation Centre.
We also got to see where the water that goes into Guinness has its start.
Toward the end of the day we visited an old monastic site.
If you can wrap your arms all the way around and have your fingers touch, your wish is supposed to come true. I missed by a couple of inches.
To end the day we visited a really pretty park and spent some time walking around a lake. They recommended walking on water but we decided to save that for our next visit.
Evan's travel mascot Bobby Q had a wonderful day too!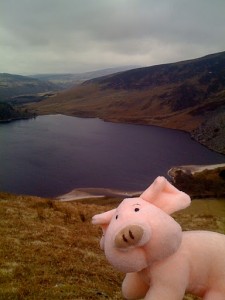 At the park, however, he wasn't wanted

We enjoyed our day in the mystery bus, listening to Tom sing 😉 and winding our way through the Wicklow Mountains. I highly recommend Over the Top Tours if you're in the area and looking for a day trip!
The next day was a BIG one — St. Patrick's Day *and* my 30th birthday. Definitely a day to remember