The "No Macaron Left Behind" mission was a 7-month, 65+ flavor, calorie-packed adventure! When I left Oz, I knew the mission would continue somehow and in small ways it has — I sampled macarons in London, now own several macaron cookbooks, and have been the recipient of macaron-themed gifts.
But let's be honest. The mission isn't the same without Zumbo macarons. And how in the world am I going to get Zumbo macarons when I live half a world away?!
A couple of months ago I wrote a letter to Adriano Zumbo, expressing my love for his bite-sized morsels of joy, sweetly asking for a sponsored trip for Macaron Day 2011. Cheeky, yes, and while I was hopeful, I knew it wasn't likely.
Being interviewed for the SBS documentary on Zumbo in 2010

A couple of weeks after publishing the post, I received an email that made my day! My dear friend Nicole had contacted Zumbo to tell him about my mission and the post. A Zumbo rep then contacted me to say that while they couldn't bring me to Macaron Day, they could bring Macaron Day to me! A box of delectable, Zumbo + company made macarons would travel across the Pacific and continential US to my doorstep. It doesn't get much better than this, people.
But wait, MAYBE IT DOES! A few weeks ago, my pal Kristin tweeted me with exciting news. Zumbo was signing his new book in Brisbane, and she wondered if I wanted a signed copy. Um, YES PLEASE.
Kristin snapped a photo of Zumbo signing my book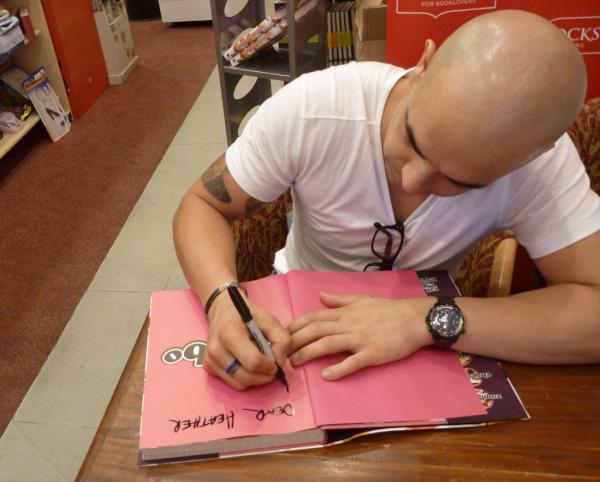 But wait, it gets BETTER. As Kristin's chatting with Zumbo, she tells him about my mission. His reply? "Oh I know her! We're sending her macarons for Macaron Day!"
And send them he did.
I signed for the package in delight and was SHOCKED to see 2 trays of macarons in the package. 70. ZUMBO. MACARONS.
I ran upstairs to grab my camera and then photographed the macarons outside before I lost natural light. So many colors, so many flavors…how would I know which was which?! It's a nice problem to have, I assure you.
Like last year, Zumbo provided customers with a menu of the 60+ flavors. I cut a third of a macaron, let it melt in my mouth, and consulted the list. Then I repeated this multiple times. For the last two days. Then I decided to pop the rest in the freezer so I don't eat them all in one week. Don't worry, I shared a few too.
I wasn't able to identify all of the flavors I sampled, but I know for a fact that I tasted:
Rose, passionfruit, peanut caramel (yum!), cinnamon doughnut, milo, fig and honey, mandarin and tonka, banana, chocolate banana, coffee (my favorite), hazelnut, and raspberry.
In the freezer, among many others, are coconut and pandan, peanut butter and jelly, and peach tea.
I didn't identify all of them by taste alone! Thanks to several bloggers, I had a few captioned photos to guide me. Oh yeah, and thanks to bloggers, I know that the day is no longer called Macaron Day but Zumboron Day.
Thank you to everyone who has supported my macaron mission, especially those who commented on the "letter to Zumbo" and sent Zumbo the blog post through email, Facebook, or Twitter. And of course, Adriano and Alex, thanks heaps!