It's been two and a half years since I returned from my 12 months in Australia, and I look forward to the day I can plan a return trip. I'd love to live there for a year (again) or more one day. With that in mind, today's guest post comes from Jamie Faulkner, a freelance writer who enjoys writing about travel, food, and business. When he isn't dreaming of his next trip to Australia, you can find him at a local restaurant, potentially writing his next food critique.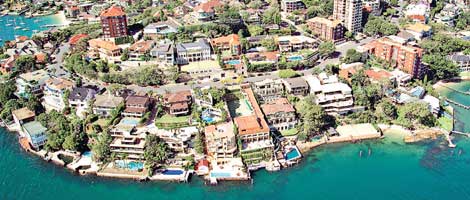 So you've decided to move to Australia? Well, you're not alone. Despite stricter visa regulations, many still see Oz as a land of opportunity and over 50% of those who go over on a visa end up settling there permanently; many end up in Sydney. If you're one of those who stay and are considering buying a house in the city, you'll need to know a few things about buying property in Australia:
Don't Forget Stamp Duty
Stamp duty is a tax levied when purchasing a property. As well as any down payment and fees, you'll need to make sure you have sufficient savings in place to cover the duty, which will need to be paid within 3 months of exchanging contracts. It tends to be around 4.7% of the purchase price in New South Wales. The average house price in Sydney is currently $690,000 (predicted to rise to $820,000 by 2016) so you're looking at $32,430. You can calculate stamp duty at the website for the Office of State Revenue NSW. Also consider, different mortgage provides, such as a non bank, for better mortgage deals.
Renovations are Costly
Obviously, costs can vary dramatically but renovations tend to be very expensive. Consider this when looking at a house that needs work as a project. That project can set you back $2,000 to $3,000 per square metre, for houses within 20 km of the Central Business District. This is only a guideline amount but factor it into any costing for your new house.
Location
Depending on the time or day you visit a property you may miss important factors that can affect the value of your potential home. A house near a school or an artery road might appear quiet during the weekend but be full of traffic during the week. The house might be brightly lit during the evening but be dark and cold during the day due to the wrong aspect. In Sydney, the best properties are North or North Eastern facing. Make sure you visit a prospective property plenty of times.
Building and Pest Inspection
It's always important to ensure that your property doesn't have any pest problems or structural damage (damp, subsidence, and the like) as this will affect its re-sale value and can lead to large costs down the line. Get this done before you make an offer and if you're buying an apartment, find out about the health of the entire building.
Buyers Agents
Using a buyers agent can help you navigate the complex territory of buying a home. These agents often have a good knowledge of the area and long-standing relationships with local estate agents. They may well know of properties that other buyers are not aware of, and be able to broker a better deal for you.