It's amazing how much your life can change in one year.
Twelve months ago I reflected upon and wrote about 2011 — one of the most significant years of my life. I wrapped up my Australia adventure by road tripping around the country for 2.5 months. I then returned to the USA and found work opportunities that offered a bit of the flexibility I desperately craved after meeting countless freelancers, entrepreneurs, and mobile lifestyle professionals in Oz. And, as an awesomely unexpected surprise, I met my future husband while visiting friends in England.
2012 in review
The theme of last year can be easily and briefly summarized — building a life with Gavin.
I kicked off 2012 with my now-husband by my side here in Virginia.
In February he returned for a 10-day visit and popped the question over dinner on Valentine's Day. On the same visit we completed and submitted our fiance visa paperwork to USCIS so Gav could eventually move to the US and we could get married.
At the end of March, I flew to England for a long weekend to celebrate a friend's 30 birthday (Gav's best man, who just happens to be the first person I met in our group of friends back in 2004/5). I also met Gav's family for the first time.
I returned to London in May to spend the entire month with Gav, his family, and our friends. We hosted an engagement party at a friend's house, visited Brighton for a few days, and enjoyed being able to see each other in person every day. I went to afternoon tea and a football/soccer game for the first time! Nicole, one of my best friends and my fave international travel partner, came to visit for a week. While she was there, the ladies organized a hen night (i.e., bachelorette party) for me!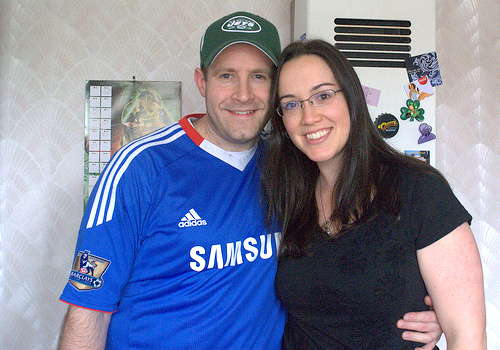 In June and July, I went wedding dress shopping and booked a photographer, caterer, and rental company for our May 2013 wedding. I usually love to research and plan, but wedding planning has been one of the most tiring things I've ever done!
In early August, I had my bachelorette party on the same day Gav had his stag night in London. When we originally picked the dates, we thought he would be arriving in the US only a few weeks later. We were wrong.
In mid-August our fiance visa petition was finally approved. Over the next two months, Gav would have to submit additional paperwork, have a physical, and visit the US embassy in London for an interview in order to actually receive his visa fiance. I also moved out of my parents' house (thanks for putting up with me again, you two!) and into the apartment Gav and I now share.
My mom and sister hosted an afternoon tea bridal shower at a friend's house in September. A couple of weeks later, I went to the beach with my family for a week.
On October 12, Gav flew to the US with his fiance visa in hand! Two weeks later, we were married during a very small ceremony at my parents' home. A week after the wedding, we enjoyed a 3-day "mini-moon" in and around Charlottesville.
In November, I ran a 5k from start to finish without stopping for the first time. Gav ran it with me. We also submitted the next round of USCIS paper work.
A week later we celebrated Thanksgiving at my parents' house, and Gav helped dad deep fry the turkey.
In early December, Gav and I both helped with the church Christmas play. I took a back seat from my usual primary speaking role to play a character with just one line, and Gav was a member of the stage crew.
In just the last week, we celebrated our first Christmas as a married couple by spending the day with my parents, sisters, and my family's super cute dog. She looked great in her present from me and Gav.
Tonight we're going to say goodbye to 2012 and welcome 2013 with one of my sisters and her boyfriend.
As I kick off 2013, it's time to reflect on the goals I set for myself in 2012 and evaluate how I did! I'll be sharing the results of my self-eval with you all, along with thoughts on what I hope to experience and achieve this year.
Happy New Year, wherever in the world you may be!
I hope 2013 has wonderful things in store for you ♥