Fraser Island is considered to be the world's largest sand island and one of the most beautiful places to visit in Australia. Beyond that, I knew little-to-nothing about the island prior to the 2-day tour Brooke and I enjoyed with Cool Dingo Tours.
Cool Dingo shows you as much of the island as possible in two days without being too action-packed (check out the 2-day itinerary).
Besides the scenery, my 3 favorite aspects of the tour:
● 2 lunches, 2 dinners, and 1 breakfast are included in the price. Bonus — the meals were really nice for a tour geared toward 18-35 year olds. And there was plenty for everyone! AND they even had a slice of gluten free cake waiting for me for dessert. Delicious gluten free cake.
● No hostels or camping for us — we stayed in the "Wilderness Lodge" of the Kingfisher Bay Resort. You can opt for a shared room with others in your group or have a private room for couples.
● We got lucky and had the BEST tour guide ever. In fact, he deserves his own post. Heading to Fraser? Request Dave.
The tour kicked off with a pick-up at our hostel in Hervey Bay, a check-in at the main office, and a 45-minute ferry ride to the island. Dave greeted us at the dock and led us to our massive 4WD vehicle. As it's a sand island with no roads (with the exception of a few around the resort), only 4WDs are permitted on the island. There are self-drive tours available with various companies, but I had heard reports of fatal accidents caused by inexperienced drivers. No thank you! The only way I would see Fraser Island is if I had an experienced driver as my guide.
Can seat up to 40 I think…thankfully we only had 18!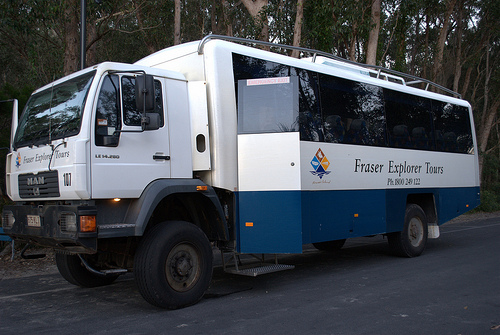 Day 1 in photos
Carnivorous plants at Basin lake

After the lake we enjoyed several walks, had lunch, and then headed to Lake McKenzie to swim, walk, or rest for a couple of hours.
Lake McKenzie — crystal clear!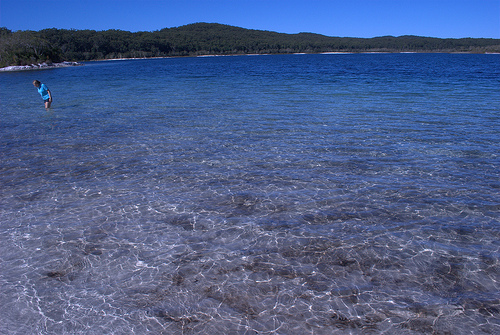 Wilderness Lodge — home for the night

Just missed sunset at the jetty

Day 2 in photos
Day 2 kicked off with a *breathtaking* drive down the beach — and I was in the front seat! Dave always asked if anyone would like to spend the next bit of the journey in the front with him, and I couldn't have selected a better time. A strong sense of peace and calm settled in as I gazed at the gorgeous landscape around me. It lasted for hours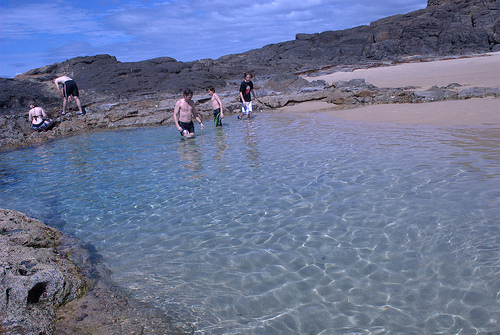 Dave's favorite spot on the island

Over the course of two days I learned how special Fraser Island is, and selecting which photos to share here only reminded me of that fact. It's a wonderful place to spend a couple of days enjoying nature, meeting new people, and relaxing in unspoilt beauty.
While I remember Fraser Island's beauty clearly, the first thing I think of when someone mentions "Fraser Island" is tour guide Dave. He truly defined our experience, and I can't wait to share more about him in an upcoming post.
The two-day Fraser Island experience was sponsored by Cool Dingo Tours and we traveled free of charge, and all words and opinions are my own.