Even though I have been to London seven times, it wasn't until this last trip that I experienced three aspects of English culture for the first time — a hen night, afternoon tea, and supporting an English football club.
Hen night
A hen night (or "hen do" or perhaps a hen weekend) is similar to the American bachelorette party. Friends of the bride-to-be arrange a time to get together, celebrate the upcoming marriage, and have a good time.
Not only did I experience my first hen do ("do" is often used where Americans might use "party"), but it was for ME!
One of my bridesmaids lives in London and surprised me by organizing an evening with my gal pals in London. Bonus: Nicole came to London for the first week of the trip, so she was able to come too!
We started with dinner at an Indonesian restaurant before heading around the corner to karaoke. We sang our hearts out in a private room, and it's no contest that I was the worst singer in the bunch — I sounded even worse than I did in Oz! I have a few talents, but singing will never been among them O:-)
Shel, my friend who organized the evening, made sure I had a bright pink "bride to be" sash and "L" plates to wear.
We ended the night with dessert, and Shel had scoped out a place that offered gluten free options. Bless her!
Gav ventured into the city to meet me and Nicole and travel home with us. Aww!
Afternoon tea
I've always been interested in going to tea and thankfully a couple of friends who were game to indulge in the expensive treat invited us to join them one Saturday at noon.
Our friends said that tea at any of the big hotels would be nice. When Browns Hotel made a point of highlighting their gluten free option, we had to book.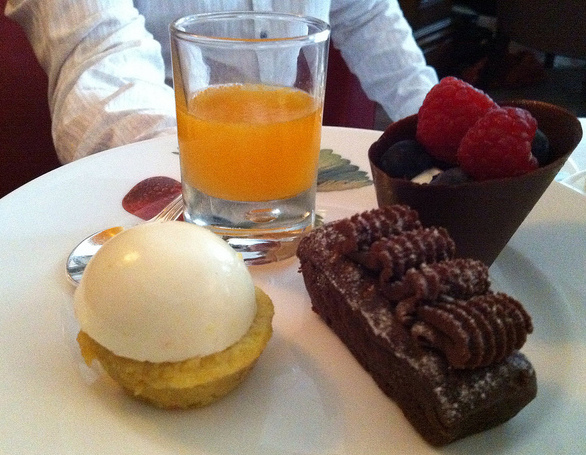 It was too cold to wear my dress, so I wore the next nicest outfit I had packed. Even at that, I felt underdressed!
Browns was a great place to experience afternoon tea for the first time. The staff was helpful without being pushy or in our way. Since my three companions weren't as keen on the gluten free bread, I had my pick of sandwiches! The GF scones paled in comparison to the real thing, but all of the desserts were nice.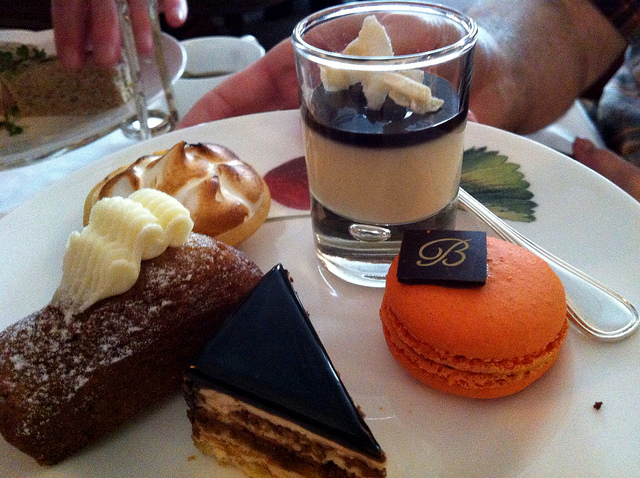 Oh yes — and the teas we tried were enjoyable as well O:-)
Chelsea FC
I love sports. Football (American), basketball, Aussie Rules Football, and rugby league top my list. But soccer football? I've only been to a couple of college soccer games and I only went because a colleague asked me along O:-)
Now that I'm marrying a big football fan who's supported Chelsea since the day he was born, it's time for me to learn about the sport and, perhaps more importantly, Chelsea.
By now, I'm familiar with a couple of Chelsea's songs. I can recognize the owner's face, but I still can't pronounce his Russian name. I can name a few players and know a few bits of trivia and current events.
After attending the last home game of the season, Gav and I had one more match to watch — the Champions League final. Chelsea won at the LAST POSSIBLE MOMENT in a penalty shoot-out and thank goodness they did. Gav thought we might have to go to the hospital with all of the stress leading up to the big victory!
What's my next "London first"?
I don't have plans to return to London until next March, but when I do, I'll have another "first" to experience — I'll be attending my first London wedding

If you've been to London, what experiences have been your favorite? If you haven't been, what are some of your favorite cultural "firsts" you've experienced anywhere on the globe?