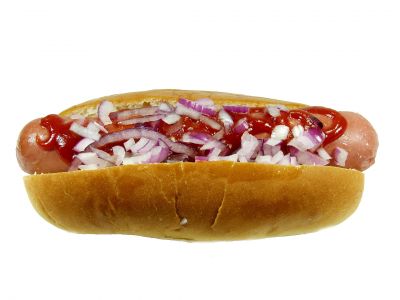 For most people, a summer barbecue might mean indulging in a hot dog or two — or maybe a few more!
Most people don't eat more than 60 hot dogs, and definitely not in less than 10 minutes. But at the annual Nathan's Hot Dog Eating Contest at Coney Island in New York, that's exactly what happens, as the world's best competitive eaters take the stage to see just how many dogs they can stuff down — and keep down — in a few minutes. The Coney Island event is the best-known, and most well-attended, eating contest in the U.S. (and possibly the world), but that notoriety did not come overnight.
Eating Hot Dogs = Patriotism?
According to legend, the Nathan's Hot Dog Eating Contest was born on 4 July 1916 when four immigrant men challenged each other to a hot-dog-eating contest at the original Nathan's Hot Dog Stand at the corner of Surf and Stillwell Avenues in the Coney Island neighbourhood of Brooklyn. The premise of the contest was that whoever ate the most dogs was the most patriotic.
But in 2010, one of the contest promoters admitted that the legend of the first hot-dog-eating contest was actually made up, and there never was a battle over patriotism determined by the number of hot dogs one person could eat. However, the story remains, as no one can seem to agree on when the first contest actually took place. Newspaper records indicate that the Coney Island contest has occurred on 4 July every year since 1978, with evidence that other events happened as early as 1961.
Regardless of when the first event took place, today the annual event draws nearly 40,000 spectators in addition to the millions watching the live broadcast on ESPN. Apparently, the spectacle of grown adults eating a ridiculous number of hot dogs and buns is just too much to resist.
Not for the Faint of Heart
As you watch Uncle Bud put away an entire package of hot dogs at the family barbecue, you might think he'd be an ideal candidate for the Nathan's contest. But getting into the Super Bowl of competitive eating is no easy feat.
There are only four ways to gain admission to the flagship hot-dog-eating contest: be the defending champion, win one of the qualifying events held around the country, qualify as one of the two wildcards (the second and third highest scorers who don't win a qualifying event) or enter by special invitation, such as a celebrity contestant. The competition is generally limited to 20 contestants, and rest assured, these eaters will put your Uncle Bud to shame.
In 2012, the male division winner was Joey Chestnut, who ate 68 hot dogs in 10 minutes — almost seven dogs, with buns, per minute. The female winner, Sonya Thomas, managed to keep down 45 dogs in the same amount of time. And keeping the food down is an important part of the contest. Experiencing what's politely referred to as a "reversal of fortune" will disqualify a competitor.
More Than Just Bragging Rights
The winner of the Nathan's Hot Dog Eating Contest earns more than just bragging rights and a serious stomach ache. Downing more hot dogs in a few minutes than more people eat in a year earns the winner a trophy, the legendary Nathan's belt, cash and other prizes, such as donated trips.
Keep in mind, though, that many of the participants in the contest are professional competitive eaters and participate in events throughout the year as part of Major League Eating, the professional body that oversees competitive eating events. For example, Joey Chestnut has earned nearly $1 million and set seven world records eating everything from hot dogs to asparagus.
That doesn't mean you can't try, though. Qualifying events began in March, and run through 29 June; the 8 June event takes place in Calgary. If you'd rather watch people down dogs than do it yourself, the 4 July event will take place at Coney Island; the pre-show generally starts around 10:30 a.m. with the men's event starting at 11 a.m. Joey Chestnut will compete for his fourth consecutive win in the 2013 event, which will take place even though Coney Island sustained significant damage during Hurricane Sandy in 2012.
And of course, while you're there, don't forget to try one of Nathan's Famous Hot Dogs — or maybe two or three if you're really hungry.
About the Author: Janelle Moore set her own eating record as a child when she famously ate four hot dogs at a family barbecue at just three years old. If you're thinking of testing the competition, click here to book a hotel for the event.