Thanks to Star Wars, I have a fantastic group of friends in London.
I don't remember exactly when Kev and I first met, but we both wrote on one of those online journal sites. He started reading my posts because I had a Star Wars themed user name, just like him. Yes, you may laugh (but those nodding in approval are greatly appreciated).
Years ago, dressed up for the Episode III IMAX premiere with MY robe and a friend's storm trooper helmet

This week I am flying to London to visit Kev and our fantastic group for the 5th time! I thought it would be fun to look back on my previous four trips across the pond and introduce you to some of my favorite people in the world.
Trip #1, late December 2006 – early January 2007
Kev and I had known each other online for approximately two years before we finally met in December 2006. I had ventured to London for the first time, along with my dad and youngest sister, and one evening we met with up Kev and six of his good friends.
By the time we got to the pub, we realized that we enjoyed their accents as much as they seemed to enjoy ours. Couple that with friendly, chatty people, and we got the conversations rolling right away! Our new pals also proved to be great tour guides, with intriguing commentary like, "And to your right is a building. It's old." 😉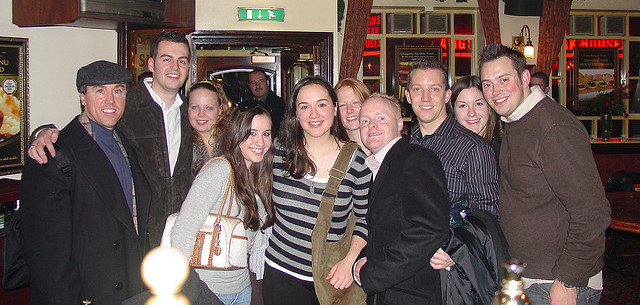 A few days later, the group invited us to their NYE party. We had a BLAST ringing in a new year a) overseas b) with new friends c) and meeting friends of our new friends.
Within weeks of returning home from my first trip to London, I already had an itch to go back. So did my sister Katie. And as it turns out, the Londoners wanted to see us again as badly as we wanted to return. So just six months after trip #1, Katie and I made trip #2.
Trip #2, 1 week in May 2007
Katie and I had the time of our lives that week in London (Katie then flew home and I went on to spend two weeks in Germany). Two of our friends hosted us for free in their flat (thank you Andi and Dave!), and Dave and Robin took the week off of work to show two American girls around.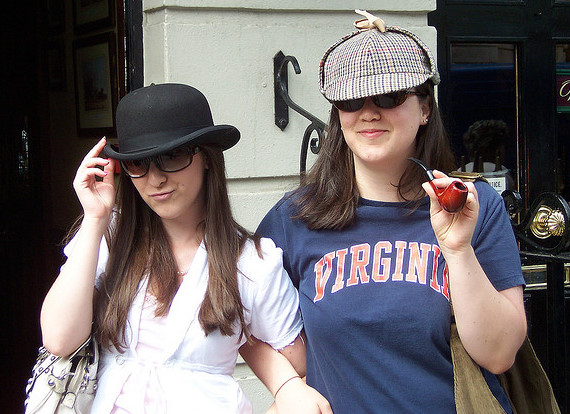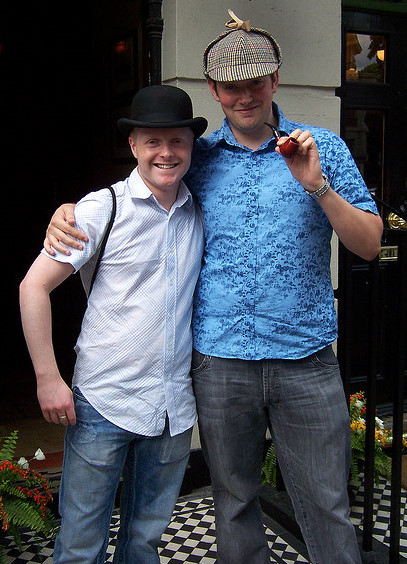 Thanks to Facebook and email, the Londoners and I continued to keep in close touch afer trip #2. Nearly a year later, I was invited to return for trip #3.
Trip #3, 4 days in April 2008
Dave and Andi were moving out of their central London flat and wanted to host a "final flat party". For fun and to be inclusive, they added me to their invite list, never expecting me to actually come. I RSVPed "maybe" for kicks and immediately began searching for a reasonable flight. A few weeks later I found one and with only minor hesitation, whipped out the credit card and purchased the flight. Unfortunately I only had two remaining vacation days to use, so the trip became a 4-day weekend jet-setting adventure. My friends in London thought I was absolutely MAD for traveling so far just for the weekend. I suppose it was. But it was, and still remains, one of the most spontaneous things I've ever done.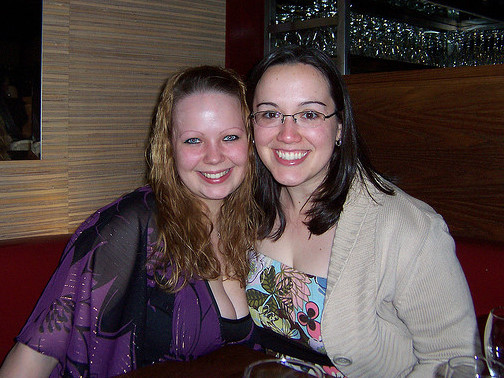 The jet-setting weekend marked another significant travel event for me — for the first time, an airline lost my luggage…on the way to Heathrow. My bag was never found and delivered during the course of the 4-day trip, so I had to brave the wild aisles of Primark (think Walmart on crack) to buy underwear and my generous friends (both guys and gals) loaned me clothing for the entire trip. By the time I returned home, I still had no idea where in the world my bag could be, but the airline was convinced they had delivered it to me in London. After a solid week on the phone for an hour or two per day, I finally received my bag. One well crafted email to the airline, several conversations, and three months later, I had a voucher for a free flight in my hands. I immediately used it to book trip #4 to London for NYE 2009.
Trip #4, late December 2008 – early January 2009
Thankfully the airline didn't lose my luggage this time, but they lost luggage of HALF of the customers on another flight. True story.
I loved being in London for the winter! The group visited Winter Wonderland where we played games and enjoyed the carnival/festival atmosphere.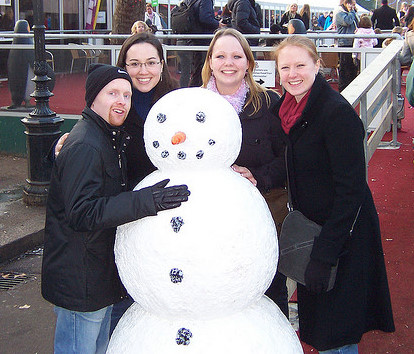 The lovely Amy and Andi hosted me for the week and had everyone over for a "New Years through the Ages" party!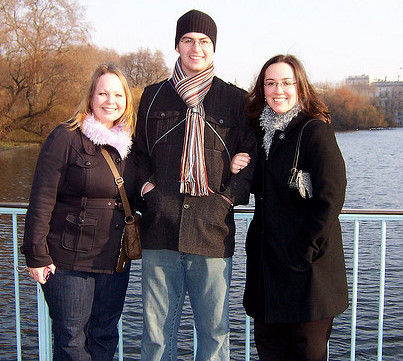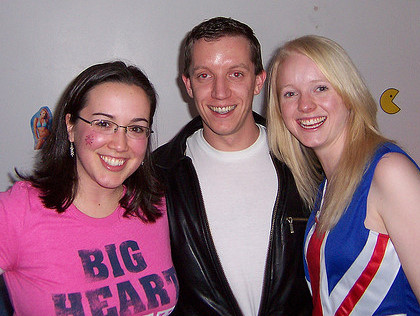 Who knew that a chance meeting online years ago would have led me to such a wonderful, tight-knit group of friends across the Atlanic…I am so blessed to have the Londoners in my life. And I am very fortunate to be heading across the pond once again this week for trip #5. The gorgeous Shel has offered to host me, and in addition to spending time with friends throughout the week, I will be celebrating one couple's engagement and another friend's birthday while I'm there.
I'm also fortunate to have spent time with the Londoners outside of London!
In 2007, Robin visited my family for the week of Thanksgiving. We visited local wineries, attended university sporting events, ate good food, went on hikes, and explored DC.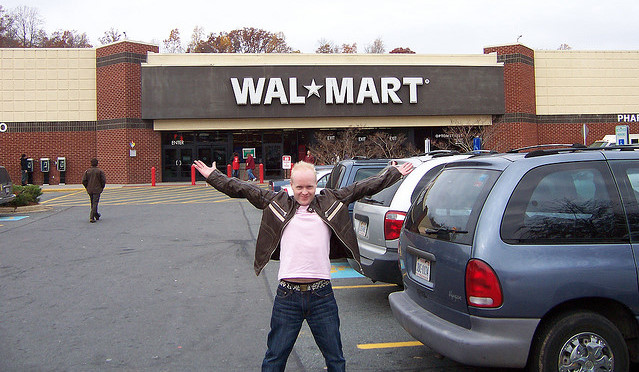 The following year, Kev and Gemma visited us for Thanksgiving, enjoying many of the same experiences as Robin had.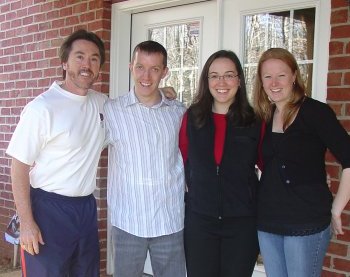 And then, in March 2010, 10 friends from London joined me, Nicole, and my friend Evan for a week in Dublin to celebrate my 30th birthday. Have I mentioned how blessed I am?!
In addition to spending time with these friends, I also plan to meet up with fellow travel bloggers, a fellow UVA alum, a friend from Sydney, and two Brits I met in Australia last year. And, there will probably be some macarons in there somewhere. Yes, macaron mission is BACK!