This is the third post in a series about my 30th birthday trip to Dublin this past March!
On Monday morning we snagged our free breakfast from the hostel and eagerly awaited Nicole's arrival! At 10:20 she appeared in the lobby, and like a champ, she stashed her stuff in the room and was ready to head out to see the city.
First we set out on an easy walk to Christchurch Cathedral. A few of us went inside while the rest of the gang wandered about.
Next was our tour of Dublin Castle. During my visit in 2003, they were getting ready for the EU presidency and so the tour was somewhat limited. This time I got the whole thing

Chandelier in one of the many rooms

After the cathedral and castle, the group indulged me by granting my wish to eat at Nude, a healthy cafe I'd read about. It didn't disappoint! My veggie soup was fantastic and everyone else seemed pleased with their choices.
Next was a trip to Carroll's, probably the main tourist chain of stores in the city. I had already packed a green shirt to wear every day for the week and brought one of my hats with me — I've accumulated quite a bit over the years with being a St. Patty's Day baby! The gang decided they wanted to go green too.
Evan and his travel mascot Bobby Q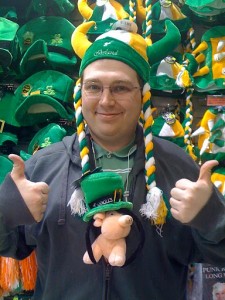 Since lunch had been so healthy, we just had to stop by the cute bakery Lolly and Cooks in the George Street Arcade. I highly recommend the mint chocolate cupcake.
Photo of the lovely Amy, taken by Andi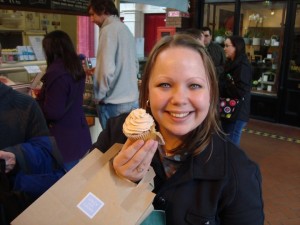 Post-cupcake run, Nicole and I headed out on our own adventure.
We both work (well, as of Friday I worked) for universities, so we decided to take a stroll to Trinity College.
We both love coffee and were regulars at Java City at our university when we worked together.

One visit to Trinity College and Temple Bar later, Nicole and I rejoined the group for dinner at an Indian restaurant just up the road from our hostel. I was still jet-lagged and don't recall its name or have a photo to share. I do remember that my meal was particularly good though O:-)
It was a fun-filled Monday, and on Tuesday, seven of us would embark on a mystery tour with an Irish gentleman named Tom…to be continued!