I have a love/hate relationship with running.
I would prefer to walk all day than to run for an hour, and every time I travel overseas, I actually do walk for hours on end.
Give me Zumba, cardio group classes, or weights, and I'm a happy gal.
But running?
Sigh.
I LOVE what it does to my body. No other form of exercise drops the pounds or boosts my fitness like running – I don't know why, but I've found that to be true for me over the years.
But. BUT. I really don't enjoy it.
Even with music, I get bored easily when jogging. My chronic back and neck issues flare up with one tiny misstep. And it takes me months – even years – to improve either my distance or time.
I'm always jealous of friends who don't exercise but decide to take up jogging and are running three miles with ease within weeks. I've only run three miles straight three times in my life!
So with my love/hate relationship of running and an inability to get over a 1.5-2 mile wall, I added "run a 5k without stopping" to my bucket before heading to Australia. And, by some great miracle, I actually achieved this goal a few weeks ago.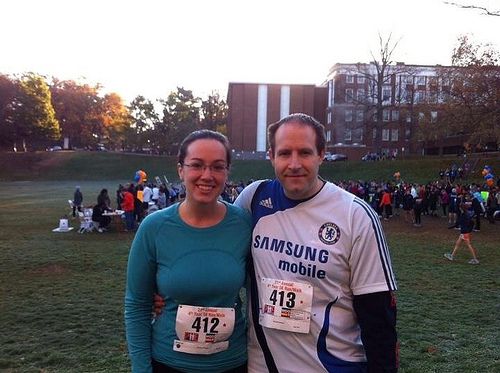 With my back problems rearing their ugly head throughout the summer and fall, my running schedule had taken a major vacation for the months leading up to the recent 5k at my alma mater. With my dad's help, who plans on running three half marathons next year, I was finally up to running 1.5 miles straight consistently and knocking out 2 miles straight on a REALLY good day.
When I received a message about the annual "4th Year 5k" at the University, and something inside of me said "SIGN UP NOW!" Well, multiple somethings:
● The 5k supports a great foundation.
● I jog/walked this 5k with my dad in 2009 as my first 5k.
● While my dad would be out of town running a half marathon the day of the 5k, I could recruit Gav to be my new running buddy.
On the day of the run, Gav and I assured one another that we would both need a few walking breaks on the hills (thank you, Charlottesville). But I secretly wanted to jog the entire thing. So we started off a bit slower than usual, as I had my butt kicked in a Women's 4 Miler a few years ago when I ran the first mile 2.5 minutes faster than usual and miles two and three were both uphill the entire way. Yeah.
Smiley before the 4-miler since all of my friends told me there were NO hills. Ha!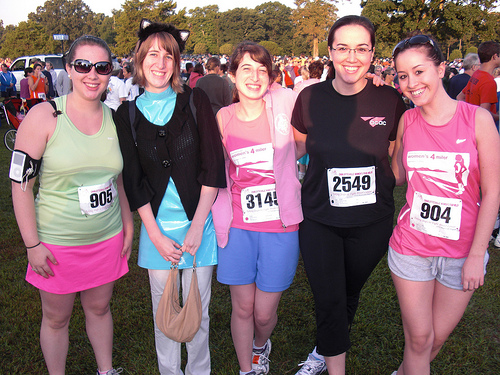 I'm not sure what happened, but Gav and I both jogged the entire 5k side by side, encouraging one another when we met the inclines. Somehow, they didn't seem as steep as I remembered them being in 2009.
Since conquering the 5k a few weeks ago, Gav's continued jogging like a champ, and I've found that doing two miles straight is just a *little* easier than it was before.
If you're new to running, or you're like me and it just doesn't come naturally, check out the Couch to 5k interval training program. That, along with proper running shoes, quick wicking workout clothes, and a runny buddy helped me get started (and slowly but oh-so-surely continue).
What life goals and bucket list items have you tackled recently?!