In true Aussie fashion, Brisbane has been given its fair share of nicknames. No matter what you wish to call Queensland's capital city (and the 3rd most populous in Australia), I called it the perfect place for me to visit toward the end of month two.
Return to Brissy
When I visited Australia four years ago, I split my time evenly between Sydney and Brisbane. In fact, contacts in Brisbane were the sole reason I ventured to Oz at the time! A colleague-of-a-colleague had worked with me to create a 6-week paid internship at one of the local universities, but sadly I had to turn down the opportunity when I landed a full-time job at home. Still, my contact was gracious enough to invite me to visit the university and spend a few days learning from his staff.
For some reason, when I look back at my first visit to Brisbane, I tend to remember the dirty, loud hostel I stayed in for the last few nights and the loneliness that crept in when I was alone (which was only for a few days). Taking a peek at my old blog, I feel guilty for remembering the moments of feeling annoyed and lonely when I had GREAT memories like:
— Going to 2 AFL games, each with a new friend (both just happened to be cute guys…)
— Taking a day trip to Steve Irwin's zoo and meeting two fabulous travelers (I'm still in touch with one from time to time)
— Meeting a new friend from Globalfreeloaders.com (we still keep in touch on Facebook)
— Visiting O'Reillys
— And more!
This time around, I'm ONLY taking the good with me, even though I had a few bumps in the road, as you'll see O:-)
Brisbane River and South Bank — I jogged here a few times

Striking it rich in Brisvegas: Great people & experiences
Without question, what I loved most about my time in Brisbane was the people I met and the time I spent with them.
Tweetups have treated me well so far, and meeting fellow American Kristin for a pancake dinner continued the trend. She's worked in Australia for a couple of years and will probably do so for the foreseeable future! We're already chatting about planning a future trip to O'Reilly's.
Just before meeting Kristin for dinner, I had my first BootsnAll meet up with Dimitri on Queen Street Mall. Joining us was his new friend Jeremy, a fellow American traveling long-term in Australia. We made plans to get together for dinner a few days later!
After months of chatting on Twitter and reading each others blogs, Jack and I met up for an Australian Rules Football game. And not just any Aussie Rules match — we're both Lions fans and went to support our team as they faced St. Kilda! The Lions have been a middle-of-the-pack team while the Saints have enjoyed the view from the top. With hopeful but realistic hearts, we made our way to the Gabba. I won't go into detail about how Aussie Rules differs from rugby league in this post but highly recommend checking out the link above.
Smiling even though our team lost…they were ahead at half time! And hey, I saw a fight worthy of rugby league between the 3rd & 4th quarter!

Check out Jack's blog and read my favorite post about the day his youngest daughter was born!
My third Brisbane tweetup was with Adrienne, a fellow-American who moved to Australia just a week or two after I arrived! She plans to travel with her Aussie boyfriend and base herself in Queensland. We visited the South Bank market together and decided to try a chocolate-infused Wicked Banana.
Nutrition AND indulgence all at once…wasn't as tasty as I hoped, but fruit + chocolate isn't bad

Next we visited the Gallery of Modern Art for the Ron Mueck exhibit. I usually don't include art museums or galleries in my "to do" list but am SO thrilled I visited this one. His sculptures are impressive.
On Monday evening, I had dinner with Adrienne, her boyfriend, Dimitri, Jeremy, and some of their friends.
During dinner my throat started feeling a little sore. I figured it was from not drinking enough water and eating a spicy meal. WRONG. By the next morning I had a full on head cold that threatened to rival the plague one I brought home from New Years in London a year and a half ago. This brought social plans for the rest of the week to a halt…I had to miss out on another day with the gang from dinner and a reunion with Julie, a sweetheart I met on the 3-day Melbourne to Adelaide trip.
I hope to see every single person above again before my time in Australia comes to a close.
Brisneyland: My Happy Food Playground
In addition to wonderful people, Brisbane was host to a number of good meals!
Queen Street Mall has more food courts than any place I've ever seen! Four years ago I enjoyed the chicken cranberry salad at Purely Fresh, and wouldn't you know, it's still in the same spot and offers the same salad. I had it two days in a row

The Coffee Club also has a presence on Queen Street Mall. When I mentioned the Aussie chain in my Adelaide culinary corner, I didn't realize I had actually been to one before! Walking down George Street toward the Mall, a vague memory of eating at a cafe with my university contact came to mind. And when I arrived at the Mall, there was the Coffee Club…I just had to go back and recreate an experience! Of course the Lifestyle Breakfast (toasted turkish bread topped with avocado, shaved lean ham, poached eggs and cheese) was the most expensive thing on the menu but I ordered it anyway, along with a chai latte.
Obviously I love breakfast, and I love it even more when it's for dinner! Kristin and I went to the Pancake Manor, which is located in what was previously a church! While there are some savory crepes on the menu, all of the pancakes are sweet and come with a scoop of ice cream. Yes, ICE CREAM! Even before my arrival in Oz I read about how pancakes are served with a scoop by default. One place called them "American style pancakes." Why American? Is it because we're known as a fat nation so of course we must eat ice cream with our pancakes? I asked one friend who said, "Well in the movies there's always a scoop of ice cream with the pancakes…"
*cue laughter here*
"Noooo, that's butter!!"
Now I don't eat butter on my pancakes, but I can see where the confusion would come in.
Other Aussies have said the ice cream comes because they view pancakes as more of a dessert. My question is, if you're eating it for breakfast, lunch, or dinner, then it's not really your dessert, is it?!
By Dichohecho on Flickr…indulging in both ice cream *and* syrup.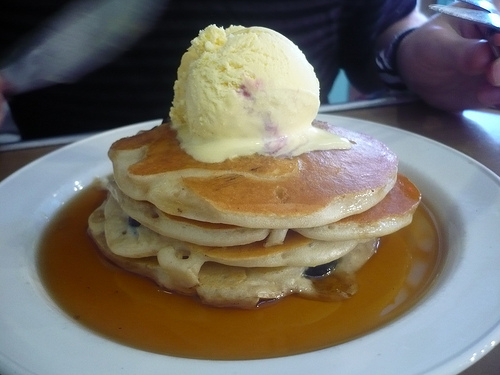 After a few searches, I've determined that calling pancakes American style really just refers to the more fluffy nature of American pancakes compared to most other places in the world. And the contributors to the Wikipedia page on Pancakes shed light on the fact that the type of pancake Aussies might use as a base is "American" but the ice cream is all their own. As pancakes are one of my FAVORITE foods, I had to get to investigate a little O:-) Oh, and yes, the ice cream was nice…didn't miss the maple syrup.
What I do miss though is a good cup of coffee. Coffee in Oz is quite different, and I've stuck to ordering chai lattes and "flat whites" (a latte without the foam supposedly) so I can compare cafes as I travel. Alen's Espresso won best cafe in Brisbane in 2008, and every morning loyal locals lined up for their favorite drink. It was only a block from the hostel, so I had to brave the queue for a dark hot chocolate. It took ages, and the drink was only so-so, but I tried again the next morning opting for a flat white. Much better. Not the best coffee ever, but it was good. And I respect having a local cafe and becoming a regular!
Switching to savory, I had dinner at Tuckeria with my Twitter & BnA friends. They profess to serve "Fresh Mexican the way it should be", but Jeremy the Texan disagreed 😉 Still, not bad! Jeremy and I split an order of tacos and a burrito, but Dimitri's quesadilla looked like the best thing on the table.
Last but CERTAINLY not least is Govinda's. You can pick up a take-away container, but the restaurant focuses on serving an all-you-can-eat vegetarian buffet. The plates are MASSIVE and the staff serve you one filled to the brim. I was stuffed by the end and couldn't manage another plate. In fact, I only saw one person who tried. The "Lemon mint & ginger cooler" was refreshing and the not-too-sweet dessert was the perfect end to the meal. I went two days in a row and I would go again in a heart beat O:-)
I ♥ Brisbane
If you can't tell, I loved my time in Brisbane, and it's become a contender in the "where should I base myself for work" contest. In fact, I think I need an "I ♥ Brisbane" t-shirt if such a thing exists.
So where to next? Just after Brisbane I visited my adopted Aussie family in Ballarat for a few days and already shared the Vegemite video I filmed while there. Currently I'm in Sydney, as a 2nd-round job interview brought me back earlier than anticipated. After a few days of no news, it looks like I won't be invited back for the 3rd (and final) round. And that leaves me with a handful of options…back to Victoria? Stay in Sydney longer? Look for another job? Head to Queesland for more travel? It's Friday morning, and I check out of the hostel on Tuesday…and I have no idea what's next!