This is a post in the series "the time I went to…" in which I highlight international travel destinations pre-Oz. Sydney is my home-away-from-home, but Berlin may give it a run for the money.
I fell for Berlin within a few hours of arriving.
For me, the vibe and energy of the city was calming and refreshing and energizing all at once. At the same time, if there is one word I could use to describe my gut reaction to Berlin, it is simply "home". Sounds kind of odd perhaps, but Berlin felt as much like home as a city outside of your own can.
Gunther and I spent several days walking around the city, taking in the sites on foot. When I close my eyes and think back to five years ago, I remember a nice and relatively clean city, although construction projects and large machinery stood at nearly every street corner. Only a few times did we begin walking down a street to realize that the buildings had still not been touched since reunification.
East Side Gallery
One day Gunther and I were fortunate enough to meet up with a friend of his who knows East Berlin well. She took us down small streets and showed us bullet holes in the walls of homes and various buildings. To a funky outdoor cafe, tucked away from the main roads. To the top floor of her office complex that had a beautiful view of the local neighborhood.
And we took photos of the East Side Gallery, where some of the Berlin Wall remains.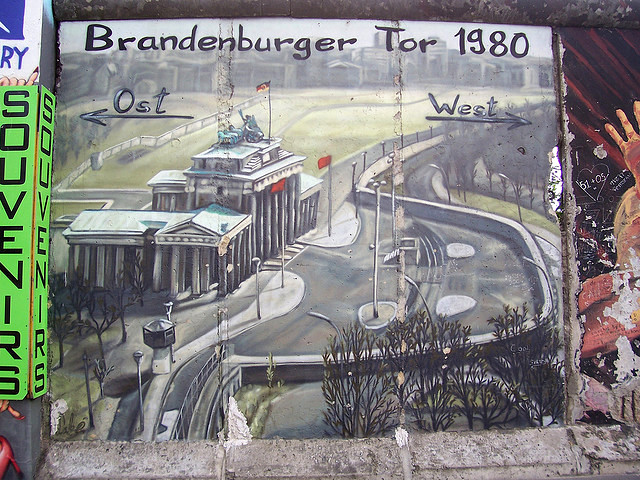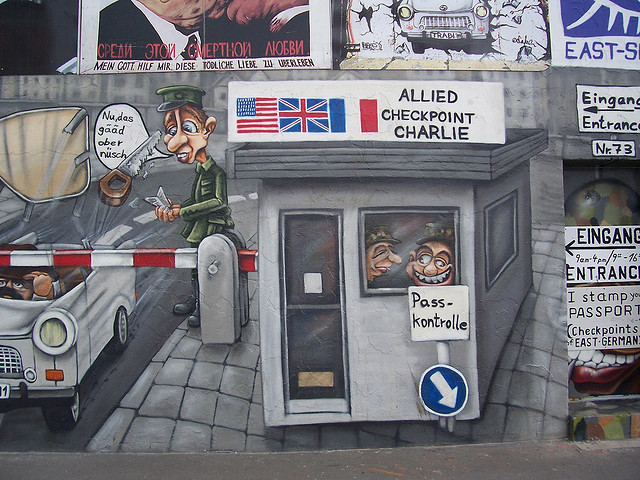 The Ampelmann
In addition to falling in love with a city, I fell for the Ampelmann.
Think about the pedestrian traffic signals where you live and the illuminated figure that indicates whether you must wait or if you can cross. The figure that appeared on the lights in East Germany is known as the Ampelmann and he was so popular that he can still be found in the city today. Everywhere. And I couldn't get enough of him!
HE HAS HIS OWN SHOP — and I'm inside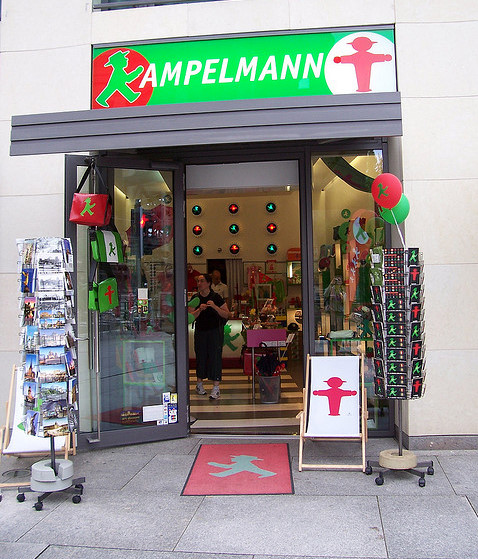 Another Olympic Stadium drama
Remember the "bomb threat" I survived at Munich's Olympic Park? Berlin's Olympic Stadium had its own adventure for me and Gunther.
Two beer vendors who were preparing for a weekend soccer game accidentally locked us inside of the stadium. It took a while for Gunther and I to realize we were trapped inside, and with no one in sight, we figured we might be around until the game! A security guard thankfully saw us and came to our rescue.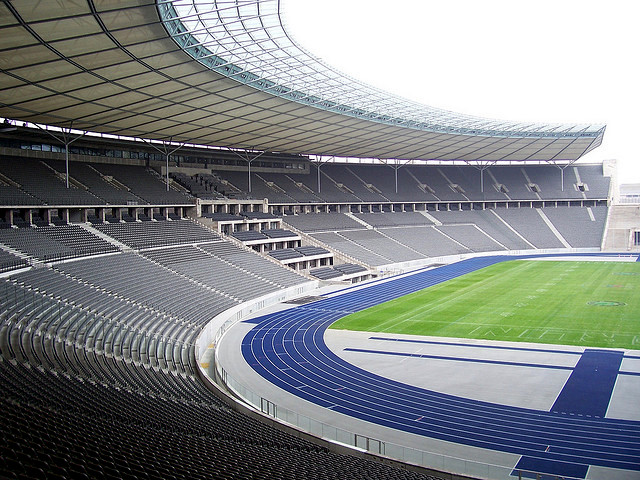 My favorite green space
I love green spaces in big cities. And in Berlin is a small, intimate park in the Museum Island/river/cafe area. I think one sign called it James-Simon Park, but I've always had a difficult time confirming it online.
It doesn't look like anything special from this picture, but on the day I first discovered it, it was a quiet retreat for couples and two travelers.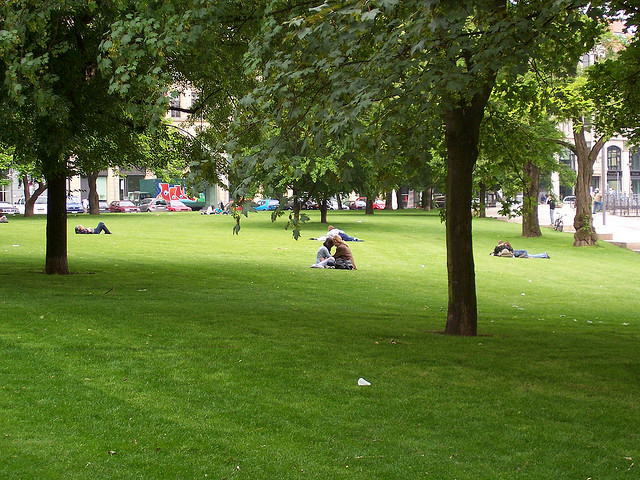 Inside the Reichstag dome
Gunther and I were very excited to visit the dome of the Reichstag, the parliament building.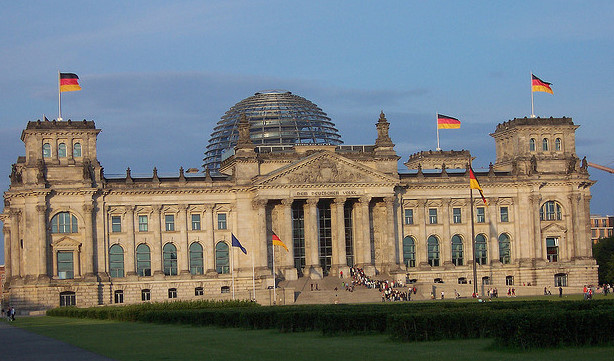 Inside the dome we learned about German history, took photos until my camera battery died, and people watched for ages.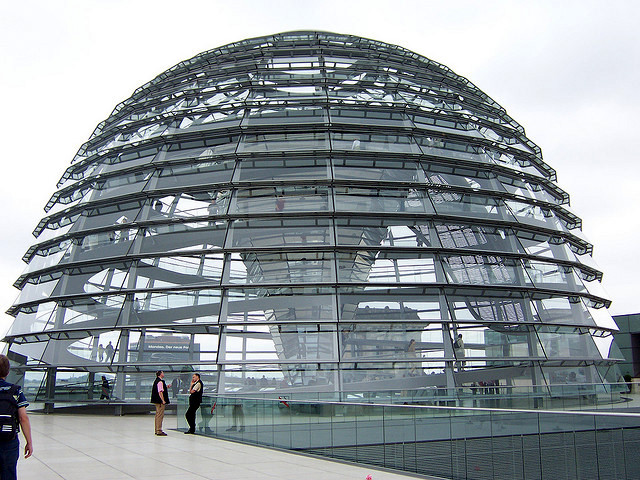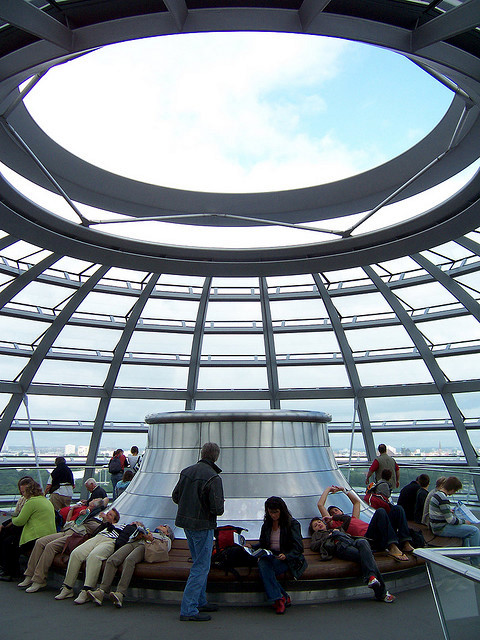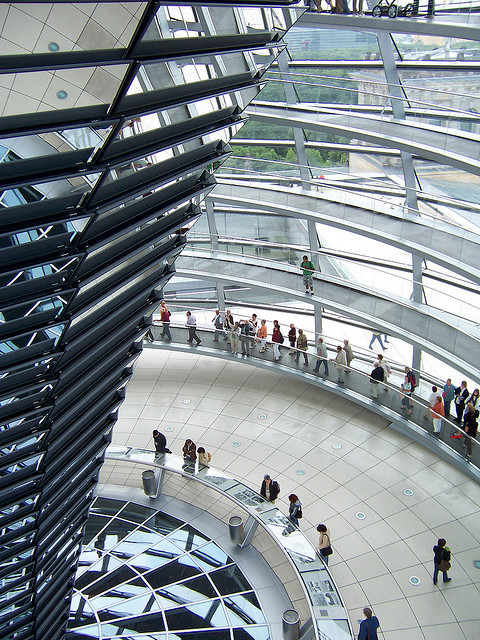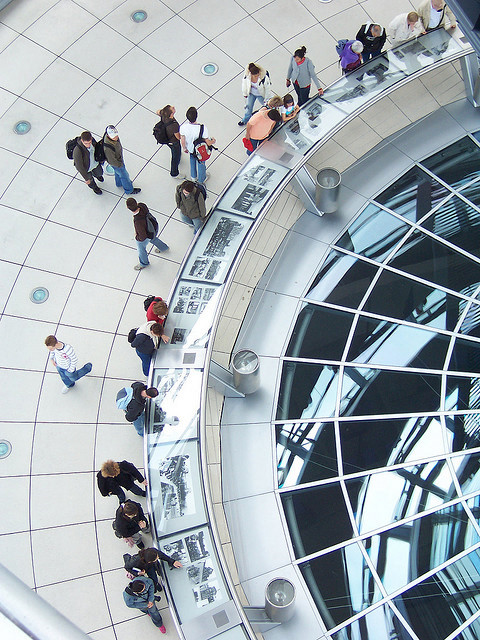 Sites of Berlin
When I wasn't busy relaxing in a park or buying Amplemann goodies, I was visiting many of the historical sites in Berlin. Later this week (and I mean it this time!), I'll share more photos from the city that stole my heart.